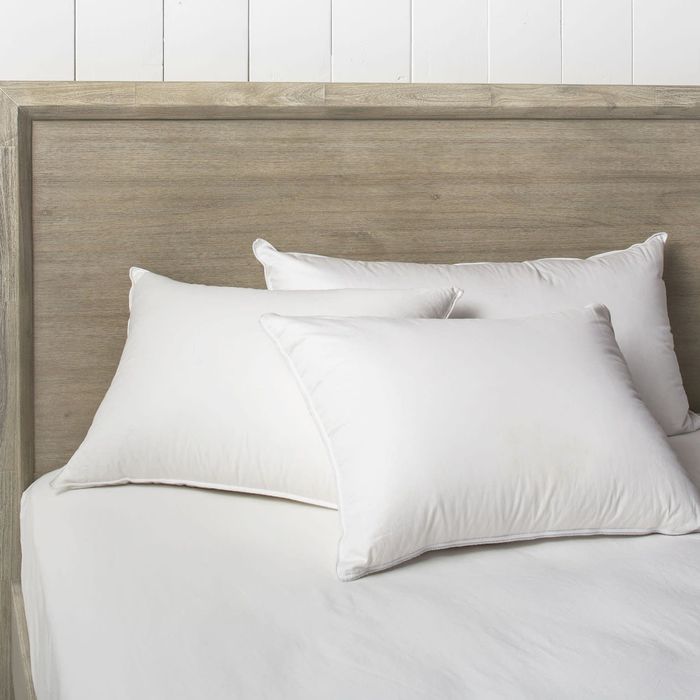 Photo: Courtesy of retailer
Side sleepers need the most support. Stomach sleepers, the least. And back sleepers are right in the middle. "You don't want the head too far up but also don't want it falling too much into the pillow either," explains Dr. Shelby Harris, a psychologist who specializes in behavioral sleep medicine. "Nothing flat or too firm." Several chiropractors we spoke to echoed this, adding that it's important to find a pillow that keeps your neck aligned with your spine. For back sleepers, that means a mid-loft pillow is best; your head isn't too high, and your neck is supported, says Dr. Gbolahan Okubadejo, a spinal and orthopedic surgeon.
Other than that, a pillow — even for back sleepers — is really about your own preference, experts tell us. "Picking the 'perfect pillow' is very specific to you, and you may have to go through a few pillows to find the one that is right," Okubadejo advises. To help, we consulted our own panel of pillow experts, including Harris, Okubadejo, and four chiropractors, for their recommendations on the best pillows for back sleepers. Below, you'll find their favorites, including an adjustable one and others specifically designed to help with cases of tech neck.
Best back-sleeper-specific pillow
Here at the Strategist, we're no strangers to Parachute; the bedding brand has been popular among our own writers and experts. This pillow was the most recommended in our search for the best down-filled pillows. As Laura Bates, a co-founder of Comfybeddy, puts it, "With 750 fill power, these pillows feel supportive but offer a generous amount of cradling for luxurious comfort." Chiropractor Dr. Jordan Duncan of Silverdale Sport & Spine in Washington says this pillow works well for back sleepers specifically; it keeps the neck in that necessary neutral alignment but adds plushness on top that makes it comfortable to lie on, he says. There are three different densities to choose from: soft, medium, and firm. Duncan recommends going with the medium.
Best adjustable pillow for back sleepers
Okubadejo prefers pillows like this one that have removable foam, allowing you to easily lower your head's resting position. The adjustability helps with that all-important alignment. Tens of thousands of reviewers rave about it on Amazon. And former Strategist writer Lori Keong, a sometimes back sleeper, calls it "a warm hug for your head."
Best contour pillow for back sleepers
Although this pillow is meant for all sorts of sleepers, chiropractor Dr. Randi Jaffe calls it an "excellent choice for back sleepers." She points out that the pocket at the center of the pillow can help maintain the proper spinal alignment and helps with any tension and tightness in your neck, upper back, and shoulders. According to Jaffe, this can help relieve headaches by taking pressure off your neck. As a bonus, this pillow is made from "environmentally cleaner" memory foam that's CertiPUR-US certified.
Best orthopedic pillow for back sleepers
Proper posture is everything — even when you're sleeping. An orthopedic pillow like this one helps restore the correct curves of the spine while you're getting some shut-eye, says Dr. Stephen Szaro of Brooklyn-based Physio Logic chiropractic and physical therapy. He and Jaffe recommend this pillow for those with neck pain. It's Szaro's go-to because of the trapezoid cutout in the center. "This particular pillow offers just the right amount of support without overcorrecting the natural curves of the spine, as other contour pillows do," he says. Although this pillow is comfortable, Szaro also notes that patients usually need some time to get used to it since it can feel awkward at first to those who have never slept on an orthopedic pillow. "It's almost like trying to break in a new pair of orthotics for your shoes," he explains.
Best pillows for back sleepers with neck pain
Duncan recommends this pillow, which is similar to the one above, but instead of a trapezoid in the middle, it features a D-shaped center that's meant to gently cradle your head. There's a built-in cervical roll that adds an additional level of support and works with the center to complement the normal curvature of the neck.
Dr. Veera Gupta, owner of Optimum Health Chiropractic in New Jersey, appreciates the malleability of this pillow. The eventual molding to your neck helps if you have back pain, too. Supporting the curve of your neck puts less pressure on the mid-back curve and the lower-back curve down your spine, she explains. Buckwheat is also temperature regulating and won't hold heat in.
Best pillows for back sleepers with back pain
When you sleep on your back, it can shift the normal curve of your lower back (or, formally, the lumbar lordosis) and puts extra stress there, Szaro says. You can put a small pillow, towel, or blanket in between your knees to lessen the pain and reduce the strain of the discs in your back, he adds. Duncan agrees, recommending this pillow for its ability to promote that proper positioning. It's made from a shredded memory foam that's designed to be adaptive. And he points out that the pillow is cooling, as there are gel infusions added to the memory foam. Back sleepers with back pain might be better off sleeping on their sides, Szaro and Duncan told us. Those who are insistent back sleepers should probably look into medium-firm mattresses instead, according to Duncan, as this will give you enough support to maintain the right spinal alignment during sleep.
Okubadejo recommends this for back sleepers who wake up with back pain. As mentioned above, he recommends adjustable pillows for back sleepers in order to keep their neck in a straight line. This pillow is filled with what the brand describes as "MicroFlex cushions," which are clumps of foam that help the pillow keep its shape. A pillow that flattens easily can make back pain worse, as the neck and head won't be propped up properly.
Best cooling pillow for back sleepers
This pillow's cool-to-the-touch cover counteracts heat on both sides, Duncan says, and the inside has another breathable cotton cover that makes it even cooler. There's even microfiber gel clusters mixed into the filling for more neck, shoulder, and head support, according to Okubadejo, who recommends it for those with neck pain as well.
Best pillows for back sleepers who snore
Back sleepers are in a unique position: Your soft tissue and tongue can narrow your airway as you're lying flat, according to Okubadejo. He says this wedge pillow will elevate your head, neck, and shoulders, allowing air to flow freely, which in turn reduces snoring. It comes in three sizes, ranging from seven to 12 inches, so you can decide just how elevated you want your head to be. If you've been sleeping atop lots of pillows to stop snoring, Harris advises going to a doctor to rule out issues like sleep apnea.
Okay, hear us out. It might seem silly, but this is one of the best anti-snoring pillows out there. Kannan Ramar, a sleep physician and professor of medicine in the division of pulmonary and critical-care medicine at the Mayo Clinic, tipped us off to it for back sleepers who are trying to switch things up by occasionally sleeping on their sides. "It's not going to be comfortable when you try to get onto your back, so it tries to keep you on your side," he says. It features an inflatable airbag to help stop you from tossing and turning throughout the night, although some determined back sleepers do manage to roll over while wearing it.
Best water pillow for back sleepers
Pillow firmness isn't usually easy to adjust, which is why Jaffe recommends this one, which features a chamber in the center that you can fill with water. "This impacts the amount of support you receive, so it is truly an adjustable pillow," she says. It's easy to see what you're putting in and taking out to reach the just-right feel you need — maybe even more so than other adjustable pillows you can take the filling out of. Plus, Jaffe points out that water allows the pillow to gently adjust to your head and neck as you move positions while sleeping. She also recommends it for those who have chronic neck pain.
The Strategist is designed to surface the most useful, expert recommendations for things to buy across the vast e-commerce landscape. Some of our latest conquests include the best acne treatments, rolling luggage, pillows for side sleepers, natural anxiety remedies, and bath towels. We update links when possible, but note that deals can expire and all prices are subject to change.