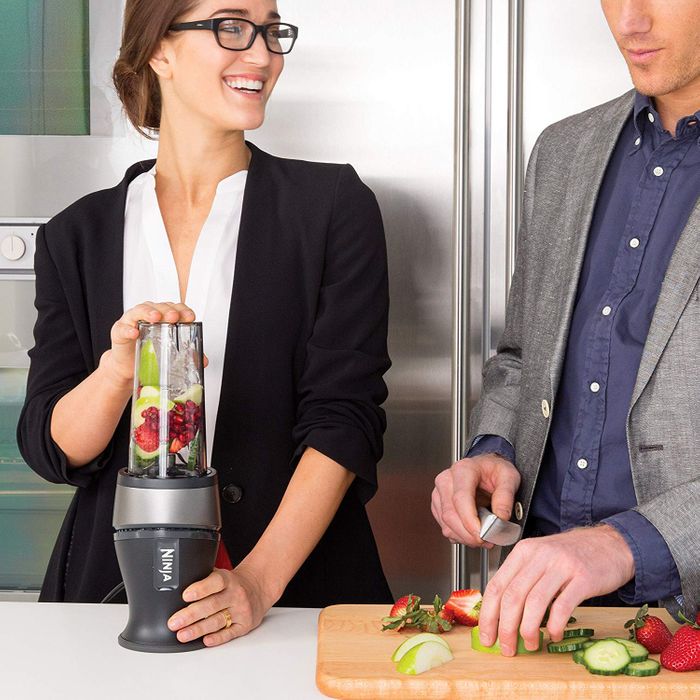 Photo: Courtesy of the retailer
Here at the Strategist, we like to think of ourselves as crazy (in the good way) about the stuff we buy, but as much as we'd like to, we can't try everything. Which is why we have ​People's Choice​, in which we find the best-reviewed products and single out the most convincing ones. (You can learn more about our rating system and how we pick each item ​here​.) 
And while we've written about  lots of kitchen gadgets — including the best blenders, the best immersion blenders, and the best single-serve coffee makers — here, we've rounded up the best personal blenders, as praised by the most enthusiastic reviewers on Amazon.
Best-rated personal blender
"This thing is the BOMB, and it's a workhorse," says one of the 5,500 reviewers who gave this blender a five-star rating. "The first time I used it after blending for a couple seconds my husband was concerned that I had forgotten the ice, because he couldn't hear it in the blender," says another reviewer. "It had crushed the ice so quickly that he thought I left it out." While many people praise the NutriBullet for its smoothie-making ability, that's not all they say it can do, especially when you use the included grinder and milling attachments. "Get creative and use your NutriBullet to make your own pasta sauces, ice cream, almond milk, hummus, nut butter, and even guacamole," encourages one reviewer. "It even grinds coffee beans," says another. Other reviewers had good experiences grinding flax seeds, cashews, and oats.
Best-rated (less expensive) blender
One reviewer put their blender to the test on the first day: "I filled half of the bottle with rock-hard frozen fruit chunks, then added peanut butter, yogurt, and milk. The result was a perfectly blended smoothie with no hint of unbroken fruits, chunks, or peanut butter." They compared the blender to a Vitamix, only "ten times cheaper, smaller, and easier to use." The real key is not overloading it. "I always make sure 50 percent of the bottle is liquid, fill the rest + ice, blend for short bursts with some shaking in between," one reviewer suggests. "Less than two minutes, I have my morning protein shake, nice and chilly." Dozens of reviewers are also impressed with how compact this machine is. One even packs it in their suitcase.
And now for some micro-picks of every type of personal blender you might be looking for.
Best portable personal blender
The rechargeable battery on this blender makes it perfect for travel. "My boyfriend and I have been traveling around the country in our car and we LOVE this blender," says one reviewer. "We brought all of our dry smoothie ingredients with us and just mix it with water. We were so impressed the first time we used it because it blended up our smoothie with a whole banana in about three seconds. I can honestly say that it works better than our big kitchen blender." You charge the blender via a USB port, which one reviewer confirms is safe and effective: "The USB port is covered so water doesn't get into it and it's fully charged in three to five hours and after a week of using it I have only needed to charge once."
Best automatic personal blender
If you're looking for a hands-off way to make smoothies, this personal blender is automatic. "You can click the button and it'll stop, start, and pulse all on its own so you can walk away and continue getting ready for a minute or two while it blends the perfect smoothie," explains one reviewer. There are even suction cups to hold the blender to the table while it works. One downside in many reviews is how loud this machine gets — "Like drive your pets away, wake up the entire house, neighbors calling the police loud" — but most are willing to overlook that for how powerful the blender is. So powerful that, in frozen drinks, "you don't even feel the ice crystals at all, it is so smooth, it reminds me of the real Icee, versus a slushie of other brands."
Best personal blender for baby food