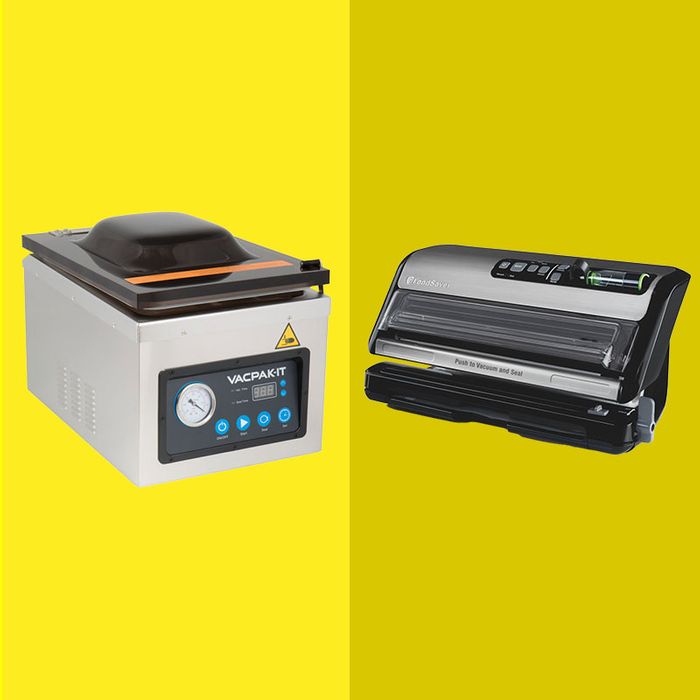 Photo-Illustration: Retailer
At its core, the purpose of vacuum-sealing is a simple and noble pursuit: to make food last longer. But until I talked to a bunch of experts for this story, the idea of buying and using the actual appliance was one I found particularly overwhelming — especially because they aren't particularly cheap. They're such bulky-looking machines with so many buttons, I thought. (Not always, it turns out.) How in the world do you use them? (Answer: It doesn't have to be that complicated.) Are they really worth it? (Yes, they can be.)
If you're at all interested in buying food in bulk, or even just in bigger portions — meat, yes, but also dry goods — vacuum sealers help keep extras fresher for longer. But they also make super-efficient use of storage space, whether in your freezer, fridge, or pantry. They allow you to sous-vide, infuse, cure, and ferment. Many have attachments that seal cans (instead of the usual plastic bags) for pickles and jam, and many have a wet-seal setting that allows you to marinate in a fraction of the time it would otherwise take. As Kate Kavanaugh, co-owner of Western Daughters Butcher Shoppe in Denver, put it, "If you're thinking about vacuum-sealing, you're probably thinking about how you extend the life of something — whether vegetables you're pickling, or flour you're storing, or meat you're freezing. But then they also have all of these fun perks — the stuff that is the fun cooking bonuses." Here, Kavanaugh and a handful of other pros told me about their favorite models for home use.
What we're looking for
There are two types of vacuum sealers: external and chamber. The former makes up the vast majority of the ones on this list, as they are specifically designed for regular consumers. As the name suggests, you put your food inside a bag, insert the open edge into the machine, secure the lid, and then press a button that suctions air out of the bag and then seals it shut. You can watch the whole thing in action: The walls of the bag contract to wrap super-tightly around the contents. The latter is the method used in commercial settings, whether a giant factory or a mom-and-pop butcher shop. They're much bigger and more expensive, fully enclosing your bag with the food inside and sucking the air out with heightened power. While most home cooks won't need such an intense contraption, I've included one relatively small and affordable option on this list.
Of course, adding another appliance to your kitchen means you'll have to consider storage. As such, I've written out the dimensions of each.
Best overall food vacuum sealer
Type: External | Size: 7.2" x 16.3" x 7.6"
"Vacuum-sealing is a huge part of my job," explains Kimberly Plafke, production manager at the Meat Hook in Brooklyn. In the shop, when she's sealing anything that doesn't get sold immediately, as well as house-made charcuterie, it's a chamber model that gets that work done. But she also has the FoodSaver at home and pulls it out frequently. "I find it super-helpful," she says. "It's a space-saver because you're taking all the air out. You can organize your fridge and freezer so much better. I'm a crazy coupon lady and if I see a good deal on something at the grocery store, I can divide and then vacuum-seal and save it for ages." Plafke is also very into canning. If she makes jam, puts it in a jar, and then puts that jar in the fridge, it will only last a couple of weeks. But if she seals it with the FoodSaver's canning attachment (which nestles in a compartment at the top), the spread will be stable for much longer, up to a few months.
Anthony Accardi, owner of Brooklyn's Transmitter Brewing, uses his FoodSaver four to seven days a week — "probably as much as my stove," he told me. "It has long legs outside of straightforward sous-vide use. I use it to make quick pickles and for fermenting. It takes freezer burn out of the equation. You can marinate something for ten minutes instead of overnight and get the same amount of flavor. I cure pastrami, bacon, and ham in it." As for the machine itself, Accardi calls it a "well-designed unit." He particularly likes the view window, which helps to manage feeding the bag and to see what's going on inside. He's owned his for about four years with, as he noted, very frequent use. "I'm kind of surprised that it's lasted so long for a home unit," he says. "I don't baby it."
Best less expensive food vacuum sealer
Type: External | Size: 5.8" x 7" x 4.3"
Dave Yasuda, director of marketing at Snake River Farms, likes the Anova Precision Vacuum Sealer Pro, especially for cooking sous-vide. (He's responsible for generating a lot of the photography the company puts out, so this gentle cooking method ensures the plated pieces of pork and beef have a consistent look.) In the office, they have a big, expensive machine. "But I often have to take this show on the road," he says. For that, he turns to the Anova Pro, the smallest (and cheapest) unit on this list — though he points out that its original is even cheaper and smaller. "I've tried a lot of different ones, and sometimes they can be wimpy. This has a lot of suction. It's powerful," he says. "It also has a double seal, so there's no chance of leakage. It has a drainage spout. It has the ability to change the amount of suction. Like, a steak should be sealed as tightly as possible. But if you're doing dried goods, it doesn't need to be quite so tight." The final upside? "Other machines can be bulky and look old-fashioned. This one is sleek. Plus, it's pretty innocuous space-wise. I turn it on its side and put it behind my pots and pans."
Best even less expensive food vacuum sealer
Type: External | Size: 18.3" x 5.1" x 11.8"
"When picking out a vacuum sealer, I did a lot of research into affordability," says Ryan Dolliver, owner of Palmetto in Brooklyn. "I bought it for the bar, and I didn't know if it was going to work for us, and I didn't want to spend a bunch of money on equipment we might not have ended up using." But it did indeed work, and he's been relying on it for more than six months now. He turns to it primarily for infusing and preserving ingredients for cocktails, a practice where "consistency is paramount," he says. Other methods for flavoring creams or syrups can suffer from variations in temperature and movement, but with vacuum sealing, recipes turn out the exact same every single time. The machine also allows him to keep seasonal produce fresh for months. Finally, because he lives down the street from his bar, he sometimes uses it to seal foods to store in his own freezer or to sous-vide at home. Overall, "it's a very low cost of entry and does what it says it does every time," he says. "It's a consumer-grade product, but I use it in a professional setting, and it still works great."
Best simple food vacuum sealer
Type: External | Size: Multiple pieces
The Zwilling Fresh and Save Starter Set is one that doesn't quite fit the mold of the others, but comes eagerly recommended by recipe developer and cookbook author Jessie Sheehan. If you only plan to vacuum-seal a little bit, or just want to try out the process, this is an easy, approachable starting point. It's a handheld cylindrical pump that works in conjunction with specific Zwilling bags and storage containers, sucking the air directly through valves on each receptacle. "It's insanely easy to use," Sheehan says. "And it really appeals to the make-ahead girl in me. I love that you can prep ingredients — carrots, celery, whatever — and maybe you're not touching those chopped-up veggies for a week, but they stay fresh. I also do it with cookies. And I make a lot of no-churn ice cream, which can get weird in the freezer after a while. But these containers can go in the freezer, so if you put it in here, it will last."
Best powerful food vacuum sealer
Type: External | Size: 15" x 12" x 6.3"
Aaron Foster, owner of Brooklyn's Foster Sundry, has been using this VacPak at home for the past five years. For him, its primary benefit is how compact and organized it makes his freezer and pantry. In the former, he stores meat and sauces, which spread thin when sealed and then become stackable. He also uses the vacuum sealer to preserve summer produce like sour cherries and cooked-down Sungold tomatoes to pull out in the winter. For dry storage, the tool tightly closes any unfinished packages of pasta, beans, and grains so you're not left with "a bunch of open clipped half-bags in your cabinet," he says. Foster also appreciates that the machine accommodates one continuous roll of plastic, "so if you're sealing a tiny bag of yeast versus something bigger for a sauce, you can get exactly what you need and cut it off to your specifications," he explains.
Kavanaugh and her husband — who not only own a butcher shop but are avid homesteaders — also use this machine. (In fact, they have the 16-inch model to accommodate larger cuts of meat but believe the 12-inch should be plenty big for most tasks.) "We use it pretty heavily," Kavanaugh says. "We raise all of our own meat as well as enough to cover a small share program and have had this one for over two years. It's never going to be as good as chamber machines, but I can't imagine a regular consumer needing that. And it is more powerful than the FoodSaver. It has really decent suction power and a decent seal bar."
Best chamber food vacuum sealer
Type: Chamber | Size: 11" x 15.5" x 4"
If for any reason you're interested in serious vacuum-sealing, this chamber model is somewhat reasonably sized and priced (compared to others that can be massive and upwards of several thousand dollars). Stefano Diaz, owner and head butcher at the Meat Wagon in Kingston, New York, uses a slightly bigger version of it. "We're doing heavier sealing," he says, "but it's also very user-friendly. You have to change the oil, like you do with a lawn mower, but it's easy. Surprisingly enough, a customer told me the other day they have one. If you do a crazy amount of cooking, it might be worth it. It holds more, and it's faster."
Some more food-storage products we've written about
Our experts
• Anthony Accardi, owner of Brooklyn's Transmitter Brewing
• Stefano Diaz, owner of and head butcher at The Meat Wagon
• Aaron Foster, owner of Foster Sundry
• Kate Kavanaugh, co-owner of Western Daughters Butcher Shoppe
• Ryan Palmetto, owner of Palmetto
• Kimberly Plafke, production manager at The Meat Hook
• Jessie Sheehan, recipe developer and cookbook author
• Dave Yasuda, director of marketing at Snake River Farms
The Strategist is designed to surface the most useful, expert recommendations for things to buy across the vast e-commerce landscape. Some of our latest conquests include the best acne treatments, rolling luggage, pillows for side sleepers, natural anxiety remedies, and bath towels. We update links when possible, but note that deals can expire and all prices are subject to change.