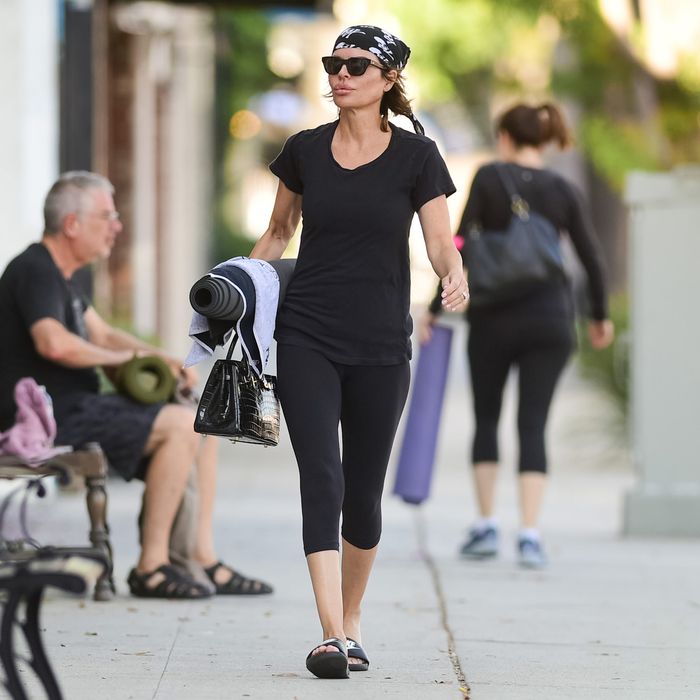 Photo: BG026/Bauer-Griffin/GC Images
Whether you're working out or just working from home, yoga pants are probably in rotation for your day-to-day wardrobe. To help you find the pair for your preferences — whether you like high-waisted or fold-over or capris or boot cut — we've scoured thousands of Amazon reviews for the best of the best. And if you're looking for more activewear, be sure to check out our roundups of the best sports bras, leggings, and plus-size workout clothes.
Related Articles: Best Workout Leggings | Best Yoga Mats
Best-rated yoga pants
These yoga pants are so good one reviewer "celebrated with Champagne" after wearing them on a run. "My run times have improved tremendously since buying," she claims and highly recommends them for "that feature alone." The leggings could even fit her bottle of Champagne in the pockets. And she's not the only one who raves about how large and useful the pockets are. One customer has a very large Galaxy S9+, and it fits comfortably in the pockets: "They're big pockets and there's a pocket on both legs." But the quality of the leggings is what really blew her away. "They passed the squat test and they didn't move," she adds. Another runs a fitness blog that includes videos, and so far these have held up and looked good in her videos. She "sweat in them a lot," yet calls them "resilient." She goes on to say, "I love the waistband and design of these leggings, and the pockets are just simply amazing and convenient. More than one person has asked me where I got them." Plus, one tall reviewer says these leggings are "actually long enough for my long legs, and that is hard to find in leggings."
Best-rated (less expensive) yoga pants
Nearly 70 percent of reviewers give these yoga pants five stars, with many describing them as lightweight enough to workout in. "I was looking for cool, light material because I use these pants for running on an indoor track. They are perfect," one writes, while another says, "I have hiked in them a couple times now and found them to feel comfortable, and yet very supportive on my legs." And while they are breathable, one assures, "They're not see-through like a lot of leggings can be; so wearing them at the gym is totally fine." As far as the length goes, some reviewers say they are a little long, but one five-foot-one-inch reviewer says, "Once I put on a sneaker they are just above the ground." Reviewers also appreciate that they're affordable — and that that doesn't impact their quality. "I had them for 2.5 years and they still look like new," one owner says. "I wear them weekly. Amazing quality. No stretch, no holes, no sign of wear. Just amazing."
Best high-waisted yoga pants
According to the majority of positive reviewers here, Baleaf High Waist yoga pants don't press, squeeze, pinch, or leave indents on your stomach, and they stay put. "The high waist stays up through all kinds of movement," said one reviewer. Another satisfied customer who wears them for work and yoga said, "I love that they don't slide down, flatten out my waist without leaving indents in my stomach or putting too much pressure like most high-waisted pairs do." A woman who said she wears them running called them "perfect workout pants" saying "they fit wonderfully, and they're so comfortable I don't even feel like I'm wearing pants (wore them for my run tonight).