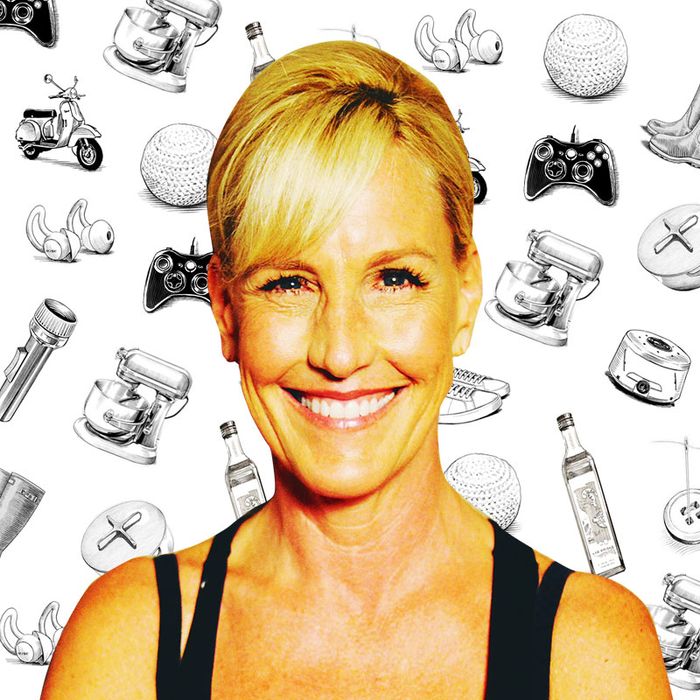 Photo-Illustration: Retailers / Photo: Ian Willms
If you're like us, you've probably wondered what famous people add to their carts. Not the JAR brooch and Louis XV chair, but the hairspray and the electric toothbrush. We asked environmental activist Erin Brockovich — whose book Superman's Not Coming: Our National Water Crisis and What We the People Can Do About It was released last week — about the organic coffee, electric toothbrush, and boots she can't live without.
I brush my teeth four or five times a day: the minute I wake up, after breakfast, after lunch, midday, and before I go to bed. Sometimes even twice; I'll get into bed, and it still feels dirty, so I'll go back and do it again. I love this toothbrush, I really do. The vibration works. It feels good on my gums, and really brightens my smile.
If I'm doing yoga, and I'm down on my knees and lifting my butt up, I don't want to wear leggings that you can see through. At the same time, I'm like Goldilocks: I don't like the superthin ones, but some are too thick. The Lululemon material is just right. It isn't so heavy, but I have assurance that you can't see my butt in them. I own eight pairs; they're my staple. With the right boots, a perfect blazer, and my Lululemons, I'm good to go.
A.S. 98 boots are kind of like a more hip-looking Doc Marten. Some are a little more streamlined, but there are also pairs with buckles and zippers. The ones I tend to wear the most have a washed-out, vintage navy look with a side zipper and buckle. I can pair them with anything. I'll even wear them when it's 90 degrees. I am getting older, but I still think style is how you feel, so some days I have a mood where I throw these on with a sundress or a pair of shorts.
I wore too tight shoes forever, and then I developed Morton's neuroma, where a bumplike thing grows on the nerve between your squished toes. It's usually benign, but it's quite painful. I had to find something with the right toe box, so I went to my local Fleet Feet, and they said I had to try on this shoe from On. The minute I discovered them they became the only ones I wear. On is Swiss-engineered, and the Swiss know a thing or two about mountaineering and running. They're comfortable, have good arch support, and just hold my foot perfectly. I wear these shoes during any activity where I have to be on my feet for a long time: I wear them on walks and hikes or when I'm chasing the grandkids around, because they're fast.
I go into Starbucks here and there, but I don't always like all of the flavors. I'm just like, Do you just have a cup of coffee? For me, Bulletproof is just a clean cup of coffee. And coffee can have a lot of contaminants, so I like that this is tested for toxins, and organic. I experiment with how I make coffee at home; I love the French press, but I screw it up every time. I don't know why I can go to France and get a good French press coffee, but when I do it myself I end up with grounds in my cup. I drink too many cups a day. I'm getting in the habit of forcing myself to stop at two, but if I get on a run I can find myself out of my mind at noon, and then I realize I've had five cups of coffee.
Don't just assume that your municipality is getting any and all chemicals out of your water. We've got issues with the distribution system, so you have to get your water-quality report and know what's in your water at the tap. Reverse osmosis is the best process to remove chemicals from your water, and Aqua Tru is a little countertop reverse osmosis system. It's pretty nifty, and gives you some assurance that you've gotten rid of most low-level contaminants that could be in your water. To me, clean water means educating yourself about water. It will take us all learning more, and getting involved in your own backyard, to ensure that everyone has access to safe drinking water.
My love affair with these boots began in New York City. When I'm in New York for work, at some point I'll ditch everyone and go shopping. I love window-shopping, I don't have to talk on the phone and I don't have to think about anything. When I saw them I thought, Those are sexy boots. I didn't want to try them on, but I did, and I just felt like they said something, like, Don't mess with me. You get that feeling from them. They're sleek and have a chunky heel, which I like for stability. I don't feel like I'm going to topple or tip over. I can dress them up or down for lectures, events, dinners, or nighttime. If I'm wearing them, it's usually an attitude day.