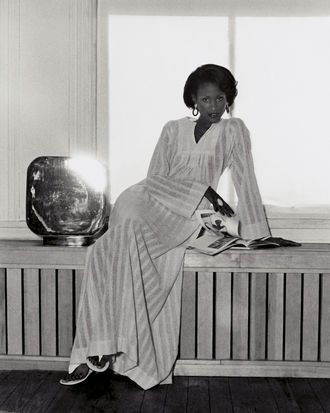 Photo: Kourken Pakchanian/Getty/Conde Nast via Getty Images
If there was ever a fitting time to embrace the housedress, this housebound moment is it. "I'm not sure any other attire would feel so appropriate," says Lauren Mechling, writer and @thecloglife creator. "In normal times, they are easy, forgiving, and an instant conveyor of 'effortless chic,'" and these "uniquely shapeless days" call for appropriately shapeless attire, she adds.
Rachel Syme, a staff writer at The New Yorker who chronicled her poignant caftan journey back in 2014, says the garment "really is one of those things you can put on and really feel different. You can be whoever you want under there!" There's also an empowering element to reclaiming the kind of comfortable, loose silhouettes previously maligned: "I remember the idea that women who wore shapeless garments somehow had let themselves go — which I don't think is the case, but I also think that the demonizing of 'letting yourself go' is something we need to start pulling back on, especially right now," Syme says.
Ahead, stylish writers, stylists, influencers, and a former costume designer share their favorite housedresses, caftans, and other billowy dresses that will make a sweltering summer largely spent at home a little more bearable.
Best
under-$50
housedresses
Former costume designer and Strategist contributor Alison Freer says she's been wearing "some version of a housedress for at least 25 years." She's always liked that it's "machine washable, needs little to no ironing, and is comfy enough to nap in yet chic enough to wear out at a bar, back to bed, then out for breakfast the next morning." Among her favorite places to find housedresses is Blair, a small-town Pennsylvania retailer that dates back over a century. "If you want affordable housedresses, you need to go where the grandmas go," she says.
Photo: Picasa
Colu Henry, New York Times food columnist and author of Back Pocket Pasta, fell in love with caftans around 2011 when she stumbled on Laughing Cherries, a company that makes cotton drawstring-waist caftans: "I put it on, and I felt elegant," and her housedress obsession began there. "I can't tell you how many I've bought of those in different prints," she says. "The more worn in they get, they become more housedress than 'out' dress."
"My main goal in life is to be comfortable at all times, and a housedress is the absolute pinnacle of comfort," Freer says. "Plus, there are usually pockets involved." She says to look for pockets "large enough to hold your phone, a pack of tissues, and a lip balm," and recommends "a housedress with a small cap or flutter sleeve, so you can wear it on days where you don't want to bother shaving your underarms." Finally, don't overlook length: This one, which "just barely grazes the top of your knees, so you can bend over in the yard without flashing the world," is just right.
"This Vinkis dress has been following me around on Instagram, and now that I see it's under $50, I think I'm going to buy it," Mechling says. The ideal housedress, she says, has "soft, thin fabric, loose shoulders, generous underarms, a waist that would accommodate a Hula-Hoop" — and, finally, nap-ability. "The dream iteration is one you can fall asleep in and will double as a nightgown. Caftan life is not bounded by time of day," Mechling adds.
Update: We have received multiple complaints from customers regarding this Vinkis dress. We are attempting to contact the company and will update this post with any additional information.
Freer has found gems on the vintage site Rusty Zipper, which "consistently has an incredible selection of vintage housedresses, muumuus, and caftans," she says. "They are the real deal, selling vintage on the web since 1995. Their buyers have amazing taste, and their prices are very fair." One of her purchases — she bought it so long ago she was still "using AOL dial-up" — looked like this '60s piece. For vintage newbies, Freer says to measure "a garment you already own and love the fit of; it's the best way to determine if something is going to work, and most vintage sellers take measurements with the item laying flat, so it's easy to compare."
Best
under-$100
housedresses
In addition to Blair, Freer suggests perusing the Vermont Country Store, another "go where the grandmas go" favorite of hers, for options like this beachy fish-print dress.
A similar recommendation comes from Maria Del Russo, writer and author of Simple Acts of Love. "Believe it or not, Country Store has some adorable options," she says of the online general store that started years ago as a catalogue. She's planning on buying this seersucker housecoat with a front zip and smock yoke. "I feel like a glamorous lady whenever I put on a housecoat with a fun pattern," she says.
Freer also swears by Dillard's, where she remembers shopping with her mom as a kid in Texas. She recently bought this chambray patio dress there because she's "a sucker for cheerful motifs like ladybugs, strawberries, and rainbows," Freer says. If critters are too cutesy for you, she suggests this denim one with a floral embroidery.
Mechling recommends Salter House, a hip general store in Brooklyn Heights, for its nightdresses, which are "all under $100 and absolutely lovely," she says. "Their look is very sleepy Portuguese aristocrat."
For a slightly less homespun take on the housedress, style blogger Sade Akinsanya likes the maxi and midi dresses from indie British label Kitri. "They're brilliant transitional pieces that I can wear in the summer with a headscarf, espadrilles, and a basket bag, or layered up in winter with tights, boots, and a leather jacket," she says. She owns this rather sunny maxi that happens to be on sale right now.
Best
under-$200
housedresses