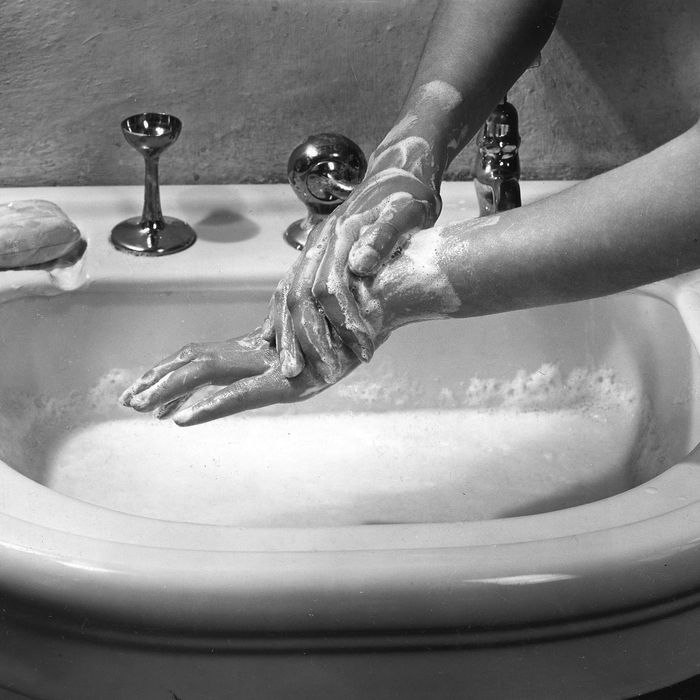 Photo: Fotografisches Atelier Ullstein/ullstein bild via Getty Images
Editor's note: The most recent guidance from both the U.S. Centers for Disease Control and Prevention and World Health Organization states that you should wear a face mask in public to slow the spread of COVID-19. However, on March 20, 2020 — when this story was originally published — that was not the case. We are updating our content, below, to reflect the change in these recommendations and the fact that you should be wearing a mask in public, especially when social distancing is difficult to maintain, in order to protect yourself and others.
The current situation with the novel coronavirus has officially tipped over from outbreak to pandemic, meaning the World Health Organization, governments, and health departments are shifting their response from containment to mitigation. And even with over 14,000 confirmed cases in the United States, and over 240,000 cases worldwide at last count, there are still a lot of unknowns surrounding the virus — including how, and for how long, our daily routines might be disrupted as a result.
We've been covering this outbreak in one way or another since the end of January, sourcing advice from over 15 experts, from physicians and professors of epidemiology to officials from humanitarian relief organization, to create a handful of guides with the best practices (and products) for preparing your household for the coronavirus outbreak and preventing the spread of infection. We'll update and add to this list as we learn more, but please do keep in mind that prices and availability of all items included in these guides can change (and have been changing) daily. And if you are experiencing any symptoms of the coronavirus — including a fever, shortness of breath, or a cough — call your doctor.
Of the advice offered by public-health officials everywhere, including the Centers for Disease Control and Prevention and the World Health Organization, washing your hands frequently is one of the most important steps you can take to prevent getting yourself and other sick. (That's as true of the common cold as it is coronavirus, for what it's worth.) Doctors say any standard soap will do the job, and to find the ones that won't irritate hands too much after repeated washing, we asked a panel of experienced hand-washers — doctors, chefs, and teachers for whom sanitation is essential — about what they use to stay clean. Read more here.
Symptoms of COVID-19 include fever, cough, and shortness of breath, and if you feel sick with any of these symptoms, you should not travel at all — to work, around your city, or on vacation. And since we first published this story, a lot has changed about commuting: The state of California has issued a statewide, shelter-in-place mandate, limiting all public transit to essential purposes only, and New York governor Andrew Cuomo is, for the time being, urging residents to stay home. But for those who do still have to get to work, we asked three infectious-disease doctors what we'll need to stay healthy during travel. Across the board, they recommended washing your hands, not touching your face, covering your cough, as well as keeping nails, which can pick up germs and bacteria, as short as possible. Read more here.
If you do end up coming down with the virus, or you are suffering from any other infections at the moment, the CDC recommends self-isolation by staying home from work, school, and other public areas for a minimum of two weeks. (And self-isolation and social distancing is now the norm in New York City, and, increasingly, across the country.) So Tom Cotter, the director of emergency response and preparedness at Project Hope — which has been on the ground in China helping fight the coronavirus outbreak — recommends stocking up on "everything you need to stay home for several weeks." Some of these items include fever-reducing ibuprofen, non-perishable packaged and frozen foods, disinfecting spray, and, to stay entertained, a 1000-piece puzzle. Read more here.
Most respiratory viruses, including the novel coronavirus, are spread predominantly through coughs and sneezes, says Amesh Adalja, a senior scholar at the Johns Hopkins University Center for Health Security and a spokesperson for the Infectious Diseases Society of America, rather than through touching the germs on your phone. However, Adalja says it's not a bad idea to sanitize your phone once or twice a day, using something like a disinfecting wipe, especially since it is possible to come in contact with coronavirus after touching an infected surface if after you touch your eyes, nose or mouth. Read more here.
Since almost all antibacterial wipes are sold out online, we asked Eric Lee, a St. Louis–based physician, if UV light sterilizers would be an effective alternative. "UV light, the type used in most common devices on the market to clean household objects, has been shown to be effective in laboratory studies at killing bacteria on computer screens, toothbrushes, and other objects," Lee says. While our experts say there haven't been conclusive tests showing that UV light can kill the coronavirus, microbiologist Alex Berezow says, "UV light kills everything: bacteria, fungi, viruses. It should kill coronavirus." We do know for sure that it is effective against other viruses like the flu, so we found a bunch of (still in stock) portable UV sanitizing boxes, wands, and water bottles that claim to kill 99.9 percent of bacteria and viruses on phones, toothbrushes, pacifiers, and a number of other surfaces, to help keep you and those around you healthy. Read more here.
In this time of the coronavirus, stocking up on emergency essentials will limit the need to patronize public spaces, such as supermarkets or pharmacies, and help keep you healthy during a two-week (or longer) period of self-isolation. But even once this pandemic calms down, there are lots of other reasons to keep on top of your preparedness, and to help you figure out what you need, we consulted the CDC, Red Cross, the NYC Emergency Management Department, and over 13 emergency professionals about the go-to survival essentials to always have on hand, such as a first aid kit, protein bars, and disinfecting bleach. Read more here.
If you've already stocked up on all of the soap, sanitizer, food, and day-to-day essentials for your self-isolation stint, you could go a step further and pick up an emergency preparedness kit. Prep kits, or go bags, are designed to "help you and your family prepare for just about any disaster you might encounter, without expending too much extra effort on your end." However, not all emergency-preparedness kits are created equal, so we turned to CDC, FEMA, the American Red Cross, and NYC OEM, along with the founder of the Mountain Scout Survival School Shane Hobel, to find out which kits hit the mark, for all kinds of urban emergencies. Read more here.
We started our coverage of the coronavirus at the end of January, when it became clear that N95 respirator masks — which are certified to filter out at least 95 percent of airborne particles — were out-of-stock online. However, after talking with three infectious disease doctors, we learned that healthy people do not need to buy N95 masks or even surgical masks. That's because the N95 masks used in hospital settings require an exact fit to eliminate gaps between the mask and the skin, along with training for proper use, and the masks you pick up from Amazon or your pharmacy (if you can even find them anymore) won't be as effective, says Waleed Javaid, the director of infection prevention and control at Mount Sinai Downtown. The CDC only recommends that doctors and nurses treating patients who are, or may be, infected with the virus wear N95 respirator masks. So instead of stocking up on masks, practice basic good hygiene: "Stay home [if you're sick], don't infect anybody, wash your hands appropriately, and get vaccinated," says Aaron E. Glatt, a spokesperson for the Infectious Diseases Society of America. Read more here.