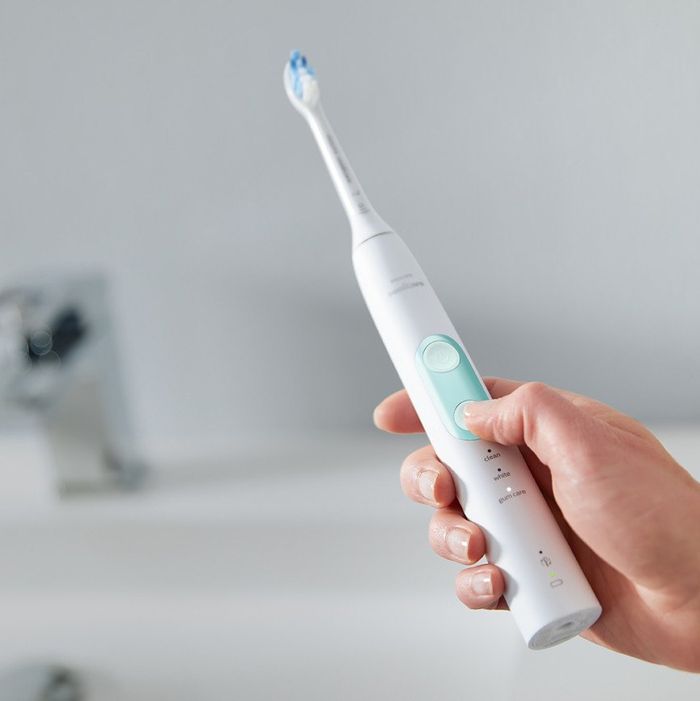 Here at the Strategist, we like to think of ourselves as crazy (in the good way) about the stuff we buy, but as much as we'd like to, we can't try everything. Which is why we have ​People's Choice​, in which we find the best-reviewed products and single out the most convincing ones. (You can learn more about our rating system and how we pick each item ​here​.) 
We've written about lots of oral-hygiene products — including toothbrushes for babies, trendy toothbrushes, water picks, and the best toothbrushes according to dentists. In our previous reporting, we've found that experts tend to recommend electric toothbrushes, which outperform manual options in reducing plaque and gingivitis in clinical studies. Plus, you reduce the excessive wear and tear on your teeth that can be caused by scrubbing too hard with a manual. Spoiler: It seems as though Amazon reviewers have been listening to their dentists, because they love many of the same electric toothbrushes. Below, we have models from both reviewers' and dentists' favorite brands, like Oral-B and Philips, for the whole family.
Best-rated electric toothbrush
With more than 7,000 five-star reviews, this brush is a favorite among users making the switch to an electric model for the first time. "This toothbrush leaves my teeth feeling like they've been power-washed," writes one satisfied user. Another describes it as, "POWERFUL. No unnecessary gimmicky features." And thanks to the deep-clean people get from this brush, many reviewers find that dentist visits are far easier. One says, "I've never gone to the dentist regularly because every time, I had multiple cavities that they would fill … I went in today and have NO CAVITIES." They sum up their point: "If you struggle with cavities even though you're doing everything right (or maybe especially if you're not), this toothbrush is so worth it." Other customers similarly looked at it as an investment purchase, saying, "This toothbrush makes you feel like you just got back from the dentist, and you can buy cheap heads for your whole family to use. Make the investment and purchase this chargeable, reusable, powerful toothbrush that will save you money over the long run!"
Best-rated (less expensive) electric toothbrush
This battery-powered brush is popular among users who want an electric brush but aren't willing to invest in a pricier model. One reviewer writes, "Toothbrush turned out to be surprisingly great. Great starter toothbrush when converting from standard to electric, featuring semi soft bristles, good power, and all at a very reasonable price." This electric toothbrush is also popular among reviewers looking for something simple for travel.
"This one is compact enough to carry in your toilet kit when you travel. It only requires 1 AA battery (which can last a few months), while the more expensive ones have a recharging base and what not, that needs to be plugged in, rendering them not practical for travel, particularly outside of North America, where the voltage is likely to be 220V, and the plug different," writes one reviewer, concluding, "No such problem with this toothbrush."
Best electric toothbrush with pressure sensor
Heavy-handed users love this brush for its pressure sensor, because, as one writes, "It's easy to put too much pressure on the brush and this feature trains you to correct that." Another reviewer praises the toothbrush's alert mechanism, saying, "They finally have figured out a feature that really matters: A pressure sensor that gives haptic feedback (a pulsing) when you press too hard. (Previously you only got the change in noise when you overpowered the brush; now it's intentional.) This feature is worth the upgrade."
The pressure sensor, and accompanying "gum care mode," mean that this pick is also good for those looking to help with gum health. "I got this because my dentist told me that I brush too hard and my gum is deteriorating from that," writes one reviewer, who adds, "After I try using this and went back to see the dentist three weeks after, she said that my teeth did not have any plaque build up at all. For me, I feel like I have been to the dentist every day after using this and I find that it is not too strong or too soft. I use Gum Care mode all the time though.
Most durable electric toothbrush
Several reviewers note that this isn't the newest model of this toothbrush, like this dental professional who has, "been using Sonicare brushes since 1992. This is the older model, it is more durable than the more recent models. The handle is much thicker (and heavier) than the newer models, and the brush heads screw on (newer models just pop on)." Reviewers also appreciate its sturdy base and non-slip grip: "The handle fits very nicely in the hand and the brush part is just the right size." Another satisfied customer writes, "I'm right handed and due to arthritis no longer able to grip, pull or push. It works great and now feels like I'm getting my teeth super just left the dentist clean." The two-minute time is another much-lauded feature, with one reviewer swearing, "I believe that by consistently brushing my teeth for two minutes it's been helping my teeth stay cleaner."
Best electric toothbrush for whitening
"I bought this toothbrush because I felt like a normal toothbrush was no longer making my teeth white. I used an electric Oral-B toothbrush in the past and liked it, but this one is a different animal. There aren't any spinning heads. This works by vibrating so fast that it basically buffs your teeth while blasting water and toothpaste in places it normally wouldn't go without a water pick"
Best electric toothbrush for travel
"I have to admit I didn't expect too much, when I ordered the Fairywill electric toothbrush as a traveling replacement for the Phillips SonicCare toothbrush used at home. The main appeal was the ability to charge the device, using a regular micro-USB connector, which I carry for my cell phone anyway," writes one reviewer, who continues, "Boy, was I surprised the first time I tried this thing." And many reviewers agree that this easy-to-charge, compact electric toothbrush packs a cleaning punch. Having five different modes "is really nice, depending on what type of brush I want," says one reviewer, continuing, "I drink a ton of coffee so my go-tos are the clean mode and then I do the polish mode for 30 seconds. My teeth are noticeably whiter which is great." Its sleek design has earned it some fans as well, as one reviewer says, "this is the only toothbrush I've ever had that people have commented on because it just looks so awesome. And, it really is! I definitely recommend it. Great price and an amazing clean."
Best travel electric toothbrush with bluetooth
While this Oral-B 8000 has the same Bluetooth capabilities you can find on the Oral-B 7000, it also has a travel charging case for easy transportation. "There is NO experience quite like using this brush," says one customer who thinks the "sweet travel case that plugs in to charge the brush inside AND has a USB port to charge your phone" is worth the price. Another customer agrees, the travel case was necessary because he travels "at least 150 days each year." He writes, "Having this travel charging case that comes with a travel charger is another level of comfort I can't live without now." For him, "taking the original charger out of the base, untangling the wires, and taking it around with you everywhere was such a hassle," and now it's much simpler. And one more goes as far to describe this toothbrush as "quite sophisticated." It has all the bells and whistles one could want in a toothbrush, and he thinks that once you have Bluetooth, you can't go back: "One can view on their phone all areas of the mouth while cleaning each section thoroughly. Various degrees of intensity help to clean your teeth, gums, and tongue with excellent results."