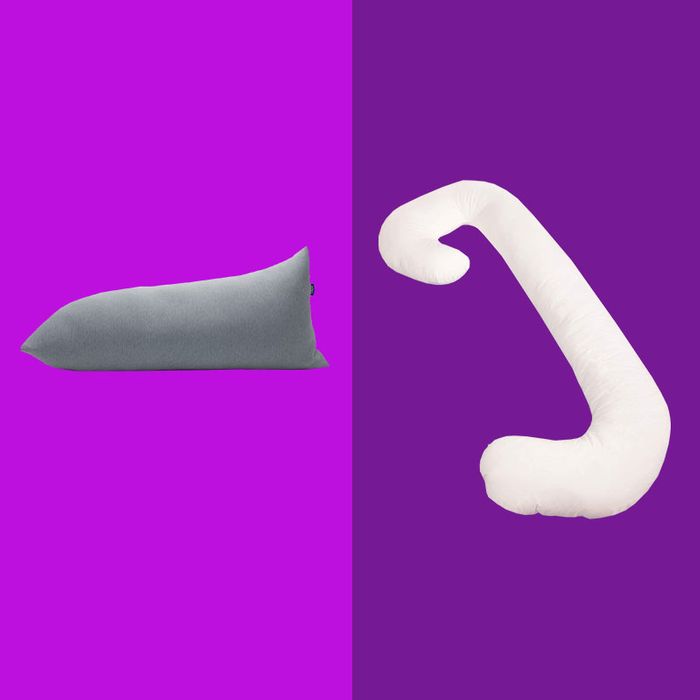 Photo-Illustration: Photo: CBS Films
The first image that comes to mind when you think about body pillows may be one of those oversize staple-shaped pillows that pregnant people wrap themselves in. While those count, body pillows can take other shapes, and anyone can achieve better sleep by incorporating them into their sleep setup, pregnant or not. According to sleep consultant Kelly Murray, "One of the key ingredients for good quality sleep is ensuring your body is comfortable. For many of us, that means pain relief — and body pillows can be a great way to provide pain relief without the use of medication. You don't have to be pregnant to benefit from the joint pressure relief that body pillows provide."
All of the experts we've talked to about the best pillows for all kinds of sleepers, including side sleepers and people with neck pain, agree that an important factor in healthy sleep is making sure your head, neck, and spine are aligned in a neutral position. According to personal trainer Holly Roser, body pillows can also help your lower body. "Body pillows help keep your body in one position all night, where your knees are aligned with your hips, potentially decreasing lower back pain or hip pain," Roser explains. And Dr. Todd Sinett, a holistic back healer and the owner of Tru Whole Care, who invented a stretching tool called the Backridge, says body pillows can help people put their bodies "in a sleeping position that helps to keep them balanced and comfortable."
The best part of using a body pillow is that there isn't a right or wrong way to incorporate one into your bed setup. You can position a body pillow between your knees to align your hips, wrap one behind your back for spine support, or use one as a full head-to-toe pillow for pressure relief. Murray and Roser agree that the main objective should be that no part of your body feels strained or out of alignment. Roser says, "There are body pillows that you can rest your head on and body pillows where you're using your own pillow. Ensure the body pillow doesn't feel too high on your neck, where you feel like your neck is no longer in a neutral position," which could cause neck pain and headaches. Murray cautioned that "if a body pillow between your knees is wider than the width of your hips, then your hips will be splayed too far out and actually put your spine out of alignment, having the opposite effect of what you want."
And while body pillows can benefit everyone, they are especially helpful to have during pregnancy. Dr. Carleara Weiss, a member of the American Academy of Sleep Medicine and adviser to Pluto Pillow, says "the ideal pillow should provide spinal alignment for side sleeping, comfort, and stability without flattening out during the night and stay cool as body temperature tends to increase with pregnancy." The more extravagantly shaped pillows can be especially useful because they can provide 360-degree support for a growing bump while relieving pressure on the back, shoulders, and neck.
We talked to Murray, Roser, Sinett, Weiss, and three other experts to find the best body pillows you'll want to cuddle all night long.
Best overall | Best for side sleepers | Best (less expensive) for side sleepers | Best plush | Best for pregnancy | Best for tall people | Best adjustable firmness | Best cooling | Best weighted | Best multipurpose | Best down alternative | Best adjustable shape
What we're looking for
Shape: While a standard body pillow tends to have a rectangular shape, there are a few options available that may offer you more support and pain relief depending on your needs, including C-shaped, J-shaped, and U-shaped pillows. According to Seth Davis, a sleep consultant and the founder of Sleepably, the shape of your body pillow "determines the amount of support you get and the location of that support." Here's how the shapes break down:
U-shaped: Providing full-body support, a U-shaped pillow covers the front of your body as well as your back. The curve of the "U" can go under your feet or under or around your head. Ideal for pregnant people, Roser explains that the "U shape is very moldable and also helps you from rolling over at night." Additionally, the pillow usually won't have to be readjusted while you sleep. The downside is they tend to be wide, and Davis warns that they may take up too much space if you have a smaller bed and/or sleep with a partner.
J-shaped: As the name says, a J-shaped pillow looks just like the letter J with the hook typically resting between your knees and the long end resting behind your back or along the front of your torso. Murray says this type of pillow is "best for those looking for something to hug and those who need some neck support, those experiencing upper back pain in the thoracic spine." Unlike the U-shaped pillow, you may need to readjust this one from your back to your front and vice versa if you tend to change positions while you are sleeping. Roser likes this pillow shape and says "you can choose to use your own pillow or use the body pillow to rest your head on at night."
C-shaped: Another common pregnancy-pillow shape, C-shaped pillows cradle you from the top and the bottom. "C-shaped pillows wrap around the body much like U-shaped pillows, so you can still get support for your front and back. But if you switch from one side to the other during the night, you may have to adjust the pillow," Davis explains. How tall or short you are may also be a factor in where the curves of the "C" hit your body.
Fill: As with your regular bed pillow, the fill of your body pillow matters. The experts we spoke to agree that shredded memory foam offers the medium-firm, breathable support they recommend. If you'd appreciate a softer body pillow, microfiber or poly-fill can offer a plush feel that is still supportive. To get the best of both worlds, Weiss recommends a blend. "Memory foam body pillows are flexible and offer a good level of support. However, they tend to soften with use and body temperature," she explains. "Microfiber pillows are good options for those interested in something a bit softer. I recommend hybrid or layered pillows with memory foam and microfiber or latex. New technology is available to provide comfortable foam pillows, stay cool overnight, and have stable support for the neck and back." She recommends making sure to buy one that is washable.
Firmness level: To cut to the chase, the experts we spoke to agree that the best body pillow is a medium firm. However, it's not that black and white. Sinett says the ideal firmness breaks down to personal preference and what makes your body feel the best. "The firm pillow may help evenly distribute pressure points. If it feels good, go with it. Soft will be more dynamic and move with your body," he explains.
Best overall body pillow
Memory foam | Rectangular | 20 by 54 inches | Medium firmness | Entire pillow is machine washable
Filled with responsive shredded memory foam that conforms to your body shape, the Snuggle-Pedic body pillow will provide support and help align your body while you snooze. Touting GreenGuard Gold and Certi-PUR U.S. certifications, the pillow has a breathable and soft bamboo cover that is designed to regulate temperature and keep you cool while you sleep. The medium-firm density is in line with what Weiss recommends. "The best pillow should be medium firm to combine comfort and spinal support," she says. "A medium-firm pillow is soft enough to be comfortable but sturdy enough to support body weight overnight without flattening out." The entire pillow can be tossed in the wash, and you should squeeze out any excess water before moving it to the dryer to cut down the drying time.
Best body pillow for side sleepers
Poly-fill | Rectangular and tapered | 18 by 38 inches | Medium firmness | Machine-washable cover
A majority of people sleep on their side, and a body pillow can help side sleepers achieve the most comfortable alignment. The unique ergonomic shape of Casper's body pillow is sewn so that it is raised on one end and more tapered and flat on the other to prevent your knees from being raised too high and throwing your hips into a stressful angle. The polyfiber-filled pillow offers a medium-firm sleeping surface and is a favorite of Weiss. "The Casper Hug Body Pillow is a good option for side sleepers," he says. "It is made of polyester and is adaptive to body shape. Although this is a rectangular pillow, it has a unique shape that fits the knees, stabilizes the neck, and allows you to 'hug' it while sleeping."
Best (less expensive) body pillow for side sleepers
Poly-fill | Rectangular with a gusset | 21 by 54 inches | Adjustable firmness | Entire pillow is machine washable
According to Davis, "Maintaining proper alignment at night helps you to rest more comfortably, which can improve sleep quality and help your body feel better during the days." The Oubonun body pillow lets you adjust the level of poly-fill inside to make the pillow higher and firmer or lower and softer to fit your height and weight. The entire pillow is machine washable for easy maintenance, and the gusset around the perimeter of the pillow makes it ideal for side sleepers because filling can be distributed more evenly to the edges of the pillow to provide a consistent level of support along its full length. The simple construction also makes it ideal to use as extra back, leg, and knee support while sleeping, sitting, or lounging.
Best plush body pillow
Poly-fill | Rectangular | 20 by 54 inches | Medium firmness | Hand-wash or spot clean
A balance between firm and soft, the Utopia Bedding body pillow can be used between your knees for hip support, under your arm for shoulder pressure relief, or while you're sitting in a chair for lumbar support. The multipurpose poly-fill pillow is plush but overfilled to prevent that sinking feeling. The pillow ships vacuum-packed and may need some time to expand upon arrival. To help the pillow maintain its fluffiness, you can toss it in the dryer on a low heat setting with tennis balls or dryer balls to redistribute the filling.
Best pregnancy body pillow
65 percent polyester, 35 percent cotton fill | C-shaped | 25 by 60 inches | Medium firmness | Machine-washable cover
Pregnancy comes with its own laundry list of aches and pains, and according to Weiss, the right body pillow can help address a few of them. "Pregnancy puts a lot of pressure and stress on the lumbar spine," she says, so pillows that offer the same support as the standard body pillow but with more versatility are ideal. This highly reviewed (and quirkily named) C-shaped pillow provides back, spine, neck, hip, and head support all at once by cradling your body from head to toe. Depending on where your aches and pains are the most bothersome, you can switch the long side of the pillow to lie along your spine and alleviate pressure on your back or move the longer side to your front and position it under your bump for added comfort. Additionally, the C-shaped pillow can be worn around your waist for lumbar support while you're sitting.
Best body pillow for tall people
Poly-fill | U-shaped | 31 by 55, 60, or 65 inches | Medium firmness | Machine-washable cover
The experts we spoke to agree that U-shaped body pillows provide the most support and pressure relief for your entire body. "Many prefer U-shaped pillows during pregnancy because they support the entire body, including the growing belly," says Davis, pointing out that the U shape lets you "switch from left to right during the night and always have support for head, neck, belly, and knees." The pillow is available in three different lengths, making it a great choice for taller people. Whether or not you are pregnant, the curvature of the Queen Rose pillow tucks into the shape of your body for optimal comfort and back and spine support no matter your sleeping position. As a bonus, you likely won't need to readjust the pillow when you move around while you sleep.
Best adjustable-firmness body pillow
Shredded memory foam and microfiber | Rectangular | 20 by 54 inches | Adjustable firmness | Machine-washable cover
If you are unsure where to start when it c