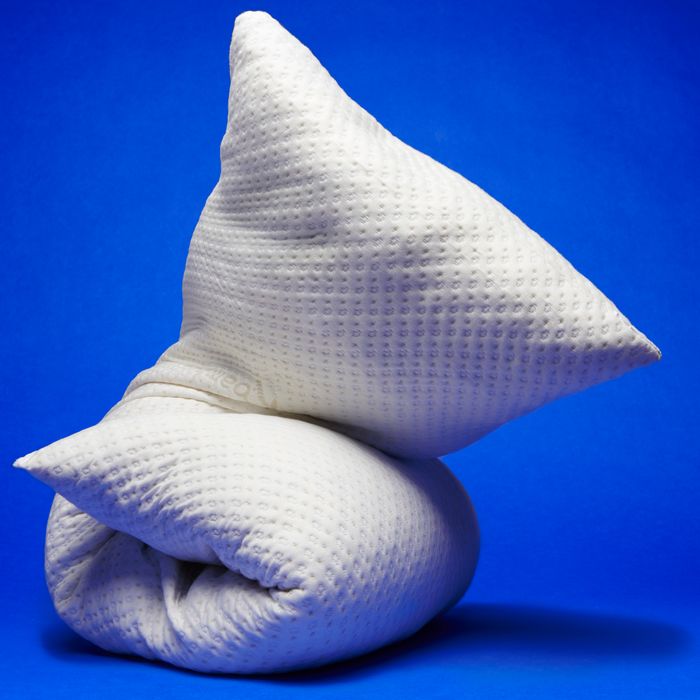 The first image that comes to mind when you think about body pillows may be one of those oversize staple-shaped pillows that pregnant people wrap themselves in. While those count, body pillows can take other shapes, and anyone can achieve better sleep by incorporating them into their sleep setup, pregnant or not. According to sleep consultant Kelly Murray, "One of the key ingredients for good quality sleep is ensuring your body is comfortable. For many of us, that means pain relief — and body pillows can be a great way to provide pain relief without the use of medication. You don't have to be pregnant to benefit from the joint pressure relief that body pillows provide."
All of the experts we've talked to about the best pillows for all kinds of sleepers, including side sleepers and people with neck pain, agree that an important factor in healthy sleep is making sure your head, neck, and spine are aligned in a neutral position. And according to personal trainer Holly Roser, body pillows can also help your lower body. "Body pillows help keep your body in one position all night, where your knees are aligned with your hips, potentially decreasing lower back pain or hip pain," Roser explains.
We talked to Murray, Roser, and five other experts to find the best body pillows you'll want to cuddle all night long.
While a standard body pillow is rectangular, there are a few options available that may offer you more support and pain relief depending on your needs, including C-shaped, J-shaped, and U-shaped pillows. According to Seth Davis, a sleep consultant and the founder of Sleepably, the shape of your body pillow "determines the amount of support you get and the location of that support." Here's how the shapes break down:
U-shaped: Providing full-body support, a U-shaped pillow covers the front of your body as well as your back. The curve of the "U" can go under your feet or under or around your head. Ideal for pregnant people, Roser explains that the "U shape is very moldable and also helps keep you from rolling over at night." Additionally, the pillow usually won't have to be readjusted while you sleep. The downside is they tend to be wide, and Davis warns that they may take up too much space if you have a smaller bed and/or sleep with a partner.
J-shaped: As the name says, a J-shaped pillow looks just like the letter J with the hook typically resting between your knees and the long end resting behind your back or along the front of your torso. Murray says this type of pillow is "best for those looking for something to hug and those who need some neck support, those experiencing upper back pain in the thoracic spine." You may need to readjust this one from your back to your front and vice versa if you tend to change positions while you are sleeping. Roser likes this pillow shape and says "you can choose to use your own pillow or use the body pillow to rest your head on."
C-shaped: Another common pregnancy-pillow shape, C-shaped pillows cradle you from the top and the bottom. "C-shaped pillows wrap around the body much like U-shaped pillows, so you can still get support for your front and back. But if you switch from one side to the other during the night, you may have to adjust the pillow," Davis says. How tall or short you are may also be a factor in where the curves of the "C" hit your body.
The experts we spoke to agree that shredded memory foam offers a good mix of medium-firm and breathable support. If you'd appreciate a softer body pillow, microfiber or poly-fill can offer a plush feel that is still supportive. "Memory foam body pillows are flexible and offer a good level of support. However, they tend to soften with use and body temperature," says Dr. Carleara Weiss, a member of the American Academy of Sleep Medicine and adviser to Pluto Pillow. "Microfiber pillows are good options for those interested in something a bit softer. I recommend hybrid or layered pillows with memory foam and microfiber or latex."
To cut to the chase, the experts we spoke to agree that the best body pillow is medium-firm. However, it's not that black and white. Dr. Todd Sinett, a holistic back healer and the owner of Tru Whole Care, says the ideal firmness breaks down to personal preference and what makes your body feel the best. "The firm pillow may help evenly distribute pressure points. If it feels good, go with it. Soft will be more dynamic and move with your body," he explains.
Best overall body pillow
Fill type: Memory foam | Shape: Rectangular | Size: 20 by 54 inches | Firmness: Medium firm | Care instructions: Entire pillow is machine washable
Filled with responsive shredded memory foam that conforms to your body shape, the Snuggle-Pedic body pillow will provide support and help align your body. Touting GreenGuard Gold and Certi-PUR U.S. certifications, the pillow has a breathable and soft bamboo cover that is designed to regulate temperature and keep you cool. The medium-firm density is in line with what Weiss recommends. "The best pillow should be medium firm to combine comfort and spinal support," she says, noting that you want one that is "soft enough to be comfortable but sturdy enough to support body weight overnight without flattening out." Plus, the entire pillow can be tossed in the wash.
Best plush body pillow
Fill type: Microfiber fill | Shape: Rectangular | Size: 20 by 54 inches | Firmness: Medium soft | Care instructions: Entire pillow is machine washable
This lightweight down-alternative body pillow from Strat-favorite brand Parachute offers cushiony, medium-soft support. Strategist senior editor Winnie Yang bought it to use during her third pregnancy and prefers it over firmer models, describing it as "lofty, airy, and cooling when I feel overly warm; warm and comforting when I feel a little cold; and easy to maneuver into place." The pillow doesn't come with a removable pillow case, but its measurements are fairly standard, so it shouldn't be too hard to find one — or, for an extra $109, you can purchase a linen pillow case from Parachute that Yang says gives the pillow a nice aesthetic.
Best (less expensive) plush body pillow
Fill type: Poly-fill | Shape: Rectangular | Size: 20 by 54 inches | Firmness: Medium soft | Care instructions: Hand-wash or spot clean
Another plush and lightweight — but more affordable — option, the Utopia Bedding body pillow can be used between your knees for hip support, under your arm for shoulder pressure relief, or while you're sitting in a chair for lumbar support. The multipurpose poly-fill pillow is plush but overfilled to prevent that sinking feeling. The pillow ships vacuum-packed and may need some time to expand upon arrival. To help the pillow maintain its fluffiness, you can toss it in the dryer on a low heat setting with tennis balls or dryer balls to redistribute the filling.
Best cooling plush body pillow
Fill type: Recycled fiber fill | Shape: Rectangular | Size: 20 by 54 inches | Firmness: Medium soft | Care instructions: Dry clean only
Sleeping with a pillow tucked closely to your body can make you overheat if you tend to run warm. This extra-fluffy body pillow by Buffy has a silky Tencel lyocell fiber exterior, which wicks away moisture to help keep you cool. The fill is made of GRS-certified recycled fiber, and each pillow is constructed from 73 recycled plastic bottles. This pillow doesn't come with a cover, though the brand sells a machine washable Tencel lyocell fiber cover. The pillow itself should only be dry cleaned to maintain its softness.
Best adjustable body pillow
Fill type: Cross-cut memory foam and microfiber | Shape: Rectangular | Size: 20 by 54 inches | Firmness: Adjustable | Care instructions: Machine washable cover
If you are unsure where to start when it comes to picking out a body pillow, Weiss says one with an adjustable firmness is the way to go. Just like the widely beloved (and Strat-approved) Coop Home Original bed pillow, the brand's body pillow arrives medium firm; if you prefer a softer pillow, you can remove some of the memory-foam-and-microfiber blend until it's just right. While the Coop Home bed pillows come with an extra bag of filling, the body pillow does not. However, if you want to add more, the brand sells gel-and-memory-foam blends, medium-density memory-foam blends, and firm-density memory-foam blends.
Best (less expensive) adjustable body pillow
Fill type: Poly-fill | Shape: Rectangular with a gusset | Size: 21 by 54 inches | Firmness: Adjustable | Care instructions: Entire pillow is machine washable
This Oubonun body pillow is adjustable like the Coop body pillow, but filled with poly-fill instead of memory foam. It arrives with all of its poly-fill inside, and if needed you can remove some to make the pillow lower and softer. The entire pillow is machine washable for easy maintenance, and the gusset around the perimeter of the pillow makes it ideal for side sleepers because filling can be distributed more evenly to the edges of the pillow to provide a consistent level of support along its full length.
Best memory foam body pillow
Fill type: Memory foam | Shape: Rectangular | Size: 12 x 48 inches | Firmness: Medium firm | Care instructions: Machine washable cover
Along with keeping your legs, knees, and hips aligned, firmer body pillows can relieve pressure on your neck, shoulders, and joints. Filled with Tempur-Pedic's proprietary open-cell memory foam, Weiss says this body pillow offers plenty of necessary support while also being comfortable to snuggle up to. Online reviewers also note that it's very dense and heavy — making it "perfect for hugging" or to "lean against while sleeping." It's a bit smaller than a standard body pillow, at 48 inches long and about 12 inches wide. Its size is a potential bonus if you're petite or want a body pillow that won't take up too much space in your bed, and a potential drawback if you're tall or plan to buy an additional pillow case to go over the machine-washable cover, as most standard-size body-pillow cases will be too large.
Best weighted body pillow
Fill type Ultrafine polyfiber | Shape: Rectangular | Size: 21 by 54 inches | Firmness: Medium firm | Care instructions: Entire pillow is machine washable
According to Davis, hugging a body pillow at night is more than just a comfy and supportive way to sleep. "Some small studies have suggested that hugging stimulates the release of oxytocin, which is a hormone that helps people feel calm and secure, so there are potential benefits for the mind from hugging a body pillow at night," Davis explains. Hugging a person — romantic, platonic, or somewhere in between — can help lower your stress and have a calming effect. This body pillow has a bit more weight to it and can help you achieve that similar calming feeling. Filled with ultrafine poly-fill fiber that mimics down softness, the Pluto PUFF weighs 12 pounds and will stay put as you cuddle up next to it. It also has a quilted, cool-to-the-touch polyethylene-and-cotton-blend cover.
Best pregnancy body pillow
Fill type: Poly-fill | Shape: U | Size: 31 by 55, 60, or 65 inches | Firmness: Medium | Care instructions: Machine washable cover
The experts we spoke to agree that U-shaped body pillows provide the most support and pressure relief for your entire body. "Many prefer U-shaped pillows during pregnancy because they support the entire body, including the growing belly," says Davis, pointing out that the U shape lets you "switch from left to right during the night and always have support for head, neck, belly, and knees." The pillow is available in three different lengths, making it a great choice for taller people. Whether or not you are pregnant, the curvature of the Queen Rose pillow tucks into the shape of your body for optimal comfort and back and spine support no matter your sleeping position.
Best adjustable-shape body pillow
Fill type: Polyfill | Shape: Adjustable U | Size: 30 by 57 inches | Firmness: Medium | Care instructions: Machine washable cover
A favorite of new mom Hellen Ongaro, the adjustable PharMeDoc Pillow can be transformed into four kinds of body pillow with minimal effort. The detachable extension can be removed and used separately as its own body pillow, while the main pillow can be used as a U-shaped, J-shaped, or C-shaped pillow. Ongaro says she really enjoyed using the PharMeDoc when she was pregnant because "it helped stop me from unintentionally rolling to sleep on my front." Toward the end of the pregnancy, she says, "the U-Shape was a lifesaver in elevating my legs and my bump." The polyfill pillow is covered in a soft jersey-knit cover that you can easily slide off and toss in the wash.
Best extra-long body pillow
Fill type: Melofoam | Shape: Cylindrical | Size: 7.5 by 82 inches | Firmness: Firm | Care instructions: Machine washable cover
From the brand that makes one of our favorite weighted blankets, the Cuddler body pillow by Bearaby is made of springy, supportive Melofoam — an all-natural, lightly weighted rubber foam. At 82 inches long by 7.5 inches wide, the pillow can be aptly described as a human-size noodle (but far more comfortable). As an avid body-pillow user (who's also five feet, ten inches tall), I instantly fell in love with the extra length. Whether I wrapped it around my waist (nursing-pillow style), laid next to it, or folded it up to rest it behind my back, it was easy to figure out a way to create whatever support I needed. While it isn't as wide as some of the other pillows on our list that are more sleep-focused, I was able to stack or fold the length of the pillow on top of itself for a customized width and shape.
The Melofoam is hyperresponsive so instead of sinking into the pillow, my body felt propped up in just about every position I tried. The pillow comes with a lightweight, organic-cotton cover that can be tossed in the wash — or for an additional $129, you can purchase an organic-cotton knitted cover that comes in a five colors and looks especially stylish. I have the knitted cover on my pillow and when I am not using it, it spans the full width of my king-size bed and looks like a design-y bolster (for context, this pillow would hang over the sides of a standard queen-size mattress when fully unfurled and laid across the width of the bed, but it's easily tied into a chunky knot for a more compact yet sculptural throw-pillow look).
Best multipurpose body pillow
Fill type: EPS bead fill | Shape: Cylindrical | Size: 10 inches by 62 inches | Firmness: Medium | Care instructions: Machine washable cover
This bead-filled multipurpose roll pillow is malleable and feels like a smaller version of a beanbag chair. The extra-flexible construction allows you to bend, fold, and twist it to suit your needs. Covered in a lightweight spandex and cotton blend, you can use this body pillow in bed, on the couch, on a chair, or even on the floor. At 62 inches long, it is one of the longer pillows on this list, making it good for taller sleepers. It adapts to your body the way memory foam does, without trapping body heat. After testing other Yogibo products, Strategist senior editor Jen Trolio describes the EPS bead filling as "extremely comfortable, squishy, and responsive" and says, "It almost makes you feel like you are weightlessly suspended" — but she also cautions that it can be "a little bit loud, so keep that in mind if you are sensitive to noise." The outer cover can be removed and tossed in the washing machine, and the roll can be refilled with extra beads if it needs firming up over time. The Yogibo Roll comes in more than 20 colors to match a huge variety of bedding and décor with additional covers sold separately if you like to frequently switch up your color scheme.
Some more Strategist-approved pillows (of all types)
• Seth Davis, sleep consultant and founder of Sleepably
• Kelly Murray, sleep consultant
• Hellen Ongaro, new mom
• Holly Roser, personal trainer
• Dr. Todd Sinett, holistic back healer and owner of Tru Whole Care, inventor of the Backridge
• Jen Trolio, Strategist senior editor
• Carleara Weiss, member of the American Academy of Sleep Medicine and adviser to Pluto Pillow
The Strategist is designed to surface the most useful, expert recommendations for things to buy across the vast e-commerce landscape. Some of our latest conquests include the best acne treatments, rolling luggage, pillows for side sleepers, natural anxiety remedies, and bath towels. We update links when possible, but note that deals can expire and all prices are subject to change.
Every editorial product is independently selected. If you buy something through our links, New York may earn an affiliate commission.