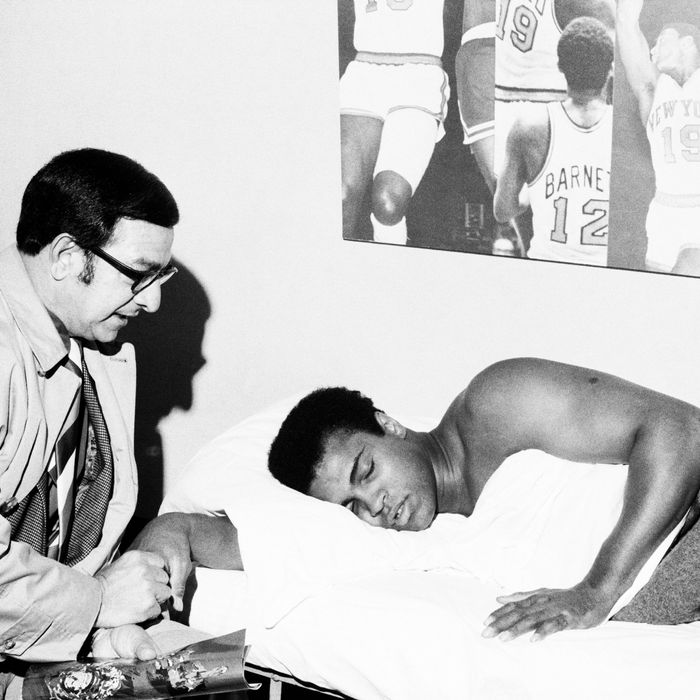 In search of the just-firm-enough side-sleeper pillow.
Photo: Bettmann/Getty/Bettmann Archive
If you're one of the estimated 70 percent of people who sleep on their side, you're likely familiar with the toss-fluff-repeat cycle of a fitful rest. Unlike stomach and back sleepers, side sleepers need extra support, making it near impossible for basic pillows to get the job done. "Because of the greater distance between their heads and the mattress, side sleepers often need a thicker pillow to keep their head and neck in a neutral position," says Heather Turgeon, author of The Happy Sleeper.
Experts explain that the key to a great side-sleeper pillow is one that fills the gap between your shoulder and your ear, supporting your neck. "In order to keep healthy posture and maintain neutral spine alignment, side sleepers need a lofty pillow with a firmer feel," says Sarah Riccio, a senior writer at sleep-product review site Sleepopolis. The broader your shoulders, the higher loft you'll need to fill in that space. Personal preference matters, too, says Keith Cushner, general manager of Tuck, also a sleep-product review site. He suggests going slightly softer or firmer to get a feel that's comfortable. Below, the pillows experts recommend for all types of side sleepers.
Best side-sleeper-specific pillows
If you sleep exclusively on your side, you may want to get a pillow made specifically for the position. Turgeon pointed former Strategist deputy editor Jason Chen to the Wamsutta pillow, and Chen was surprised by how much he liked it. "Unlike other pillows that mistake plushness or fluffiness for support, the WEF didn't sink as soon as I rested my head. Instead, it had a firm, satisfying spring — it's a different sensation, but one I took to right away," says Chen.
Riccio likes how this pillow's cutout shape is designed to accommodate side sleepers. "It features an ergonomic design that conforms to the precise contours of your head, neck, and shoulders so you're always supported as you roll from side to side," she says. Joe Auer, founder of the review site Mattress Clarity, also recommends the Eli & Elm: "The filling is a gorgeous mix of latex foam noodles and polyester fibers for a supportive but smooth overall feel," he says.
This wedge pillow features a hole to put your lower arm through when you're sleeping on your side, reducing pressure on the shoulders. Chiropractor David Perna of Back & Body Medical recommended it for side sleepers when we asked about the best pillows for relieving back pain. He says it reduces torque on the neck, and comes with "a body pillow that you can put between your knees so you can achieve that spinal alignment when you're sleeping as well."
Best memory-foam pillow for side sleepers
Side sleepers who run hot will probably like the cooling feel of the Bear Pillow, according to Riccio. "It's filled with ventilated foam and capped with mesh panels, two features that really boost breathability," she says. And its medium-firmness and loft promotes spinal alignment when you're on your side.
Best latex-foam pillows for side sleepers
One way to ensure that you get a firm pillow is to look for one that's basically, as Cushner puts it, "a block of foam." He tells us "those tend to be higher-loft pillows in general," which makes them a good match for side sleepers. One of his favorites in this category is the Avocado molded-latex pillow, which is designed for extra neck support. A charcoal-infused core helps with temperature regulation, so you don't get too hot during the night.
For a similar pillow with a slightly springier feel, Cushner recommends the Purple Harmony, which he describes as "a big piece of aerated latex with a little bit of hyperelastic polymer grid." This type of grid cushioning — you may remember seeing it in Jansport backpack straps from the early 2000s — offers plenty of support without feeling too hard. It also boosts airflow for a cooler night's sleep. If you have a larger frame or just want a higher pillow, this one comes in a "tall" size that offers even more loft.
Best adjustable pillows for side sleepers
Pillows that unzip and let you add or remove filling are an especially good choice for side sleepers who want to customize their pillow's loft level. "The nice thing about the adjustable-loft pillows is that if your needs change over time or you find that something does or doesn't work, you can adjust it," says Cushner. The adjustable Coop Home Goods pillow (a longtime Amazon-reviewer favorite) is "a great fit for side sleepers in terms of loft and support," according to Auer. He describes how it's filled with large chunks of memory foam and "essentially arrives overstuffed," so it's perfect for the needs of side sleepers.
Riccio is a fan of this pillow's "exceptionally lofty profile," which gives even broad-shouldered sleepers plenty of support. It's also adjustable, as Cushner points out, so if you find you need less loft simply unzip the pillow and remove some of the filling. "Side sleepers looking to alleviate shoulder and neck pain at the same time should definitely give this one a try," she says.
Unlike the Coop Home Goods and Layla pillows above, the Purple Plush pillow adjusts not by adding or removing foam but rather by zipping and unzipping the two extensions on the pillow's long ends. Zip them both up all the way for a firmer pillow, go unzipped for a softer pillow, or find a level in between that works best for you. Auer likes this pillow's "intuitive design" and says it's great for firm-loving side sleepers when it's fully zipped.
Best buckwheat pillow for side sleepers
Because they're naturally firm, pillows filled with buckwheat hulls are a good choice for side sleepers, Cushner says. "They will not change shape over the course of the night. They will not go flat. They're rock-solid." He says the Hullo pillow tested well internally among the Tuck team. It also retains less body heat than memory foam, so it's a good option for anyone who sleeps hot.
Best down-alternative pillow for side sleepers
One way to help bridge the distance between your ear and shoulder is to look for a pillow with an extra-wide gusset. A gusset, or a rectangular panel around the border of the pillow, offers extra support in the area side sleepers need it most. Cushner says Casper makes great pillows, and their down-alternatives style has a two-inch gusset to promote neck alignment.
If you're curious about when to replace your pillow …
Here's our investigation into when and why to do it.
The Strategist is designed to surface the most useful, expert recommendations for things to buy across the vast e-commerce landscape. Some of our latest conquests include the best men's wardrobe basics, white T-shirts for men, jeans for men, white sneakers for men, and flattering clothes for men. We update links when possible, but note that deals can expire and all prices are subject to change.
Every editorial product is independently selected. If you buy something through our links, New York may earn an affiliate commission.