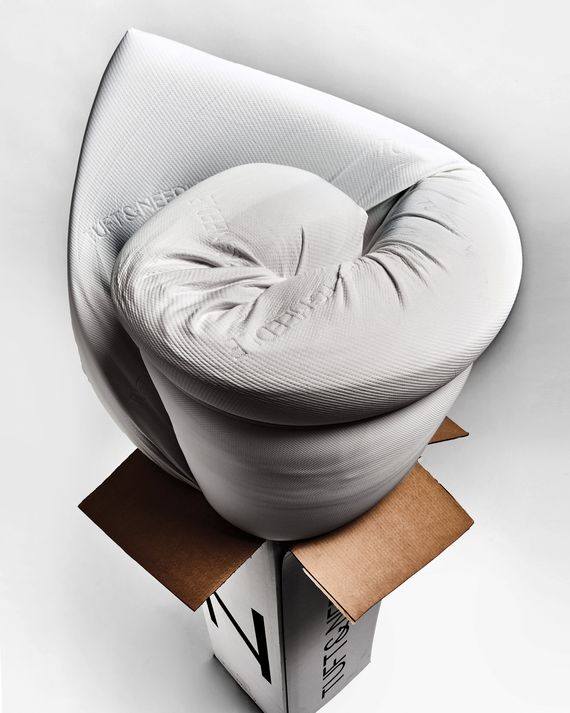 Best of the boxed mattresses — and beyond.
Photo: Nishant Choksi/Courtesy of the vendor
We wrote in 2017 about a golden age of mattresses. So many start-ups had arisen to challenge the likes of Sleepys and Tempur-Pedic — Casper, Tuft & Needle, Leesa, and Saatva, among many others. Since then, the mattress-sphere has only gotten more crowded, with more new brands launching and existing ones rolling out new models and phasing out older ones. Meanwhile, the essential question — "What mattress should I buy?" — has become trickier to answer.
To help make sense of it all, our staff has been trying these beds out ourselves. We've tested more than 30 mattresses since 2018 and we're still going strong, with several newer mattress models in our current testing queue. All the mattresses here are some of the best-reviewed on the market, so there are no duds. But rather than name the "best mattress for everyone," which we're convinced doesn't exist, we set out to judge each on its own terms. That's because determining which mattress to buy will always depend on you — your sleeping position, temperature, firmness preference, and budget — and the perfect mattress only becomes obvious once you've actually slept on it.
Still, we hope these reviews serve as a baseline for how firm, springy, or cushy a brand's other products might be. If you don't want to scroll through all of the options, you can click any of the links below to jump to their corresponding mattresses — or read on for how we tested and what we looked for.
Construction: As we wrote in 2017, innerspring mattresses are "filled with coiled steel springs (typically between 600 and 1,000) for support, topped with batting for comfort, and wrapped in ticking." Some companies sell innerspring styles online and ship direct to consumer, but they are not as common of an offering among so-called bed-in-a-box companies as mattresses made primarily of foam, which can be squished into a box and easily shipped to your home. All-foam mattresses are the most prevalent option but over the last several years, more companies have started selling hybrid mattresses, meaning there is a layer of springs that's covered by a layer of foam. The construction of your mattress — including the number of layers of foam and the type of foam, and whether or not it contains springs — will determine how much support it provides and how comfortable you feel when you lie down at night. The type of foam and how it's layered can also factor into temperature regulation and affect how warm or cool you feel when you sleep on it.
Innerspring mattresses typically have more bounce to them, meaning you'll sleep more "on top" of the mattress. All-foam and pillow-top mattresses let you sink in a bit more and contour around your body; they also tend to provide more motion isolation, which can be important if you're sharing a bed with someone else. Depending on your preferences, hybrid mattresses can offer the best of both worlds. Our testers took note of how enveloped or supported they felt; whether a mattress caused them to sleep warmer or cooler than usual; and, in cases of shared sleeping arrangements, whether they could feel partners or pets moving around.
Firmness and Support: Often, manufacturers rate their mattresses on a firmness scale from one to ten, but we've seen that the way you sleep will also have an impact on the type of mattress you find most comfortable and how you experience its firmness. Side sleepers, for example, need pressure relief on their hips and shoulders, along with a mattress that supports the alignment of the spine, shoulders, and pelvis. Back sleepers will do better with a firmer mattress, which helps support the spine, and stomach sleepers often prefer softer mattresses that cradle their body but are not so soft that they sink in.
Sleep Quality: This is arguably the most important factor to consider when buying a mattress, but it's also the hardest to quantify. Some of our writers and editors used sleep trackers or sleep-tracking apps to study their sleep quality. Others have anecdotal evidence, like waking up without an alarm or with less back pain, or never sweating through their sheets.
A couple of things to note: Unless noted otherwise, the starting prices we've listed are for queen-size mattresses. In some cases, for companies that offer more than one mattress design, we tested only one option. We'll be testing more mattresses in the future, but for now, here's our answer to that question about which mattress you should buy.
Best overall mattress
TL;DR: Saatva's combo of inner springs, memory foam, and a pillow top comes in three different firmness levels, providing options for all sorts of sleepers. In May 2022, the brand increased its trial period to a full year and added a lifetime warranty (to replace its previous 15-year warranty). It also boasts one of the best delivery options, with free white-glove service and free removal of your old mattress.
Construction: Saatva, which has been around since 2010, was one of the first online innerspring mattress companies, and though it now makes hybrid and all-foam mattresses, its classic mattress is an innerspring. An organic cotton pillow top covers a top layer of ecofriendly memory foam, which sits on a level of individually wrapped coils above another layer of recycled-steel coils and a poly foam base. The mattress comes in two heights — 11.5 inches or 14.5 inches — though that shouldn't affect firmness or support.
Firmness and Support: Saatva offers three firmness levels for its classic mattress: soft, luxury firm, and firm.
Who Tested It: Simone Kitchens, Strategist senior editor.
How I Sleep: Back-to-side sleeper, who prefers a firm mattress.
How I Slept: Because of my generally sore back, I was tasked with testing some of the firm mattresses out there. Side sleepers, Saatva told me, are said to prefer the luxury firm. So I got it, and my first impression was that it felt very sturdy. But lying down, I immediately noticed how incredibly bouncy the double layer of coils makes the luxury firm. I can certainly see why side sleepers would like the pressure relief it offers, but I decided to swap it for the firm, hoping it would focus support on my lumbar region, which it very much did. You feel more on top of it, because of the steel springs, but you still have the contoured shape of the raised pillow top. I move around at night, shifting from my back to my side to my stomach, but the firmness of this mattress never created a sunken, stuck feeling, which I've found happening with memory foam. Instead, the supported feeling of this bed (which is still pretty plush) kept my lower back from collapsing in, making my spine feel more aligned overall.
What Else to Know: 365-day trial | Lifetime warranty | Free white-glove delivery to 48 states and free mattress removal | $99 processing fee for returns and exchanges during the trial period
Best (less expensive) overall mattress
TL;DR: This is one of the best values for a mattress, full stop.
Construction: Zinus mattresses have a pretty simple build. They're made of foam of varying density levels, with none of the proprietary technology you see from companies with higher price tags. This 12-inch model has two layers of high-density foam, a layer of comfort foam, and a top layer of memory foam infused with gel, which theoretically disperses body heat better than normal memory foam. The cover, made from breathable fabric, is designed to keep you cool with its loose, woven knit that allows air to flow through.
Firmness and Support: This cooling gel memory-foam mattress has only one firmness, with no clear guidelines on how firm that might be.
Who Tested It: Karen Iorio Adelson, former Strategist senior writer.
How I Sleep: Side sleeper, who prefers a firm mattress and runs hot.
How I Slept: Considering my usual preference for a firm mattress, I was very pleasantly surprised by how much I liked this one. The top layer is definitely plush, but instead of sinking into it, I felt more like the mattress was rising up to meet me and fill in the spaces where I need some extra padding, like under my back and knees. It's easy to feel the firmer layers underneath supporting all that softness on top. Unfortunately, I didn't notice any cooling effects — temperature-wise, it felt no different from my normal Casper mattress or one from Bear that I also tested — but for a mattress so affordable, I'm okay relying on moisture-wicking sheets and breathable pajamas instead. After a couple of weeks, the mattress kept its plush yet supportive feel, and the denser foam layers didn't feel compressed or squishy from regular use.
What Else to Know: 100-day trial | 10-year limited warranty | Free shipping to 48 states | No white-glove delivery
Best all-foam mattress
TL;DR: This is a good mattress for anyone who doesn't want to overthink it, with substantial pressure relief that suits all types of sleepers.
Construction: Leesa is one of the OG mattress-in-a-box companies — it's been selling an all-foam mattress since 2014. In 2018, Leesa reformulated its basic mattress for the first time, replacing its top layer of trademarked Avena foam, a latex alternative, with a layer of what's called "LSA200 foam technology." Beneath this so-called comfort layer is a layer of memory foam, followed by a support layer.
Firmness and Support: According to Jamie Diamonstein, one of Leesa's co-founders, the comfort layer has improved "pushback," meaning it better fills in the gaps around your body when you lie down. "The goal was to enhance the pressure relief of the body through this technology," he says. "We've created a foam that responds to the shape and the sleeping position of your body, then it pushes back and balances your body out."
Who Tested It: Maxine B uilder, Strategist editor.
How I Sleep: Stomach sleeper, who prefers a plush mattress.
How I Slept: I used a sleep tracker for five nights while testing this mattress, and according to the data, I fell into a deep sleep quickly and stayed there every night. The mattress felt soft and plush, but I never sank down into it. My partner, who is so enamored with sleeping on hard surfaces that he sometimes naps on a yoga mat on our hardwood floor, raved about the pressure relief and comfort he felt from the foam filling in the small of his back while he slept.
What Else to Know: 100-day trial | 10-year limited warranty | Free standard shipping to all 50 states | White-glove delivery for $150
Best (less expensive) all-foam mattress