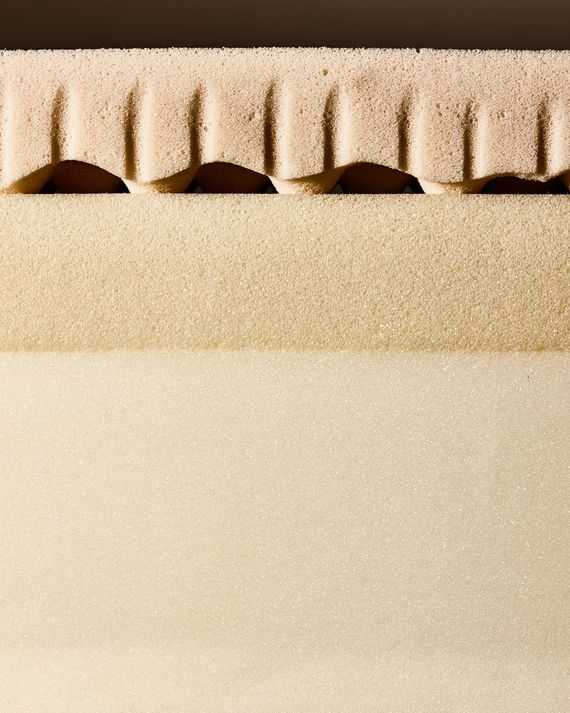 Foam on foam.
Photo: Bobby Doherty
We wrote in 2017 about a golden age of mattresses. So many start-ups had arisen to challenge the likes of Sleepy's and Tempur-Pedic — Casper and Tuft & Needle and Leesa and Saatva, among many others — that we tested a bunch to make sense of it all. Since then, the mattress-sphere has only gotten more crowded, with more brands continuing to debut and existing ones rolling out new models and phasing out older ones. Meanwhile, the essential question, "What mattress should I buy?" has gotten trickier to answer.
So we're doing this again. We've updated our guide by trying these beds out ourselves. Determining which mattress to buy will always depend on you — your sleeping position, temperature, firmness preference, and budget — and the perfect mattress only becomes obvious once you've actually slept on it. The writers and editors on our team described their individual sleeping profiles, and as best we could, we each tested a mattress that we might have bought for ourselves, if we were shopping based on other online reviews. After a week (not after one night, and not after half an hour in a store), we wrote our reviews. So if you're a stomach-sleeper who runs hot at night, look for the Strategist editor who is, too. Same goes for if you're a side-sleeper, or if you hate foam, or if your back hurts all the time.
A couple of things to note: All the mattresses here are some of the best reviewed on the market, so there are no duds. Rather than name the "best mattress for everyone" (which we're convinced doesn't exist), we set out to judge each on its own terms. Unless noted otherwise, the starting prices we've listed are for queen-size mattresses. In some cases, for companies that offer more than one mattress design, we picked only one option. Still, we hope the review serves as a baseline for how firm, springy, or cushy the brand's other products might be. We'll be adding more mattresses from other companies as we go, but for now, here's our answer to that question about which mattress you should buy. If you don't want to scroll through all of the options, you can click on any of the links below to jump to their corresponding mattresses.
The best all-around mattresses | The best eco-friendly mattresses | The best firm mattresses | The best soft mattresses | The best mattress for hot (or cold) sleepers | The best mattresses for achy backs | The best firm and springy mattresses | The best affordable mattresses | The best mattress for serious athletes | The best mattress for kids
The
best
all-around
mattresses
The tester: Simone Kitchens, Strategist senior editor
How I sleep: I slouch, so at night I need to lie down on something very firm to counter a long day of slightly stooped sitting and sinking into my hips while standing. I start out on my back but eventually collapse over to my side by the middle of the night.
What to know: Saatva, which has been around since 2010, was one of the first online innerspring mattress companies. It offers three versions of this model: soft, luxury firm, and firm. In each, an organic cotton pillow top — some people call it "Euro style," or "hotel style" — covers a top layer of ecofriendly memory foam, which sits on a level of individually wrapped coils above another layer of recycled steel coils, then a poly foam base.
How I slept: Because of my generally sore back, I was tasked with testing some of the firm mattresses out there. Side-sleepers, the company told me, are said to prefer the luxury firm. So I got it, and my first impression was how sturdy the bed felt. But lying down, I immediately noticed how incredibly bouncy the double layer of coils makes the luxury firm. I can certainly see why side-sleepers would like the pressure relief it offers, but I decided to swap it for the firm, hoping it would focus support on my lumbar region. Which it very much did. You feel more on top of it, because of the steel springs, but you still have the contoured shape of the raised pillow top. I move around at night, shape-shifting from my back to my side to stomach, but the firmness of this mattress never created a sunken, stuck feeling, which I've found happening with memory foam. Instead, the supported feeling of this bed (which still manages to be pretty plush) kept my lower back from collapsing in, making my spine feel more aligned overall.
The fine print: Saatva allows customers a 180-day trial run as well as a the ability to return or exchange after that run (for $99). The mattress is covered by a 15-year warranty. The Classic Mattress is available in two heights, a custom slim (11.5-inch) and a premier luxury (14.5-inch), each give the same level of support. The company also offers free white-glove delivery and mattress removal.
The tl;dr: The firmest option for Saatva's Classic Mattress is a true firm, making it a good choice for those in need of back support. Plus: Saatva uses organic and ecofriendly materials, so while all the mattresses listed here are certifiably safe, there are fewer chemicals in Saatva's.
The tester: Tembe Denton-Hurst, Strategist writer
How I sleep: I'm a side-sleeper that turns into a stomach-sleeper throughout the night. Because of that — and because I like to think I'm the princess from The Princess and the Pea — I prefer a soft mattress. Not so soft that I sink into it but soft enough to feel luxurious, like I'm sleeping in a hotel year-round. I'm also a plus-size sleeper and have done enough research to know that mattresses with springs in them should better support my frame.
What to Know: Layla, founded in 2016, offers two styles of mattress: all foam and a coil-foam hybrid. Both feature several layers, and both are flippable, with one side of the mattresses featuring a layer of softer memory foam and the other a layer of firmer foam. (It rates firmness on a scale of one to ten; the soft side ranks at a four and the firm side at a seven.) Those layers are made of a copper-gel memory foam that the brand says has cooling ability. The hybrid mattress I slept on consists of seven layers (the all-foam one has six); at its center is a six-inch layer of springy coils that offer increased airflow and more support for larger bodies. As a plus-size sleeper, this construction appealed to me.
How I slept: Three years ago, I purchased an Allswell Luxe Hybrid Mattress (one of Strategist's favorite firm models) and have been very happy with it. So happy that I didn't get rid of it — I slept on the Layla Hybrid while quarantining at my parents' house for a stretch last year. Like my Allswell, it's incredibly comfortable. I'd say the level of support each mattress offers is similar. My partner who has slept beside me on both agrees. The Layla Hybrid is bouncy but never gives that sinking feeling. We've had no problems sleeping through the night on it — we never overheat nor do we feel each other moving around if we do. We've also slept on both sides, firm and soft, and each proved supportive. I prefer the softer side because I like my mattresses to be a bit plusher, but the firm side isn't too firm for my taste, perhaps a smidge firmer than the Allswell Luxe Hybrid.
The fine print: Layla's mattresses ship for free to the contiguous 48 states (those in Alaska and Hawaii will pay an additional shipping fee). They come with a 120-night money-back guarantee, and there are no return fees: If you don't like a mattress, you can send it back for a full refund and the company will donate it to a partner nonprofit or charity. Each mattress also comes with a ten-year warranty that, according to the brand, covers "seams coming apart, visible permanent compression of the mattress surface greater than one inch, or loss of mattress shape beyond one inch."
The tl;dr: While there are cheaper hybrid mattresses (like my beloved Allswell), the ability to simply flip this one should you want a softer or firmer feel makes it worth the investment, especially if you're sharing a mattress with someone who prefers a different feel. It's almost like you're getting two mattresses for the price of one.
The tester: Jenna Milliner-Waddell, Strategist writer
How I sleep: I am never not sweating and always sleep on my side or stomach. While I've stopped using it, I often long for my old five-inch memory-foam mattress topper from college; it was the kind of memory foam you immediately sink into and forms to your body and is so comfortable.
What to know: Each of Nolah's U.S.-made, all-foam mattresses is constructed with Nolah AirFoam — a proprietary, temperature-neutral foam the company says is created without using the chemicals found in traditional memory-foam mattresses, which can trap heat. This proprietary foam, Nolah claims, makes its mattresses cooler than any other memory-foam mattresses. The Original 10 mattress I tested is topped with two inches of Nolah AirFoam; beneath that is a one-inch layer of high-resilience foam that the company claims makes the mattress 300 percent more durable than the average memory-foam mattress. The rest of the ten-inch-thick mattress consists of a high-density breathable base foam. Beyond being cooling and durable, Nolah says the mattress is also particularly comfortable for side-sleepers like myself, because its combination of foams results in a plush-but-supportive mattress with a medium amount of body contouring. Side-sleepers apparently need pressure relief on their hips and shoulders, along with a mattress that supports the alignment of the spine, shoulders, and pelvis; Nolah claims its AirFoam puts 376 percent less pressure on the shoulders, hips, and back, providing 22 percent more pressure-relief overall.
How I slept: While I (and anyone who sat on it) found my beloved college-era memory-foam mattress topper comfortable, there were a couple things I didn't like about it. One was that I would almost sink into it too much, making it harder for me to naturally roll over onto my stomach as I sometimes do while sleeping. Its memory foam also seemed to absorb my sweat (and its odor), too, perhaps because of the way it absorbed my body. The Nolah Original is not my old memory-foam mattress topper — in the best way. Its top layers of memory foam have some give, but the mattress is much firmer: When I sit on it, I notice a soft bounce, but when fully recline, I feel totally supported. Before sleeping on the Nolah Original, I was sleeping on a pillow-top innerspring mattress, and I never thought there was anything wrong with that mattress until I started using the Nolah one and noticed that I'm actually sleeping better. The best way I can tell? I used to need a weighted blanket to get an uninterrupted night of sleep, but with the Nolah, I have been sleeping through the night (and often to my alarm) without one.
As for the mattress's cooling claims: While I was not expecting this — or any — mattress alone to stop me from being a night sweater, this memory foam does feel cooler to sleep on than other memory foam I've slept on. I can tell because I don't get overheated as fast sleeping on the Nolah Original as I have in the past. In fact, I slept on it as summer turned to fall in New York City and actually needed to turn on the heat in my bedroom a few times — something I'd do in the past, but usually not until it was closer to winter.
The fine print: Nolah offers free shipping and free returns within a 120-night trial period; if you decide to send a mattress back within that time, the company will donate it and give you a full refund. Customers willing to forgo the trial period can save an extra $100 (or thereabouts) on their purchase. Nolah's mattresses are also covered by a lifetime limited warranty that applies to normal deterioration and craftsmanship errors. Currently, Nolah does not ship mattresses to Alaska and Hawaii.
The tl;dr: Based on my experience, if you're a side-sleeper who moves around and skews hot, the Nolah Original is a superior option. If you're another kind of sleeper who skews hot, I'd recommend checking out its other mattresses given that they all include the brand's proprietary cooling memory foam.
The tester: Maxine Builder, Strategist editor
How I sleep: I am a stomach-sleeper who prefers a plush mattress that cradles my body. However, I share a bed with a back-sleeper who prefers a firm mattress with little-to-no give.
What to know: Leesa is one of the OG mattress-in-a-box companies — it's been selling an all-foam mattress since 2014 — and according to Sleepopolis, it's a solid option for back- and side-sleepers. In 2018, Leesa reformulated its basic mattress for the first time, replacing its top layer of trademarked Avena foam (a latex alternative) with a layer of what's called "LSA200 foam technology." According to Jamie Diamonstein, one of Leesa's co-founders, the new foam has improved "pushback," meaning it better fills in the gaps around your body when you lie down. "The goal was to enhance the pressure relief of the body through this technology," he says. "We've created a foam that responds to the shape and the sleeping position of your body, then it pushes back and balances your body out."
How I slept: I used a sleep tracker for five nights while testing this mattress, and every night I fell into a deep sleep quickly and stayed there. The mattress felt soft and plush, but I never sank down into it. My partner, who is so enamored with sleeping on hard surfaces that he sometimes naps on a yoga mat on our hardwood floor, raved about the pressure relief and comfort he felt from the foam filling in the small of his back while he slept.
The fine print: Standard shipping is free, though Leesa can arrange white-glove delivery, which includes mattress removal, for an additional fee. You have 100 days to try your Leesa mattress; if you don't like it, the company will coordinate a pickup from your home, then refund the full purchase price.
The tl;dr: This is a foam mattress but a substantial one that offers excellent pressure relief. It should suit all kinds of sleepers and is a good mattress for anyone who doesn't want to overthink it.
The tester: Lori Keong, former Strategist writer
How I sleep: I am not loyal to any one position, so my ideal mattress is a jack-of-all-trades with support for my back, but which is also cushy enough to let me comfortably flop around on my stomach and side.
What to know: The Aviya mattress itself is a hybrid model with three layers of high-density foam over a coiled innerspring system. The brand offers three options for firmness: plush, luxury firm (Aviya's most popular style and the one I tested), and firm. It's possible you've already unwittingly slept on one, as a couple of popular (but undisclosed) hotel chains use the Aviya luxury firm bed. That may be because Sleep Advisor, Sleepopolis, and Real Mattress Reviews gave it a near-perfect all-around score for comfort, materials, and support.
How I slept: Flopping down, I was immediately taken by how plush yet delightfully bouncy this mattress was. The innersprings are a big plus, but they're buried far beneath the layers of foam. I was amazed at just how propped-up and aligned my body felt while supine, yet how comfortably I slept thanks to the padding of the quilted foam top. Which shouldn't bother back-sleepers, I'd think, because of the lack of give in this mattress — there is virtually no sinkage, which I tested by dropping two ten-pound weights on top of it. But the plush top still lends itself well to dozing on your side or stomach. I'd even go so far as to say that sleeping on this changed my perception of what soft-but-supportive means.
The fine print: Aviya provides free shipping, which includes in-the-door delivery through a third-party service. However, that might not cover getting the mattress upstairs in a walk-up apartment (it didn't at my Brooklyn brownstone), so customers living in cities should ask ahead of time. Mattress setup and removal are available for an additional fee, and Aviya will set this up during a two-hour window, Mondays through Fridays only.
The tl;dr: The Aviya is supportive but soft and is another can't-go-wrong choice for those who don't want to overthink it but know that they'd prefer an innerspring system.
The tester: Margaret Rhodes, former Strategist senior editor
How I sleep: I'm a stomach-sleeper — I often can't fall asleep at all unless I'm fully prostrate — but often wake up on my side, and I like a mattress that feels fluffy without having too much give.
What to know: If you're reading this, what don't you know about Casper? It wasn't the first mattress-in-a-box company to launch, but it quickly became the most prominent, thanks to factors like shiny branding and venture-capital funding. The original premise of Casper was that one mattress could make everyone happy. The company has abandoned this Goldilocksian ideal and made other models (read on for those), but this is the original: a four-layer foam construction with firmer support around the shoulders and hips. Formerly called the Casper Mattress, the company has rebranded this as the Casper Original Mattress and claims that the latest version has "enhanced support and cooling features," as well as a "new cover made with recycled materials."
How I slept: I owned a Casper before this project (as did several other Strategist staffers), so my evaluation is actually based on a year's worth of sleep. And it was great. I didn't have any sleep complaints before, but graduating from my Ikea mattress to the Casper was like flipping a light switch. It's definitely a foam mattress, and for some people (like Strategist senior writer Liza Corsillo), that makes it feel hot. It also makes some people call it a soft mattress (Karen Iorio Adelson, Strategist senior writer). I found it to be squarely in the middle, with absolutely no painful give around the back, but cushy enough that collapsing into it at the end of the day felt like a reward. (Lori also had one and liked it.) Casper has become the de facto mattress, the one bought by people who don't shop obsessively and who say, "I just have a Casper." But, honestly, the ubiquity is deserved.
The fine print: You get the standard (with mattress start-ups, at least) 100 days to decide if you like your Casper. Free shipping and returns come with that, and the company says it tries to donate returned mattresses when possible.
The tl;dr: As a company, Casper is a well-oiled machine that makes delivery a cinch and offers other high-quality products along with the mattress, which is convenient if you want new, say, pillows. As for the mattress, it skews just a tad softer, and hot sleepers don't always love the foam. For everyone else, you can't go wrong.
The tester: Lauren Ro, Strategist writer
How I sleep: I mostly sleep on my back, but also switch to my side during the night. I prefer a mattress that's on the firmer side.
What to know: Tuft & Needle launched early in 2012, and in 2018, it was acquired by Serta Simmons. Tuft & Needle offers three mattresses: the Original foam mattress; the Mint, an upgraded version of the original; and the Hybrid, which has both foam and springs. The original has just two layers of material: a seven-inch support layer of dense foam as the base and a three-inch top comfort layer of proprietary Adaptive Foam infused with a "cooling gel" and graphite to keep sleepers cool. (According to a rep for the brand, "memory foam relies on the sleeper's body heat to memorize the shape of the body; Adaptive Foam relies on the body pressure of the sleeper" while "wicking heat away from the sleeper, where it can be cooled and then dissipate through the sides of the mattress.") The mattress's simplicity may explain its lower price — it's a couple hundred dollars less than other foam competitors — but its appeal is meant to be broad and is aimed at a wide range of sleeping preferences and body weights.
How I slept: Right off the bat, the mattress felt substantial. The textured fabric cover felt plush to the touch, and when I pressed my open hand down on the mattress, it bounced back with a friendly spring. Lying on the Tuft & Needle for the first time, I immediately felt embraced. Sleeping on my back, I felt supported and cocooned at the same time, and when I turned to my side, the transition felt natural. The company calls its in-house T & N Adaptive Foam "soft and comfy while still being bouncy and supportive," and I completely agree. While I may revert to a coil-spring mattress eventually, I can see myself keeping the Tuft & Needle for a long time. My husband also really likes it, and he's a back- and stomach-sleeper whose temperature runs a little hotter than mine. It's a solid introduction to a compressed mattress in a box.
The fine print: Shipping is free, and if you don't like it after a 100-day trial, the brand offers a full refund and free removal to a charity of your choice. It also comes with a ten-year warranty.
The tl;dr: Another crowd-pleaser for anyone who's happy with foam, Tuft & Needle is a very smart choice for anyone looking to spend a bit less.
The
best
eco-friendly
mattresses
The tester: Liza Corsillo, Strategist senior writer
How I sleep: I'm a roller. I'll start out on my back but usually end up sleeping on my side with a pillow or the edge of a comforter stuffed between my knees for hip comfort. I prefer a firm cool mattress since I run hot; I usually wake up with one leg free of any covers. I share the bed with a side-sleeper who runs just as hot (and sometimes sweaty) as I do.
What to know: Avocado set out to create the greenest mattress on the market using nontoxic natural and organic materials (as well as ecofriendly production processes). The brand offers two different adult-size mattresses (in addition to two for cribs): the Green and the Vegan, which is like the Green minus the wool. Both are foam-coil hybrids that layer eco-conscious natural Dunlop latex (made from tree sap), recycled steel coils, organic cotton, organic wool, and hydrated silica (a food-grade-quality flame retardant). You can choose from the standard mattress, which rates a 7 out of 10 in firmness according to Avocado's own system, or the same mattress with an additional two-inch plush Dunlop latex pillow top — the one I tested — which rates a 6. If it matters to you, Avocado also makes its mattresses in California and negates its shipping and delivery emissions through carbon-offset projects.
How I slept: The first thing I noticed about the Avocado Green mattress was its height compared to my previous Casper mattress. The Casper measures ten inches, and the Avocado with additional pillow-top (I went for it despite liking firm beds after reading that it provides more support for side-sleepers) measures 13 inches. I've never preferred a tall bed, but there was definitely something decadent about flopping down on a giant slab of rising dough. It took a few nights to get used to the feeling that I was floating above the mattress, rather than sinking into it, but two weeks in, I felt incredibly well supported and less affected by my boyfriend shifting and changing positions (the mattress has 1,130 individually wrapped coils). And though I was skeptical, I now look forward to splaying myself out on the cushy pillow-top layer — it's by far the fanciest part of my apartment. While some people won't care about things like petroleum-based polyurethane foams or chemical adhesives, I appreciated knowing the Avocado lacked those things. What it does have makes the mattress naturally anti-microbial, more breathable, and dust-mite resistant. I'll always be the kind of person who prefers sleeping with the window open (partly because I don't have control over the heat in my apartment), but hot sleepers should know that the Green mattress is a big improvement over my Casper, which made my night sweats worse.
The fine print: Avocado lets you test a mattress for 100 days with free returns if you don't like it, and it offers a 25-year warranty. Delivery was easy — I got a call a few days out to schedule a drop-off window and again on the delivery day to let me know my mattress was ten minutes away. I opted for an additional mattress-pad cover (because dog accidents happen) and two standard pillows, which came separately via FedEx.
The tl;dr: If you want a lot of support plus cushioning, Avocado is a foam-coil-hybrid mattress that will give you both. The layers of organic wool and cotton help to regulate body temperature and wick away moisture for warmer sleepers, too. For those who prefer a very firm mattress, the pillow-topper is an added expense that you may not enjoy (you don't need it). And it's especially good for any sustainable/ecoconscious types, though you don't have to be to appreciate it.
The tester: Kelsie Schrader, Strategist editorial coordinator
How I sleep: All over the place. I usually start curled up on my right side, but I switch to my back, stomach, and left side throughout the night. So I like a mattress that's good for everything. Temperature-wise, I tend to run warm.
What to know: While all of Saatva's mattresses are made with the environment in mind, the brand bills its Latex Hybrid Mattress as its most environmentally friendly, in part because one of its layers is made from a naturally derived latex instead of memory foam. The brand notes this latex, called Talalay, is made in a factory that received certification from two organizations known for paying attention to sustainable manufacturing: the Rainforest Alliance and Cradle to Cradle. (Talalay latex, Saatva claims, is "softer and more buoyant," something I found to be true in testing.) A three-inch latex layer is smack in the middle of this 13-inch mattress: Above it are a layer of wool and a cover made of cotton; both materials received Global Organic Textile Standard certification, according to the brand. Beneath the latex is a layer of recycled steel coils that sits atop a cotton-wool pad made of materials that are also GOTS-certified. Unlike Saatva's Classic Mattress, there are no firmness levels to choose between for this one. Based on my experience, you could classify its feel as firm and springy (the brand describes it as "luxury plush").
How I slept: According to my Garmin watch, about the same as always — which is the exact result I was hoping for. I can get a decent night's rest on just about any flat surface, so my biggest fear in testing this was that I'd sleep worse. My watch, however, showed that my nighttime movement while sleeping on this mattress remained the same as it has for years, as did how much time I spent in light and deep sleep (that's about 75 percent light and 25 percent deep, for the curious). Saatva claims the mattress's cotton cover, upper wool layer, and latex layer are all breathable and temperature-regulating, but I didn't notice a change in my body temperature — I still ran warm most nights. I wasn't banking on a mattress dramatically changing that, though.