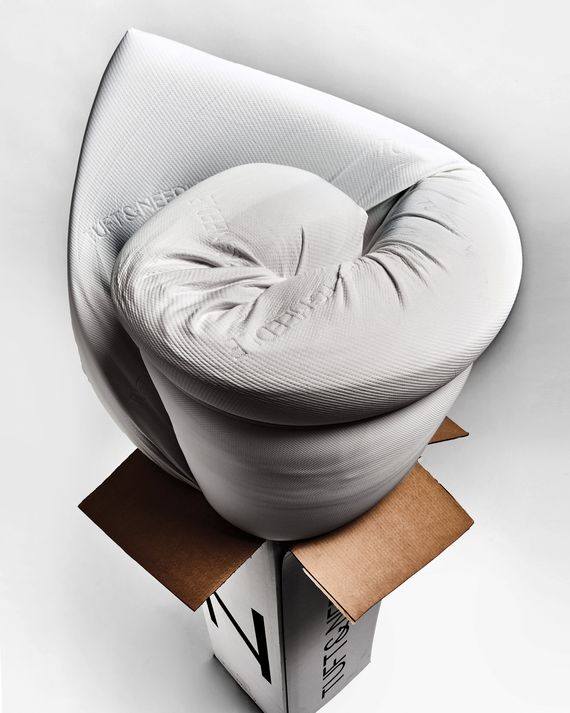 Best of the boxed mattresses — and beyond.
Photo: Nishant Choksi/Courtesy of the vendor
We wrote in 2017 about a golden age of mattresses. So many start-ups had arisen to challenge the likes of Sleepy's and Tempur-Pedic — Casper, Tuft & Needle, Leesa, and Saatva, among many others. Since then, the mattress-sphere has only gotten more crowded, with more new brands launching and existing ones rolling out new models and phasing out older ones. Meanwhile, the essential question — "What mattress should I buy?" — has become trickier to answer.
To help make sense of it all, our staff has been testing mattresses ourselves and making note of how they feel to actually sleep on in real life. We've tested around three dozen mattresses since 2018 and we're still going strong, with several newer mattress models in our current testing queue. All the mattresses here are some of the best-reviewed on the market, so there are no duds. But rather than name the "best mattress for everyone," which we're convinced doesn't exist, we set out to judge each on its own terms. That's because determining which mattress to buy will always depend on you — your sleeping position, temperature, firmness preference, and budget — and the perfect mattress only becomes obvious once you've actually slept on it.
Still, we hope these reviews provide a baseline for how firm, springy, or cushy a brand's other products might be. If you don't want to scroll through all of the options, you can click any of the links in the table of contents to jump to their corresponding mattresses — or read on for how we tested and what we looked for.
A couple of things to note: Unless stated otherwise, the starting prices we've listed are for queen-size mattresses. In some cases, for companies that offer more than one mattress design, we tested only one option. We'll be testing more mattresses in the future, but for now, here's our answer to that question about which mattress you should buy.
For decades, most mattresses were filled with interlocking, hourglass-shaped springs designed for uniform support across the surface of the mattress, then topped with batting for comfort. Because the springs were all connected, there was a lot of bounciness and motion transfer, and they weren't especially good for pressure relief. It wasn't until the 1990s, when Tempur-Pedic first made a mattress using NASA-designed viscoelastic polyurethane foam, that any real technical innovation occurred.   
Today, there is a lot more variety in the mattress landscape. Thanks to the bed-in-a-box revolution, all-foam mattresses abound, as do hybrid options that combine foam and springs. And according to Brooklyn Bedding COO Tim Dilworth, traditional innerspring constructions have greatly evolved, replacing interlocking springs with "pocketed" steel coils that are individually encased in fabric and can move independently of one another. The result is better motion isolation, pressure relief, and overall support.
The construction of your mattress — including the number of layers of foam and the type of foam, whether or not it contains springs (now almost universally called coils), and the gauge (or thickness) of those springs — will determine how much support it provides. The type of foam and how it's layered can also factor into temperature regulation.
All-foam mattresses let you sink in a bit more and contour around your body; the density of the foam used will determine how firm or soft they feel. Hybrid mattresses that layer foam atop pocketed coils tend to offer more support and will often make you feel as if you're more "on top" of the mattress. Some mattresses also have extras such as additional lumbar support in the form of strategically placed high-gauge coils across the center of the mattress. We've described the construction of each mattress below, and our testers took note of how enveloped or supported they felt; whether a mattress caused them to sleep warmer or cooler than usual; and, in cases of shared sleeping arrangements, whether they could feel partners or pets moving around.
Often, manufacturers rate their mattresses on a firmness scale from one to ten, but the way you sleep will have an impact on the type of mattress you find most comfortable and how you experience its firmness. Side sleepers, for example, need pressure relief on their hips and shoulders, along with a mattress that supports the alignment of the spine, shoulders, and pelvis. Back sleepers will do better with a firmer mattress, which helps support the spine, and stomach sleepers often prefer softer mattresses that cradle their body but are not so soft that they sink in.
This is arguably the most important factor to consider when buying a mattress, but it's the hardest to quantify. Some of our writers and editors used sleep trackers or sleep-tracking apps to study their sleep quality. Others have anecdotal evidence, like waking up without an alarm or with less back pain, or never sweating through their sheets.
TL;DR: Saatva's combo of inner springs, memory foam, and a pillow top comes in three different firmness levels, providing options for all sorts of sleepers. In May 2022, the brand increased its trial period to a full year and added a lifetime warranty (to replace its previous 15-year warranty). It boasts one of the best delivery options, with free white-glove service and free removal of your old mattress.
Construction: Saatva, which has been around since 2010, was one of the first online innerspring mattress companies, and though it now makes hybrid and all-foam mattresses, its classic mattress is an innerspring. An organic-cotton pillow top covers a top layer of ecofriendly memory foam, which sits on a level of individually wrapped coils above another layer of recycled-steel coils and a poly foam base. The mattress comes in two heights — 11.5 inches or 14.5 inches — though that shouldn't affect firmness or support.
Firmness and Support: Saatva offers three firmness levels for its classic mattress: soft, luxury firm, and firm.
Who Tested It: Simone Kitchens, Strategist senior editor.
How I Slept: Because of my generally sore back, I was tasked with testing some of the firm mattresses out there. Side sleepers, Saatva told me, are said to prefer the luxury firm. So I got it, and my first impression was that it felt very sturdy. But lying down, I immediately noticed how incredibly bouncy the double layer of coils makes the luxury firm. I can certainly see why side sleepers would like the pressure relief it offers, but I decided to swap it for the firm, hoping it would focus support on my lumbar region, which it very much did. You feel more on top of it because of the steel springs, but you still have the contoured shape of the raised pillow top. I move around at night, shifting from my back to my side to my stomach, but the firmness of this mattress never created a sunken, stuck feeling, which I've found happening with memory foam. Instead, the supported feeling of this bed (which is still pretty plush) kept my lower back from collapsing in, making my spine feel more aligned overall.
What Else to Know: 365-day trial | Lifetime warranty | Free white-glove delivery to 48 states and free mattress removal | $99 processing fee for returns and exchanges during the trial period
Best (less expensive) overall mattress
TL;DR: This is one of the best values for a mattress, full stop.
Construction: Zinus mattresses have a pretty simple build. They're made of foam of varying density levels, with none of the proprietary technology you see from companies with higher price tags. This 12-inch model has two layers of high-density foam, a layer of comfort foam, and a top layer of memory foam infused with gel, which theoretically disperses body heat better than normal memory foam. The cover, made from breathable fabric, is designed to keep you cool with its loose, woven knit that allows air to flow through.
Firmness and Support: This cooling gel memory-foam mattress has only one firmness, with no clear guidelines on how firm that might be.
Who Tested It: Karen Iorio Adelson, former Strategist senior writer.
How I Sleep: Side sleeper who prefers a firm mattress and runs hot.
How I Slept: Considering my usual preference for a firm mattress, I was very pleasantly surprised by how much I liked this one. The top layer is definitely plush, but instead of sinking into it, I felt more like the mattress was rising up to meet me and fill in the spaces where I need some extra padding, like under my back and knees. It's easy to feel the firmer layers underneath supporting all that softness on top. Unfortunately, I didn't notice any cooling effects — temperature-wise, it felt no different from my normal Casper mattress or one from Bear that I tested — but for a mattress so affordable, I'm okay relying on moisture-wicking sheets and breathable pajamas instead. After a couple of weeks, the mattress kept its plush yet supportive feel, and the denser foam layers didn't feel compressed or squishy from regular use.
What Else to Know: 100-day trial | 10-year limited warranty | Free shipping to 48 states | No white-glove delivery
Best all-foam mattress
TL;DR: This is a good mattress for anyone who doesn't want to overthink it, with substantial pressure relief that suits all types of sleepers.
Construction: Leesa is one of the OG mattress-in-a-box companies — it's been selling an all-foam mattress since 2014. In 2018, Leesa reformulated its basic mattress for the first time, replacing its top layer of trademarked Avena foam, a latex alternative, with a layer of what's called "LSA200 foam technology." Beneath this so-called comfort layer is a layer of memory foam, followed by a support layer.
Firmness and Support: According to Jamie Diamonstein, one of Leesa's co-founders, the comfort layer has improved "pushback," meaning it better fills in the gaps around your body when you lie down. "The goal was to enhance the pressure relief of the body through this technology," he says. "We've created a foam that responds to the shape and the sleeping position of your body, then it pushes back and balances your body out."
Who Tested It: Maxine Builder, Strategist editor.
How I Sleep: Stomach sleeper who prefers a plush mattress.
How I Slept: I used a sleep tracker for five nights while testing this mattress, and according to the data, I fell into a deep sleep quickly and stayed there every night. The mattress felt soft and plush, but I never sank down into it. My partner, who is so enamored with sleeping on hard surfaces that he sometimes naps on a yoga mat on our hardwood floor, raved about the pressure relief and comfort he felt from the foam filling in the small of his back while he slept.
What Else to Know: 100-day trial | 10-year limited warranty | Free standard shipping to all 50 states | White-glove delivery for $150
Best memory-foam mattress
TL;DR: Get all of the benefits of memory foam — including motion isolation and meaningful support — without overheating.
Construction: The Nectar Memory-Foam Mattress is an all-foam bed with a quilted cover on top of layers of "gel-infused" memory foam, support memory foam, and high-density poly foam. In 2019, Nectar debuted a pricier mattress called the Nectar Lush that's very similar to the one we tested, except it's slightly softer and an inch thicker because it includes a layer of the brand's gel-coated cooling foam, which the memory-foam mattress does not have.
Firmness and Support: Because of all that foam, the Nectar is quite firm. (It's so firm, in fact, that an illustration on the company's website shows a bowling ball bouncing next to an undisturbed wineglass.)
Who Tested It: Casey Lewis, former Strategist senior editor.
How I Sleep: Stomach-to-side sleeper who sleeps hot.
How I Slept: At first, the Nectar seemed almost too firm to the touch. When I plopped down on a corner, it had nearly no bounce at all. But when I curled up to go to sleep, it was surprisingly enveloping — and for the first time ever, I didn't wake up every time my dog flopped or fidgeted throughout the night. The mattress has just the right amount of give, in that it's comfortable for me to move around on, but I don't feel anyone (or anything) else moving around. What's more: My worries about the memory foam overheating me never came to fruition. Apparently, the mattress's cooling gel, which honestly sounded a little dubious to me, really does work. While I still woke up with stress dreams, I never once woke up with sweat-soaked sheets.
What Else to Know: 365-day trial | Forever warranty | Free standard shipping to 48 states | White-glove delivery for $149
Best basic all-foam mattress
TL;DR: Another crowd-pleaser for anyone who's happy with all-foam construction, Tuft & Needle is a very smart choice for anyone looking to spend a bit less.
Construction: Tuft & Needle offers three mattresses: the Original foam mattress; the Mint, an upgraded version of the original; and the Hybrid, which has both foam and springs. The Original has just two layers of material: a seven-inch support layer of dense foam as the base and a three-inch top comfort layer of proprietary Adaptive Foam infused with a "cooling gel" and graphite to keep sleepers cool.
Firmness and Support: The mattress's simplicity may explain its lower price. It's a couple hundred dollars less than other foam competitors — but its appeal is meant to be broad and is aimed at a wide range of sleeping preferences and body weights.
Who Tested It: Lauren Ro, Strategist writer.
How I Sleep: Back-to-side sleeper who prefers a firm mattress.
How I Slept: Right off the bat, the mattress felt substantial. The textured-fabric cover felt plush to the touch, and when I pressed my open hand down on the mattress, it bounced back with a friendly rebound. Lying on the Tuft & Needle for the first time, I immediately felt embraced. Sleeping on my back, I felt supported and cocooned at the same time, and when I turned to my side, the transition felt natural. The company calls its in-house Tuft & Needle Adaptive Foam "soft and comfy while still being bouncy and supportive," and I completely agree. My husband really likes it, and he's a back and stomach sleeper whose temperature runs a little hotter than mine.
What Else to Know: 100-day trial | 10-year limited warranty | Free standard shipping to 48 states | White-glove delivery for $150
How I Sleep: Back-to-side sleeper who prefers a firm and cool mattress.
Best overall hybrid mattress
TL;DR: Aviya is supportive but soft and another can't-go-wrong choice for those who don't want to overthink it but know that they'd prefer an innerspring system (like a plus-size sleeper).
Construction: Aviya makes just one style of mattress that has three layers of high-density foam over a coiled innerspring system. In contrast to the Saatva, our pick for best overall mattress, the Aviya has three layers of foam above the coils, making it more of a hybrid than a true innerspring.
Firmness and Support: Aviya offers three options for firmness: plush, luxury firm, and firm.
Who Tested It: Lori Keong, former Strategist writer.
How I Sleep: Combination sleeper who prefers a medium-firm mattress.
How I Slept: I tested the medium-firm option, Aviya's most popular style, and flopping down, I was immediately taken by how plush yet delightfully bouncy this mattress was. The inner springs are a big plus, but they're buried far beneath the layers of foam. I was amazed at just how propped-up and aligned my body felt while supine, yet how comfortably I slept thanks to the padding of the quilted-foam top. I could see back sleepers appreciating the lack of give in this mattress — there is virtually no sinkage, which I tested by dropping two ten-pound weights on top of it. But the plush top still lends itself well to dozing on your side or stomach. I'd even go so far as to say that sleeping on the Aviya changed my perception of what "soft but supportive" means.
What Else to Know: 100-night trial | 10-year warranty | Free standard shipping to 48 states | White-glove delivery suspended due to COVID
Best ecofriendly hybrid mattress
TL;DR: Come for the all-natural materials and handmade construction, but stay for the plush yet supportive mattress that's suitable for most types of sleepers.
Construction: Looking at the Birch website, you'd never know that it's owned by Helix; though both labels make hybrid mattresses, that's about where the similarities end. The main selling point for Birch is that it's a "nontoxic" mattress made from "thoughtfully sourced" materials — including Rainforest Alliance–certified latex from sustainably tapped rubber trees, organic cotton, America-manufactured steel, and all-natural birch wool from New Zealand sheep. That wool is the standout material, as it provides cushion and plushness, helps regulate temperature, and acts as a natural flame retardant. In October 2021, Birch launched a second mattress — the Luxe Natural — that has a similar construction to the original we tested. But additional "comfort layers" made of organic cashmere and targeted lumbar support are part of what makes it more luxe.
Firmness and Support: Birch says the feel of the Birch Natural is "medium firm," and if you want something a little more plush, you can add the brand's organic plush mattress topper for an additional $624. (The Birch Natural Luxe is described as medium firm.)
Who Tested It: Maxine Builder, Strategist editor.
How I Sleep: Stomach sleeper who prefers a plush mattress.
How I Slept: It's never been a main concern of mine to sleep on an all-natural mattress — I'm more about maximizing comfort for me and my partner — and really, the only time I was acutely aware of Birch's materials was during the unboxing. Unlike other all-foam or foam-based hybrid mattresses I've tested, this one had no chemical smell. It sprung into shape faster than any other mattress-in-a-box that I've unboxed, needing only about half an hour to fully expand (whereas other mattresses need up to 24 hours).
What impressed me most about the Birch is how supportive yet plush it is — a dream for a stomach sleeper like me, who tosses and turns throughout the night. The wool cushioning cradles every curve of my body, no matter how I'm positioned, yet I never feel like I'm being pulled under, thanks to the firm support of the steel coils. My partner, who has described sleeping on a foam mattress pad in the back of a minivan as "comfortable," initially found this mattress to be "too sinky." After two weeks of sleeping on it, he still preferred sleeping on the Leesa but conceded that the Birch provided more than enough support (though I think he still would prefer something firmer, and that's a fight we'll be having until the end of days).
What Else to Know: 100-day trial | 25-year limited warranty | Free standard shipping to all 50 states | No white-glove delivery
Best medium-firm hybrid mattress
TL;DR: An affordable, slightly softer hybrid mattress with an especially stylish cover.
Construction: Launched in May 2022, the Leesa Original Hybrid is a more budget-friendly alternative to Leesa's Sapira Hybrid mattress that sandwiches 789 "active response" springs between a high-density-foam base layer and two CertiPUR-US-certified foam top layers — one made of memory foam for pressure relief, the other made of high-airflow foam for breathability. The "cool knit" polyester-and-viscose cover is a step up aesthetically from more traditional-looking white quilted mattress covers; reminiscent of a classic T-shirt, it's heather gray with a diagonal pattern and Leesa's signature white accent stripes.
Firmness and Support: Leesa says the Original Hybrid is medium-firm, with a firmness range of six to eight on a scale of one to ten, making it the firmest mattress the company sells. The innerspring core is more supportive than the all-foam Leesa Original reviewed above; the brand recommends it for all body types and sleeping positions and describes it as the Leesa Original "with bounce."
Who Tested It: Ambar Pardilla, Strategist writer.
How I Sleep: Combination sleeper who prefers a firmer mattress and runs hot.
How I Slept: Before I received the Leesa Original Hybrid, I was sleeping on an Allswell namesake hybrid mattress I'd purchased a few years earlier. The Leesa is firmer than the more cushiony Allswell, with good edge support and a comfortable level of bounciness — it's definitely a mattress you sleep on top of, rather than sink into. I tend to go to sleep on my side and wake up on my back, and I never had any trouble changing positions. I felt supported either way, with my posture aligned as it's supposed to be. And even though I run hot while I sleep, I'm relieved that the Leesa didn't make me wake up in a sweat (as has sometimes happened with mattresses past). Part of the reason is that the Leesa Original Hybrid has a fabric cover made from an especially breathable knit. 
What Else to Know: 100-day trial | 10-year limited warranty | Free standard shipping to all 50 states | White-glove delivery for $150
Best hybrid mattress for back and stomach sleepers
TL;DR: An affordable and firm hybrid mattress that avoids that sinking feeling, thanks to its balanced combination of springs and foam.
Construction: Helix doesn't offer just one style of mattress-in-a-box. It has more than a dozen, ranging from plush to firm, including six "Luxe" mattresses that each have six layers of foam and a pillow top instead of the standard four layers. Most of its standard mattresses, including the Dawn, are made of four layers — one layer has springs, and the rest are various foams. Warm sleepers have the option to upgrade to a cooling cover for an additional $199.
Firmness and Support: Of Helix's available mattresses, the Dawn is its firmest. The main differences between it and Helix's less firm options, according to the brand, is that the Dawn's second foam "comfort layer" has a firmer feel than other models' comfort layers. The company rates the Dawn's firmness level as eight or nine on a scale of one to ten and suggests it for back and stomach sleepers.
Who Tested It: Louis Cheslaw, Strategist associate editor.
How I Sleep: Side sleeper who prefers a firm mattress.
How I Slept: Even though this is a mattress designed for back and stomach sleepers, it was the one that was recommended to me when I took the brand's sleep quiz; I told representatives from Helix that I am a side sleeper who prefers something firm, and they promised it would work for me, too. Sleeping on the Dawn, I drifted off as quickly as I ever have, regularly slept through the night, and never woke up feeling hot, sweaty, or achy in the morning. Presumably because of its coils, I never once felt like I was sinking into the mattress — even on days I worked for hours in bed. When my girlfriend spent the night on it with me, we never rolled inward toward each other, as we would on the all-foam mattress we had been sleeping on. This support revealed itself in other ways, too: When sitting on the edge of the Dawn to, say, put my socks on or scroll through my inbox in the morning, I never slipped off.
What Else to Know: 100-day trial | 10- to 15-year limited warranty | Free standard shipping to all 50 states | No in-home delivery
Best hybrid mattress with zoned lower back support
TL;DR: This foam-and-innerspring hybrid has zoned lumbar support and provides motion isolation and support for partners whose movements tend to disrupt each other.
Construction: Saatva's Memory Foam Hybrid is 11.5 inches tall, layering an organic cotton cover and 1.5 inches of memory foam over coils made from recycled steel. The mattress has a half-inch layer of cooling, gel-infused memory foam through the middle third of the mattress to disperse your body heat and provide enhanced lumbar support. (On the cooling front, the memory-foam layer features a "wave" design with rolling cutouts to promote airflow.) The eight-inch innerspring layer is made of pocketed steel coils that are individually wrapped to help with motion isolation, and sits on a one-inch layer of support foam. The perimeter of the mattress is wrapped in high-density foam rails to provide extra-strong edge support. All of the foam in the mattress is CertiPUR-US certified foam, and no chemical flame retardants are used.
Firmness and Support: The Saatva Memory Foam Hybrid comes in one firmness level that the company rates as medium firm and says is best suited for side sleepers. It has zoned support through the center third of the mattress to provide lower-back-pressure relief.
Who Tested It: Latifah Miles, Strategist writer.
How I Sleep: Side sleeper who doesn't move around much but sleeps next to a restless partner who tends to toss and turn.
How I Slept: When I first laid down on the Saatva, I was worried it was too soft, because the quilted top and memory-foam layers are very forward. But when I actually slept on the mattress, the top layers contoured around my body while the coils and extra lumbar support prevented that sinking feeling that can come with memory foam. The coils are designed to absorb motion which, for me, is essential. My fiancé moves around more and wakes up earlier than I do and the Saatva has more noticeable motion isolation than our previous mattress — I don't even feel him getting out of bed to start his pre-dawn morning routine. And the extra-firm edge support around the perimeter (which is crucial to keep you from feeling like you're sliding off the mattress when you get out of bed or sit on the edge) adds a lot of stability. I realized that within a few nights of sleeping on the mattress, my fiancé, who is often restless and snores very loudly, seemed to be sleeping more peacefully (and more quietly, too). He told me he feels like he's getting the best sleep of his life, and is waking up less often during the night. All that, plus the fact that Saatva delivers its mattresses unfurled and sleep-ready, while offering free disposal of your old mattress, has made us converts.
What Else to Know: 365-night trial | Lifetime warranty | Free white-glove delivery | Free mattress and foundation removal
Best plush hybrid mattress
TL;DR: The Casper Nova Hybrid is a plush mattress that still delivers a decent amount of support (and more so than the Original Casper).
Construction: Casper released the Nova Hybrid in March 2020, and it's billed as the plushest among the company's hybrid (foam-and-spring) mattresses. It's mostly memory foam on top of a layer of springs, and the top layer is made of soft, pillowlike material — Casper calls it "puff fabric" — to make it cozier.
Firmness and Support: Like Casper's Original Mattress, the Nova Hybrid has zoned support, with softer foam around the shoulders and more support under the hips and lower back. The design is meant to appeal to those who do want a soft mattress without a sinking feeling.
Who Tested It: Chloe Anello, former Strategist writer.
How I Sleep: Combination sleeper who runs cold.
How I Slept: Because Casper touts the Nova Hybrid as its plushest option, I kind of expected I'd sink into it, but the memory foam actually offers more support than I thought it would without being too firm. It claims to be "cooling" since its two top layers of foam are perforated (making it more breathable), but I found it retained my heat if I stayed in a position for a long time. (As someone who's always cold, that's actually a major plus for me, but take note if you tend to sleep warm. Since we first tested the Nova Hybrid, Casper has introduced an add-on Snow Technology option, which adds extra cooling features like the brand's QuickCool cover for $500 more.) Since I started using this mattress, I think I toss and turn much less: I tracked my sleep score with my Fitbit and noticed it improved a few points after a few days of sleeping on the Nova Hybrid — and has pretty much remained consistent ever since.
What Else to Know: 100-day trial | 10-year limited warranty | Free shipping to 48 states | White-glove delivery for $149
Best flippable hybrid mattress
TL;DR: Layla's flippable design almost makes it feel like you're getting two mattresses for the price of one.
Construction: Layla, founded in 2016, offers two styles of mattress: an all-foam model and a coil-foam hybrid. The hybrid mattress consists of seven layers (the all-foam one has six); at its center is a six-inch layer of springy coils that offer increased airflow and more support, especially for larger bodies. Those foam layers are made of a copper-gel memory foam that the brand says has cooling ability.
Firmness and Support: Both the all-foam and hybrid mattresses are flippable, with one side featuring a layer of softer memory foam and the other a layer of firmer foam. Layla rates firmness on a scale of one to ten; the soft side ranks at a four and the firm side at a seven, regardless of construction.
Who Tested It: Tembe Denton-Hurst, Strategist writer.
How I Sleep: Plus-size back-to-stomach sleeper who prefers a soft mattress.
How I Slept: The Layla Hybrid is bouncy, and never gives that sinking feeling. My partner and I have had no problems sleeping through the night on it — we never overheat, nor do we feel each other moving around. We've slept on both sides, firm and soft, and each proved supportive. I prefer the softer side because I like my mattresses to be a bit plusher, but the firm side isn't too firm for my taste — perhaps a smidge firmer than the Allswell Luxe Hybrid, which I've slept on happily for the last three years. While there are cheaper hybrid mattresses (like my beloved Allswell), the ability to simply flip this one should you want a softer or firmer feel makes it worth the investment, especially if you're sharing a mattress with someone who prefers a different feel. It's almost like you're getting two mattresses for the price of one.
What Else to Know: 120-day trial | 10-year warranty | Free shipping to 48 states | No white-glove delivery
Best plush latex mattress
TL;DR: A truly plush mattress that's made with centuries-old mattress-making techniques but meets modern environmental standards.
Construction: PlushBeds makes all of its mattresses in a California factory using naturally derived, sustainable materials — an operation, it notes, that has received both Global Organic Textile Standard and Global Organic Latex Standard certifications. According to the brand, all of its mattresses are made following centuries-old methods of European mattress-makers; according to a representative, "hand side stitching, hand-compression tufting, and hand-stitching covers" are three such techniques used. But PlushBeds mattresses' materials — latex and gel memory foam — are more modern. The Natural Bliss mattress contains two layers of Arpico latex (a natural latex made from tapping rubber trees that the brand says have been grown without synthetic fertilizers or pesticides), a so-called Eco Fire Barrier layer (made of a chemical-free fire-retardant material), and a hand-stitched organic-cotton cover. It comes in three thicknesses — six, eight, or ten inches — with the thicker mattresses made of heftier latex layers.
Firmness and Support: No matter the thickness you choose, you can choose either a medium or medium-firm mattress. (We tested the medium.)
Who Tested It: Hilary Reid, former Strategist writer.
How I Slept: The Natural Bliss mattress I tested was ten inches thick, with the softest firmness level available. When I first sat down on it, I was immediately taken by how plush it was — something I appreciated even more when I lay down. The mattress had a pleasingly old-fashioned feel to it; it's hard to describe, but it felt like the sort of mattress you'd find in a spare room at your grandmother's house — something well made that she held onto for that reason (which kind of makes sense when you consider the company's use of old-world-style manufacturing techniques). Lying on my side and my stomach was incredibly comfortable: I felt both supported and like I was sinking into the bed a bit, which had a pleasantly coddling effect that I think helped me sleep more deeply. Before sleeping on the Natural Bliss, I slept on a spring-and-foam mattress and would occasionally wake up with tension in my muscles. But I never woke up tense after a night on the latex Natural Bliss; in fact, I often woke with my muscles feeling noticeably relaxed. While I don't have any allergies or chemical sensitivities, I can imagine the latex mattress making a lot of sense for someone who does.
What Else to Know: 100-day trial | 25-year limited warranty | Free standard shipping to 48 states | $249 white-glove delivery
Best pillow-top latex mattress
TL;DR: If you want a lot of support plus cushioning, Avocado is a hybrid mattress that can give you both, along with an ecofriendly construction.
Construction: Avocado set out to create the greenest mattress on the market using nontoxic natural and organic materials, as well as ecofriendly production processes. The brand offers a variety of adult-size mattresses (in addition to a lower-profile kids' mattress and two that are specifically designed for cribs). The most well-known models are the Green and the Vegan, which is essentially the Green minus the wool; both are rubber foam-coil hybrids that layer ecoconscious, organic Dunlop latex (made from tree sap); 1,414 individually wrapped coils made of recycled steel; organic cotton; and organic wool. In June 2019, Avocado stopped using food-grade silica as a fire retardant and replaced it with organic wool — or organic cotton, in the case of the Vegan. (In early 2022, the brand launched a new budget-friendly model, the Eco Organic, with a similar organic cotton, wool, and latex construction, but with only 988 coils and thus a slightly softer feel.) If it matters to you, Avocado makes its mattresses in California and negates its shipping and delivery emissions through carbon-offset projects.
Firmness and Support: You can choose from the standard mattress, which rates a seven out of ten in firmness according to Avocado's own system, or the same mattress with an additional two-inch plush Dunlop latex pillow top — the one I tested — which rates a six.
Who Tested It: Liza Corsillo, Strategist senior writer.
How I Sleep: Back-to-side sleeper who prefers a firm mattress.
How I Slept: The first thing I noticed about the Avocado Green mattress was its height compared to my previous Casper mattress. The Casper measures ten inches, and the Avocado with additional pillow-top measures 13 inches. I've never preferred a tall bed, but there was definitely something decadent about flopping down on a giant slab of rising dough. It took a few nights to get used to the feeling that I was floating above the mattress, rather than sinking into it, but two weeks in, I felt incredibly well supported and less affected by my boyfriend shifting and changing positions. And though I was initially skeptical, I came to look forward to splaying myself out on the cushy pillow-top layer.
While some people won't care about things like petroleum-based polyurethane foams or chemical adhesives, I appreciated knowing the Avocado lacked those things. What it does have makes the mattress naturally antimicrobial, more breathable, and dust-mite resistant. I'll always be the kind of person who prefers sleeping with the window open (partly because I don't have control over the heat in my apartment), but hot sleepers should know that the Green mattress is a big improvement over my Casper, which made my night sweats worse.
What Else to Know: 365-day trial | 25-year limited warranty | Shipping starts at $99 | In-home delivery starts at $249
Best innerspring mattress
TL;DR: The Parachute Eco Comfort is the only mattress we tested with absolutely no foam. It has a firm feel, thanks to the classic innerspring construction.
Construction: This mattress is spiritually modeled after a Hästens model that, years ago, Parachute founder Ariel Kaye saved up to buy. "I'm not saying we use horsehair or the same construction, but the idea was always to have a heritage mattress," Kaye says. That's why Parachute uses only springs — there are 6,000 coils in the queen size — and zero foam, which is said to lose shape and break down. There are two levels of coils sandwiched between wool and covered in quilted, organic cotton.
Firmness and Support: This is a firm mattress, one that Parachute says is firmer than most hybrid mattresses but softer than traditional innercoil mattresses.
Who Tested It: Margaret Rhodes, former Strategist senior editor.
How I Sleep: Stomach-to-side sleeper who likes a soft but supportive mattress.
How I Slept: In the age of the foam mattress, it's easy to forget how breezy springs feel. (At least I did.) Parachute's mattress is very firm, so my initial impression was one of sleeping on a very sturdy topper floating on nothing — I immediately noticed that my body heat was no longer trapped beneath me. Because Parachute deliberately made a firm mattress, it recommends that lovers of soft ones add Parachute's mattress topper, which we've actually, separately, deemed the best of its kind. I tried that, and the pillowy layer on top of such a supportive mattress works well.
One more thing: Ever since Wendi McLendon-Covey told the Strategist about looking for "an organic mattress that wouldn't leach chemicals," I've had a back-of-my-mind paranoia about sleeping nestled into carcinogenic brain-cell-killing fumes. Paranoid, yes, but the fact that Parachute's mattress uses 100 percent organic cotton and New Zealand wool brings me some welcome peace of mind. It doesn't smell like anything, meaning it has none of the plastic aroma that issues from a lot of other vacuum-packed mattresses. (That effect is called "off-gassing," and it's not harmful, just unpleasant.)
What Else to Know: 100-day trial | 10-year limited warranty | Free ground shipping to all 50 states | White-glove delivery for $150
Best overall cooling mattress
TL;DR: Upgrading from Tuft & Needle's Original model to the Mint buys you extra cooling layers and a medium firmness that works for multiple sleep styles.
Construction: The Mint Mattress is a premium version of the Tuft & Needle Original Mattress, and it shares some design elements with the Original. Both have a foam base that is topped with Tuft & Needle's proprietary Adaptive Foam. But the Mint has two additional layers of Adaptive Foam, compared to the Original's one, as well as additional edge support. Its two-inch middle layer of Adaptive Foam is infused with a purportedly cooling ceramic gel, and its three-inch top layer of Adaptive Foam is infused with graphite that the brand claims will "pull body heat away." Additionally, Tuft & Needle updated the Mint in May 2022 with a new cover that has a zip-off, machine-washable top.
Firmness and Support: While made of denser foam than Tuft & Needle's Original Mattress, a representative for the brand says the Mint actually feels softer — but overall, it still is a medium firmness.
Who Tested It: Arielle Avila, Strategist writer.
How I Sleep: Combination sleeper who runs hot and prefers a plush mattress.
How I Slept: Before I got the Mint, I slept on Zinus's affordable Green Tea Memory Foam Mattress. Out of the box, I could immediately tell the Mint is more luxurious. While it actually isn't as thick as my Zinus, the Mint felt more substantial and looked nicer, with its gray knit cover. Over time, I had started to sink into my Zinus so much that I couldn't tell how flat my pillows had become. This quickly became apparent when I started sleeping on the Mint, which felt way more supportive — so much so that I needed to buy new pillows. Without my body sinking into the mattress, my flat ones weren't supportive enough of my neck. While supportive, the Mint never felt too firm on my hips or shoulders whenever I rolled to my side. Instead, I'd describe the feeling as being cradled, something I felt when sleeping on my stomach.
I didn't really understand what the term "soft yet supportive" meant until I slept on the Mint, but that's exactly how I'd describe it. My boyfriend, who shares the mattress and prefers a firmer feel, slept well on it — he claimed he woke up more refreshed than ever. As for the mattress's cooling abilities, I'll just say this: There were a couple nights I forgot to turn my fan on and didn't wake up drenched. My boyfriend, who runs hot like I do, remarked he didn't get as hot sleeping on this mattress.
What Else to Know: 100-day trial | 10-year limited warranty | Free standard shipping to 48 states | White-glove delivery for $150
Best hybrid cooling mattress
TL;DR: A Casper, for sweaty sleepers.
Construction: One of Casper's newest models, launched in April 2023, the Casper Wave Hybrid Snow is a hybrid cooling mattress that stacks multiple layers of cooling gel, foam, and latex over a base of pocketed coils, with an array of temperature-regulating elements throughout. The cover is infused with phase-change material to help you maintain a consistent temperature; the foam and latex are perforated to encourage airflow; and six graphite "HeatDelete" thermal bands are sandwiched between the foam and the latex to keep heat moving away from your body.
Firmness and Support: Medium-firm and, like Casper's Original Hybrid mattress, it has "zoned support," with softer foam around the shoulders and more support under the hips and lower back. There are also gel pods under the waist and lower back to encourage proper spine alignment. According to the brand, this is its "most supportive" model.
Who Tested It: Dominique Pariso, Strategist writer.
How I Sleep: Back-to-side sleeper who runs extremely hot.
How I Slept: The mattress arrived just in time for summer, so I was really able to put its cooling abilities to the test. I was initially a little skeptical that a mattress with so much foam, notorious for trapping body heat, could keep me cool. Before getting the Casper Wave Hybrid Snow, I was using the Eight Sleep pod cover — which literally cools the mattress using a water pump — and while the Casper can't really compare to that type of tech, I was impressed with how well it regulated my temperature during the night. I didn't wake up in sweaty sheets once, even during the hottest nights of the year. The brand describes the mattress as being "medium-firm," and while I generally prefer a soft mattress, I actually found myself sleeping better with the additional support.
What Else to Know: 100-day trial | 10-year limited warranty | Free shipping to 48 states | No white-glove delivery
Best all-foam cooling mattress
TL;DR: A cooling mattress that delivers on its promise, even with an all-foam construction.
Construction: Each of Nolah's U.S.–made mattresses is constructed with Nolah AirFoam — a proprietary, temperature-neutral foam the company says is created without using the chemicals found in traditional memory-foam mattresses that can trap heat. This proprietary foam, Nolah claims, makes its mattresses cooler than any other memory-foam mattresses. The Original 10-Inch mattress is topped with two inches of Nolah AirFoam; beneath that is a one-inch layer of high-resilience foam that the company claims makes the mattress 300 percent more durable than the average memory-foam mattress. The rest of the mattress consists of a high-density breathable base foam.
Firmness and Support: Beyond being cooling and durable, Nolah says the mattress is particularly comfortable for side sleepers, because its combination of foams results in a plush but supportive mattress with a medium amount of body contouring. The brand makes a 12-inch all-foam mattress and a 15-inch hybrid option. All of its mattresses use the same cooling technology.
Who Tested It: Jenna Milliner-Waddell, Strategist writer.
How I Sleep: Side-to-stomach sleeper who runs hot.
How I Slept: While I was not expecting this — or any — mattress alone to stop me from being a night sweater, Nolah's memory foam does feel cooler to sleep on than other memory foam I've slept on. I can tell because I don't get overheated as fast sleeping on the Nolah Original as I have on other mattresses. In fact, I slept on it as summer turned to fall in New York City and actually needed to turn on the heat in my bedroom a few times — something I'd do in the past, but usually not until it was closer to winter. Before sleeping on the Nolah Original, I was sleeping on a pillow-top innerspring mattress, and I never thought there was anything wrong with that mattress until I started using the Nolah one and noticed that I'm actually sleeping better. The best way I can tell? I used to need a weighted blanket to get an uninterrupted night of sleep, but with the Nolah, I have been sleeping through the night (and often to my alarm) without one. Its top layers of memory foam have some give, but the mattress is much firmer than my old one: When I sit on it, I notice a soft bounce, but when fully reclined, I feel totally supported.
What Else to Know: 120-day trial | Lifetime limited warranty | Free shipping to 48 states | White-glove delivery starts at $125
Best mattress with cooling gel
Photo: Courtesy of the vendor
TL;DR: With a truly unique construction and anomalous materials, Purple's mattress is well suited to those who sleep hot and hate foam — and who are game to try something very different.
Construction: Unlike traditional spring-coil mattresses, the Purple features several different layers — one is a set of coils, topped by a thin layer of memory foam, which sits under several inches of Purple's proprietary polymer material and a layer of fabric. The Hyper-Elastic Polymer layer isn't a smooth plane but a grid of squares, which you can definitely feel. The polymer was invented in 1996 by the brothers Tony and Terry Pearce (both engineers), and it's a strong but moldable gel-like material that was then used in medical beds, Dr. Scholl's soles, and toy balls.
Firmness and Support: Purple describes its original mattress as medium-firm, with a "very stable feel."
Who Tested It: Jason Chen, former Strategist deputy editor.
How I Sleep: Side sleeper who prefers a firm mattress.
How I Slept: Plopping down on the mattress was a brand-new sensation: You're very aware of the gel surface, which has almost the rubbery give of a kids' party bouncy house. I didn't mind the texture of the square grid, though, because the mattress has such supportive structure. When I lay on my side, it was like being cradled rather than smothered, the way I felt on my old foam mattress. My pressure points in my shoulders and hips never ached — I used to have to move around to avoid spots that had dipped and retained heat, but the gel layer never held divots. After a week, I was fully converted and found myself wanting to spend time in bed during the day: reading magazines, using my laptop, playing with the dog.
What Else to Know: 100-day trial | 10-year limited warranty | Free shipping to 48 states | White-glove delivery for $200
Best mattress for side sleepers
TL;DR: The original Casper mattress skews a tad softer, and hot sleepers don't always love the foam — but it offers a nice balance of comfort and support, especially for stomach sleepers.
Construction: The original premise of Casper was that one mattress could make everyone happy. The company has since abandoned this Goldilocksian ideal and made other models, but this is the original: a four-layer foam construction with firmer support around the shoulders and hips. Formerly called the Casper Mattress, the company has rebranded it as the Casper Original Mattress.
Firmness and Support: The Casper Original has "zoned support," which means the foam's firmness changes slightly across different areas of the mattress to help with support and alignment. So there's softer foam around the shoulders and firmer foam under the hips, waist, and lower back. That support should prevent sinking without forgoing comfort.
Who Tested It: Margaret Rhodes, former Strategist senior editor.
How I Sleep: Stomach-to-side sleeper who likes a soft but supportive mattress.
How I Slept: I owned a Casper before this project (as did several other Strategist staffers), so my evaluation is actually based on a year's worth of sleep. And it was great. I didn't have any sleep complaints before, but graduating from my Ikea mattress to the Casper was like flipping a light switch. It's definitely a foam mattress, and for some people (like Strategist senior writer Liza Corsillo), that makes it feel hot. It means that for some people (like former Strategist senior writer Karen Iorio Adelson), it feels on the softer side. I often can't fall asleep at all unless I'm fully prostrate, and I found its support to be squarely in the middle, with absolutely no painful give around the back, but cushy enough that collapsing into it at the end of the day felt like a reward. (Former Strategist writer Lori Keong had one and liked it.)
What Else to Know: 100-day trial | 10-year limited warranty | Free shipping to 48 states | White-glove delivery for $149
Best mattress for stomach sleepers
TL;DR: Allswell has made a stellar firm mattress: You're being good to your spine, but the feel is still comfortable. It's a remarkable value for the price.
Construction: Allswell is Walmart's mattress-in-a-box brand, and it launched in 2017. It offers four models: the 12-inch-tall Luxe Hybrid, an even firmer 12-inch-tall hybrid cheekily named the Brick, a cheaper hybrid mattress simply called the Allswell, and the Supreme, a 14-inch-tall hybrid with a temperature-regulating foam layer and so-called Euro top. All of them have the same basic construction: A layer of individually wrapped coils is topped with high-density foam and copper-gel-infused memory foam.
Firmness and Support: According to Allswell's own ratings, the Allswell Luxe Hybrid is the softest of the four models the brand offers. (Unsurprisingly, the firmest is the Brick.) The coils are meant to help minimize motion transfer and provide edge support on all sides.
Who Tested It: Margaret Rhodes, former Strategist senior editor.
How I Sleep: Stomach-to-side sleeper, who likes a soft but supportive mattress.
How I Slept: The strangest thing happened the first time I slept on the Allswell: I lay down on my back to assess the mattress, noting how buoyant I felt. Then I stayed that way and passed out. (It's almost physiologically impossible for me to do this.) Perhaps I was feeling emotionally spent — I had just crawled into bed after seeing A Star Is Born — but more accurately, there was something comfortably paralyzing about letting this very firm mattress straighten out my skeleton. If I were writing taglines, I'd call the Luxe Hybrid "sumptuously Spartan." The plush topper is soft, to be sure, but you float firmly atop the mattress instead of nestling in. I slept like a rock for eight hours, several nights in a row. In the mornings, while my alarm clock snoozed, I'd return to my back from a fetal position and could practically feel my spine unfurling again, realigning for the day.
What Else to Know: 100-day trial | 10-year limited warranty | Free shipping to 48 states | Old mattress removal for an additional $149 | No white-glove delivery
Best mattress for back sleepers
TL;DR: Even without springs, this mattress offered enough support to alleviate back pain, and despite its memory foam, it never caused overheating.
Construction: Cocoon Chill is Tempur-Sealy's bed-in-a-box offering, and the mattress comes with a heat-dissipating knit cover. The firm option's construction is pretty straightforward: two inches of memory foam atop eight inches of high-density foam. The soft version has a transition-foam layer to separate the memory foam from the base layer; the company says side sleepers prefer it for that reason.
Firmness and Support: There are two levels of support — soft and firm.
Who Tested It: Simone Kitchens, Strategist senior editor.
How I Sleep: Back-to-side sleeper who prefers a firm mattress.
How I Slept: The Cocoon Chill in firm is every bit as firm as the innerspring-coil mattress I've slept on for years, but the memory foam hugs me in a way that makes my lower back feel particularly supported. Weird visual for you: Imagine two open palms gently lifting up your sacrum area. There was no hip-sinking feeling; the foam filled in the areas around my lower spine that generally ache, making it feel like I was very much on top of the mattress. The first night, I don't remember moving around all that much. The following morning, the usual roll-out-of-bed lower-back creakiness was gone.
I have very specific sleeping issues. I've had acupuncture and done physical therapy over the years to alleviate chronic back and neck soreness. Right before trying the Cocoon Chill, I had a new, specific bit of spinal pain. But much of that immediately subsided after that first night and hasn't returned. Crawling into this bed at the end of the day gives me a floating yet hugged feeling that I find to be full-body relaxing. And although memory foam can cause you to heat up, it was never an issue here.
What Else to Know: 100-day trial | 10-year limited warranty | Free standard shipping to all 50 states | No white-glove delivery
TL;DR: Plank says its mattresses are for people "who say a typical firm is never firm enough." The Plank Firm is a flippable, all-foam mattress designed to reduce back pain. Brooklyn Bedding, Plank's parent company, is based in Phoenix and constructs all their mattresses in-house at their factory.  
Construction: The Plank comes in three versions: Plank Firm, their signature memory-foam option; a hybrid Plank Firm Luxe version with features a six-inch core of individually encased coils; and a newly launched Plank Firm Natural style with GOTS-certified organic cotton and Talalay latex. Each mattress incorporates a flippable design, allowing users to choose a firm or firmer side. The company told me that the firmness of the models differs, but in general, the Plank Firm, the style I tested, is its firmest option. The Plank Firm, which is nine and a half inches tall, includes six inches of high-density base foam core. 
Firmness and Support: One side of the Plank Firm is considered "traditional firm" while the other is "ultra firm."
Who Tested It: Simone Kitchens, Strategist senior editor.
How I Sleep: Back-to-side sleeper who prefers a very firm mattress.
How I Slept: I wanted to test the firmest mattress out there — or one of the many that claim to hold the title. In the first few minutes after I opened the Plank Firm and let it expand, it didn't feel all that firm when I pressed my hand down. I sunk an elbow into it: pretty squishy. I let it breathe in the guest room for a few weeks. By the time it was hauled onto my platform bed and I splayed myself out on top of the ultrafirm side (to be honest, I wasn't even interested in trying the less-firm side), I could confirm it was the firmest memory-foam mattresses I'd ever laid down on. But not in the way that every firm-mattress-averse person might think: This is not a rigid futon with no give. That initial squishiness I felt is actually part of the design, and makes it appealing for people like me who might roll from side to side. No compressed shoulders in the morning. Though where this impressively firm mattress really shines is when you're lying on your back. The foam doesn't just fill in around the contours of your body, it puffs you up on top of it with your weight evenly dispersed. The best way to describe it is "neutral spine" — similar to lying on the floor at the end of yoga class in Savasana, when the curvatures of your spine are all in alignment. I wanted to test out the Plank for at least a few months, a point at which I've found that other memory-foam mattresses begin to sink in for good. After about four months, the initial firmness I felt is still intact.     
What Else to Know: 120-day trial | 10-year warranty | Free shipping to all 48 contiguous states | No white-glove delivery
Best (less expensive) firm mattress
TL;DR: Ikea's Myrbacka is a memory-foam mattress that feels incredibly firm. It does not come compressed and shrink-wrapped in a box like many online mattress options.
Construction: The Myrbacka, which is 9.5 inches tall, consists of high-density memory foam topped with a lambswool filling. There are "comfort zones" to relieve pressure on shoulders and hips, as well as a removable, machine-washable cover. It does not come compressed and vacuum-sealed in a box like most of the memory-foam mattresses you can buy online.
Firmness and support: There are two versions of the Myrbacka — one that's rated as "firm," and another that's rated as "plush." We tested the firm version.
Who Tested It: Simone Kitchens, Strategist senior editor.
How I Sleep: Back-to-side sleeper who prefers a very firm mattress.
How I Slept: I purchased the Myrbacka from Ikea in 2020. As someone only interested in the firmest mattresses out there, this is one of my favorites. This mattress is so firm and substantial feeling that I am still surprised that there are no coils inside. When I lay down I can still feel the curvature of my spine, and my hips feel up and aligned with the rest of my body — they don't start to collapse in. The Myrbacka is currently in our guest room (though I sneak naps on it often) and is so appealing that my mom, and then later my sister and brother-in-law, purchased the mattress after visiting. My brother-in-law, who has dealt with sciatica, told me that he has felt a noticeable reduction in pain since switching to the Myrbacka. Unlike the Plank, this mattress is not as forgiving, and that might be its appeal to people with sore backs or lower lumbar pain.
What Else to Know: 180-day return policy | 10-year warranty | No white-glove delivery
Best mattress for back pain
TL;DR: The firm construction, including a lumbar-focused support pad, offers balanced support that can ease nightly back pain but doesn't sacrifice comfort.
Construction: WinkBeds' mattresses are handmade to order in Wisconsin, and many of the people working at its factory have been building beds by hand for most of their careers. Wink CEO Dan Adler says certain techniques — like hand-sewing the mattress quilt and tape edge, and laying the inner springs by hand — ensure the quality of construction on every mattress the company makes. From top to bottom, these mattresses have a thin layer of foam (for comfiness), air springs (to keep things cool), a support pad (to keep your lumbar area well-supported), and tempered steel coils (for pushback, and to keep the mattress from losing shape).
Firmness and Support: The WinkBed is available in three firmnesses: softer, luxury firm, and firm. There is also the Plus, specifically designed for heavier people.
Who Tested It: Katy Schneider, New York Magazine features editor.
How I Sleep: Combination sleeper who prefers a soft mattress.
How I Slept: Though I bristled at the word "firm," I quickly converted from "will only sleep on pillows" to "I think I'm a firm-mattress person." Because the memory-foam layer is thin, it still felt soft without enveloping my body. The mattress seems to have saved my boyfriend's back — he claims he hasn't woken up with pain since we started sleeping on it — and its springs seem to absorb our movement. My boyfriend often comes to bed much later than I do, and I found that I noticed him flopping down a whole lot less on the WinkBed than I did on my old bed. I find that I'm comfortable on the WinkBed on my back, side, or stomach.
What Else to Know: 120-day trial | Lifetime limited warranty | Free standard delivery to 48 states | No white-glove delivery
Best mattress for athletes
TL;DR: Our tester — a devoted runner — did find some truth to Bear's claims that its mattress promotes muscle recovery after workouts.
Construction: Bear claims its four-layer foam mattresses are engineered for athletes, promoting temperature regulation and quicker muscle recovery after workouts. These benefits purportedly come from a mattress cover made from a licensed technology called Celliant, a synthetic fiber designed to direct body heat back into the muscles as restorative infrared heat. It sounds like science fiction, but there have been some clinical studies with promising initial results, including one conducted at the University of California Irvine Medical Center showing that Celliant-infused socks helped relieve chronic foot pain.
Firmness and Support: Bear describes its mattress as medium-firm, with enough sinkage and contour to ergonomically support athletes' bodies.
Who Tested It: Karen Iorio Adelson, Strategist senior writer.
How I Sleep: Side sleeper who prefers a firm mattress and runs hot.
How I Slept: A pressure-map test of the Bear on Sleepopolis shows pressure points along the hips and shoulders for side sleepers, which was consistent with my experience. But my husband, who sleeps on his stomach, didn't experience any pain, so the Bear seems more compatible with back and stomach sleepers. The Celliant cover doesn't feel noticeably different to the touch from any other mattress cover. But — and it may be totally psychological — my legs did feel fresher and less fatigued than they normally would on days after doing sprints and thigh-punishing barre workouts. (I tested the Molecule 1, another mattress that claims to be designed for athletes, and though I slept soundly, I didn't necessarily feel more restored on my morning runs than I do when sleeping on my Casper.)
What Else to Know: 365-day trial | Lifetime limited warranty | Free standard shipping to 48 states | White-glove delivery starts at $100
Best mattress for younger kids
TL;DR: A great combination of price, comfort, and features — most notably a unique flippable design that will accommodate growing kids from toddlerhood to tweendom.
Construction: The Helix Kids mattress aims to serve children from the moment they get their first "big kid" bed, around age 2 or 3, all the way to age 12 or so (presuming a twin size or full size will meet your family's needs, as it doesn't come in queen or king sizes). It has a flippable hybrid construction, with a firmer side rated for ages 3 to 7 and a softer side rated for kids 8 to 12; both are supported by a middle layer of six-inch steel coils. The firmer side has a one-inch layer of high-density foam to provide more spinal support to smaller kids. The softer side has a one-inch layer of gel memory foam for a more plush feel. Both foams are Greenguard Gold and CertiPUR-US certified. At eight inches tall, the Helix Kids mattress can work with traditional bed frames as well as many bunk beds. And the breathable TENCEL cover, though it isn't removable for cleaning, is naturally hypoallergenic and treated with both an odor-resistant "microbe shield" and a plant-based stain- and water-resistant finish.
Firmness and Support: On Helix's 10-point firmness scale, one side is rated as medium soft (4 to 5), and the other is rated as medium firm (6 to 7).
Who Tested It: Jen Trolio, Strategist senior editor, and her two kids.
How We Sleep: Combination sleepers, all.
How We Slept: My daughters each tried a Helix Kids mattress in the bunk bed they share, with my now-5-year-old sleeping on the firmer side and my 7-but-now-almost 8-year-old sleeping on the softer side. Both girls have slept on their respective mattresses nightly for almost a year, and I have spent countless hours lying beside them — in no small part because I am prone to falling asleep next to them in the evenings and "napping" for a bit before eventually making it to my own bed. Though my achier grown-up spine doesn't notice a huge difference between the two firmness levels of the mattress, my older daughter was able to identify the softer side, princess-and-the-pea style, and has been sleeping soundly on it ever since. I'm just happy to have the choice, as it makes the mattress feel like one of the best values on the kid mattress market; not only might it last an entire childhood, but thanks to its hybrid construction, it's tolerable for an adult to sleep on occasionally (something I couldn't say for many other kids' mattresses after testing a couple all-foam models that were far too soft). It also expanded quickly when it first arrived, it didn't off-gas at all, and though we thankfully haven't pushed any limits of its water-repellent and stain-resistant claims, I have no complaints about the comfort or temperature regulation of the cover (which I did top with a mattress protector anyway). All around, it's comfortable and supportive and an excellent choice for growing kids whose preferences can be fickle.
What Else to Know: 100-day trial | 10-year warranty | Free U.S. shipping | No white-glove delivery
Best mattress for tweens and teens
TL;DR: Avocado's Eco Organic mattress is a certified-organic and budget-friendly pick for middle-of-the-road sleepers who don't have any specific mattress requirements or aches and pains to resolve, especially people with lighter builds like many tweens and teens.
Construction: Avocado has built its entire brand around constructing mattresses with natural, nontoxic materials and manufacturing them using a sustainable production process. The Eco Organic is the brand's most budget-conscious offering: In a king size, it costs $1,000 less than Avocado's most popular mattress model, the Green, but still features the same foam-coil hybrid construction and certified-organic materials. It has a base of recycled steel coils that are pocketed to encourage airflow, topped by a two-inch comfort layer made of organic and naturally antimicrobial Dunlop latex, as well as organic wool (a natural flame retardant) and organic cotton. It does not contain any polyurethane foams, polyester fibers, chemical adhesives, or chemical flame retardants. The Eco Organic does have fewer coils than the brand's other models (975 coils in the king-size Eco Organic mattress versus 1,414 coils in the Green and Vegan models), which gives it a slightly softer feeling.
Firmness and Support: The Eco Organic comes in one firmness level, which Avocado describes as "gentle-firm"; according to the brand's own firmness scale, it ranks right in the middle at a five out of ten, with ten being the firmest. The Eco Organic provides uniform support across the entire surface of the mattress (in contrast to the zoned support of many of Avocado's other mattress models), and there is no option to purchase it with an attached pillow top (though you can always add a mattress topper from Avocado or any other brand).
Who Tested It: Kitty Guo, Strategist writer.
How I Sleep: Combination sleeper — back, side, stomach, you name it — with no specific sleep or temperature concerns.
How I Slept: I'm an average, unfussy sleeper in every respect: I can conk out in any position, I don't toss or turn too much, I don't really run hot or cold, and I don't have any back pain or muscle aches to contend with (yet …). I do prefer a slightly firm mattress with more support rather than one I sink into, but I don't want to feel like I'm sleeping on a granite countertop, either. Though Avocado puts the Eco Organic at a five out of ten on the firmness scale, I'd personally say it's a little firmer than that, maybe a 6.5 or so — which is the ideal level of firmness for me. At ten inches tall, the mattress's height is fairly standard, and I didn't feel like I had to stoop down or clamber up to get in bed. (For comparison's sake, Avocado's lower-profile kids' mattress is seven inches tall, and most of its other models are 11 inches tall or taller.) I was previously sleeping on a cheap Ikea mattress bequeathed by the former tenant whose lease I took over, and the difference once I switched to the Eco Organic was palpable — I always felt like the Ikea one was a bit too low and saggy, but with the Eco Organic, I felt like Goldilocks testing out Baby Bear's bed: just right.
Since the Eco Organic contains fewer coils than other Avocado models, its level of support is more suited to those with smaller, lighter builds. (It's a solid option for back and stomach sleepers, who typically don't require as much zoned pressure relief as side sleepers.) That, combined with its price range and all-organic construction, makes it a great pick for growing tweens and teens who have yet to experience the sleep concerns that often come with age and aren't particularly picky about the feel of their mattress.
What Else to Know: 100-day trial | 10-year limited warranty | Shipping starts at $99 | In-home delivery starts at $249
TL;DR: One of the most deservedly well-reviewed crib mattresses on the market, with a fully removable, machine-washable cover and a breathable, completely washable core.
Construction: Newton sells four different models of its popular crib mattress, and all of them align with the brand's appealing marketing refrain of "completely washable from cover to core" because they don't contain any foam, glue, or springs. The core in question is made from the brand's proprietary "Wovenaire" material — essentially a molded web of plastic that provides a flexible yet sturdy structure while allowing for a lot of airflow. (Picture a brick of flexible plastic spaghetti with air pockets in between the noodles, and you'll have a fairly accurate mental image of what it looks like; because of the air pockets, you can even see through it.) Newton says this technology allows babies to "breathe right through" the mattress, reducing the risk of suffocation; it also allows for the core to be literally rinsed or hosed off, if need be. All of Newton's mattress models use the same Greenguard Gold-certified materials, with slight variations in mattress thickness, dimensions, and cover. We tested the best-selling "Original," which is 5.5 inches thick and fits all standard-size cribs. It layers two machine-washable covers over the molded core: an inner viscose one and a quilted, plush outer one. The outer cover for the "Original"comes in four colors and is also available to purchase separately, in case you need to replace it or you'd like to have an extra on hand. Newton also sells a waterproof cover, if
Firmness and Support: Newton's crib mattress is on the firmer side, to ensure safe sleep for babies while still feeling comfortable for toddlers.
Who Tested It: Multiple Strategist parents, family members, and infants.
How They Slept: Though we couldn't get reliable feedback from our tiny test subjects, all of the Strategist writers and editors who've used the Newton crib mattress for their own kids or other family members have given it rave reviews. The mattress is lightweight enough to easily pick up and move around, which comes in handy when you are trying to change the sheets or remove the covers to wash them. "It took less than two minutes for me to unzip, remove, and then put the covers back on," says Strategist writer Latifah Miles, a mom of two, including an infant. She adds that the mattress also delivers quite well on its breathability claims: "I put my face against the mattress myself to see if I can actually breathe through it, and I can, without hot air kicking back into my face." Though it's important to always follow safe-sleep guidelines for babies no matter how breathable their mattress is, both Miles and senior writer Liza Corsillo noted that the Newton's airiness gives them extra peace of mind. Corsillo transitioned her son to sleeping on the Newton when he was about 6 months old and reports that the mattress is "very cushy and thick," yet just as supportive as the "super-firm, super-thin mattresses for the Snoo bassinet and the Guava pack-and-play he slept in at night for a while," adding that the "first time I put him down to nap on the Newton mattress, he slept for an hour and 20 minutes without stirring." Multiple parents praised how easy it is to clean, and senior editor Jen Trolio emphasized its durability, explaining that she gifted the Original to her sister about six years ago, before her eldest niece was born; her sister has since had two more children, with the youngest now sleeping on it at age 1, and "it's in perfect shape."
Other Mattresses We've Tested
Not all of the mattresses that we've tested are singularly the best, and even though our writers and editors didn't feel these models stood out from the crowd, you may find their reviews helpful. So we've outlined all of the mattresses we've tested here, with some notes on why they haven't received superlatives.
The Avocado Eco Organic Kids mattress is a lower-profile version of Avocado's budget-friendly line that the brand says is well-suited for bunk and trundle beds. That is definitely true: At seven inches high, it's sized to conveniently slide beneath a taller bed frame or nestle into a bunk bed without raising a sleeping kid so high that they might fall over a safety rail. Trolio, who tested this mattress with both of her kids and two nieces, found it to be extremely springy compared to other Avocado mattresses her family has tried. That makes it fine for occasional sleepovers (and kids who love to jump) but a little less appealing for nightly use. Plus the shorter stature makes it difficult to get a neat fit with standard-size sheets. Unless a specific combination of a lower-profile height, 100 percent organic materials, and a sub-$700 price tag (for a twin) are your top priorities, we think you're better off spending a few hundred bucks more and going with the seven-inch-tall, eco-friendly, and nontoxic Nest Lark Kids, which we've reviewed below. Or you could spend about $130 more (for a twin) and go with Avocado's ten-inch-tall, 100 percent organic, medium-firm Eco Organic Mattress, which we've recommended above for teens and tweens but would work just as well for younger kids.
Like the Bear Original Mattress, the hybrid has a top layer made with Celliant fibers woven into the quilting. The big difference is that this mattress has a layer of dozens of individually wrapped coils — or springs — in addition to its four layers of foam. It's nearly double the price of the original, but it's not noticeably cooler or more restorative. And according to Strategist contributor Steven John, who tested a twin-size version of this mattress, "I conk out just as easily on the Bear Hybrid as I do on the Casper Wave Hybrid." However, in early 2022, Bear released a new mattress model called the Elite Hybrid, which promises all the features of its Hybrid mattress plus zoned support and enhanced airflow; we've added it to our testing queue.
Brooklyn Bedding's Aurora Luxe mattress is the brand's best seller. It's a hybrid mattress that comes in three different firmness levels — soft, medium, and firm — with the option to add a two-inch foam pillow top for an additional $400. (Strategist writer Latifah Miles tried out the pillow-top version of this mattress in a Brooklyn Bedding showroom and found it especially cozy, with a "hotel-quality" level of cushioning that fans of plusher mattresses will appreciate.) The mattress has an 8-inch zoned core of pocketed steel coils topped with three layers of foam; the density of the middle layer of foam will vary according to the firmness level you select. New York deputy editor Alexis Swerdloff has tested this mattress in her home and advises that while the mattress feels luxurious and very substantial, the medium firmness level "errs on the softer side" and is "squishier" than expected — so she suggests "going in a firmer direction than you might normally." Both Swerdloff and her husband run hot, however, and found that the mattress's cooling features — including Brooklyn Bedding's GlacioTex cover, which uses a specific weave to promote airflow — helped them sleep a little cooler than usual.
The Casper Wave Hybrid is a souped-up, premium version of the original Casper that's designed to provide targeted support for your back, neck, and shoulders along 33 points in the mattress through contoured foam and dome-shaped gel pods that are said to work for all shapes and sizes. At more than $2,500 for a queen, it is very much Casper's "luxury" option that's best suited for sleep obsessives and mattress-heads, and there are other firm hybrid mattresses available for much less. Former Strategist writer Lori Keong found that the mattress ran hot, as well.
Emma is a European brand that makes one all-foam mattress with three layers: a cushioning base layer, a spine-supporting middle layer, and a top layer of proprietary cooling memory foam that the brand claims is more breathable than regular memory foam. Though the company claims the mattress has a medium-firm feel, associate editor Louis Cheslaw found upon testing it that it "ran on the softer side of medium-firm. When I sat on the side of my bed (to put socks on, or before fully getting out of it), I sometimes felt like I was slipping off of it, a sensation I have not experienced with firmer mattresses I've had. On rainy days, when I'd get back into bed to read or work, the mattress didn't quite give the amount of support I needed to comfortably do so for an extended period. And when my partner and I shared the mattress, it gave just enough that we'd inch inward toward each other." There are better soft mattresses that provide more support, especially for heavier sleepers, like the Aviya or the Leesa.
Strategist editor Maxine Builder tested the Helix Dusk in 2018, and though it was labeled as the brand's middle-of-the-road option — neither firm nor plush — both she and her partner found it to be extremely soft and felt it ran very hot. It turns out that Builder was not the only reviewer to describe even Helix's medium-feel mattress as too soft, because in 2020, Helix swapped out its regular mattresses' memory-foam layer — one of four layers of foam — for a firmer memory foam, which promises to give this particular model that much more support. We have not tested this new version of the Dusk (though folks on Reddit seem to say that Helix still runs on the soft side).
The Molecule is a soft, very sink-in-able mattress — and Strategist senior writer Karen Iorio Adelson found that it "felt like a marshmallow" in comparison to the Casper Original. It's designed for athletes, but it's not better than the Bear Original. And though it's cooling and has good airflow for an all-foam mattress, you'll get more support with the Nolah.
Nest's king-size and California King mattresses are available with dual firmness levels — a potential selling point for partners who have different sleep preferences and enough space for a big bed. Previously called the Alexander Hybrid, the Sparrow has a flippable and replaceable top foam layer, making it a decent alternative to the Birch Natural, our pick for Best Ecofriendly Hybrid Mattress. Strategist kitchen and dining writer Emma Wartzman, a combination sleeper "who moves around a lot during the night," purchased this mattress in March 2022 to replace a worn-out innerspring and reported that after just a few weeks, the "back and neck pain that I was waking up with every morning is literally gone."
The Lark is Nest's higher-end kids' mattress, constructed of organic cotton, New Zealand wool, natural latex, and ecofriendly foam. Because it doesn't have any springs like the otherwise similar Avocado Eco Organic kids' mattress that we reviewed, above, Trolio found when she tested it with her kids that it was a lot less bouncy than the Eco Organic — and a lot more comfortable. Nest describes the seven-inch-tall mattress's feel as luxury firm, because it's built "with a gentle pillow top over a firm latex comfort layer." Trolio thought it felt softer, but that's likely because she's above the mattress's 110-pound weight limit. All in all, the Lark is a great mattress that her 5-year-old slept on comfortably for months. The only issue is that at over $1,000 even for a twin size, it's an exceptionally expensive choice for a lower-profile mattress with a low weight limit, and we think you'd be better off purchasing an organic mattress marketed to adults that can serve more sleepers for a longer period of time.
The Puffin is Nest's budget-friendly memory-foam mattress designed for kids. Bunk-bed-ready at seven inches thick and made of 100 percent CertiPUR-US–certified foam with a cooling outer cover, it's a great first mattress for the smallest, youngest kids graduating to their first big-kid bed (bunk or otherwise), as the brand lists the mattress's maximum weight capacity as 110 pounds. Yet that limit makes it a little tricky to recommend: While it will easily accommodate average-size kids through their tween years, parents whose kids regularly require extra grown-up-size snuggles (or who fall asleep in their child's bed more often than they would like to admit) may have valid reservations about buying it. Trolio tested this mattress with her daughters when they were 4 and 7 years old, and while all three found it very comfortable, Trolio thinks it feels much softer than the "luxury firm" that Nest bills it to be. Trolio is a 140-pound adult, so take this with a grain of salt, but definitely consider the weight limit and your family's sleep habits before you add it to your cart.
Saatva bills its Latex Hybrid Mattress as its most environmentally friendly, in part because one of its layers is made from a naturally derived latex instead of memory foam. But unlike Saatva's Classic Mattress, our best overall pick, there are no firmness levels to choose between. Strategist editorial coordinator Kelsie Schrader tested this mattress and found it to be "soft and bouncy yet supportive the first — and every subsequent — time I sat down to read on it. I never felt like I was sinking nor did I have to shift my weight to a new spot, even after an hour of reading." It's supportive enough for all kinds of sleepers, but unless you're actively looking for ecofriendly materials, it's not necessarily too different from the Saatva Classic.