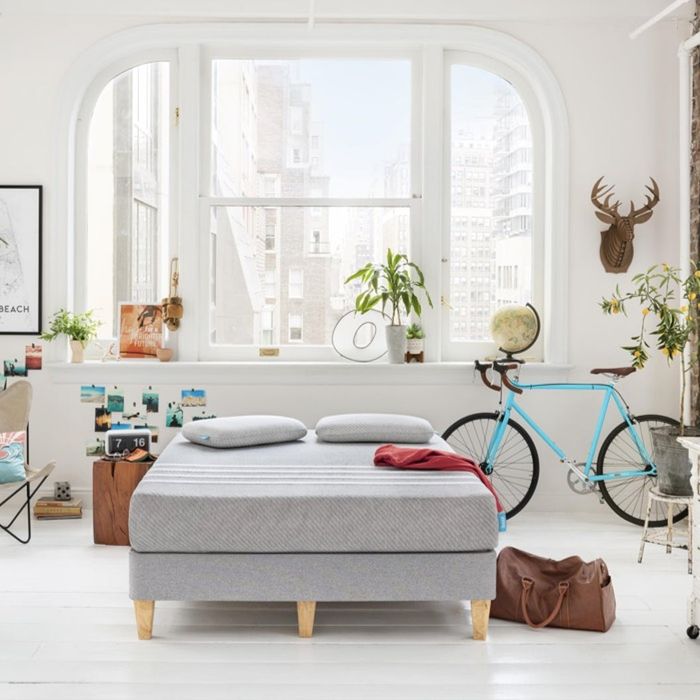 Buying a new mattress is a big purchase, but there's no reason to lose sleep over it. That's because we've compiled a list of the best foam mattresses, as tested by the writers and editors of the Strategist, whether you're looking for motion isolation, cooling ability, or pressure relief. Our reviews are based on at least a week's worth of sleep by all different types of sleepers, so if you're a side-sleeper who runs hot at night, look for the Strategist editor who is, too. And if you don't see something you like, don't worry: We've reviewed nearly thirty different mattresses here, including hybrid and more traditional innerspring mattresses. (Note that all prices below are for queen-sized mattresses, for ease of comparison, but all are available in different sizes.)
Foam composition: There are so many different materials and layering techniques that it can be overwhelming to learn the vocabulary of foam mattress composition. Foam mattresses typically use a combination of high-density, "transition," and (of course) proprietary foams to create an experience that is supportive and comfortable. Companies have different names for their layers, but most combine a support layer (the bottom of the mattress) with a comfort layer (the part you have direct contact with). According to Jamie Diamonstein, one of Leesa's co-founders, comfort layers are designed to improve "pushback," meaning they fill in the gaps around your body when you lie down. Diamonstein says the comfort layer enhances pressure relief "by responding to the shape and sleeping position of your body, then it pushes back and balances your body out."
Support: Depending on your body type and injuries, the type of support you'll need varies. Some of the mattresses on this list are only available in one firmness, while others offer different degrees. Doctors often recommend that overweight sleepers opt for extra-firm mattresses because body weight can exert stress on joints and pressure points. People with back problems can also benefit from a firm mattress that distributes weight evenly and supports spinal alignment. Beyond firmness, we've broken down support into different types such as plush, responsive, and bouncy.
What type of sleeper does it suit? The position you prefer to sleep in may affect how comfortable a mattress feels to you. The lack of "sink" in a firm mattress can provide better spinal and hip support for those who sleep on their back or stomach. Side sleepers, meanwhile, may find that a superfirm mattress exerts uncomfortable pressure on their shoulders and hips and may want a mattress with a bit more give. Combination sleepers change position frequently and may want to opt for an "all sleeper types" mattress.
Best all-around foam mattress
Comfort, memory, and support foam | Responsive support | All sleeper types
The original Leesa mattress is constructed with three layers of foam, but it feels substantial and offers excellent pressure relief. That makes it suitable for all types of sleepers or couples with different sleep styles — like our deputy editor Maxine Builder, a side-sleeper who prefers a plush bed, and her partner, a back-sleeper who is content with napping on a yoga mat on a hardwood floor. Both appreciated the way the foam cushioned their backs without the sinking feeling that's commonly associated with too-soft, all-foam mattresses. This Leesa mattress is one of the more expensive all-foam mattresses that we've tested, but it's worth it, especially if you don't want to spend too much time thinking about your choice.
Best (less expensive) all-around foam mattress
Adaptive and dense foam | Cocooning support | All sleeper types
Similar to the Leesa mattress, the Tuft & Needle is a crowd-pleaser. Both writer Lauren Ro, a back-slash-side sleeper who prefers a firmer mattress with coils, and her husband, a back-slash-stomach sleeper who runs hot, found it supportive. "Lying on the Tuft & Needle for the first time, I immediately felt embraced. Sleeping on my back, I felt supported and cocooned at the same time, and when I turned to my side, the transition felt natural," Lauren writes. Really, the biggest difference between our pick for best all-around foam mattress and the Tuft & Needle is the price: It's a couple hundred dollars less than other all-foam options, likely because it's only made with two layers of foam (unlike Leesa, which has three layers, or the ubiquitous Casper, which has four). But that lower price point is what makes the Tuft & Needle "a solid introduction to a compressed mattress-in-a-box" for several different types of sleepers.
Best affordable foam mattress
Memory, comfort, and high-density foam | Plush support | All sleeper types
Like many of the mattresses on our list, the Zinus Cooling Gel Memory Foam mattress is supportive and well-constructed — but what makes it a stand out is its very affordable price tag (and this model isn't even the brand's cheapest offering). Senior writer Karen Iorio Adelson, who usually sleeps curled up on her side, tested this memory foam model from Zinus, and she was impressed by the solid support. "I felt more like the mattress was rising up to meet me and fill in the spaces where I need some extra padding, like under my back and knees," she says. Zinus' very reasonable pricing might explain why some of the memory-foam mattress's promised cooling effects didn't allow Karen to completely ditch her moisture-wicking sheets and breathable PJs — but the bed's substantial, four-layer construction feels far more expensive than it is and makes it "the best value for a mattress, full stop."
Best foam mattress for restless sleepers
Energex, air flow, and support foam | Bouncy support | Combination sleepers
This foam mattress from Nest Bedding is "forgiving of restless sleepers who thrash and change position frequently," according to Strategist writer Sanibel Chai. The support foam base layer is followed by an airflow layer and topped with breathable (latex-free) Energex foam. Sleepers who tend to toss and turn will appreciate that the Energex foam absorbs movement, so you won't wake your partner. But it doesn't go overboard with cushioning, and you won't suffer from the "sinking into the mattress against your will" sensation. The retailer recommends medium for combination sleepers and firm if you require additional lumbar support. Sanibel tested the firm because her boyfriend has back issues and says, "I thought it would be too firm for me, but it molded to my body and felt bouncy. If I wasn't told, I wouldn't assume this was an all-foam mattress."
Best soft foam mattress
Ergonomic, breathable, pressure-relieving, and base foam | Fluffy support | Stomach sleepers
Owned by several Strategist staff members, the Casper Original is arguably the most ubiquitous mattress-in-a-box, and the one word that came up over and over in their reviews is "soft." In fact, our senior writer Karen, the tester for the Zinus Mattress, thought it to was too soft for her preferences, as did writer Liza Corsillo, who both runs hot and generally prefers firm mattresses. But the Casper provided the right amount of support for former senior editor Margaret Rhodes, who sleeps on her stomach and prefers a mattress that's "fluffy without having too much give." Former writer Lori Keong, an all-positions sleeper who also prefers a plush mattress, found it to be comfortable — and with four layers of foam, there's enough support to accommodate most sleep positions, even if it is on the plush side.
Best firm foam mattress
Memory and high-density foam | Pain-relieving support | Back sleepers
On the other end of the spectrum from Casper is the Cocoon Chill mattress from Sealy, which was tested by former senior editor Simone Kitchens. She prefers a firm mattress to combat daytime slouching, and even though the construction of the Cocoon Chill is all-foam, Simone described it as "every bit as firm as the innerspring coil mattress I've slept on for years, but the memory foam hugs me in a way that makes my lower back feel particularly supported. Weird visual for you: Imagine two open palms gently lifting up your sacrum area." The result of this combination of memory foam on top of high-density foam is a sensation that Simone describes as "full-body relaxing" — so much so that sleeping on it even helped to alleviate some of her very specific back pain.
Best cooling foam mattress
Photo: retailer
AirFoam, high-resilience, and high-density foam | Contouring support | Side sleepers
"I am never not sweating and always sleep on my side or stomach," says writer Jenna Milliner-Waddell of her sleep style — and the Nolah Original offered her plenty of comfort, with good pressure relief and support and impressive cooling abilities. The brand credits that cooling to its proprietary AirFoam, a temperature-neutral foam that doesn't trap heat. But no matter what the material, it worked for Jenna: "I've been sleeping on it as summer turns to fall in New York City and have already needed to turn on the heat in my bedroom a few times — something I'd do on past mattresses, but usually not until it was closer to (or actually) winter." Her quality of sleep improved to the point she was even able to lose her once-essential weighted blanket: "With the Nolah, I have been sleeping through the night (and often to my alarm) without one."
Best foam mattress for side-sleepers
Cooling memory, spine-supporting, and cushioning foam | Soft support | Side sleepers
Writer Louis Cheslaw, who tested the Emma, always sleeps on his side, "with my right arm under my pillow and my left leg higher than my right (don't ask me why)," and though the Emma is on the softer side of its medium-firm designation, it's a nice option for side-sleepers. "When I sat on the side of my bed (to put socks on, or before fully getting out of it), I sometimes felt like I was slipping off of it, a sensation I have not experienced with firmer mattresses." Nevertheless, he was still "incredibly comfortable" sleeping on the Emma. "I never woke up after falling asleep until the morning, when I woke feeling well rested." Not to mention, Emma's top cooling layer kept Louis comfortable throughout his trial — even during the peak of a hot New York City summer.
Best memory-foam mattress
Gel-infused memory, support memory, and high-density foam | Enveloping support | All sleeper types
Though memory-foam sometimes can have a reputation for being "too soft," Nectar's solid base layer works to provide a structured foundation for the softer top layers of foam, and according to senior editor Casey Lewis, that provides "just the right amount of give." Casey always sleeps on her stomach and shares a bed with her wriggly pitbull-boxer, and the memory-foam had impressive motion isolation. "When I curled up to go to sleep, it was surprisingly enveloping — and for the first time ever, I didn't wake up every time my dog flopped or fidgeted throughout the night," she writes. Plus, Nectar's inner cooling gel and breathable Tencel cover help combat nighttime sweats so much so that Casey, who usually runs hot, "never once woke up with sweat-soaked sheets."
Best mattress for athletes
Photo: Courtesy of the vendor
Gel memory, transition, and high-density foam | Muscle recovery support | All sleeper types
Bear says that its original, all-foam mattress is designed for athletes, with foam layers that are designed to relieve pressure, keep you cool, and restore strength. All of those benefits are thanks to a mattress cover made of Celliant, a synthetic fiber that's "designed to direct body heat back into the muscles as restorative infrared heat," according to some studies. It sounds like science-fiction, but according to senior writer (and avid runner) Karen Iorio Adelson, who tested this mattress with her husband, "It may be totally psychological — [but] my legs did feel fresher and less fatigued than they normally would on days after doing sprints and thigh-punishing barre workouts." Given that anecdotal experience, and some of the early studies on Celliant, if you're an athlete or on a rigorous gym schedule, the Bear mattress may be worth the try — but if nothing else, it's a nice option for stomach- or back-sleepers who want a touch more support from an all-foam mattress. (And Bear's 100-night trial allows for hassle-free returns.)
Best smart foam mattress
Comfort topper, memory, and poly foam | Medium support | Temperature sensitive sleepers 
What makes the Pod from Eight Sleep different from any other all-foam mattress on this list is the Hub, "an external cube the size of a bathroom trash can that pumps heated and cooled water through a thick hose that connects to a mattress's heating/cooling layer, which goes over it like a mattress pad," according to senior editor Peter Martin. The temperature of that layer can be dialed in with a smartphone app, so if you tend to run hot in the night while your bed companion is still shivering under layers of blankets — like Peter and his wife— each side of an Eight mattress can be set to its own temperature, fixing the problem once and for all. "When it was in the 50s and 60s at night, my side of the bed could be set to cool while my wife's side automatically warmed up before bedtime, letting me use the covers all night and keeping me from waking up hot and annoyed and trying to kick my way free." The inclusion of the Hub means that setup takes longer than a traditional mattress and ongoing maintenance is required to keep everything functioning properly — but if you're looking to invest more in your mattress, or intrigued by the data-driven features, this is the option for you.
[Editors' Note: We tested Eight Sleep's original Pod mattress, which the company is phasing out as of February 2022. Though you can still buy the original Pod as of the publication of this update, Eight Sleep is now focusing on its Pod Pro and Pod Pro Max models, which offer the same cooling technology and have been updated with new features, like a smart "alarm" that can wake you up with gentle vibrations and gradual temperature changes. These updated models are on our watch list for future testing.]
Best foam mattress for kids
Two layers of poly foam | Cushy support | Lightweight sleepers
The Casper Element is the brand's most basic and affordable option, made with just two plush layers of polyurethane foam. (It's missing the memory foam and durable base layer foam found in the Casper Original's four-tiered construction.) For writer Lauren Ro, who sleeps on her side and back, and her husband, it was too unstructured. "By the second week, we both noticed that we sunk a little too much into the foam and missed the support and pressure relief of our coil-spring mattress." For this reason, we suggest the Casper Element as a great option for someone younger, especially given the lower price point than the original Casper, or someone who likes a really soft mattress. Otherwise, consider upgrading to the Casper Original for a higher degree of support.
The Strategist is designed to surface the most useful, expert recommendations for things to buy across the vast e-commerce landscape. Some of our latest conquests include the best acne treatments, rolling luggage, pillows for side sleepers, natural anxiety remedies, and bath towels. We update links when possible, but note that deals can expire and all prices are subject to change.