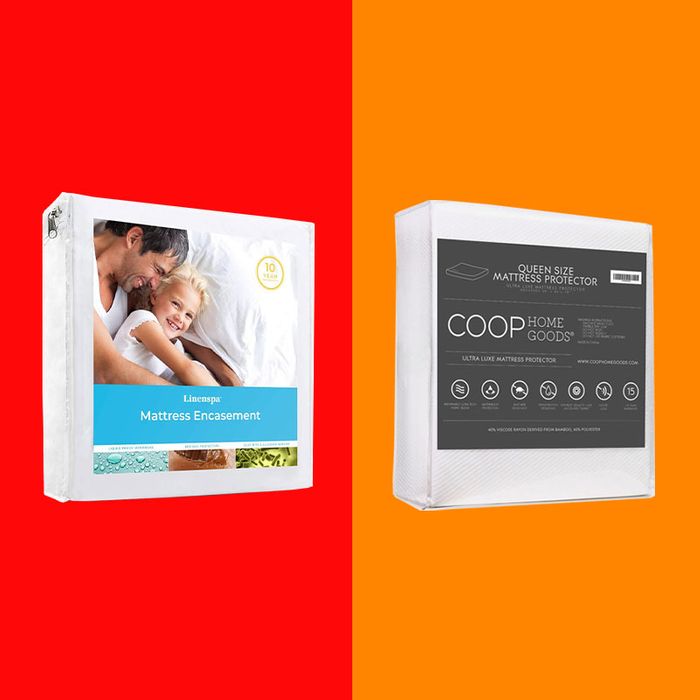 Photo-Illustration: Courtesy of the retailer
If you spend any time relaxing in or working from your bed — or if you have pets or kids — you know that spills are inevitable. The point of a mattress protector is to keep your sleep space clean and stain-free. By providing a layer of waterproof, sometimes hypoallergenic fabric between you and your very expensive mattress, a mattress protector can help ensure that you never have to fall asleep on a weird, smelly wet spot and that your mattress stays looking its best. And for city dwellers, a secure mattress protector can keep bedbugs from getting to your mattress and help you detect a possible infestation before it becomes a bigger problem.
To find the best mattress protectors, we rounded up all the ones that pest-management and bedding experts have recommended to us in previous Strategist stories, consulted our sales data to determine which mattress protectors our readers have purchased the most over the past three years, and tested a few ourselves. If you know what type of mattress protector you're looking for, use the links below to jump ahead, or read on to find out what to look for as you shop.
Best overall | Best less expensive | Best cooling | Best encased | Best for kids | Best for bedbugs | Best wool | Best for cribs | Best organic
What we're looking for
Fabric: Mattress protectors are generally made from cotton, polyester, vinyl, and (sometimes) bamboo blends. However, the experts we spoke to when reporting on bedbug mattress covers suggested avoiding vinyl. "Vinyl covers aren't breathable and rip very easily because they have no stretch," says Matthew Moers, co-owner of EZ Pest Exterminating. Beyond that, the material you choose is mostly a personal preference. Polyester is stretchy and durable but can be noisy. Cotton is quieter and a little more breathable but slightly less durable than polyester. Bamboo blends are better for hot sleepers or those looking for more sustainably sourced materials.
Protective qualities: Similar to mattress toppers, your mattress protector can serve more than one purpose. You might need a waterproof protector to keep a child's mattress dry while potty training, a hypoallergenic protector which means that it is made of material that is unlikely to cause allergic reactions, or a bed bug-resistant protector that will fully encase your mattress instead of covering just the top of it. Some protectors can check off all of those boxes, while others focus on one function more than others.
Mattress fit: It's important to choose a protector that will fit your mattress tightly. A loose fit provides more opportunities for bugs, mites, and liquid to penetrate through to your mattress, and it can make the protector noisier when you move around at night. The best way to ensure a snug fit is to match the mattress protector with the height of your mattress. Below, we've noted the depth that each mattress protector will fit, with a focus on queen-size protectors unless otherwise noted.
Cleaning: By design, mattress protectors collect sweat, moisture, and a laundry list of other stuff that you don't want on your actual mattress. This means that they need to be washed regularly, just like your bed sheets. Most mattress protectors are machine washable for convenient cleanup but some aren't designed to be tumble dried.
Best overall mattress protector
Cotton | Hypoallergenic and waterproof | 18 inches | Machine washable and tumble dry
When we asked Timothy Wong, the technical director of New York City–based ecofriendly pest-management company M&M Pest Control, about bedbug mattress protectors, he pointed to SafeRest's covers as the best. While he recommends the brand's Premium Zippered Bedbug Proof Mattress Encasement to his clients, he notes that all of SafeRest's covers are completely waterproof, hypoallergenic, and machine washable. Reviewers noted that this cotton fitted cover is impressively waterproof and noiseless.
Best (less expensive) overall mattress protector
Cotton | Hypoallergenic and waterproof | 22 inches | Machine washable and tumble dry
With more than 6,500 purchases over the past three years, Lucid's mattress protector is our third-most-purchased option — and at $20, it's nearly half the price of our best overall pick. The cotton terry surface is breathable and noiseless, with reviewers praising the cover for being undetectable at night. It's waterproof and hypoallergenic, and it has extra-deep pockets that provide a secure fit on mattresses up to 22 inches deep.
Best cooling mattress protector
Polyester and bamboo-derived viscose rayon | Waterproof | 18 inches | Machine washable and tumble dry on low
Made with a proprietary Lulltra fabric, the mattress protector from Coop Home (which also makes one of our favorite pillows) is most lauded for being breathable. The fabric is a blend of polyester and bamboo-derived viscose rayon, the latter of which is known for being more cooling than other materials. Its polyurethane backing is fully waterproof, but the Lulltra fabric keeps the cover soft and noiseless, with no crinkling sounds at night. The cover is also Oeko-Tex certified, which means it's free of PVC and vinyl, and it fits mattresses up to 18 inches deep.
Best encased mattress protector