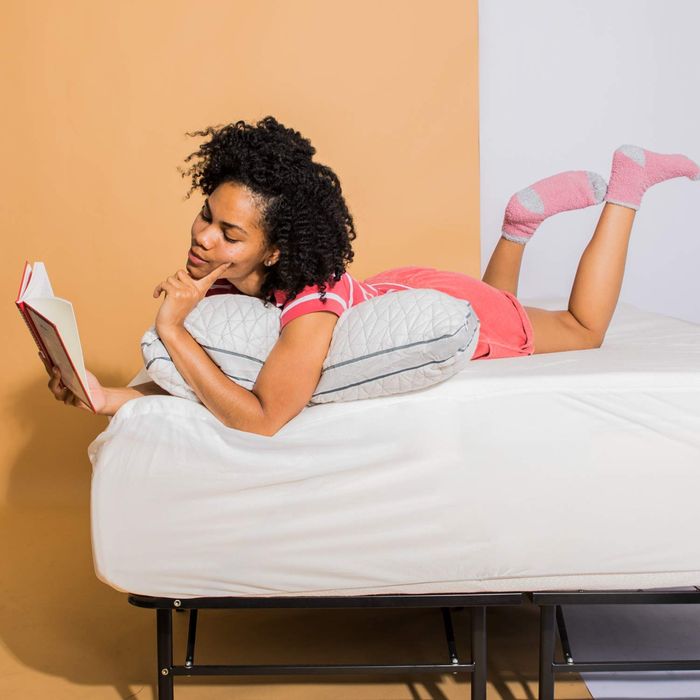 Photo: Courtesy of the retailer
For lots of folks, spending more time at home during the pandemic has meant spending more time in bed — not only sleeping, but working, snacking, and maybe even playing games during a Zoom happy hour. With all this extra use, accidental spills and discomfort are just about inevitable, which is where a waterproof or comfortable mattress protector comes into play.
We've written about lots of mattress accessories before — including the best mattress toppers and best foam mattress toppers — but here, we've rounded up the best mattress protectors, as praised by the most enthusiastic reviewers on Amazon. Each starting price listed is for queen-size mattresses unless otherwise noted, to make comparisons a little easier, but there are other sizes available for each mattress protector.
Related Article: Best Linen Sheets Reviewed | Best Mattresses You Can Buy Online
Best-rated mattress protector
With over 32,000 five-star reviews, this mattress protector is lauded by thousands for being waterproof. One mom bought this for her son that isn't quite potty-trained yet, noting, "We have had two incidents of bed wetting since buying and the mattress stayed 100 percent bone dry." But waterproof doesn't mean uncomfortable, as one parent, who purchased this for her kids' beds, occasionally sleeping on it when her "youngest has a nightmare," explains: "There was no crinkling sound when moving on the bed nor did I feel like I got sweaty as I sleep because of lack of absorption due to the waterproof barrier." One reviewer recounts a particularly messy incident when his wife went into labor early and had their baby girl in their bed. "For those who have witnessed or gone through childbirth, you know what a mess I arrived to. For those who haven't, suffice to say there are many different types of fluids and a lot of them," he writes, continuing, "Let's just say I was fully expecting to be purchasing a new mattress. To my amazement, once I'd bagged our sheets and this mattress pad, our mattress was perfectly fine. I challenge anyone to put it through a more rigorous test and I'm positive it can stand up to some sweat or your child's pee in the middle of the night."
Best-rated (less expensive) mattress protector
"When they say 100 percent waterproof, they mean it," says one reviewer of this Linenspa mattress protector, whose 2-year-old tested just how waterproof it is. "It passed the test — not a single drop made its way to the mattress." And while many say this holds up to bed wetting, this also protects your mattress from adult accidents, too. "I got a beautiful new mattress and shortly after purchasing this mattress protector I lost my footing and spilled wine all over my bed," one reviewer writes. "I had a total melt down and ripped the sheets off to assess the damage. I forgot I put this protector on and was SO relieved that the wine didn't even touch my mattress." Dozens of reviewers agree that this provides great waterproof protection, but thankfully, according to one, without a 'swishing' noise or plastic 'crinkle' noise when you lay down or roll over." Another perk is that the protector fits a deep mattress. One user says "the deep pockets stay on my 14-inch mattress with no problem." And no matter the mess, the protector is good as new after the wash according to this reviewer: "The protector washed up nicely … No piling or anything."
Best undetectable mattress protector
"I can honestly say this mattress protector has saved my brand-new mattress," writes one customer whose self-described "disgruntled cat" wet the bed, but didn't soak through the protector. "I felt the bottom side of the protector after I stripped it off the bed and it's completely dry. The mattress remains untouched," they add. One pregnant customer initially purchased this because she was afraid of her water breaking in the middle of the night and ruining her mattress, but it was so undetectable, she kept it on following the birth of her baby: "I've kept her in my bed more often than expected and with spit up and diaper leaks my mattress has been untouched! I love that it doesn't make crackly noises when moving in bed." And lots of other reviewers say they don't notice this mattress protector, including one who was convinced by other "glowing reviews" and has found it to be "even better than the reviews. Extremely soft and comfortable, with a unique texture that doesn't crush down, stays smooth, and doesn't bunch or shift on the bed." Another reviewer, who has an accident-prone toddler, attests that they don't "even notice it is under there. Well, until your toddler has an accident, and it doesn't ruin your expensive mattress. For me, this is a must-have. I purchased two of them," they add.
Best mattress protector for bedbugs
Hundreds of satisfied reviewers purchased this mattress protector specifically to protect against bedbugs, and many attest that it works. "I put one of these on my mattress and another on my box spring and went from being eaten alive nightly to zero bites immediately," celebrates one reviewer. Another highly selective reviewer struggled with bedbugs, writing, "As I read the description, I noticed they said 'lab tested,' so I checked out the lab too, which was legit. When they came, they were very soft and the zipper was tiny, that's a good thing because then the tiniest of bedbugs can't get through it." And as this expert concludes, "We run a high-quality pest-control company, and these are the only bedbug covers we resell to our customers because we trust the quality and the pricing is great."
Best hypoallergenic mattress protector
"It's exactly what I needed! I would have loved to have had one of these before my sister brought my nephew over and let him sleep on a new mattress without a pamper when he wasn't even potty trained. Everyone should have this. Trying to get spots off of mattresses can be impossible, so I would get this rather than risk letting one get ruined. I love the fact that it is waterproof. I don't have to worry about spills or spots or anything else. I was skeptical about how well it would fit my queen-size deep mattress, but it slid on like a glove. I did need my husband's help to get it on, but I think that one person could probably do it. The fabric is good and it doesn't feel odd when you sleep on it. It doesn't make you sweat or get hot. It doesn't feel any worse than a regular mattress pad, but the full enclosure makes it a much better choice. I would recommend this to everyone!"
Best waterproof mattress protector
Reviewers appreciate that this 100 percent waterproof mattress protected their beds from liquids of all kinds — from coffee and wine to bed-wetting kids and animals. "It was put to the test and worked perfectly when my girlfriend spilled a full glass of red wine while reading in bed. Not one drop of the wine … penetrated the cover," writes one reviewer. Another initially skeptical customer was convinced of this protector's efficacy when her baby had an accident in bed and nothing leaked through; plus, she says, "it's so comfy, no plastic feel or noise." Another customer actually tested the waterproof protector by pouring a cup of water on it: "It immediately pooled up. I checked it after two hours and the water had soaked into the cover. The top material was wet but the water did not seep through the bottom layer and my mattress was dry."
Best encased mattress protector
Reviewers searching for an encased mattress protector settled on this waterproof option from Utopia. "These encasements are very good quality, they are thick but soft and provide durability. They wash really well, leak proof. My son had a spill and no stain," raves one customer. Another reviewer had bedbugs years ago, and always covers her mattresses now just in case, noting, "Years ago I brought bedbugs home from a hotel,