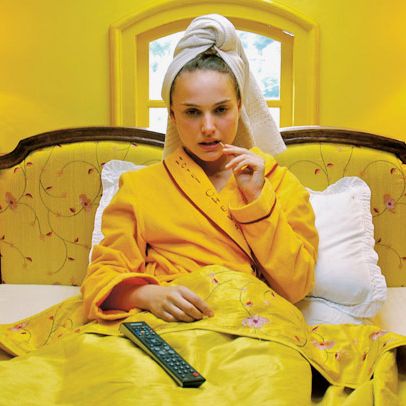 Photo: Fox Searchlight Pictures
If you're a bathrobe person, you know that few things are more luxurious-feeling than waking up and putting on a robe, and that few things are cozier than slipping into one again at the end of the day. Unless, of course, that robe is scratchy, too short, or otherwise uncomfortable. But picking what robe to buy can be a surprisingly challenging feat based on the sheer mass of options alone: There's a variety of weaves (flannel, terry, velour, waffle) and a wide range of cuts (shawl collar, kimono, hooded) to choose from. A plush terrycloth style might help you feel like you're posttreatment at Aire Baths, while a flowing silk robe can instantly transport you from drab studio apartment to luxe boudoir (at least if you close your eyes). To find the best bathrobes for women, we asked 24 stylish ladies, including spa owners and loungewear and lingerie designers, about their favorites. Read on for all their picks, including lightweight options, others made from sustainably sourced fabrics, robes to splurge on, robes for cozying up, and robes for cooling down.
Best terrycloth bathrobes
"The name says it all!" Reshma Patel, owner of jewelry store Quiet Storms in Williamsburg, says of this cozy terrycloth robe from Coyuchi, a brand that appears more than once on this list. "It's the dreamiest robe to put on post-shower or over PJs in the winter." Patel says she always tries to give her business to independent or local brands as well as ones that are environmentally conscious, and Coyuchi fits the bill. "Coyuchi's commitment to sustainable materials and ethical production practices is something I admire," she says. Nutritionist and wellness coach Daphne Javitch is a fan of the Coyuchi robe as well. "It's lightweight but still absorbent, and so, so soft," she says. That Javitch mentioned the robe's absorbency makes sense — the robe was inspired by the brand's towels, which are frequently lauded for their ability to dry quickly. Our own Karen Iorio Adelson raved about Coyuchi's bath sheets, which she says helped her dry off faster after showering than any towel she's ever used.
Terrycloth is usually what comes to mind when we picture a bathrobe, and it's easy to see why: The material is thick, cozy, and absorbent, and it evokes an afternoon spent at the spa or lounging around a hotel. This terry bathrobe is from luxury textiles company Frette. Founded in France in the 1800s and currently operating out of Italy, Frette makes high-end sheets, towels, and, crucially, bathrobes. These are the kinds of soft, oversize robes that swaddle you. They can run up to $500, but that's not necessary: Dina Cooke, who directs social media for the Joanna Vargas spa in New York and Los Angeles, swears by her simple, lower-cost shawl-collar Frette. "I'm absolutely in love with mine. It's luxurious yet simple," she says. "I wear it after taking a long bath or while I'm sheet-masking." Designer Tamara Mellon is a fan, too — she just recently purchased Frette's Unito Shawl Collar bathrobe. "I love the plush cotton terry feel," she says. "Part of my nighttime routine is to take a bath and then meditate, and wearing this robe helps me unwind from the day and makes me feel relaxed."
Strategist writer Jenna Milliner-Waddell is a fan of Frette's H by F line, which makes robes based on the robes and linens the company makes for hotels. "While it's thick, fluffy, and cozy, it never makes me overheat," says Milliner-Waddell (who, full disclosure, was gifted the robe). "And, I mean, it's Frette — so it's hard not to feel like a rich bitch when you've got it on."
Greer Simpkins, designer of Hello Beautiful lingerie, says that while most of her robes are vintage or secondhand, the one that was "worth the splurge" is the Cairo robe from Matouk, which she owns in a white-on-white color scheme. It's made of a super-plush terrycloth, and piping details add to its elegance. "It's made in the USA — I've visited their factory in Fall River, Massachusetts — with fabric from Portugal," Simpkins says. "I especially love the classic, 100 percent cotton bias-piping detail. It's top quality and sure to last for many years to come."
Snowe, another bedding upstart that has gotten a shout-out on this website for its excellent sheets, makes a hypoallergenic, quick-drying robe. According to the manufacturer, it's four times as durable as traditional towels. Cyndi Ramirez-Fulton, founder of Chillhouse spa on the Lower East Side, is such a fan of Snowe's robe that she owns two. "I wear mine after I shower every day," she says. "The price is palatable, and I hate when I wear a robe at a hotel that doesn't actually dry me off — this one does."
The Strategist loves Parachute's plush mattress topper, and the direct-to-consumer bedding company also makes a bathrobe out of Turkish cotton that's Oeko-Tex certified (meaning it's free of harmful bleach or dye). "It's not the thickest robe I've ever tried, but it's somehow the warmest," says Heather Pearson, founder of Portland-based vegan-apparel company Dande and the Lion. "And the fit is perfect. I wear a size small, and the sleeve length is so perfect, it's almost as if I had it custom-made. It hits right below my knees." When the brand launched in 2017, it became something of a viral hit: At its peak, Parachute's waiting list for the bathrobe was 1,900 people long. But it's available now for a cool $99.
Photo: retailer
If you, like me (Hilary), tend to find terrycloth robes too heavy, then do I have the perfect robe for you: this Yves Delmorme Oriane one. The embroidered edges along the front and at the wrists function almost as vents, which keeps the whole thing from feeling too bulky. The robe is among the splurgier items on this list, but if you want a light, luxurious-feeling, post-shower robe, it's fairly perfect.
Best waffle-weave bathrobe
For some, plush terrycloth just feels too heavy — as illustrator Maira Kalman recently told us, "I used to be in the thick-towel camp because I didn't know any better. Then I got [waffle weave towels] and I thought, "How could anybody choose anything else?" If you're in the market for a lighter-weight, faster-drying robe, reiki practitioner and Sky Ting yoga instructor Kate Posch recommends this waffle option from Parachute. It's especially good, she says, if you're on the taller side: "The sleeve length is great — it falls to the wristbone, even on me," says Posch, who is five-foot-10. Another draw is the material: "It's soft and cozy and not a synthetic material, which I love," she says. Indeed, the robe is so cozy that Posch wears it "most of the time when I'm at home," including post-shower, for lounging, and around her apartment from the time she gets home from work until she puts on pajamas before going to bed.
Best cotton and cotton-blend bathrobes
If the serene white and gray bathrobes on this list are a tad subdued for your taste, take consider this pick from Charlotte Palermino, co-founder of Nice Paper (and, as the Cut points out, noted haver of good skin). "The colors are gorgeous," she says. "The stripes make me feel like I'm about to walk out onto my private veranda somewhere in the Riviera, not stress-listen to the news while I do my skincare routine." The lightweight cotton material of the robe also means it's it fast-drying, another draw for Palormino. "Most bathrobes are too heavy or feel like damp housecoats when I'm done with them," she says. "The fabric is incredibly soft as well — yet somehow, it never feels flimsy."
[Editor's note: This robe is only available for pre-order. If you place your order now, it is expected to ship between March 1 and 15, 2021.]
Photo: retailer
Another colorful option comes to us from writer and publicist Linlee Allen-Homs, who loves this robe for its print, which she told us is hand-block-painted by fifth-generation master printers in Jaipur. "I might not resemble David Hockney's Beverly Hills Housewife," she says, "but when I'm wearing this robe, standing in my 90210 garden, morning coffee in hand, I surely feel like one." The robe is made from superlight cotton, making it a perfect option for warmer climates.
Photo: Retailer
Athena Hewett, founder of natural-skin-care line Monastery, is another Lunya fan, but she prefers this classic robe, which is made of a pima-cotton-and-modal blend that adds to its softness (Lunya's 100 percent pima-cotton long cardigan, above, is plenty soft, too, but this robe has a bit more stretch). It also has a flow-y collar, comes with a belt to give it a cinched waist, and has interior and exterior ties — so once you put it on, you can rest assured it will stay in place, Hewett explains. She also told us she thinks a lot of robes can feel dated, but this one is "sexy without being revealing — and so, so comfortable."
Photo: retailer
"My favorite bathrobe? That's like asking me to pick my favorite child," says Jenefer Palmer, founder and formulator of OSEA Skincare. Her "favorite child" at the moment is Coyuchi's Solstice organic robe. "It's 100 percent organic cotton and super-lightweight. It gets softer every time I wash it," she says. "At five-three, I'm not swimming in it. It's a perfect fit." This one is a much lighter weight than the terrycloth Coyuchi robe on this list, making it a better pick for spring and summer.
Best silk bathrobe
Terrycloth and cotton may be good for swaddling yourself after a shower, but nothing screams luxury like a silk robe, the ideal garment for lounging on your chaise (or Ikea couch) and pouting in front of your vanity. Scientist and immunologist Shruti Naik calls Lunya's washable-silk robe, which she owns in navy, "luxurious and pragmatic" because it's "one of the only washable-silk robes out there."
Best menswear-inspired bathrobe
If you gravitate toward menswear-inspired blazers and suits, you might be in the market for a menswear-inspired bathrobe, too. This one comes recommended by Jess Hannah Révész, the Los Angeles–based founder and designer of J.Hannah and co-founder of Ceremony, who says, "Bathrobes are great, but in L.A. they can be a little warm or heavy for everyday use. I prefer more of a 'housecoat' vibe." She calls the General Sleep robe, which has a handsome silhouette and is made of linen and cotton, "great for post-shower coziness and light enough to feel naked yet appear clothed when lounging around the house." The robe gets "comfier with each wash," according to Révész, who also notes that the brand practices sustainable textile sourcing.
Photo: reatiler
Or you can go straight to the men's department. Dancer and consultant Eva Alt told us that she'll occasionally steal her boyfriend's flannel robe because it's "insanely warm." The robe is made of flannel that's woven with longer-than-your-average fibers, meant to make the fabric more durable. And, according to L.L. Bean, each one is given a "touch test" by a master weaver to "declare it soft enough" before it reaches you, the robe wearer.
Best short bathrobes