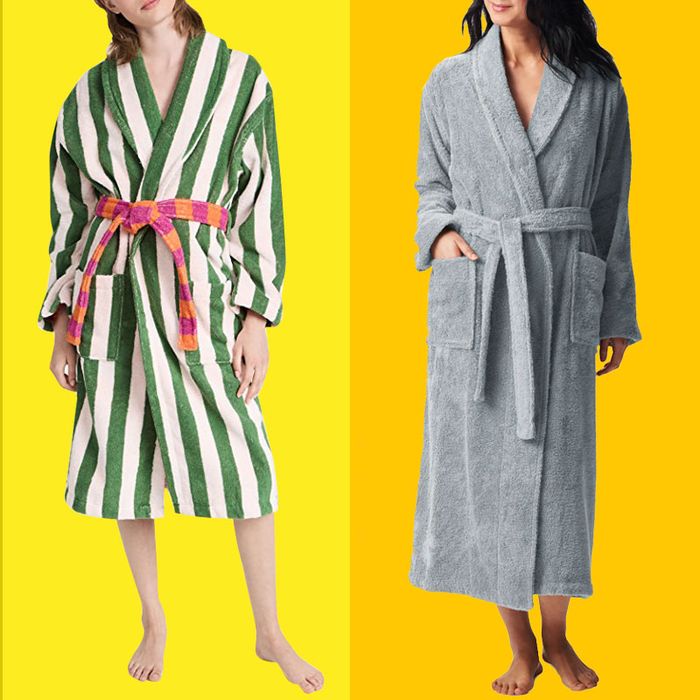 Photo-Illustration: Courtesy of retailer
Sure, a towel will do the trick, but there's just something about putting on a bathrobe as a form of escapism. A plush terrycloth one can bring back the nostalgia of a faraway getaway, while lush silk can make the laziest Sunday afternoon feel decadent. To help you find the right one, we asked robe wearers, including spa owners and loungewear and lingerie designers, about the bathrobes they rely on.
Best overall | Best less expensive | Best fluffy | Best lightweight | Best less expensive lightweight | Best cotton-blend | Best with piping | Best quick-drying | Best printed | Best waffle | Best less expensive waffle | Best silk | Best linen | Best less expensive linen | Best flannel | Best blanket | Best hooded | Best monogrammable
Sizing: Oftentimes, bathrobes will come in unisex sizing — with options listed as XS/S instead of the standard single lettering (XS, S, and so forth) — or just one size. It was important for us to include recommendations that came in more of a range.
Material: Terrycloth is usually what comes to mind when one thinks of a bathrobe, and it's easy to see why: It's a subset of cotton — the "terry" part refers to the way the fabric is looped (a waffle weave is another popular pattern) — that's known to be thick and absorbent. Here's where it's helpful to understand the intersection between robes and towels, as many brands use the same cotton for both. As Strategist writer Lauren Ro explains, there are three well-known cottons: Egyptian (soft and plush), Turkish (fast-drying), and Supima (similar to Egyptian but not as sumptuous). Although there are many merits to cotton — most of our experts cited it as their favorite — you'll see that we tried to include a variety of materials for different routines and preferences.
Design: What makes choosing a bathrobe simultaneously delightful and difficult is all the styles out there. For every classic shawl-collar white robe from Frette, there's a striped, Ferris Bueller-esque one courtesy of Dusen Dusen. The specs of each pick — like whether it features pockets — are noted below.
Price: To find the best of the best, our focus was on both brands we've heard about (think Brooklinen and Parachute) and ones that people rave about. The bathrobes here are all designated as $ (under $100), $$ (under $150), or $$$ (over $150).
Best overall bathrobe
Sizes XS/S–L/XL | Cotton | Shawl collar, front pockets | $$$
There was no runaway favorite when it came to deciding the "best overall" title, but thinking through which robe would work for most, the Coyuchi Cloud Loom robe won. Coyuchi has been on our radar for a while, as it's the maker of very good linen and jersey sheets. The three-decade-old company took inspiration from its best-selling bath towels, which are lauded for their quick-drying power (former Strategist senior writer Karen Iorio Adelson confirms this in an ode to them), when designing this robe.
Coyuchi was cited repeatedly by our panelists; its Cloud Loom bathrobe earned two glowing reviews. Reshma Patel, founder of jewelry store Quiet Storms, says the robe lives up to its name: "It's the dreamiest robe to put on post-shower or over PJs in the winter." Wellness coach Daphne Javitch agrees, adding that it doesn't sacrifice weightiness for absorbency or vice versa — it doesn't feel too plush as other thicker robes can. Another factor that brought this robe to the top: Coyuchi's focus on sustainability.
Best less expensive bathrobe
Sizes XS–3X | Turkish cotton | Shawl collar, front pockets | $$
For a more affordable alternative, consider Parachute's classic robe. It has a storied history — the robe had a waiting list of almost 2,000 people at its peak (Strategist readers have flocked to get it since then). Like the Coyuchi, this Parachute robe falls in the middle on the thickness scale. "It's not the thickest robe I've ever tried, but it's somehow the warmest," says Heather Pearson, co-founder of vegan apparel company Dande and the Lion. Pearson describes the fit as perfect — with the right wrist and below-the-knees length to make it look almost custom-made. Yoga teacher Kate Posch considers it a stress-reliever, saying that the supersoft cotton surrounds you in a feel-good haze.
Best fluffy bathrobe
Sizes XS–XL | Turkish cotton | Cuffed wide sleeves, side pockets | $
If you're a fluff fan, the Super-Plush Robe from Brooklinen has the Strategist seal of approval. I've gushed about it so much that I've convinced at least two people to buy it immediately after hearing my spiel. The robe feels so perfectly comfortable that I've been known to accidentally nod off in it after a particularly late shower. It's a true bathrobe — I go straight from wearing it to lotioning up without needing a towel to wipe away leftover water. That's not entirely surprising given that Brooklinen used its Super-Plush Bath Towels (which topped our best towels guide) as inspiration. You don't just have to take my word for it: Blogger Hailey Rizzo of Feeling Good as Hail — who is a self-professed supporter of fluffy, fuzzy robes — considers this her winter robe; it makes her feel like she's ready to jump into bed and watch movies all day.
Best lightweight cotton robe
One size | Cotton | Striped design, front pockets | $$
If a classic bathrobe is a tad subdued for your taste, take a cue from Charlotte Palermino, co-founder of Nice Paper, who favors this colorful Bathen robe. "The stripes make me feel like I'm about to walk out onto my private veranda somewhere in the Riviera — not stress-listening to the news while I do my skin-care routine," she says. Despite its light weight, the cotton is fast-drying — another draw for Palermino. "Most bathrobes are too heavy or feel like damp housecoats when I'm done with them," she says, and the fabric is soft but never feels flimsy. I feel the same way about Bathen's robe, which the brand sent to me for review. It's much lighter than traditional terrycloth, made from a handwoven cotton that feels almost like a feather once on. Even though the material is best described as diaphanous, draping along curves, it hasn't gotten too wrinkled from soaked-up water. (I'd also recommend hang-drying the robe post-wash to keep it in the best shape possible.)
Another bright robe that earned high praise was Block Shop's Sidewinder Robe, which publicist Linlee Allen-Homs introduced us to. "I might not resemble David Hockney's Beverly Hills Housewife," she says, "but when I'm wearing this robe, standing in my 90210 garden, morning coffee in hand, I surely feel like one."
Best less expensive lightweight cotton robe
Sizes XS–L | Cotton (jersey knit) | Three-quarter box sleeves, collar band, hip pockets, knee-length | $
While Jenefer Palmer, founder and formulator of OSEA Skincare, has many bathrobes in her rotation, the Solstice robe is tops. It's breathable — especially compared to the other Coyuchi that took our top spot — and gets softer with every wash, Palmer says. The robe's shorter length hits Palmer, who's five-foot-three, at just the right height, she says, so she's not "swimming in it."
Best cotton-blend robe
Sizes XS/S–L/XL | Pima cotton, modal, elastane | Attached belt, interior tie, draped collar | $$$ 
Lunya's airy robe doesn't look like the others on our list. Athena Hewett, founder of skin-care line Monastery, points out that the robe's blend of pima cotton (known for its smooth feel) and modal adds to its softness. But there's some structure to it too. The robe comes with a belt to give it a cinched waist and has interior and exterior ties; once you put it on, you can rest assured it will stay in place, Hewett explains. She adds that it's "sexy without being revealing." It's also a favorite of brand consultant Lexi Tawes, who previously told us that it's "like wearing your favorite T-shirt" and its cell-phone-size pockets are a big draw.
Best bathrobe with piping