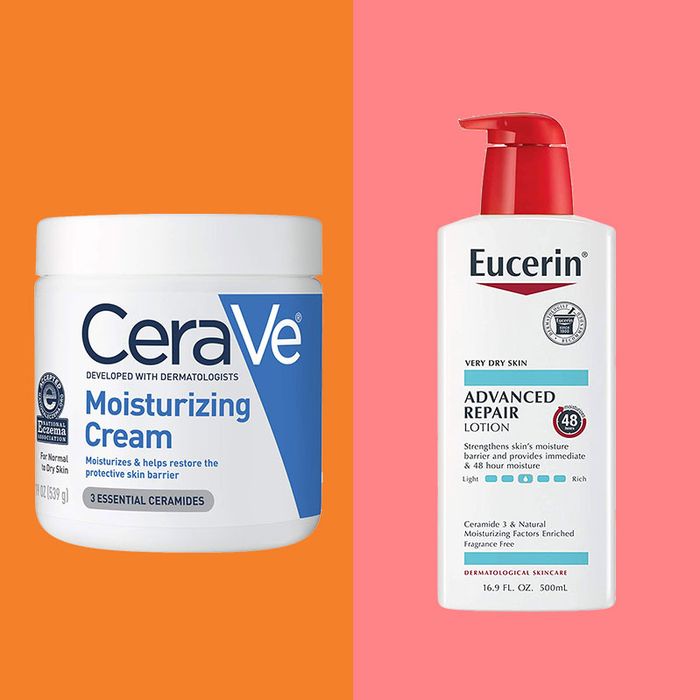 Photo-Illustration: The Strategist; Photo: Retailer
Body lotion benefits your legs, knees, arms, butt, and torso in much the same way that a daily moisturizer benefits the skin on your face. According to dermatologist Heidi Waldorf, an associate professor at the Icahn School of Medicine, "It keeps skin smooth and supple, and maintains a healthy skin barrier." Contrary to popular belief, applying lotion is more about protecting your skin against dryness than treating it. "A lot of people think moisturizers bring moisture into the skin, but their main function is actually to prevent water loss," explains Doctorly's Dr. Muneeb Shah. Keeping your skin hydrated in this way is also essential to maintaining youthful-looking skin and protecting against signs of aging. "Think about your favorite leather shoes — if you leave them in the sun or elements and never treat them with leather conditioner, they will begin to crack and look much older," says Karen Fernandez, lead aesthetician at SkinSpirit spas. "But when treated properly, your leather can look healthy, soft and 'younger' for much longer. Skin is very similar, so using body lotion really helps preserve our youthful skin."
Much like the serums, creams, and moisturizers you use on your face, body lotions come in a wide variety of formulations meant to target specific issues like dryness, loss of elasticity, acne, eczema, and keratosis pilaris. With that in mind, we asked 14 dermatologists and skin-care experts for their body-lotion recommendations for a variety of skin types. No matter your skin concern, though, dermatologist Dr. Hadley King says, "For all skin types, moisturizers ideally contain three components: humectants, emollients, and occlusives." Humectants (like hyaluronic acid and glycerin) retain water to hydrate the skin, emollients (like squalane and ceramides) improve skin texture and appearance, and occlusives (like oils and waxes) seal in the moisture. The good news is that, according to Shah, drugstore brands will do the trick: "I exclusively use stuff that's pretty inexpensive." Below, are 32 lotions packed with these ingredients that will help you get your skin as close to baby smooth as possible. Most are relatively affordable, but our experts also recommended some higher-end options that will make your daily routine feel a little more luxurious.
On that note, remember it's ideal to apply body lotion when wet — i.e., when you're hanging out in your towel — to better seal in the moisture. "The best time is as soon as you get out of the shower, while skin is still damp and best able to absorb your moisturizer," says Shah. "That's when you're going to lose the most water to the environment: within three minutes of getting out of the shower."
Best overall body lotion
To combat even the most extreme cases of dry skin, like eczema, experts tell us you should seek out formulations rich in ceramides and hyaluronic acid.
Melanie Palm — the medical director at Art of Skin MD — explains that ceramides (or, cholesterol-derived fat) help seal the skin barrier to keep in moisture, while hyaluronic acid is known to carry 1,000 times its weight in water, so your skin stays extra hydrated. Seven of our experts pointed us to this CeraVe lotion, which contains both. It's fragrance-free so it's well-suited for sensitive skin types, and it doesn't feel sticky or heavy on skin. As cosmetic dermatologist Michele Green sums it up: "CeraVe is the best overall body lotion. It is safe for all skin types and packed with hyaluronic acid, ceramides, and humectants to keep the most sensitive skin hydrated."
Best (less expensive) overall body lotion
Boca Raton dermatologist Jeffrey Fromowitz says this Eucerin dry-skin lotion is another highly effective choice. Dr. Shah agrees, calling it a "great, underrated product." It's not only moisturizing (with added ceramides), but also gently exfoliates with some alpha-hydroxy acids. Green also recommended Eucerin as a high-quality drugstore lotion with excellent ingredients. The difference between Eucerin and CeraVe is mainly that CeraVe has moisture-retaining hyaluronic acid while Eucerin uses urea to lock in moisture. And as for the price difference, it's pretty slight (about $5), but enough to add up to sizable savings if you're using it consistently over time.
Best body lotion spray