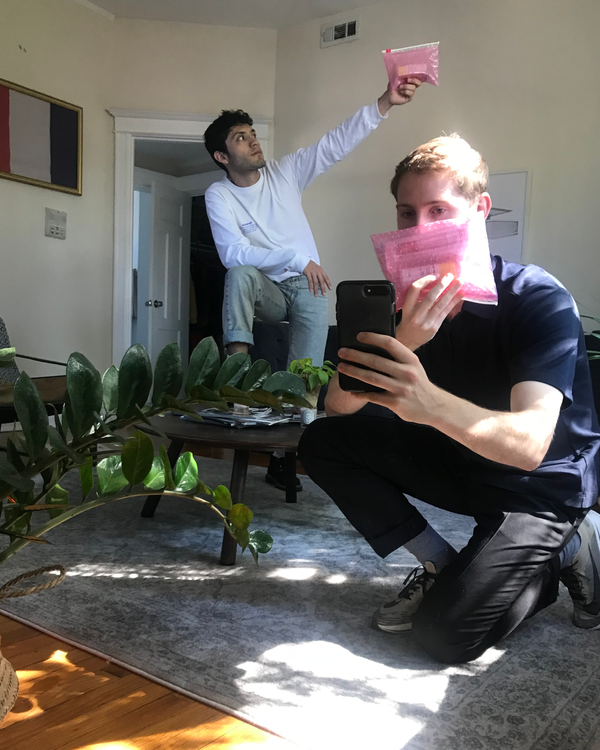 Emilio (left) and Evan with their Glossier haul.
Photo: Evan Shinn
Allow us to introduce ourselves. We are 25-year-old Emilio and 25-year-old Evan. We're ordinary guys who live in New York. We're also the Dewy Dudes, a meme account turned podcast that combines skin care with bro-speak. Our skin-maintenance journey was accidental. After we'd wandered the world for years with clogged pores, oily T-zones, and dull complexions, the women in our lives stepped in and taught us what proper skin care looked like, introducing us to the life-altering benefits of double cleansing, balancing pH levels, and glycolic and salicylic acids. We are forever in their debt.
Empowered by our newfound glow and minimized pores, we're on a mission to transform the scumbro boyfriends of the world into budding skintellectuals, one joke and product recommendation at a time. Men: Maybe you've been slacking on your skin-care regimen. Maybe the products in your lineup are you leaving you "fine" but not "glowy." Whatever the reason for your skin-care slump, we invite you back into the fold by giving our personal Dewy Dudes–approved lineups a try. Here, we're dropping the skin-care routine each of us swears by. Take notes.
Cleanser
Just because you (probably!) don't wear makeup doesn't mean you get to forgo the double cleanse. This first step removes impurities left behind by oil and various pollutants. Discovered in the depths of a late-night YouTube beauty hole, this first-step cleanser was the first thing I used that felt like it was doing its damn job while not stripping too much moisture from my skin. Its antioxidants, essential oils, and aloe vera help improve my overall glow. Just slather that shit on in an upward circular motion and gently wipe off (yes) with a tissue.
I discovered Elemis while snooping around my mom's top shelf, and I've been loyal to the brand ever since. The second step in the double cleanse should be specific to your skin type. I use the Elemis Sensitive Cleansing Wash because it allows the rest of my products to penetrate deeper without stripping too much of my skin's natural oils. For the dudes whose cleansers leave their face feeling too tight and dry, this one's especially for you. Plus, anyone would love its scent and soothing texture after a long day. The bottle feels like it lasts a lifetime.
Toner
Oh shit, here I go again with the Elemis. My skin is prone to dullness, which is why this toner has become a mainstay in my daily routine. Apricot's vitamin C works together with saponins to naturally cleanse away impurities and dirt, and it just smells luxurious. Apply with a cotton pad, or just spray it on as a refreshing spritzer. Perfect after a long day spent staring into the void that is your computer screen.
Eye cream
I'm genetically unblessed with big ol' eye bags and dark circles. They're especially bad after a long summer night out sipping on Pacificos, so I'm always in need of something that can reduce puffiness quick and provide a bright-eyed effect in the morning. This product does exactly that thanks to its caffeine, green tea, and vitamin C. For the fellas out there looking for a break from the tired-eyes look, the Algenist Complete Renewal Balm is worth every penny. Pro tip: Don't sleep on the Sephora samples. Without them, I never would have found this little gem.
Treatments
My enlarged pores, specifically surrounding my T-zone, are always doing the most to tear down my complexion. Niacinamide works wonders, reducing skin blemishes while decongesting and minimizing pores. I've tried a few different niacinamides, but you really can't beat the price and quality of The Ordinary's. It wasn't until I ran out and had to wait for a restock that I noticed just how much it had been minimizing my pores — a key for achieving that ultimate Dewy Dude glow.
All right, my Dewheads: Here's the real secret that keeps me glowing throughout the day. While killing time in Sephora one day, I noticed that Korres had a gift bag for sale that included this product. I instantly copped. Over time its antioxidants will brighten dark spots and improve skin tone. The product helps your skin better absorb vitamin C, which is key for achieving a natural glow, and its rose petals naturally hydrate your skin. If my face is looking a bit tired in the morning, this stuff is my absolute go-to. A quick, radiant boost to the complexion.
Moisturizer
I often hear from men that their moisturizers feel too thick on their face. Okay, I sort of hear you: Nobody wants to be slathering on a thick cream during these hot summer months. This product floods the skin with a rush of hydration while remaining ultra-lightweight. Fellas, no more defaulting to the same old excuses. The Aqua Bomb is an A.M./P.M. lineup essential.
Sunscreen
In the wise words of Allure's Sable Yong, it's either "SPF 50 or bust," fellas. My previous sunscreen began drying my skin out, so I switched over to SuperGoop's Everyday Sunscreen, and I've been using it ever since. The product feels a bit sticky at first, but once it sets in, you'll forget you ever put it on. My favorite part is the bottle's size. Easy to carry but feels like it lasts forever. This should always be the final step in your routine year round, my guy. And, most importantly, don't forget to reapply.
Cleanser
Until a friend forgot her Alpha Beta Pore Perfecting Cleansing Gel in my shower after visiting from out of town, I had no idea who Dr. Dennis Gross was, and now I understand the hype. Thank God she left this guy behind, or else I'd have missed out on the best cleanser a combination-skinned boy could ask for. Not only does it save my skin from irritation with its silky, cushiony texture, it exfoliates and tightens pores while keeping cystic acne at bay. The willow bark works to protect skin from environmental stressors and growing bacteria while its alpha and beta hydroxy acids encourage natural shedding and cell turnover.
Toner
Shout-out to my big sis for putting me onto this elixir of youth after noticing how prone to redness and buildup I can be. The daily buildup I now experience in New York is no joke, as the summer mugginess exacerbates the city's air pollution. But Neogen's Real Flower Cleansing Toner now works as my double cleanser, extracting any remaining impurities, whisking away excess oil and sebum, while balancing my skin's pH levels. The calendula also soothes, so my skin isn't left red and irritated.
Serums and essences
Discovered in the midst of a brutal Chicago polar vortex, this intensive moisturizing essence turned out to be a godsend for combating my dryness and redness during the worst season of the year. Containing the right combination of hyaluronic acid and niacinamide, it's a product any corn-fed midwestern boy should keep in his back pocket when looking to turn the brightness on that dull complexion all the way up.
My T-zone becomes an absolute and utter mess of unseemly large pores and blackheads if I don't keep it in check at all times. I need all the AHA/BHA a dude can get. I just gently pat this bad boy in after essencing my little toned face and let the brightening and tightening work its overnight magic. Yes, this bougie-ass product is in my current rotation, but only because it arrived as a gift. But I might just have to bite the bullet and re-up once it runs out, or else I'll be perpetually jonesing.
Eye cream
Not gonna lie here: I bought this on a whim via Soko Glam in the very early stages of my skin-care awakening. I had no idea where to begin, so I took a gamble and got the Goodal Moisture Barrier Eye Cream without knowing anything about eye moisturization, but the brightening it did on my undereyes and the elasticizing of my laugh lines warranted inclusion in my lineup.
Moisturizer
I get my ultimate night-time niacinamide fix with this always democratic and affordable grail. It's thick enough to do its job but light enough to minimize sensation — the kind of balance a combination-skinned fella like me needs.
Sunscreens
When cystic acne pops up, it pops hard and red. I'll ignore it if I'm in for the night, but if I have to see the fellas, I gotta keep that shit in check with the soothing Cicapair Tiger Grass Color Correcting Treatment. It's a bit pricey, but effective in restoring my skin's vibrancy or relaxing a blemish. For the dude who isn't ready to jump into concealer, this is a safe baby step into keeping that complexion in check.
This sunscreen checks all the boxes on what grown-up sunblock should be. It's lightweight. It locks in moisture. It smells like lemons. It doesn't leave a white cast. And it meets the Sable Yong requirement of SPF 50 or bust. I don't think I need say anymore.
The Strategist is designed to surface the most useful, expert recommendations for things to buy across the vast e-commerce landscape. Some of our latest conquests include the best acne treatments, rolling luggage, pillows for side sleepers, natural anxiety remedies, and bath towels. We update links when possible, but note that deals can expire and all prices are subject to change.