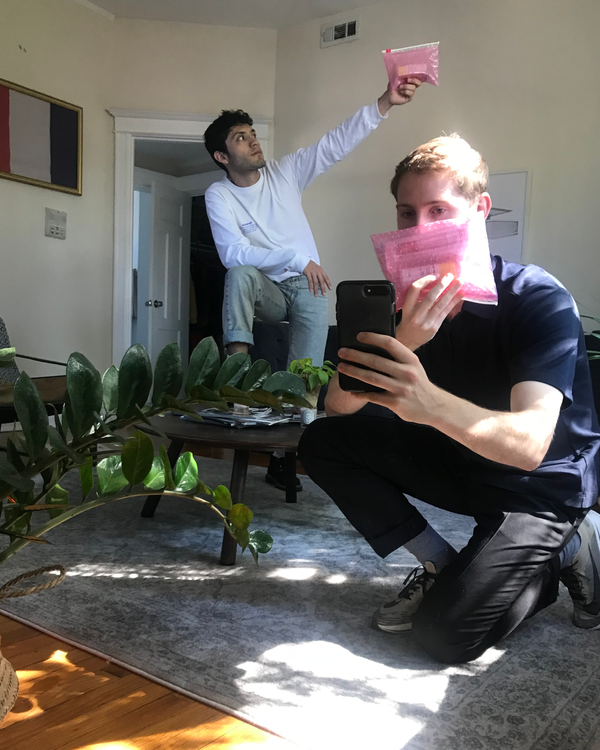 Emilio (left) and Evan with their Glossier haul.
Photo: Evan Shinn
Allow us to introduce ourselves. We are 25-year-old Emilio and 25-year-old Evan. We're ordinary guys who live in New York. We're also the Dewy Dudes, a meme account turned podcast that combines skin care with bro-speak. Our skin-maintenance journey was accidental. After we'd wandered the world for years with clogged pores, oily T-zones, and dull complexions, the women in our lives stepped in and taught us what proper skin care looked like, introducing us to the life-altering benefits of double cleansing, balancing pH levels, and glycolic and salicylic acids. We are forever in their debt.
Empowered by our newfound glow and minimized pores, we're on a mission to transform the scumbro boyfriends of the world into budding skintellectuals, one joke and product recommendation at a time. Men: Maybe you've been slacking on your skin-care regimen. Maybe the products in your lineup are you leaving you "fine" but not "glowy." Whatever the reason for your skin-care slump, we invite you back into the fold by giving our personal Dewy Dudes–approved lineups a try. Here, we're dropping the skin-care routine each of us swears by. Take notes.
Cleanser
Just because you (probably!) don't wear makeup doesn't mean you get to forgo the double cleanse. This first step removes impurities left behind by oil and various pollutants. Discovered in the depths of a late-night YouTube beauty hole, this first-step cleanser was the first thing I used that felt like it was doing its damn job while not stripping too much moisture from my skin. Its antioxidants, essential oils, and aloe vera help improve my overall glow. Just slather that shit on in an upward circular motion and gently wipe off (yes) with a tissue.
I discovered Elemis while snooping around my mom's top shelf, and I've been loyal to the brand ever since. The second step in the double cleanse should be specific to your skin type. I use the Elemis Sensitive Cleansing Wash because it allows the rest of my products to penetrate deeper without stripping too much of my skin's natural oils. For the dudes whose cleansers leave their face feeling too tight and dry, this one's especially for you. Plus, anyone would love its scent and soothing texture after a long day. The bottle feels like it lasts a lifetime.
Toner
Oh shit, here I go again with the Elemis. My skin is prone to dullness, which is why this toner has become a mainstay in my daily routine. Apricot's vitamin C works together with saponins to naturally cleanse away impurities and dirt, and it just smells luxurious. Apply with a cotton pad, or just spray it on as a refreshing spritzer. Perfect after a long day spent staring into the void that is your computer screen.
Eye cream