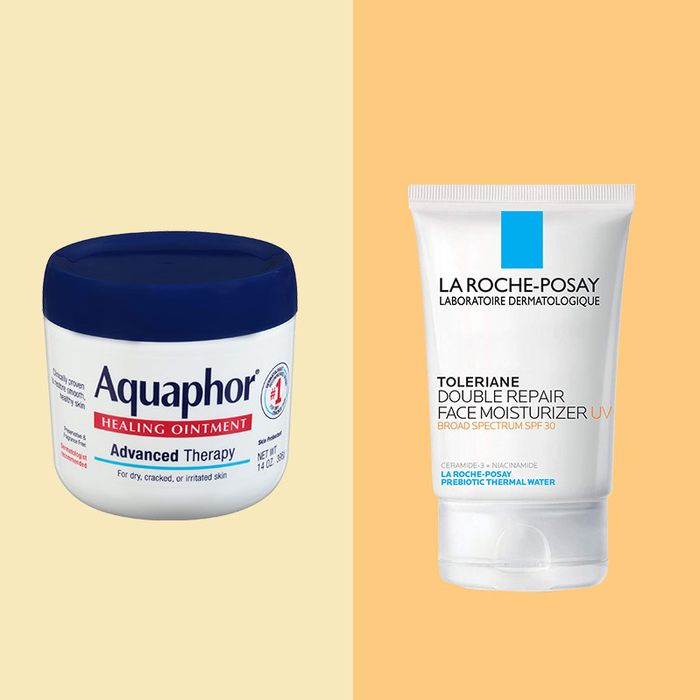 Photo-Illustration: retailer
Dry-skin types often need more attention in the moisturizing department to avoid flaking and painfully tight, sandpapery skin. But not every moisturizer will work for severely dehydrated skin, especially in the colder months. Noelani Gonzalez, the director of cosmetic dermatology at Mount Sinai West, says people with dry skin, especially eczema sufferers, have to be very mindful of the moisturizers they use. Generally speaking, "goopy and greasy creams and ointments are your best friend if you have dry skin, because they are oil based, have a thicker consistency, and provide more hydration than lotions," she says. This can also depend on the seasons, though, which is why experts — like dermatologists Rita Linkner, of Spring Street Dermatology, and Marnie Nussbaum, a clinical instructor of dermatology at the Weill Medical College of Cornell University — mention that you can transition to a lighter lotion, gel-based moisturizer, or serum in summer.
Almost all the experts we spoke to also said that your moisturizer should ideally contain a mixture of emollients (like ceramides), which repair your skin barrier, and humectants (like glycerin and hyaluronic acid), which draw and seal moisture into the skin. Here, four derms on the hydrating moisturizers that would be on their short list for dry skin, plus some Strategist favorites. (Note that we're primarily referring to the skin on your face — if you have dry skin on your body, consult our guide to body lotions.)
Best overall moisturizer for dry skin
Yes, this is technically branded as a body cream, but Dr. Hadley King, clinical instructor of dermatology at the Weill Medical College of Cornell University, says this is "a great cream for both face and body." Because it's packed with hydrating humectants like glycerin and skin-softening emollients like glyceryl stearate and sweet almond oil, it's highly effective for treating dry skin. Two more dermatologists also recommend this cream. Dr. Rachel Nazarian points out that it's "incredibly lightweight and comfortable for daily use throughout the year." She recommends that patients with year-round dry skin (not just in the winter) stick to this cream because it contains all the basics needed for healthy skin without "irritating fragrances or perfumes." Plus, Cetaphil is definitely a budget-friendly pick. "The price point on this line of moisturizers makes it a no-brainer," says Linker. She recommends transitioning to Cetaphil Moisturizing Lotion in the summer because it's much lighter than the cream for those months when your sebum levels (your skin's natural lubrication) have balanced out.
Runner-up best moisturizer for dry skin
Three of our dermatologists also love this Neutrogena gel cream formulated for extra-dry skin. And, clearly, so do our readers; it has been on our best-seller list ten times. While we don't usually think of gel textures as dry-skin-friendly (they're typically targeted toward normal or oily skin), Dr. Hope Mitchell, a board-certified dermatologist in Perrysburg, Ohio, says this cream is actually "perfect" for dry skin, and it works pretty quickly. "Give it a week. The hyaluronic acid and glycerin will quench the dryness and deliver soft, smooth, and hydrated skin," says Dr. Mitchell. Gonzalez has used it and says, "It gives immediate relief to dry skin." But, according to Dr. Ife Rodney, founding director of Eternal Dermatology + Aesthetics, the best part about it (aside from its deeply hydrating qualities) is that "it smoothly disappears into the skin, so it can be worn alone or under makeup."
Best moisturizer for extremely dry skin
There are those with skin that tends to get parched and flaky, particularly in the winter months, and then there are those whose skin is so dry it can actually look scaly and, as a result, is exceptionally hard to nourish. If you're in the latter category, Binder recommends Aquaphor. It's an emollient that can help repair a damaged skin barrier, a common culprit for a lack of moisture, and that is easily accessible at any drugstore. She warns that "it can be a bit greasy" but thinks it's "great when used immediately after the shower or bath to lock in moisture and help heal dry, cracked skin." It's also fragrance free, making it a good option for those with sensitive skin as well.
Best creamy moisturizers for dry skin
Two out of seven dermatologists recommend this drugstore favorite for treating dry skin. "It has a high lipid content, which really helps repair dry, cracked skin," says Dr. Susan Binder, who notes that this is one of her preferred moisturizers. Binder suggests patients look for a cream, which has a higher lipid content than lotions. Nazarian likes CeraVe because it's a "barrier-repair cream" and contains ceramides. "Dry skin requires both humectants and emollients that draw in moisture and lock in moisture, respectively," she says. She also suggests using a serum with hyaluronic acid first and following up with this CeraVe cream to "help decrease loss of moisture into the environment over time." And finally, Binder adds, no matter the reason for your dry skin — whether it's dry in winter, dry all year round, or dry because of aging — this is a universally good choice.
This French pharmacy brand is another favorite among dermatologists for its low-price, high-quality formulas. Rodney recommends their Lipikar Balm, which he calls a "top moisturizer for dry skin," because it "hydrates with a non-greasy feel." When it comes to applying, she suggests using it "as soon as you finish showering, when your skin is still moist, so it can better penetrate the skin and seal in hydration." It contains good stuff like glycerin and niacinamide, but Rodney specifically mentions the shea butter in the formula because it's "rich in stearic acid and reinforces the protective skin barrier."
King likes this Vichy Aqualia Thermal Rich Cream for dry skin, which has a thicker, creamier consistency and contains hyaluronic acid — "a powerful humectant that can hold over a thousand times its weight in water to help hydrate and plump the skin," she says — as well as emollients like shea butter. She notes that this cream does have a light fragrance, though, which may be something to keep in mind if you have sensitivities.
Best moisturizer for sensitive dry skin
We've recommended Vanicream body cream as a solution for the extremely dry skin before, but it's just as effective and gentle for your face. Rodney calls Vanicream "ideal" because it's formulated specifically for sensitive skin, so it's "free of lanolin, formaldehyde, parabens, and fragrances that commonly irritate dry, sensitive skin." That said, she notes that it's "loaded with ceramides, which reinforce the skin barrier and seal in moisture."
Best moisturizer for acne-prone skin impacted by drying ingredients
Mitchell also highly recommends La Roche-Posay for those with dry skin and gravitates specifically towards their Toleriane line because "with dimethicone, soothing niacinamide, water-attracting glycerin, and hydrating ceramides," it's "perfect for hydrating dry skin associated with redness." She suggests the moisturizer for those with acne-prone skin, and while, yes, acne-prone skin typically is more oily, when you're using very drying ingredients like benzoyl peroxide, sometimes the skin can dry out too much. This will help restore the skin, and it's "non-greasy."
Best night creams for dry skin
Mitchell appreciates that this Aveeno night cream is fragrance- and oil-free, so anyone can use it, even those with "sensitive skin or even those with red, itchy, or tight skin." And thanks to its "soothing colloidal oatmeal and fever few extract," which can "reduce facial redness and skin irritation" typically associated with dry skin, it actually works. It's only intended for nightly use since it's quite heavy and is formulated to repair the skin overnight.
We named this our best overall drugstore moisturizer once before because it's chock full of the ingredients needed to soothe dry, irritated skin, such as ceramides, hyaluronic acid, and niacinamide — "these ingredients hold cells together and strengthen the skin's barrie