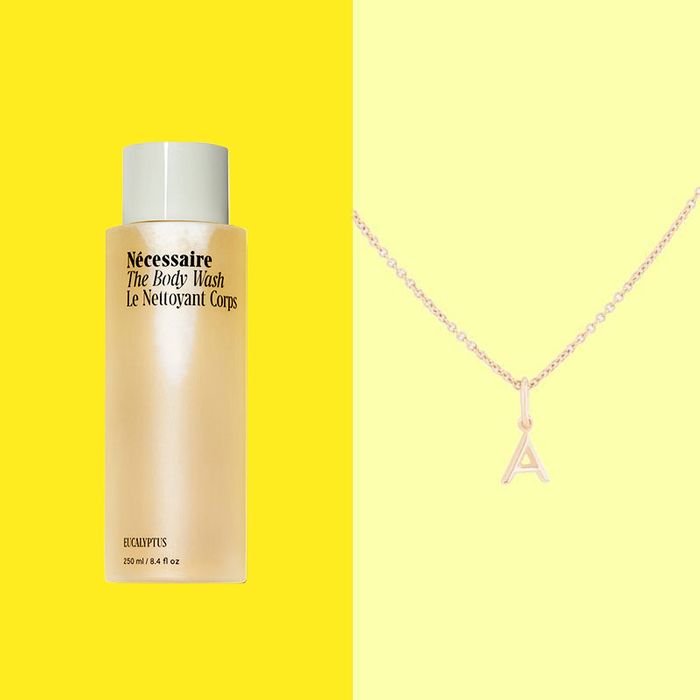 Photo-Illustration: retailers
Gifts for baby are often top of mind for those with a pregnant person on their gift list, but it can also be nice to gift a mom-to-be something for her own comfort and well-being — especially now, since being pregnant during a pandemic "adds a bit of anxiety on top of already always thinking about the baby's growth and what I'm putting in my body," says developer Caláh Jones, who is currently seven months pregnant with her first child. To find something that will bring the pregnant person on your list a bit of calm and joy right now, we asked a handful of pregnant (or recently pregnant) women about the gifts they would actually like to receive.
Whether she's struggling with morning sickness or restless legs syndrome, craving marshmallows, or looking for maternity clothing that fits her body and her personal style, we've rounded up lots of comfortable, stress-reducing gifts — from an electric massager that's better than a masseuse to a plant-based belly oil made by a Black-owned postpartum-care brand.
Gifts to relax
A common side effect of pregnancy is morning sickness, which can happen at any time of day. Hill House Home founder and CEO Nell Diamond, who is 36 weeks pregnant with twins, struggles with a more severe form of nausea during pregnancy called hyperemesis and says her only remedy is drinking extremely cold water. For that reason, her "real love" right now is the biggest possible Yeti tumbler, which "stays ice-cold over a 12-hour pregnancy sleep. It's better than a Birkin bag," she says. Rachelle Mallik, a registered dietician who specializes in reproductive nutrition, also told us that carrying around a Yeti filled with cold water — or ginger tea, which is also known to combat morning sickness — can help pregnant people "stay hydrated and can quell some of that nausea." As Diamond points out, staying hydrated is important for those who choose to breastfeed after birth, so the Yeti is helpful to have on hand postpartum, too.
Some pregnant people experience restless legs syndrome, which often occurs at night and makes it hard to sleep. Sadie Stein, a writer and Strategist contributor who gave birth to her son Hal six months ago, dealt with this and found that "giving my legs a vigorous brush with a stiff-bristle body brush was the only thing that alleviated the feeling. So if someone is having trouble with that, I'll give them a brush and a nice dry oil for their body. That feels good no matter what." Nutritionist and mother Daphne Javitch uses this Japanese palm-fiber brush, explaining that it can feel cleansing and healing because it "increases circulation."
Carpal tunnel — sometimes called mommy thumb during pregnancy — is another condition that some pregnant people experience. At the guidance of her acupuncturist, Strategist contributor Fiorella Valdesolo found that this oddly shaped massager was the only thing that tempered her hand and forearm pain — and postpartum, she has continued to use it to reduce shoulder tension and as a teething toy for her baby.
Since pregnant people are constantly experiencing changes, Jones has found it grounding to keep things on hand that "make me feel safe and comfortable and closer to my roots." Bath products that smell like eucalyptus, a scent she has loved since childhood, bring her some calm (and some other scents, like lavender, are even known to alleviate stress). Strategist writer Rio Viera-Newton says this eucalyptus-scented body wash is beautifully packaged and doesn't irritate her sensitive skin.
"During pregnancy, all the clichés of womanhood are poured on you at once, so I definitely felt that I was meant to escape stretch marks," says Diamond, who went to great lengths to avoid stretch marks during her first pregnancy but still got them, which, as she puts it, "is totally normal. It's literally just your body expanding!" During this pregnancy, Diamond has focused on products related to relaxation, not stretch-mark prevention, and she specifically likes the therapeutic, organic belly oil from Ebi, a Black-owned business focused on postpartum care. "Their belly oil is really good for your skin and is superluxurious. I love the ritual of putting it on every night," she says. "It's a great way to wind down."
Between flu season and the pandemic, a couple of women we spoke to told us that keeping things clean is a big priority for them right now. "Making sure my home is a wonderful and clean space is important for making me feel that things are more okay," explains Jones, who has found herself using more natural, plant-based cleaners during her pregnancy in order to better understand "what I'm putting on my skin and what I'm using around the house." We've rounded up a couple dozen baby-friendly cleaning products, including this vegan, biodegradable multipurpose cleaner from Dr. Bronner's, which is good for washing everything from dishes to laundry. (When she was pregnant, Elizabeth Graves, editor-in-chief of Martha Stewart Living, used this soap on her sensitive skin and says it's now a mainstay for her whole family.)
Both Jones and Taiwo Odusanya, a life-science-solution architect who is 21 weeks pregnant, have had backaches during their pregnancies and say that massages have alleviated some pain and helped them relax. Although some massage studios have been open during the pandemic, this Strategist-favorite, electric back and neck massager is an at-home alternative that some reviewers say is even better than a professional massage.
Pregnancy cravings can run the gamut from shaved ice to spicy foods (and everything in between). As Jones puts it, having an assortment of snacks to satisfy your current urge "is really nice because it changes so often and is really the most random things, like marshmallows!" This Caroo subscription includes at least 15 healthy-ish snacks per box, so you can gift the pregnant people on your list a snack for each of their sweet and salty whims. Plus, it's a gift that does some good, too: With each delivery, Caroo donates meals to families in need through Feeding America.
Both Diamond and Stein say an eye mask is a nice gift for pregnant people who need more sleep, especially "to bring to the hospital, because it's very bright and hard to sleep between the machines and the roommates," explains Stein. Diamond likes to bring a silk pillowcase and eye mask to the hospital for added comfort, and this dermatologist-recommended set is our favorite (especially for sensitive skin).
Gifts to wear