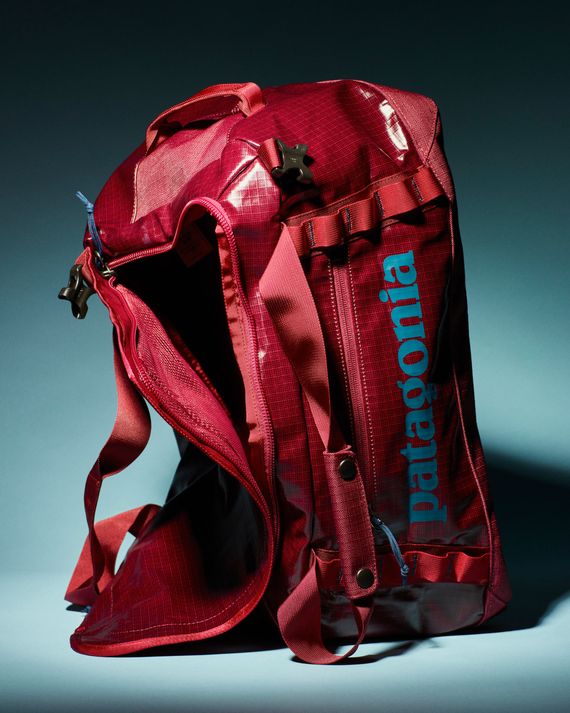 Halfway through college, shoulders aching as I traveled to visit my long-distance boyfriend, I came to a realization: Freebie tote bags alone would not do. It was time to invest in a well-designed weekender. The ideal weekend bag should fit your essentials (from toiletries to underwear) but still be lightweight, compact, and durable. To make sense of options ranging from duffels to mini-suitcases, we spoke to travel experts, bloggers, and Strategist staffers about their favorites.
A weekend bag may go straight from a car to a hotel room, or it may be put through its paces on a multiday hiking trip. Depending on your destination, a weather-resistant bag could be a smart choice, whereas for more rough-and-tumble travel like camping, a ripstop fabric will make sure that any damage stays contained. We've included professional-looking nylon bags, polycarbonate suitcases, and durable synthetic leather that have lasted through years of travel.
Packing one pair of jeans for a whole trip or multiple outfit changes per day is a personal choice, but you should know your tendencies before selecting a bag. Below, we've noted the volume of each bag, which ranges from 25 to 60 liters, so there's a size for everyone from minimalists to shameless overpackers.
Sometimes a backpack is the most comfortable way to carry your belongings; other times, a cross-body strap makes more sense. Many of our picks have multiple carry options (and some are removable), so you'll be sure to find a bag that won't weigh you down even when it's filled to bursting.
Best overall weekend bag
Materials: Recycled polyester ripstop with weather-resistant TPU-film laminate | Capacity: 40 liters | Weight: 2.5 pounds | Method of carry: Top handles, backpack straps, and sling strap
This soft-side duffel has won the endorsement of multiple Strategist editors thanks to its durability, impressive capacity, and lifetime guarantee. Laminated fabric and a water-repellent coating protect the duffel from the elements and any damage that may occur in transit while keeping it lightweight (under three pounds). Senior editor Simone Kitchens has the larger 55-liter version and loves the "zillion separate little pockets and perfectly sized compartments for things like chargers and night guards and passports and AirPods, as well as slim sleeves for a laptop and magazines." If you plan to take your Black Hole hiking, you can trade the cushioned sling strap for padded backpack straps, which is associate editor Louis Cheslaw's favorite way to carry the Black Hole. Bonus: Patagonia will repair, replace, or refund your bag in the event it gets damaged, even if you purchase it from other retailers.
Best less expensive weekend bag
Materials: High-density cotton canvas | Capacity: 43 liters | Weight: 2.45 pounds| Method of carry: Top handles, detachable shoulder strap
At $45, you won't beat this Strategist best seller first recommended by P​​hil Dengler, co-founder of travel journal The Vacationer, in a previous version of this story. Today, he still stands by his pick, calling the canvas duffel absolutely comparable to, if not better than, its more expensive counterparts, and citing durability as one of its best qualities. After several years of use that includes many instances in which it was forced into tight compartments between other bags, the duffel remains in great shape, Dengler says. He appreciates that the bag is roomy, lightweight, and comfortable to carry, making it a serious upgrade from the heavy, bulky carry-on he used to use. "While not the fanciest bag, it still looks great and is built for the long haul," Dengler concludes.
Best weekend bag for light packers
Materials: Nylon | Capacity: 25 liters | Weight: 2.6 pounds| Method of carry: Shoulder strap, removable messenger strap
Travel journalist Maggie Espinosa recommends this sleek, well-made nylon bag that she has used for over eight years as both a carry-on and a weekend bag. With a capacity of 25 liters, it's best for light packers, but on a recent trip, it managed to fit a handmade pottery planter from Oaxaca comfortably. Espinosa praises the bag's abundant compartments — one for shoes, another for a laptop, and an outer pocket for toiletries — that help keep her belongings organized. She adds that it's a suitable choice for business travel with polished accents like Nappa leather and gold hardware.
Alexandra Baackes, travel blogger and founder of WanderWomenRetreats, likes how the bag's side pocket can be fully unzipped. That makes it easy to slip over the handles of a wheeled carry-on during trips when she's packing a little more. "The small carry-on goes in the overhead, and the Lo & Sons goes at my feet with all in-air essentials, from laptop to lavender pulse point," she says.
Best waterproof weekend bag for light packers
Material: Machine washable canvas | Capacity: 23 liters | Weight: 1.8 pounds | Method of carry: Padded strap and handles
This is the weekender I've been loving this summer. It's great on its own, but crucially, it comes with a trolley sleeve — meaning it can be slipped over the handles of your carry-on case in the airport. Since the brand sent it to me to test in June, I've taken it to Glastonbury (where its waterproof status was thoroughly tested thanks to heavy showers) and for weekend trips to my friends' houses. Although it has a capacity of 23 liters, one of the smallest in this list, it has plenty of space for a few changes of clothes, some books, a hair dryer, a toiletries bag, and my glasses case. It also has a handy, padded laptop sleeve, so you can slip your laptop out without fuss whenever you need it, as well as other zipper pockets for smaller essentials. I'm a big fan of the straps, too: They're the perfect length to sit on your shoulders without sliding off.
Best weekend tote for light packers
Materials: Recycled nylon | Capacity: 24 liters | Weight: 2.4 pounds | Method of carry: Top handles
Co-founder of Rifle Paper Anna Bond travels with this classic everyday tote from LeSportsac. It's made from tough, recycled nylon and features a zip that runs across the lip of the bag, which Bond says is "a huge plus when I'm going to the office or traveling." The bag has plenty of deep pockets for keeping things organized — or stowing unexpected cargo. "Every day is a little different, but as a working mom, I sometimes need room for my laptop as well as for items for my son," says Bond.
Best weekend backpack for light packers
Materials: Triple-coated recycled canvas | Capacity: 20 liters | Weight: 1.42 pounds | Method of carry: Backpack straps and top handles
Writer Rebecca Selkirk travels frequently and doesn't like to pay for a checked bag. Her solution is to fold away all of her weekend essentials into this Roka backpack. It's available in three sizes, and Selkirk recommends the largest option, which can store the equivalent of 20 liters' worth of luggage and still be considered a "personal item." Selkirk says, "You can easily take all your essentials plus some nonessentials — I can fit my camera, tripod, and action cam in it." The bag has specific pockets for a laptop, phone, and water bottle, so you'll know where everything is without too much rummaging.
Best weatherproof weekend bag
Materials: Synthetic leather | Capacity: 42.5 liters | Weight: 2.23 pounds | Method of carry: Top handles, removable shoulder strap
This duffel is the constant companion of Dymphe Mensink, who runs the blog Dymabroad, on her frequent one- to three-day trips. Mensink says the synthetic-leather fabric is very durable, and despite the amount of travel it has endured, it has yet to see any noticeable damage. The waterproof zipper and weather-resistant exterior are huge pluses for Mensink, who has been caught in the rain several times and happily discovered her items never got damp. When traveling to Paris, Pisa, and London, Mensink says she has consistently been surprised by how much she can fit into this bag — including chargers, headphones, cash, and a few outfit changes. She adds that even when it's packed to the gills, the duffel is comfortable to carry, thanks to the padded shoulder strap.
Best weekend backpack
Materials: Nylon | Capacity: 24.5 liters (27.5 liters when expanded) | Weight: 2.6 pounds | Method of carry: Backpack straps and top handles
This is the backpack I've been whizzing around Europe with this spring. It counts as a personal item on most European airlines and stows easily beneath the seat in front of me on planes and trains. But it's still pretty roomy: On a recent trip to Paris, I packed three days' worth of clothes and toiletries without even having to expand it (including a big puffy summer dress that's truly not compact at all). Thanks to the padded straps, it was hours and hours before I got an ache in my shoulder from traipsing around galleries. Luckily, it also has a lengthy top strap so you can carry it like a duffel to give your shoulders a break. My favorite feature, though, is the padded laptop pocket at the back — which means you don't have to fish through your bag for your electronics at security. And when I'm having a proper break — i.e., not traveling with my laptop — I put my book and journal in there, so I can slide them out without fuss.
Best suitcase for weekend trips
Materials: Germany Makrolon® polycarbonate hard-shell material | Capacity: 41 liters | Weight: 10.6 pounds | Method of carry: 3-step aluminum telescopic handle
When a suitcase feels more appropriate for her travels, Mensink prefers this scratch-resistant carry-on. She has no problem fitting her collapsible tripod, camera lenses, external hard drive, and tablet, and she takes advantage of the internal mesh dividers to organize her tech on one side and clothes on the other. Even when fully loaded, the well-balanced suitcase won't fall over, which hasn't always been the case with luggage Mensink has used in the past. The 360-degree spinner wheels are supersmooth (and quiet), so Mensink has no problem dragging this carry-on over inconsistent city sidewalks. She notes that she hasn't "seen a more expensive suitcase that would be better than this one" and even influenced a friend to pick up the same model.
Best suitcase with built-in wardrobe for weekend trips
Materials: Polycarbonate shell and aluminum frame | Capacity: 39 liters | Weight: 8.1 pounds | Method of carry: Spinner wheels and telescopic handle
Kiki Reginato, New York Magazine's senior director of e-commerce operations, says that she's "completely obsessed" with her carry-on closet suitcase. It looks like a standard carry-on, but features a compressed packing system when you open it, pulling out into a shelving system. Reginato says that "the genius system means that you never have to unpack" — a time-saver when your trip is so brief. In this size, the case has 360-degree spinner wheels and is small enough to work as a carry-on for both U.S. and European budget airlines.
Best rolling weekend bag
Materials: Coated polypropylene plastic with stainless steel wheels | Capacity: 30 liters | Weight: 2.8 pounds | Method of carry: Handles and elongated pull-strap
Hair and makeup artist Gabriella Mancha rolls this Hulken bag from shoot to shoot, and it translates as well to a weekend away. She says it's great for essentials, including her kits and a water bottle, as well as "odds and ends" like hair extensions and wigs. Mancha appreciates the bag's finish — a metallic polypropylene plastic with two sturdy coated black straps. Ultimately, though, the stainless-steel wheels make it one of her go-tos, as her job "can give anyone back problems," so a rolling bag is always ideal.
Best weekend backpack for camping
Materials: Double-line ripstop nylon | Capacity: 60 liters | Weight: 4 pounds | Method of carry: Backpack-style harness and waist belt
Chyla Anderson, founder of Outdoorism, an apparel brand geared toward Black women and other underrepresented communities in the outdoor-recreation space, relies on this backpack that has served her well on multiday backpacking trips as well as camping weekends. Even though she has had the same one for seven years, it still looks brand-new and outshines a lot of the other bigger-name brands Anderson was considering, which often run up to $200. On excursions to Kilimanjaro, Joshua Tree, and Sequoia, she uses the numerous compartments to keep everything organized and easily accessible. Since you'll likely be trekking with this pack, comfort is key, and Anderson is quick to assure that you can customize the fit with the adjustable torso and waist belts.
Best weekend bag for organized packers
Materials: PVC-coated tarpaulin, kodra | Capacity: 60 liters | Weight: 2.5 pounds | Method of carry: Stowaway backpack straps, removable shoulder strap, top handles
Junior writer Sanibel Chai is such a fan of this uniquely designed bag that she sang its praises in May's Strategist Haul. Similar to the Patagonia Black Hole, you can carry it several different ways, and the backpack straps stow away so they're not dangling when you don't need them. It diverges from the Black Hole in its interior storage, however, which is divided into four equally sized compartments. While these segments were designed with caretakers in mind (allotting each child their own compartment to keep, say, toddler snacks separate from infant formula), Chai has found this setup to be an excellent, much-easier-to-access alternative to packing cubes because she doesn't have to unzip and rezip a cube each time she adds something.
"I recently took this bag on a trip to Rancho Valencia and was able to fit tennis shoes and gear in one section, pajamas and toiletries in a second, three voluminous maxi-dresses in the third, and my tennis clothes in the last one," says Chai. The bag's oversize pulls make it easy to yank toward you or open a stuffed compartment. As a final tip for "the mess- and/or accident-prone traveler," she notes the bag's slick, wipe-down tarpaulin "and the base's puncture-resistant kodra, which was originally developed for WWII equipment."
[Editor's note: The Vik Travel Duffle is currently out of stock, but you can sign up for restock notifications on the product page, or you can browse Tobiq's similar 60L travel duffels.]
Best monogrammable weekend bag
Materials: Ecocraft canvas | Capacity: 29.4 liters | Weight: 2.4 pounds | Method of carry: Trolley handle straps, removable shoulder strap
For a structured bag with an especially stylish silhouette, consider this weekender that Robert Khederian, a former Curbed staffer and current Compass broker, recommends. Stain-repellent silicone coats the canvas exterior (and keeps your stuff dry), which is accented with recycled vegan leather for a "classic yet distinctive" profile. For a trip length of two to three days, Khederian finds this weekend bag "roomy without being cumbersome," but expects that an exceptionally light packer might be able to squeeze a few more nights out of it. On longer trips when you use this bag as a carry-on, a pass-through panel allows you to slip it over your suitcase handle. If you really want yours to stand out from the crowd, you can get it monogrammed, starting at $25 for embroidered letters and $75 for hand-painted emojis.
Some other weekend bags we've written about
• Chyla Anderson, founder of Outdoorism
• Alexandra Baackes, travel blogger and founder of WanderWomenRetreats
• Anna Bond, co-founder of Rifle Paper
• Sanibel Chai, writer
• Louis Cheslaw, Strategist associate editor
• Phil Dengler, co-founder of travel journal The Vacationer
• Maggie Espinosa, travel journalist
• Robert Khederian, a former Curbed staffer and current Compass broker
• Simone Kitchens, Strategist senior editor
• Nikko Lencek-Inagaki, director of design and merchandising at Freemans Sporting Club
• Gabriella Mancha, hair and makeup artist
• Dymphe Mensink, who runs the blog Dymabroad
• Kiki Reginato, New York Magazine's senior director of ecommerce operations
• Rebecca Selkirk, travel writer
Additional reporting by Lauren Ro, Trupti Rami, Ambar Pardilla, Sanibel Chai.
The Strategist is designed to surface the most useful, expert recommendations for things to buy across the vast e-commerce landscape. Some of our latest conquests include the best acne treatments, rolling luggage, pillows for side sleepers, natural anxiety remedies, and bath towels. We update links when possible, but note that deals can expire and all prices are subject to change.