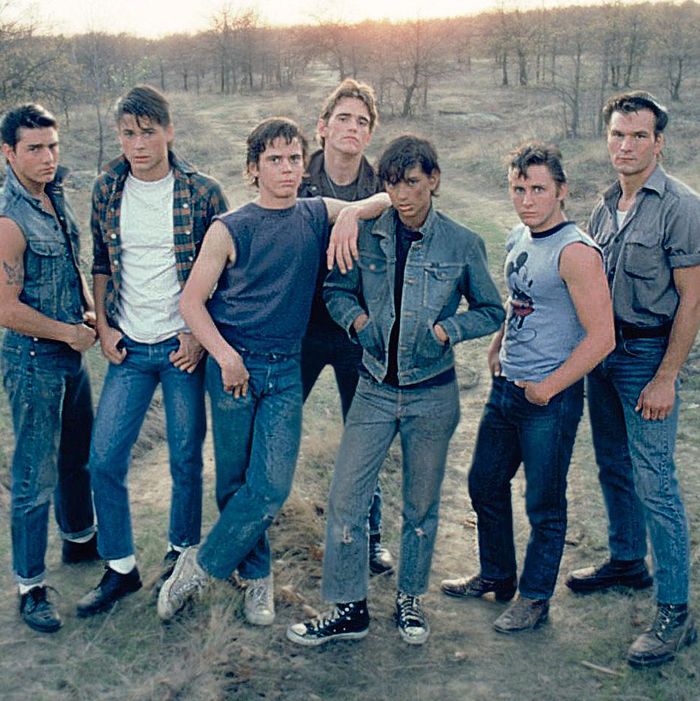 The cast of
The Outsiders
showcasing a variety of jeans.
Photo: courtesy of Zoetrope Studios
Searching for the perfect pair of jeans can be frustrating, but if you get them right, they'll end up being the best thing in your closet. We spoke with 30 stylish guys who care a lot about jeans — designers, retailers, podcasters, fashion writers, stylists, and other denim nerds — to hear about their favorite pairs, from classic Levi's 501s, to styles for guys with big thighs, to some black jeans that one chef owns eight pairs of.
Best
straight-fit
jeans
for
men
Photo: retailer
"If we're going to talk about jeans that every man should have in their closet, a pair of good-old Levi's" is a must, according to Amy Leverton, the author of Denim Dudes: Street Style, Vintage, Workwear, Obsession. Getting a pair of Levi's is "almost a rite of passage," she adds, noting that the 501 is still the gold standard. With more men telling us they live in their 501s more than any other pair on this list, that certainly seems to be the case.
Jeremy Kirkland, the host of men's style podcast Blamo!, told us he swears by 501s, noting the rise makes them easier to dress up when the occasion calls for it. "I've always been a fan of higher-rise jeans versus the lower-rise pairs because I wear tailoring and sport coats, so it helps to wear something totally high." They're a favorite of Chris Black, who says 501s are "perfect for every occasion." Drew Westphal, who works in digital marketing, is another fan, telling us "there's a reason that most modern-day denim companies use the fit of the 501 to make their own jeans." And Edgar Gonzelaz, who operates a creative studio called andafterthat in the Rio Grande Valley, says that, even in his region's heat, "nothing beats the 501's fit." (If you want to get creative, Gonzelaz says he "takes the hem right off and does a slight cuff — that way, they sit right above a pair of sneakers, boots, or loafers.")
When he's not buying 501s, Kirkland also frequents Atelier & Repairs, designer Maurizio Donadi's label for his line of repurposed vintage jeans. "For a while, you could just send them your old jeans to be fixed," Kirkland says. "Now they sell a lot of repaired 501s," like these Detroit jeans with added denim patches, exposed stitching, and a reversed hem at the break, which Kirkland calls "kind of my jam." They're admittedly expensive, but Kirkland points out that what you're paying for is "the labor it takes to employ someone with a fair salary and health insurance to make your clothes."
Photo: Arian Camilleri
Gene Han, the owner of Hatchet Outdoor Supply (which has stores in Brooklyn and Los Angeles), says he owns many pairs of jeans but that these are the "ones I find myself wearing every day." Han adds that Alex Mill "scours vintage sources to find perfect pairs of denim jeans, reworks them, and sells them on a limited basis." Because of that, each pair is slightly unique, but Han says they "all have that perfect, worn-in feel" from day one.
Artist Jackson Hallberg tells us he's been wearing these jeans for almost a year. He says they felt great from the day he bought them, but over time, they've "only gotten softer and more comfortable, while the color hasn't faded." They're also favorites of Chris Black, who called them "as classic as it gets. No weird branding or fading, just simple, well-fitting jeans."
Miles Garber, the creative director of design studio DBFiftyThree, told us he is "unapologetically Californian, which makes me not fancy with jeans." While his favorite "jeans" — Dickies Painter Pants — are not made of denim, Garber told us he has worn them since he was 5 years old and says they're just as utilitarian. He adds that the pants, which come only in white, are perfect for three reasons: the fit requires no tailoring, the price point is affordable, and you can beat them up without feeling bad. "They don't do anything special," he notes, "but like Dr. Martens, as soon as you've broken them in, you never want to take them off. I can't say how many pairs I've owned — it's hundreds — but I have six right now, which range from fresh to almost ruined."
Best
Japanese
denim
straight-fit
jeans
for
men
Ask any denim expert where the best denim comes from, and odds are, they'll say Japan. "Raw" denim hasn't been chemically treated or washed, so it's very stiff at first, but over time, it breaks in, softens up, and develops fades and creases unique to the wearer, and "selvedge" refers to a way of weaving the fabric that is typically associated with high-end denim because it's more labor intensive. "The entire idea behind these specialty Japanese denim brands is to make jeans with the attention to detail that Levi's had in the mid-century," says Drew Romero, a sales associate at Dover Street Market and alumnus of Manhattan denim mecca Self Edge. According to him, "the fit of Levi's in that period was a straight leg," so while modern Japanese denim brands will make a number of cuts, "when people talk about Japanese denim" they are referring to reproductions of Levi's straight-leg 501s.
Romero's favorite jeans are the Sugar Cane 1947s, above, which are modeled after the 1947 Levi's 501s. "Sugar Cane are serious," Romero says. "They're even meticulous about which American retailers they allow to stock their brand."
For a French take on the 501, Leverton recommends the A.P.C. New Standard, which is also made of raw Japanese selvedge denim. Leverton describes the APC New Standard as "the go-to pared-back jean of the last 10 years." She says it strikes the right balance of everything one would want in a pair of premium jeans. "It's clean and raw but doesn't shout purist. It's classic and authentic without being heritage."