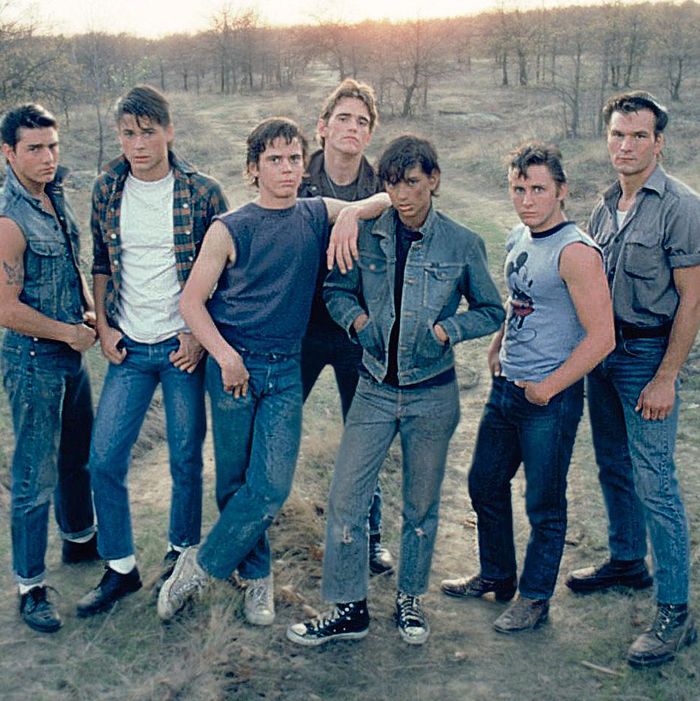 The cast of
The Outsiders
showcasing a variety of jeans.
Photo: courtesy of Zoetrope Studios
Searching for the perfect pair of jeans can be frustrating, but if you get them right, they'll end up being the best thing in your closet. We spoke with 20 stylish guys who know a lot about jeans — stylists, designers, retailers, podcasters, fashion writers, and denim nerds — to hear about their favorite pairs, from wide-legged selvedge that brightens with every wear, to styles for guys with big thighs, to sustainably made Swedish jeans with "vegan leather" patches.
Best straight-fit jeans for men
"If we're going to talk about jeans that every man should have in their closet, a pair of good-old Levi's" is a must, according to Amy Leverton, the author of Denim Dudes: Street Style, Vintage, Workwear, Obsession. Getting a pair of Levi's is "almost a rite of passage," she adds, and while the slimmer Levi's 511 may be a trendier style, the 501 is still the gold standard. Jeremy Kirkland, the host of men's style podcast Blamo!, told us he also swears by 501s, noting the rise makes them easier to dress up when the occasion calls for it. "I've always been a fan of higher-rise jeans versus the lower-rise pairs because I wear tailoring and sport coats, so it helps to wear something totally high." And they're a favorite of Chris Black, who says 501s are "perfect for every occasion."
"Denim nerds," Leverton adds, might prefer a pair of 1947 LVC jeans from Levi's Vintage Collection, which replicates the jean-making process Levi's used in the mid-century, down to the North Carolina denim mill. The collection addresses the needs of denim nerds like Kirkland, who told us he specifically seeks out Levi's pairs of yesteryear, when the cut was a little looser and the detailing more intricate. Another of the denim nerds who loves these jeans is Alex Delany, Bon Appetit's drinks editor. "I only wear Levi's," Delany told us. "And I'm all about the medium-wash LVC 1947 501s, which I've been wearing four times a week for the last three months."
The denim on the 1947 501s is softer than on the regular pairs, according to him, and non-stretch, which means the pants will retain their strong shape. Additionally, "the fade and washes are artful, and the patching is always done tastefully," he says. Because of their more intricate production and higher-quality denim, the 1947s typically cost more than the above 501s, but as Delany notes, they're durable enough to wear several days a week for months on end.
Miles Garber, the creative director of design studio DBFiftyThree, told us he is "unapologetically Californian, which makes me not fancy with jeans." While his favorite "jeans" — Dickies Painter Pants — are not made of denim, Garber told us he has worn them since he was 5 years old and says they're just as utilitarian. He adds that the pants, which come only in white, are perfect for three reasons: the fit requires no tailoring, the price point is affordable, and you can beat them up without feeling bad. "They don't do anything special," he notes, "but like Dr. Martens, as soon as you've broken them in, you never want to take them off. I can't say how many pairs I've owned — it's hundreds — but I have six right now, which range from fresh to almost ruined."
When he's not buying 501s, Kirkland also frequents Atelier & Repairs, designer Maurizio Donadi's label for his line of repurposed vintage jeans. "For a while, you could just send them your old jeans to be fixed," Kirkland says. "Now they sell a lot of repaired 501s," like these Detroit jeans with added denim patches, exposed stitching, and a reversed hem at the break, which Kirkland calls "kind of my jam." They're admittedly expensive, but Kirkland points out that what you're paying for is "the labor it takes to employ someone with a fair salary and health insurance to make your clothes."
Best Japanese denim straight-fit jeans for men
Ask any denim expert where the best denim comes from, and odds are, they'll say Japan. "Raw" denim hasn't been chemically treated or washed, so it's very stiff at first, but over time, it breaks in, softens up, and develops fades and creases unique to the wearer, and "selvedge" refers to a way of weaving the fabric that is typically associated with high-end denim because it's more labor intensive. "The entire idea behind these specialty Japanese denim brands is to make jeans with the attention to detail that Levi's had in the mid-century," says Drew Romero, a sales associate at Dover Street Market and alumnus of Manhattan denim mecca Self Edge. According to him, "the fit of Levi's in that period was a straight leg," so while modern Japanese denim brands will make a number of cuts, "when people talk about Japanese denim" they are referring to reproductions of Levi's straight-leg 501s.
Romero's favorite jeans are the Sugar Cane 1947s, above, which are modeled after the 1947 Levi's 501s. "Sugar Cane are serious," Romero says. "They're even meticulous about which American retailers they allow to stock their brand."
For a French take on the 501, Leverton recommends the A.P.C. New Standard, which is also made of raw Japanese selvedge denim. Leverton describes the APC New Standard as "the go-to pared-back jean of the last 10 years." She says it strikes the right balance of everything one would want in a pair of premium jeans. "It's clean and raw but doesn't shout purist. It's classic and authentic without being heritage."
"My friends swear by Everlane denim," says Tim Melidio, the writer behind menswear site Stay Classic. Everlane also uses Japanese denim, but with Everlane, "the price is right." The denim is woven with 2 percent elastane to add some stretch.
"If you're a raw-denim guy, it's hard to do better than 3sixteen," says Dan Snyder, owner and designer of New York City-based menswear company Corridor. 3sixteen is serious about sourcing its Japanese denim, and its website notes that these are made with denim "custom woven" for the company by Kuroki Mills in Japan. 3sixteen makes jeans in a variety of fits, but the SL-100x is its classic, 501-inspired model.
Best loose-fitting jeans for men
According to menswear specialist Gary Drinkwater of Drinkwater's in Cambridge, Massachusetts, the current trend is to wear your clothes a little looser than before, from pleated trousers to shirts not fitting as snug to the body. In jeans, that means buying pairs with more room in the thigh and waist.
If this sounds like the fit for you, photographer Raphael Bliss recommends Polar Skate Co. 90's jeans. "I only wear baggy jeans and have owned many," he says, "but as soon as I found these, they were instantly my favorite." Bliss told us he has bought five pairs in the very same cut and loves how unlike most denim brands, Polar gives buyers the option to choose the length size as well as the waist. While the brand has a number of color choices, Bliss recommends the blue, which he says lightens over time.
If you're looking to splurge on a pair of looser-fitting jeans, Romero told us that for his next pair, he's going to turn to these jeans from Acne Studios's denim-focused Bla-Konst line, which he's already tried on multiple times in-store. "These are a very well made pair of jeans that fit nicely, drape nicely, and stand out the exact right amount," he says. Strategist senior editor Anthony Rotunno has been wearing Acne jeans for years. "They are admittedly never cheap", he admits in our roundup of the jeans we wear in the Strategist office, "but I bought one of the pairs in my current rotation back in 2016, and it still looks as good as the newer ones."
Best slim-fit jeans for men
The Levi's 511 is to slim-fit jeans as the 501 is to straight-fit jeans: a standard-bearer. Melideo says Levi's 511's are a "staple" of his wardrobe. Stylist Brandon Garr likes the 511s too, but he's partial to the heavily distressed "Finely Shred" wash and sees it as a sort of hack for getting a good price on a look that designer brands sometimes charge a fortune for. "Honestly, if I'm going to buy a pair of jeans that's destroyed, I don't want to pay as much for them," says Garr. He also says that Levi's is a go-to brand for him because "they're affordable and hold up in the city. I also feel like I can be a little bit more daring in them because I don't have to worry as much about the replacement cost if they get a little roughed up."
Drinkwater told us he's really excited about Raleigh Denim at the moment. "I think they're the best of the best in this country right now in terms of denim," he says. He highlights the feel of the denim itself, the "quality of the manufacturing," and the attention to detail: "Every sewer of each pair of jeans signs the inside of the pair." He plans to start carrying more styles because it's been a big hit with customers, but right now, his favorite model is the slimmish-straight "Jones" fit, which is "slimmer than the Levi's 501s but not too slim."
Stylist Dave Thomas says his ideal jean fit is "slim, tapered from the knee, but not too tight on the sides and top." To achieve this, he recommends the Rag and Bone Type 2 Fit, which is right in the middle of its skinny-fit Type 3 and straight-leg Type 1. These have a small amount of stretch, which he also likes. "It's nice to have something that moves with you." He recommends wearing them cropped or rolled up if you're going sockless.
Best jeans for guys with big thighs
Philip Saul, the owner of Boston's Sault New England, told us that a lot of guys come in looking for what he calls the "taper fit." Basically, something with "a bit more room in the thighs and butt to move and feel comfortable" while maintaining the look of a slimmer leg. "It's great for guys who don't skip leg day," says Saul, or for anyone looking for a little more comfort without sacrificing style. His favorites in this fit are the Levi's 502 and the Raleigh Denim Graham model, both of which have a little added stretch.
Strategist contributor Kurt Soller wrote about having trouble finding the right jeans for his legs, "which are thicker in the thighs and skinnier in the calves." After trying on a few pairs, he says "the Acne River pair ended up being perfection — a paragon of that Zeitgeist-y tapered style that's loose and slightly baggy above the knee before narrowing to a not-too-tight foot opening."
Best skinny jeans for men