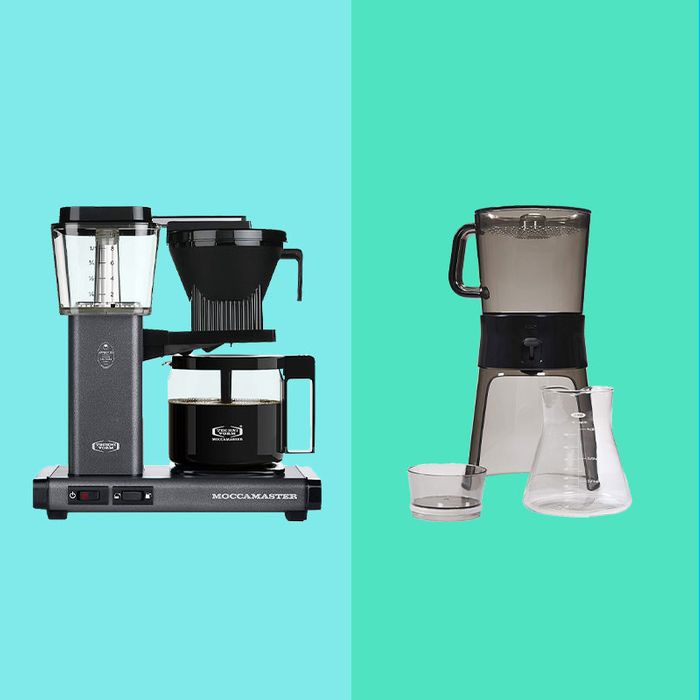 Photo-Illustration: courtesy of Twentieth Century Fox
There are a lot of ways to get your morning caffeine fix: espresso machine, pour-over, French press, moka pot, stove-top percolator — the methods go on and on. Then there's the classic coffee maker. Turns out, even the pickiest people (by which I mean coffee-industry people) often have one at home for standard, set-it-and-forget-it brewing. But not all coffee makers are created equal, so I talked to a bunch of baristas, roasters, and coffee-shop owners about their preferred models — the ones they themselves rely on for a solid, fuss-free cup (or two, or three).
Best overall | Best high-end | Best simple | Best small-scale | Best with built-in grinder | Best cold-brew maker | Best compact cold-brew maker
What we're looking for
Capacity: This is a straightforward point, of course, but the capacity of a given coffee maker should be a factor in whether or not you choose it for your own setup. Most on this list brew up to eight or ten cups, with one slightly bigger at 12 cups, one smaller at four cups, and one with the notable feature of being able to brew a single cup at a time (helpful if the day-to-day coffee consumption in your household varies).
Size: While not quite as large as most espresso machines, coffee makers take up a considerable amount of counter space — certainly enough that it's an important aspect to consider when buying one. I've noted the dimensions of each.
Temperature hold: Most coffee makers on this list brew into a stainless-steel thermal carafe, which keeps your coffee warm for a few hours without reheating it from below. This method is generally preferred by the pros since it doesn't lead to burnt-tasting coffee. One model we've noted, however, doesn't do this, and two are for iced coffee.
Best overall coffee maker
8 cups | 12.4" x 6.8" x 12.2" | Thermal carafe
Most of the experts mentioned the Bonavita Connoisseur. One key reason is the machine's ability to brew at the proper temperature. According to Ken Nye, owner of Ninth Street Espresso, few coffee makers "consistently bring water to that 198- to 202-degree range," which he calls the "broadly agreed-upon standard." As Nye explains, the Connoisseur also "maintains that temp throughout the brewing process." Furthermore, it brews directly into an insulated thermal carafe so you can keep your coffee warm without heating it from below.
The Connoisseur also creates a very smooth brew due to its flat-bottomed basket (where the grounds go) and showerlike spout, both of which ensure consistent water distribution and extraction. The flat-bottomed basket "spreads the grounds out evenly," says George Howell, owner and founder of George Howell Coffee.
Finally, Connie Blumhardt, founder and publisher of Roast magazine, points out that it is programmable, "a great option for coffee lovers who want to brew at the touch of a button without sacrificing quality," she says. This model might not be as full-featured as some of the other options on this list — or on the market in general — but the experts recommend it over all others due to its approachable price point, ease of use, and most of all, its reliability. "It's consistent from start to finish," says Howell.
[Editor's note: The eight-cup version of this coffee maker is currently only available via third-party sellers on Amazon and out of stock everywhere else. If you don't need something that brews as much coffee at once, you can get the five-cup version on Amazon for $130.]
Best high-end coffee maker
10 cups | 12.3" x 6.5" x 14" | Reheated from underneath or thermal carafe
The Technivorm Moccamaster was the second most-recommended coffee maker. It's pricey, but the experts who use it say that it's worth the premium if you're interested in investing in the best equipment out there. Like the Bonavita Connoisseur, the Moccamaster has stable temperature control and even brewing. Suyog Mody, founder of Driftaway Coffee, explains that while the "brewing mechanics" are similar to those used in less-expensive drip coffee makers, the Moccamaster "is made with better parts and solid construction. I've been using it daily for the past three-plus years with zero issues," he says. "It's just no fuss. And honestly, it looks good on the kitchen counter." While the design is certainly appealing and the construction quality means it should last for a long time, the experts wouldn't endorse this coffee maker if it didn't also make a quality drink. "I taste coffee from all types of brewers, and this one gives a consistently better cup," says Jim Munson, founder and president of Brooklyn Roasting Company.
Jerad Morrison, co-founder and co-CEO of Sightglass in San Francisco, is also a fan of the Technivorm, but prefers a slightly different model. His favorite has all the same attributes, but instead of dispensing your coffee into a glass carafe on top of a burner plate, it goes into a stainless-steel thermal one (just like the Connoisseur). "It keeps coffee plenty hot for several hours," he says, "without changing the flavor or making it taste burnt."
Best simple coffee maker
12 cups | 8.6" x 12.9" x 13.5" | Reheated from underneath
Jamie McCormick, co-owner of the East Village coffee shop Abraço, tells us he prefers to keep things as simple as possible when it comes to coffee machines. "People make a big to-do over a lot of nothing" when it comes to brewing equipment, he says. He thinks a plain old Mr. Coffee is a first-rate choice for any "amateur coffee roaster who wants to flatter their grounds." As an amateur coffee roaster myself, I can agree. I used the Mr. Coffee machine before switching to a stove-top percolator to save counter space and was never disappointed. Since it doesn't have a high-tech mechanism for distributing the water evenly like some of the other models on this list, McCormick does offer one key tip: Open the machine up while it's brewing and "stir the grounds to make sure they all get hydrated."
Best small-scale coffee maker