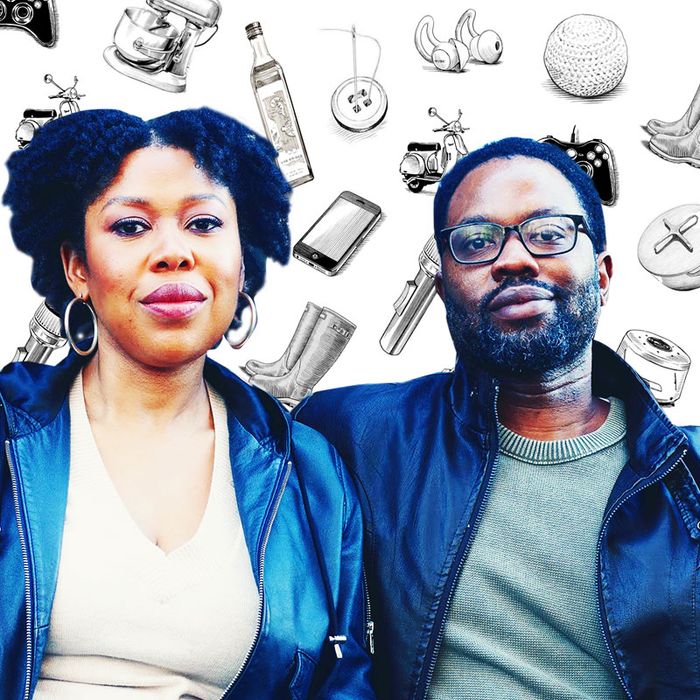 If you're like us, you've probably wondered what famous people add to their carts. Not the JAR brooch and Louis XV chair, but the hairspray and the electric toothbrush. We asked Cynthia Gordy Giwa and Tayo Giwa — the creators of the digital publication Black-Owned Brooklyn, which spotlights Black-owned and -operated businesses in that borough — about the décor, body butter, and T-shirt they can't live without.
I don't have a whole lot of patience for the ten-step skin-care routines that a lot of people my age use. I actually just use a cleanser and a moisturizer, and then I seal it in with this moringa oil. When I started using the oil I noticed a difference really quickly — it just feels incredibly nourishing and leaves my skin so much more glowing and soft. Papa Rozier Farms' brother-and-sister team of Rubens Amedee and Freddie Amedee-Benjamin source moringa and castor plants for their beautifully packaged, natural products from their farm in Haiti. The proceeds from their products go to the BATI School in Haiti, which they founded, so behind the products is this radical mission to build up Haiti through jobs and transformative education.
Nicole Mebane is primarily a jewelry designer, but last month she pivoted to making masks because there was a need for that. They're really fresh and cute. She uses African textiles and tie-dyes and has 33 different patterns inspired by nature, gemstones, and the cosmos. I like how face masks have become a vehicle for self-expression; we have to wear them to keep ourselves and our communities safe, but you might as well do it with a little style. We have a ton of face masks in our house. Most are just plain, but then I have a few Ultraviolet ones to add a little razzle-dazzle to our walks.
In the summertime, I pretty much live in clothes from Martine's Dream. The line, designed by Debbie Hardy, is full of flowy, fluid, easy-to-wear dresses, skirts, and jumpsuits in colorful fabrics from her world travels. Debbie calls them "sun clothes." One of my favorite pieces is the Renee Jumpsuit, a denim, wide-leg, one-piece that is a complete look unto itself. It makes me feel a little bit mighty, like Rosie the Riveter.
I get compliments on this Ashaka Givens brooch all the time, because it's beautiful but also a little subversive. It's a spin on the Edwardian cameo brooch — it has the same antique setting, but instead of the white alabaster woman, there's a Black woman with natural hair and hoop earrings. It looks like a typical cameo until you get up close. I like to surprise people in that way. My brooch has a gold setting, purple background, and black cameo. I pop it on when I'm wearing something plain and simple, because it makes everything more interesting.
This is my go-to bag for running errands, because it's very roomy and utilitarian but it's also beautiful. Tayo uses it, too, when he goes on grocery runs, because it can fit a lot and is incredibly sturdy. When I have a lot to do and a lot of things to carry around I always feel really good about using a tote that looks stylish. It's also reversible: It has this lush, vivid orange-and-blue pattern on one side and a more neutral black-and-white Nigerian textile on the other side. The minimalist pattern is more my style, but I like the option to reverse it for more of a pop. Cee Cee's Closet NYC co-founders and sisters, Chioma and Uchenna Ngwudo, source directly from artisan partners in Nigeria.
Textile artist Rochelle Negron has a ton of pennants with affirmations. I chose this one to hang in our living room. I think it's an affirming and welcoming message for our family to be surrounded by every day, especially now. We've been working from home the past three months, and we also have a 1-year-old, so every day is like complete chaos — not to mention everything that's going on in society with anti-Blackness and police violence. But the pennant has a double meaning: It's also meant to acknowledge struggle and persevering through tough circumstances. You can celebrate that you're still here and you can show up even when it's hard. It's been a very grounding and centering meditation for me to sit with at this time.
I'm pretty serious about my coffee. Cantave De Saint Marc makes some of the best I've ever had: Kafe Miel has a delicate, smooth flavor with a medium body and tiny notes of chocolate and caramel. Sometimes coffee can have a bitter aftertaste, but Kafe Miel is just extremely smooth and delicious. I typically grind the beans myself then use a French press to brew it. Some of the stores in our neighborhood were selling Cantave De Saint Marc whole beans, and we discovered that their organic beans are sourced from Haiti and roasted in Brooklyn. They're a wholesaler, so they sell to restaurants and stores, and you can order their beans online.