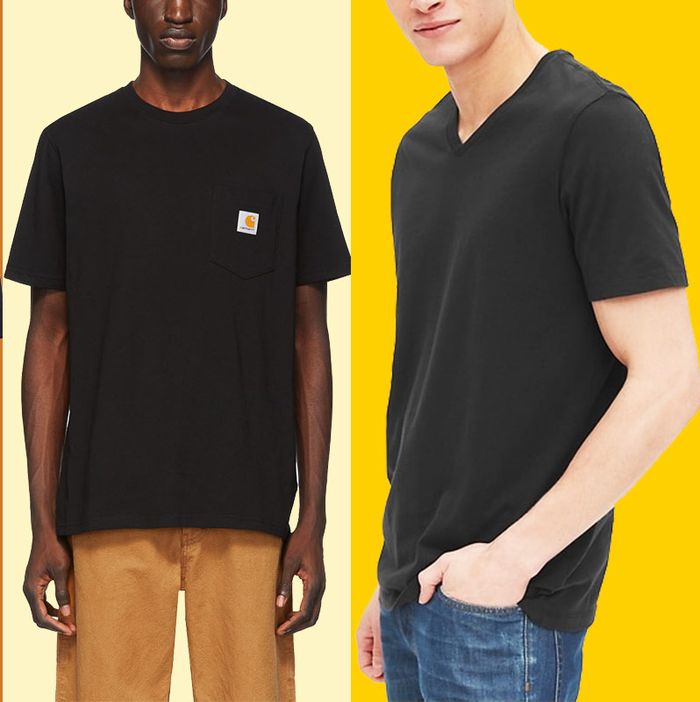 White T-shirts get a lot of attention, but let's not forget their equally versatile counterpart: the exceedingly wearable, deceptively simple black T-shirt. It's a staple that you can wear to work, the gym, and on a date. Plus, as Justin Vaughan, a perfumer and the founder of Ponsont, puts it, they're the perfect high-low uniform. "With my black tee, I can just as easily kick it with a farmer in Virginia as I can take a meeting in the city," he says. As is the story with all basics, the black shirt comes in many variations — and, when shopping for one, it's important to consider the material, fit, and style. We talked to 22 stylish guys about their favorites, and they recommended cotton-linen blends, V-necks, crew necks with especially thin necklines (a boon), recycled T-shirts, and more. Here are the shirts they love most.
Best overall black T-shirts
"Yeah, I know. The blank T-shirt used by your favorite Big Cartel brand in 2016 — and also by Kanye for his the Life of Pablo merch — isn't terribly glamorous," says Jon Caramanica, pop critic and mens' Critical Shopper for the New York Times. "But these shirts, made by a 35-year-old Canadian company, have several essential elements: they're cut wide but not in any way boxy, and with an unflappable crew neck." The humble Gildan tee is also durable, according to Caramanica, and though they start out stiff, they break in nicely. "Run it through the wash a couple of times and the shirt's true personality begins to emerge," he says.
If you prefer something with a bit more give, Matt Schonfeld, creative marketing manager at Rowing Blazers, says this "light and breathable" option from Uniqlo has some stretch and is "hands-down the best black T-shirt I own." He told us that he bought two of them on his first-ever trip to Uniqlo about six or seven years ago, and those two are still in his weekly rotation of tees. "A great basic is cheap and lasts long," says Schonfeld. "Under $10, you can't really beat this."
Photo-Illustration: retailer
For an even cheaper option, take note from Brandon Stinchfield, a deputy director of foundations and grants for a nonprofit, who told us that after a certain point in his career of buying black Uniqlo T-shirts he could no longer tell the difference between the packaged dry crew neck and the (slightly pricier) Supima cotton crew neck. "So whenever I'm in a Uniqlo, I leave with an armful of shockingly affordable packaged black T-shirts," he says. "They're light, durable, and no frills."
Photo: retailer
If you want a T-shirt that will only get better with time, consider this Entireworld tee, recommended by Mapate Diop, founder of clothing line DIOP. "The Entireworld Organic Cotton Classic T really hits after that first wash and hang-dry," says Diop. "It shrinks and softens just right and keeps its structure." The shirt has a flattering, slightly slim fit (Entireworld recommends sizing up if you like a looser fit) and is made from extra-soft lightweight jersey cotton, making it perfectly breezy for the summer.
Best three-packs of black T-shirts
"I'm embarrassed to admit I used to think black T-shirts were only for biker dads or angsty teens," says Newest York publisher Zach Halberg. "Recently though I've come around to them as a kind of versatile statement piece — one that can say 'maybe I'm a biker dad' but can also say 'maybe I'm an angsty teen.'" The realization has led to Halberg stocking up with some Calvin Klein three-packs. "There's no tag," he says. "The label is printed on, a very futuristic feature." (And one that means the back of your neck won't get itchy.)
If you prefer your black tees with a dash of hype, take Vice Media account manager Sam Mark's advice and try Supreme's Hanes Tagless Tees. "I like the Supreme/Hanes Tagless Tees because they can look clean — you can tuck it in and avoid showing off your branding — or fuccboi, if you wear it untucked." Mark buys the tees in three-packs, and wears them for all occasions. "They're cheap (which means I wear them to play soccer), but you can also wear them easily to a dinner," he told us. And if the trendy Supreme branding makes you hesitate, Mark counters: "Yeah, they're played out, but also not played out like a CDG Play shirt that sits at the bottom of my T-shirt drawer (RIP)."
Best black T-shirts for work
Gallery director Sebastián Sarmiento told us that he buys these in bulk, and has done so for years. "They're soft, never change dramatically in style, or fit, and luckily, I've never paid full price for them because they're always on sale," he says. They come in just about every color you can imagine, but the black will look especially professional for the office.
"Wearing black is an industry standard on film and photo sets," says Ghetto Gastro director and editor Jose D. Cota, who likes Rag & Bone's Base Tee as his go-to for jobs. "It's something I feel good in on fashion sets or around the Ghetto Gastro guys and all their 'Rick Owens drip' when we're traveling the world." The fit is a big part of the appeal: "It's a quality shirt that sits just right on my shoulders, but also tapers through the middle without being form-fitting," Cota says. "I always buy a bunch because you can never have too many."
Photo: Tony Birckhead/2015 All rights reserved
Another work-worthy pick comes to us from Michael Friedberg, senior marketing manager at Dummies, who says this Sunspel number looks good on its own or under a sweater, and what really sets it apart is the "thinness of the little rib at the neckline." Friedberg also notes, "It's just got a perfectly well-proportioned sleeve and body length." He cautions that the shirts tend to shrink if you machine dry them, so if you plan to do so size up — or better yet, hang dry.
Best V-neck black T-shirts
"Like many artists I know, we gravitate toward a self-imposed uniform, and the A.A. V-neck black tee works in the studio and looks good at the opening," says artist Barnett Cohen. The best part, he says, is that this T-shirt breaks in and gets softer with time, without shrinking or fading. "It just feels better and better," he says.
If you want to stock up, stylist Wouri Vice suggests this three-pack from one of the most classic T-shirt brands out there. "My favorite black T-shirt is Hanes — really," he says. "But not just any Hanes. It has to be the Luxury Essentials V-neck, which starts out in the deepest of blacks and as it ages takes on the perfect softness and most beautiful faded black ever." Vice told us that he wears them casually with jeans or with a suit.
"I wear so many black tees that I feel borderline tropical if I so much as branch out into gray palettes," says musician and EMT Hayden Frank. His favorite of them all is Gap's Essential V-Neck, which he says is one of the few he can find in a medium-tall size that works with his six-foot-four and slender frame. "If I buy a large, it's almost the right length, but I'm swimming around in it like scrubs, and if I buy a medium, it fits better in the abdomen, but with the unfortunate side effect of showing off my happy trail to innocent bystanders," Frank tells us. "The medium-tall Gap V-neck hugs my shoulders and chest and stays slim down past my waistline." He praises the shirt's versatility, too, and says it "works just as well at the gym as at the restaurant."
Best oversized black T-shirts
For something in an oversize style, model and producer Kwame Morris told us about this shirt from Prospective Flow, which he describes as "comfy, wide, and tapered." The shirt is made using natural dyes but won't lose its color in the wash: "It washes with minimal natural fade," says Morris. The oversize fit makes it ideal for warmer days, too — "The fit is baggy," he says, adding that the shirt is "loose-fitting and lightweight." We think the slightly drop-shoulder style even makes it a little dressed up, should you be in the market for a new dinner tee.
"Black T-shirts are a part of my daily uniform," says production designer Greg Jackson. He told us that he prefers his T-shirts on the looser side, and that if he's not in his Uniqlo oversized T-shirt, this Heavyweight Collection T-shirt is his go-to. "It's a heavyweight, 100 percent cotton T-shirt with an oversized boxy fit that's also made in the USA," Jackson says. "It holds its color for a long time — and if you're looking for that more fashion forward, heavy-duty fit, but that's still simple, then this is the one."
Best soft black T-shirts