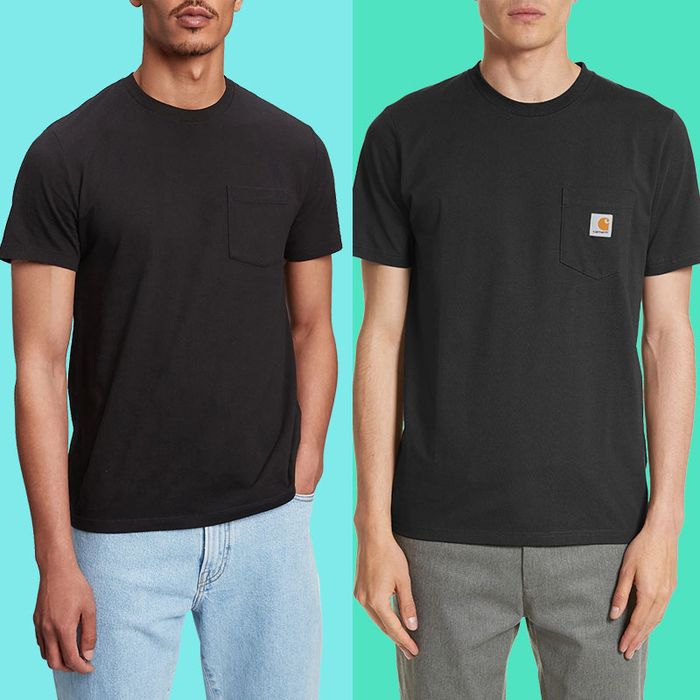 Photo-Illustration: Retailer
White T-shirts get a lot of attention, but let's not forget their equally versatile counterpart: the exceedingly wearable, deceptively simple black T-shirt. It's a staple you can wear to work, the gym, and on a date. Plus, as Justin Vaughan, a perfumer and the founder of the incense brand Ponsont, puts it, a black tee is the perfect high-low uniform. "I can just as easily kick it with a farmer in Virginia as I can take a meeting in the city," he says.
As the Strategist's expert on clothing basics, I've found it's important to consider the material, fit, style, and weight when shopping for a good, long-lasting T-shirt (more on that below). But often, finding the perfect T-shirt comes down to personal preference. So we cast a wide net of 16 stylish guys to tell us about their favorites, and I called in some standouts to feel the material and weight for myself. Below are recommendations for closed-loop T-shirts, V-necks, utilitarian crewnecks, and more. If you have your heart set on a certain type of shirt already, use the table of contents to take you directly there.
All of the shirts on this list are cotton. That's because it's breathable, machine washable, and durable, so you don't have to replace them regularly. If you're looking for something made out of recycled materials or Supima cotton, we made sure to include a couple of choices on those fronts too.
This comes down to preference. Shirts come in slim, oversize, and loose fits. You'll see a wide selection of each with options for big and tall men.
Depending on the season or just overall preference, the weight of a shirt is important to consider. As we've noted in our roundup of the very best white tees for men, "A thicker weave results in a heavier tee, while thinner strands of cotton create a more lightweight shirt." Generally, three ounces is considered light, 4.5 to 5.3 ounces is medium, and six ounces and over is heavy. We've included plenty of options ranging from light- to heavyweight T-shirts.
T-shirts come in a variety of necklines, and the most popular by far was the classic crewneck. We also included other picks, like V-necks and scoop necks, in case that's more up your alley.
Best overall black T-shirt
Material: Cotton | Fit: Loose fit | Weight: Medium weight | Neckline: Crewneck
Buck Mason came out on top in our roundup for a number of reasons. It's the right price, weight, and fit, and it hits at all the right spots. The medium-weight shirt is breathable and ultrasoft, and has only gotten softer with more wear and washes. I've had the women's version of this tee for about two years now, and it's my favorite shirt for layering or wearing on its own. The men we spoke to praised its Goldilocks fit. "The neck is especially well shaped, and the curved hem is a nice detail," Carlos Huber, founder of Arquiste Parfumeur, says. Actor Cheyenne Jackson, who owns "maybe 20" of them, counts himself a fan too. "I'm a dad, and I'm running around a lot, so I live in T-shirts. I like something that isn't too schlumpy, isn't too tight, and has some weight to it," he says. Jackson adds that as a "bigger guy up top," he appreciates "how these fit me in the shoulder; they fit my frame well and I feel good wearing them." And you can buy the top in a short or tall length without compromising the slub-style fit.
Best less expensive black T-shirt
Material: Preshrunk cotton | Fit: Loose fit | Weight: Heavyweight | Neckline: Crewneck
If you're looking for a standard black T-shirt you can buy in bulk and not worry about, this is it. It's not as soft or luxurious-looking as the best overall, but it's a durable shirt that you won't have to worry about, since it's made of heavyweight preshrunk cotton. I've owned a couple tees from the brand for years, and they hold through workouts and whatever incorrect wash cycle I've likely thrown them in. Season Three co-founder Jared Johnson prefers this shirt for precisely that reason. "If you're afraid to sweat or get a little dirt on your T-shirt, you're making poor life decisions," he says. "Buy some Gildan tees, wear them until you're done with them, and replace them. Life is better." Jon Caramanica, pop critic (and former men's Critical Shopper) for the New York Times, also buys Gildan tees. While they're not "terribly glamorous," he likes that they're "cut wide but not in any way boxy and with an unflappable crew neck."
Best black T-shirt for tall men
Material: Cotton | Fit: Slim fit | Weight: Heavyweight | Neckline: Crewneck
Two men we spoke to called out Uniqlo's U Crew-Neck. Noah Sylvan, a senior product manager for electronics at Uber, is "tall and lanky," so it's hard to find shirts long enough and still slim. "The medium size fits me perfectly — it's tall enough for me but not so wide that I look like I'm wearing a sack," he says. According to Sylvan, the shirt has withstood many a wash without shrinking. "It's pretty much the only black shirt I own these days, and I have tons of them," he says. "I wear them at least three times a week." Photographer Malcolm McNeil, who's also over six feet tall, "always keeps a fresh stack of these" because he loves the weight, breathability, and fit.
Best black V-neck T-shirt
Material: Cotton | Fit: Slim fit | Weight: Medium weight | Neckline: V-neck
If you prefer a V-neck (and want to stock up), stylist Wouri Vice suggests this three-pack from one of the most classic T-shirt brands out there. "My favorite black T-shirt is Hanes — really," he says. "But not just any Hanes. It has to be the Luxury Essentials V-neck, which starts out in the deepest of blacks and as it ages takes on the perfect softness and most beautiful faded black ever." Vice told us he wears them casually with jeans or with a suit.
Best V-neck black T-shirt for tall men
Material: Cotton | Fit: Slim fit | Weight: Lightweight | Neckline: V-neck
"I wear so many black tees that I feel borderline tropical if I so much as branch out into gray palettes," says musician and EMT Hayden Frank. His favorite of them all is Gap's Essential V-Neck, which he says is one of the few he can find in a medium-tall size that works with his slender six-foot-four frame. "If I buy a large, it's almost the right length, but I'm swimming around in it like scrubs, and if I buy a medium, it fits better in the abdomen but with the unfortunate side effect of showing off my happy trail to innocent bystanders," Frank tells us. "The medium-tall Gap V-neck hugs my shoulders and chest and stays slim down past my waistline." He praises the shirt's versatility, saying it "works just as well at the gym as at the restaurant."
Best scoop-neck black T-shirt
Material: Preshrunk Cotton | Fit: Slim fit | Weight: Lightweight | Neckline: Scoop neck
Christopher Clermont, head of DEI+ at Vox, owns multiple of Keepr's "supersoft" scoop-neck shirts. It's so flattering that it's become part of his day-to-day "uniform." "I love how it sits. It just seems to always fall naturally in the right place, right around my clavicle," says Clermont. Fit-wise, it "contours to your waist and butt" rather than a loose-boxy cut and is long enough to tuck in effortlessly. Clermont loves its versatility (he's worn his to sleep, on hikes with his dog, and to work), and that after several washes, the shirt "still feels the same. It's maintained its shape, form, and comfort," he says.
Best lightweight black T-shirt
Material: Supima cotton | Fit: Loose fit | Weight: Lightweight | Neckline: Crewneck
Supima cotton, which is a strong cotton that won't easily lose its shape and will maintain color. For an affordable Supima cotton T-shirt, Matt Schonfeld, a creative marketing manager at Rowing Blazers, says this "light and breathable" option from Uniqlo has some stretch and is "hands-down the best black T-shirt I own." He told us he bought two of them on his first-ever trip to Uniqlo about six or seven years ago, and those two are still in his weekly rotation of tees. "You can't really beat this," says Schonfeld.
Best heavyweight black T-shirt
Material: Cotton | Fit: Oversized fit | Weight: Heavyweight | Neckline: Crewneck
On the other side of the spectrum are heavyweight tees. This comes recommended by production designer Greg Jackson, who says "black T-shirts are a part of my daily uniform." He prefers shirts on the looser side, which is why it's his go-to. "It's a heavyweight, 100 percent cotton T-shirt with an oversized boxy fit that's also made in the USA," Jackson says. "It holds its color for a long time — and if you're looking for that more fashion-forward, heavy-duty fit, but that's still simple, then this is the one."
Best sustainable heavyweight black T-shirt
Material: Cotton | Weight: Medium Weight | Fit: Loose
The Big Favorite is a sustainable brand that operates on a closed-loop cycle, meaning when you're done with your clothing, you can send it back to the company to recycle in exchange for credit toward a new piece. Its pima-cotton shirts are buttery soft and midweight. While it's not as structured as heavier tees on this list, it's a great option for hotter months. I've worn mine on sunny 90-degree days and have barely broken out in a sweat on my walks to the subway. As with the entire line, sizing is gender neutral, and I'd say skews more toward traditional men's sizes. I own the XS, which is my typical size in women's, but this tee is slightly oversized for me. With that said, I wouldn't say it's too big to my liking — the sleeves hit just above my elbow and the hem slightly below my waist.
Best black T-shirt with a pocket
Material: Cotton | Fit: Loose fit | Weight: Medium weight | Neckline: Crewneck
For those who like their tees to do more than just clothe them, Vaughan says a black T-shirt with pockets is his go-to "because I lose sunglasses easily." His pick is the Carhartt WIP Pocket T-shirt, which, he specifies, stands out from other Carhartt tees. "The Carhartt WIP T-Shirts fit a little slimmer and are softer than the standard Carhartt K87," says Vaughan. "They're soft, hard wearing, and high-low in the best possible way." Plus the price is right: "The cost-benefit analysis is sound — I wear some that are over five years old."
Best less expensive black T-shirt with a pocket
Material: Cotton | Fit: Slim fit | Weight: Lightweight | Neckline: Crewneck
This affordable option comes recommended by lawyer Chuka Ugwu-Oju, who says the price makes the T-shirt a "no-brainer." But it's the shirt's cut that he says is its main draw: "It's somewhat fitted but isn't tight at all. It isn't constricting in any way, but it manages to retain its shape." The material is on the medium to thin side, which makes it ideal for wearing on its own or layering. "If it isn't too cold out, I like to pair it with a pair of light jeans or khakis, then throw a big coat over it," says Ugwu-Oju.
Best luxury black T-shirt
Material: Cotton | Fit: Slim fit | Weight: Medium weight | Neckline: Crewneck
"Wearing black is an industry standard on film and photo sets," says Ghetto Gastro director and editor Jose D. Cota, who likes Rag & Bone's Base Tee as his go-to for days he's working. "It's something I feel good in on fashion sets or around the Ghetto Gastro guys and all their 'Rick Owens drip' when we're traveling the world." The fit is a big part of the appeal: "It's a quality shirt that sits just right on my shoulders but also tapers through the middle without being form fitting," Cota says. "I always buy a bunch because you can never have too many."
Some more men's black T-shirts we've written about
• Justin Vaughan, founder of incense brand Ponsont
• Cheyenne Jackson, actor
• Jared Johnson, Season Three co-founder
• Jon Caramanica, New York Times pop critic
• Wouri Vice, stylist
• Christopher Clermont, head of DEI+ at Vox
• Matt Schonfeld, creative marketing manager at Rowing Blazers
• Greg Jackson, production designer
• Elijah Funk, Online Ceramics designer
• Alix Ross, Online Ceramics designer
• Antonio Nuño, Someone Somewhere cofounder
• Noah Sylvan, senior product manager for electronics at Uber
• Malcolm McNeil, photographer
• Hayden Frank, musician and EMT
• Chuka Ugwu-Oju, lawyer
• Jose D. Cota, Ghetto Gastro director and editor
The Strategist is designed to surface the most useful, expert recommendations for things to buy across the vast e-commerce landscape. Some of our latest conquests include the best women's jeans, rolling luggage, pillows for side sleepers, ultra-flattering pants, and bath towels. We update links when possible, but note that deals can expire and all prices are subject to change.
Every editorial product is independently selected. If you buy something through our links, New York may earn an affiliate commission.