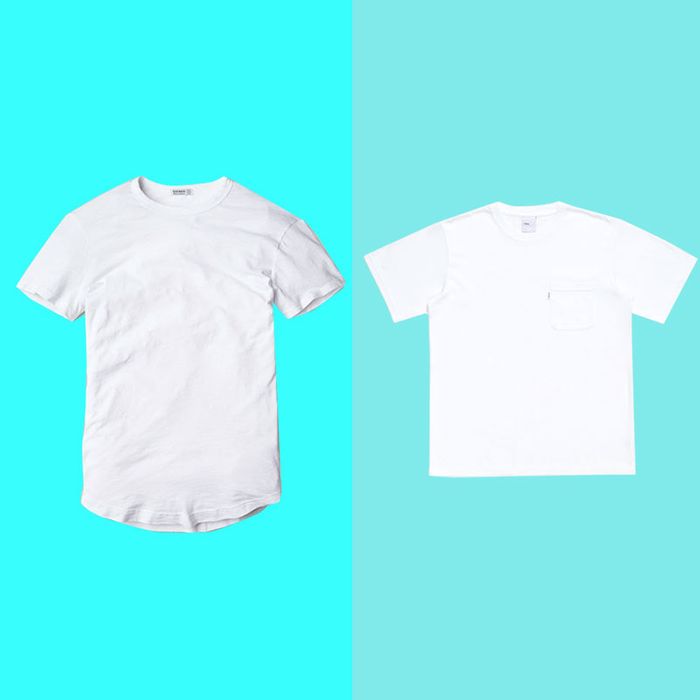 Photo-Illustration: The Strategist; Photos: Retailers
Buying a white T-shirt might seem like a simple choice, but when you take fit, weight, material, and price into consideration, you end up with limitless options. To make this decision a little easier, I spoke with a bunch of stylish guys and even tested some options myself with the help of my fiancé to narrow down hundreds of choices to just nine of the very best. (More on the method: For the shirts I wasn't completely sold on — if the price seemed too high or customers had mixed reviews — I requested a sample to note the construction and feel the quality of the material, then requested that my fiancé, who has an average build, try them on for fit.) After many serious discussions and pages of notes, I used my expert opinion to choose the ones men would actually want to buy. With all that said, below, you'll find the best white cotton T-shirts (and one linen option for good measure), from heavyweight options with a pocket to celebrity-recommended tees to sustainable shirts from a closed-loop brand. And if you'd like to just skip to a specific spot, feel free to use our table of contents below.
Best overall | Best (less expensive) overall | Best lightweight | Best heavyweight | Best (less expensive) heavyweight | Best oversize | Best sustainable | Best linen | Best luxury
What we're looking for
Material: All the T-shirts on this list are made from cotton, with the exception of one linen shirt. Cotton wears the easiest out of most other materials; it's breathable, machine-washable, and durable, so you don't have to replace them regularly. The linen tee works best for the summer or for those who want something as breezy-feeling as possible.
Weight: The material of a T-shirt determines its weight: A thicker weave results in a heavier tee, while thinner strands of cotton create a more lightweight shirt. Some men prefer lighter-weight T-shirts in the warmer months, so they own both types, whereas others stay loyal to a specific weight year-round. Regardless of what side you're on, there are lots of options for all camps.
Fit: Fit comes down to personal preference. Because all the experts interviewed had different viewpoints on which fit is the best, I searched for a wide range of choices, including slim, oversize, and loose silhouettes. And for men who typically look for big and tall sizing, there are a few selects noted below for you, too.
Best overall white T-shirt
Cotton | Loose fit | Medium weight
Strategist-favorite brand Buck Mason's curved-hem white tee came as close as possible to a universal T-shirt pick because everything about it is a happy medium: the price, the weight, the collar, the sleeve length, the fit. I consider it a medium-weight tee with an average-size collar. The sleeve hits at the perfect spot on the bicep without looking too oversize, but it still offers enough length for those who like to roll their sleeves. And lastly, it's not quite slim-fit but not quite boxy either. Actor Cheyenne Jackson heard about these tees from Jesse Tyler Fergusen, who also wears them, and says the shirt "​​isn't too schlumpy, isn't too tight, and has some weight to it." You can purchase the top in a short or tall length without compromising the slub-style fit. Plus, the curved hem looks flattering on most men and offers a more elevated look than most basic white tees.
Best (less expensive) overall T-shirt
Cotton | Slim fit | Medium weight
A tried-and-true classic: the humble Hanes tee. The low price ensures you won't feel bad if you ruin one with pit stains or food splatters, and our experts say it's surprisingly stylish. Alexander Chee, author of The Queen of the Night, appreciates the consistency of it, which he says brings him comfort in that he knows he'll never have to search very hard to find it. Chee wears the tagless version as an undershirt, but they look refined enough to stand alone. (Note: The brand offers big and tall sizing for those who need a little extra room.)
Best lightweight white T-shirt
Cotton | Slim fit | Lightweight
Queer Eye's Tan France first put us onto this shirt when he mentioned it as an item he can't live without. If you ever see him in a plain T-shirt, he says it's most likely this one. It "feels so much softer than most other T-shirts," France says, adding that it stays soft, especially after a couple washes. The shirt is very lightweight and hangs nicely, according to France, though he typically sizes down for a slim fit. J.Crew offers a tall size, too, for men over six feet.
Best heavyweight white T-shirt
Cotton | Oversize fit | Heavyweight
This Adsum tee vaguely reminds me of a Carhartt T-shirt based on the weight and style but is less rugged seeming — you most likely won't be doing any sort of yard work in the Adsum tee. It comes true to size with a baggier fit — preshrunk, so you're not at risk of accidentally losing that quality — whereas Carhartt T-shirts tend to run big. The cotton feels much smoother against the skin because it's technically a jersey knit, which is known for being softer. It's still quite heavy, though, and because the shirt has more volume in the sleeves, the fabric looks more substantial. It definitely has that workwear-inspired look (without actually being workwear).
Best (less expensive) heavyweight white T-shirt
Cotton | Loose fit | Heavyweight
If Adsum (or Carhartt, for that matter) don't speak to you, there's always Uniqlo, which we've recommended for men and women alike many times before. Houston-based clothing designer Lawrence Oke buys the Uniqlo U crew-neck T-shirts because of their "quality feel, boxy fit, and relaxed silhouette." Mickey Pangilinan, an art director at Apple, echoes that sentiment, calling out the thicker material as a plus. It's not quite as weighty or oversize as the Adsum shirt from my experience, but it is significantly cheaper.
Best oversize white T-shirt
Cotton | Oversize fit | Heavyweight
A fun fashion secret: Lots of cool brands (Noah, Awake, Online Ceramics) and artists (Bon Iver, Andre 3000) buy wholesale T-shirts for their brands or tour merchandise from Everybody World, which means you might already own one. So instead of recommending each individual brand, which were all noted by our experts, we jumped straight to the source. Sam Hine, fashion writer at GQ, describes them as having "smooth, heavy fabric, wide ribbing at the neck, and a perfectly boxy fit." (I would go so far to say that the shirt truly is oversize, though, rather than just plain boxy.) Regardless, the brand creates the material from recycled cotton, which feels like it will last a lifetime — and justifies the higher price tag, at least in my mind. For a few bucks less, you can also check out the similarly named brand Everywhere Apparel, which also offers a recycled unisex tee in a heavyweight material.
Best sustainable white T-shirt
Cotton | Loose fit | Medium weight
Everybody World falls into the sustainable category, but for an even cheaper, just-as-good option, try For Days. It's made from 20 percent recycled cotton and 80 percent organic cotton, and the brand operates on a closed-loop cycle, meaning that when you're done with your clothing, you can send it back to them to recycle in exchange for credit toward a new piece. The shirt itself boasts a medium weight that still feels soft and airy. It has a loose fit without being oversize, and the pocket is a pleasant touch for a bit more style.
Best linen white T-shirt
Linen | Loose fit | Lightweight
Most men I know would never think to choose a linen T-shirt instead of a cotton one — linen is best known in the button-down world — but I think it brings an extra level of sophistication to a summer outfit. Linen also tends to be breezier than cotton, offering you plenty of ventilation in the hot months. New York City–based brand Alex Crane uses sustainably grown French linen and preshrinks all its shirts, so you don't have to worry on laundry days. The shirt hangs nicely whether you have broad shoulders or not, and after a few washes using the provided instructions, it feels just the same as it did when it first arrived.
Best luxury white T-shirt
Cotton | Slim fit | Lightweight
A prior version of this story ranked this Sunspel T-shirt as the best overall. However, it's shockingly expensive, which made me hesitant to give it top billing again. To see what all the hype is about, I tried the shirt out, as did my fiancé, who is extremely picky about his clothing. Both of us came to the conclusion that while yes, it is very nice — soft and airy with solid craftsmanship — I can't in good faith recommend it as the best overall. (I asked my fiancé how much he thought it cost, and he estimated $45.) The shirt feels more like an undershirt because of how thin and lightweight it is. (It is actually very see-through, too.) But that's exactly what industrial designer Marc Newson does: He layers it under other clothing, which he's done for 30 years, buying 20 shirts at a time. Queer Eye's Antoni Porowski also believes it to be "perfect," too, because "the collar is really nice and thin, the sleeves are just the right length where you don't have to roll them up, and the proportions are perfect." It is a luxury purch