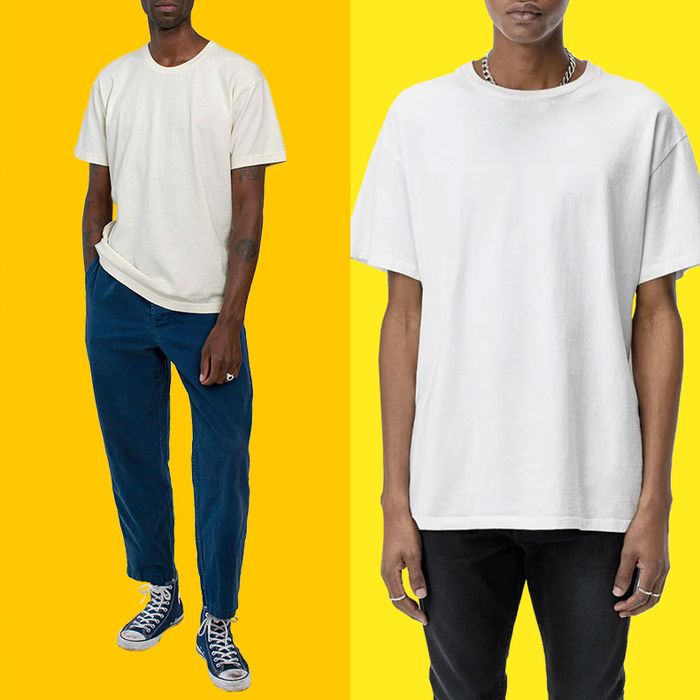 White tees.
Photo: Retailers
The classic white T-shirt comes in many forms. You'll find options made from Supima cotton, cashmere, and jersey. There are no-frills basics and vintage-inspired workwear tees, sustainably sourced blanks and celebrity collaborations. And while some will run you as little as $10, others can be upwards of a couple hundred. To help you find the white T-shirt that fits your body, budget, and personal style best, we spoke to 17 stylish guys from different walks of life about their favorite options, both plain and with a pocket.
Best overall white T-shirt
British luxury brand Sunspel has been making and improving on their classic T-shirts for over 100 years. So it's no wonder they are well loved. Writer and executive director of the Asian American Writers' Workshop, Ken Chen, praises Sunspel's old-school cotton-jersey British tees for having "insanely high craftsmanship — great fit and fabric — while not being as expensive as they could be." Queer Eye's Antoni Porowski calls out Sunspel's cotton-jersey T-shirt as "the most perfect white tee. The collar is really nice and thin, the sleeves are just the right length where you don't have to roll them up, and the proportions are perfect," he says. Plus, his Sunspel T-shirts don't turn yellow in the armpits the way his other white T-shirts do, Porowski says. Though $90 is more than you'd pay for many tees, he offers this tip for making them last longer: "I never put mine in the dryer. I just let them hang dry. I study this shit. I'm very passionate about white T-shirts." In addition the brand is also beloved for their cotton jersey black T-shirt which Michael Friedberg of Dummies recommended in our roundup of best men's black T-shirts, and for their polo shirts which columnist Chris Black mentioned in his article about what to wear on a first date.
Best (less expensive) overall white T-shirt
It's no secret that Hanes makes a great basic T-shirt, and at a price that means you won't feel bad if you ruin them with pit stains or food splatter. In his article about the best basic white T-shirts, Black recommends the subtly logoed Hanes x Supreme collaboration tees for men who consider themselves streetwear bros. But two of our stylish experts — both Walter Binger, owner of Empanadas, Son! restaurant, and Alexander Chee, author of The Queen of the Night — called out this less-expensive and easier-to-find tee from Hanes. "There is a level of consistency and comfort to knowing you can have the same thing whenever you want it," says Binger. Since Chee wears them daily, he appreciates that his favorite tagless T-shirts aren't too precious. "I only buy white T-shirts as undershirts now. I drink too much coffee, usually while walking, so I just kept ruining them immediately," he says.
Best slightly boxy white T-shirt
Uniqlo T-shirts are the not-so-secret fashion weapon of style conscious men. And at under 20 bucks, they're cheap enough to buy in bulk. Houston-based clothing designer, Lawrence Oke appreciates Uniqlo U crew neck T-shirts for their "quality feel, boxy fit and relaxed silhouette." Mickey Pangilinan, an art director at Apple, is a fan of their "weighty material and nice texture." Like Oke, he's into the boxy fit and likes that it doesn't translate to being too long in the waist the way other tees often do.
Best 6-pack white T-shirt
When shopping for himself, Black prefers Gildan six-packs because he can wear them without worrying and just order more when they're ready to retire. "They look good under a hooded sweatshirt, a cardigan, or even a suit," he says. Gildan T-shirts also came up in our piece about the best men's black T-shirts. They were recommended by Jon Caramanica, pop critic and men's Critical Shopper columnist for the New York Times, who appreciates that the Canadian tees are "durable, cut wide, but not in any way boxy" and feature what he calls "an unflappable crew neck." Caramanica's favorite thing about Gildan's black T-shirts also applies to the white version: "Run it through the wash a couple of times and the personality begins to emerge," he says.
Like Sunspel, James Perse has a reputation for making what stylist and personal shopper Donnell Baldwin calls "elevated basics." He recommends this crew-neck tee for anyone who wants to invest in quality or is looking for T-shirts that are made in the USA.
Best oversize white T-shirt
For Oke, this 100 percent cotton T-shirt from American designer John Elliott has the perfect combination of oversize fit and relaxed neck without being too baggy. "It's definitely a go-to white T-shirt for me," he says.
Best white T-shirt with a pocket
Writer and editor John Lockett says that his favorite white T-shirt from J.Crew "checks all the boxes: loungy with that lived-in feel, yet stylish and refined enough to stand on its own (and in public), and not crazy expensive." Lockett also notes that this garment-dyed tee isn't blindingly white, so it works well with everything in his closet and for pretty much any occasion.
Best heavyweight white T-shirt with a pocket
If you believe that T-shirts should start out crisp rather than "loungy," Jou-Yie Chou of Public Supply and Studio Tack has something for you. "My go-to is made by Front Street General Store in Dumbo" says Chou. He likes the Japanese tees because they're heavyweight, cut straight with a square pocket, and because, as he puts it, they "work with my dad bod and aren't ubiquitous."
Best two-pack white T-shirt with a pocket
Velva Sheen tees have a similar weight, feel, and price to the tees from Front General Store. The Japanese T-shirt two-pack used to be on constant back order, but now they're available on Amazon, which makes them easier to buy but also means they're a tiny bit little less exclusive. Nevertheless, Evan Parker, vice-president of content at NASCAR, calls them the best, "hands down." Parker says he's tried every brand out there and still comes back to these. He says they're "cut modern enough to wear in 2019, while still looking like something your grandpa probably wore under his work shirt. They hold up well over time and actually look better the more you wear them."
Best (less expensive) white T-shirt with a pocket
If you like the look of FSG or Velva Sheen tees but aren't crazy about the price, Pangilinan says this shirt is a good alternative. It's "substantial and a little bit boxy with a worn-in feel," he says. According to him, you'll get the best price if you buy them in Maine. "I normally stock up on Comfort Colors every summer when I go up to Maine. I get them from a local store called Reny's, and they're usually like $3 or $4 each," says Pangilinan. "But when I can't wait till the summer, I buy them on Amazon."
Best white T-shirt for summer
When working with clients or styling for photo shoots, Baldwin relies on the versatility of Faherty's Sunwashed Pocket Tee because, according to him, it works well with denim, chinos, or even a pair of swim trunks. He likes that it's soft (Faherty washes its tees so they feel expertly worn in the first time you wear them) and effortless looking and says that "the fit is perfect, which makes it easy to go from day to night."
Best white T-shirt to tuck in
For something in the Hanes price range with substantially more normcore caché, designer Shakeil Greeley likes Kirkland Signature crew necks, though he told us he routinely cuts the collars off of his because the increased breathing room for your neck is quite nice. "Not only are they super cheap, but they are also very comfortable," Greeley says. He also likes that they're long enough to tuck and more durable than you'd expect.
Best slim-fit white T-shirt
Kentaro Sakata, a doctor and writer in Melbourne, Australia recommends Reigning Champ's slim-fit T-shirts because "the cotton feels durable but not thick." He also likes that the modern cut and subtle details that make it feel less like an undershirt than other basic crew necks.
Best roomy white T-shirt
"These shirts give me enough room to move without looking like I'm wearing a poncho," says Rohan Nadkarni, Staff Writer at Sports Illustrated. Nadkarni says these T-shirts are cut more generously than the Reigning Champ tees mentioned above, but not in an obvious way. That means you can still layer them under a button-down or casually throw one on with sweats for a bacon, egg, and cheese run. Also, as Nadkarni puts it, "their slightest bit of sheen makes them look like a small-but-important step up."
Best recycled cotton white T-shirt
When we asked Sam Hine, associate style editor at GQ and GQ Style to pick a perfect plain white T-shirt he started by telling us what all his favorite graphic tees have in common: "smooth, heavy fabric, wide ribbing at the neck, and a perfectly boxy fit." Everybody World Trash Tees have all those qualities and more. As Hine puts it, they're "the blank of choice for pretty much all of the coolest upstart streetwear brands (Noah, Awake) and artsy merch operations (Online Ceramics, Come Tees) in fashion." The shirts are made of recycled cotton, which Hine says is "surprisingly cutting edge in the industry and nearly impossible to find at a sub-$50 price point."
The Strategist is designed to surface the most useful, expert recommendations for things to buy across the vast e-commerce landscape. Some of our latest conquests include the best men's wardrobe basics, black t-shirt for men, jeans for men, white sneakers for men, and flattering clothes for men. We update links when possible, but note that deals can expire and all prices are subject to change.
If you buy something through our links, New York may earn an affiliate commission.