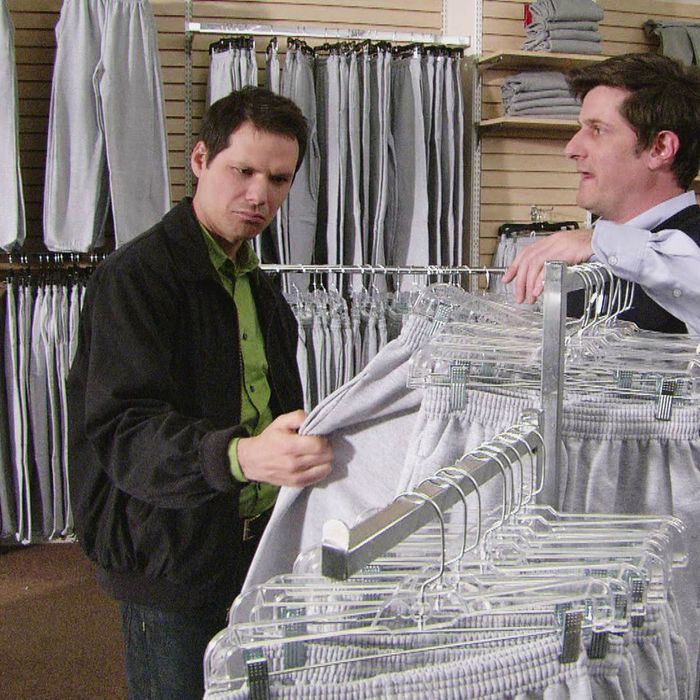 Photo: Courtesy Comedy Central
Here at the Strategist, we like to think of ourselves as crazy (in the good way) about the stuff we buy, but as much as we'd like to, we can't try everything. Which is why we have People's Choice, in which we find the best-reviewed products and single out the most convincing ones. (You can learn more about our rating system and how we pick each item here.)
And while we've written about lots of men's clothing  before — including the best men's parkas, the best men's sweaters, and the best men's crewneck sweatshirts — here, we've rounded up the best sweatpants for men, as praised by the most enthusiastic reviewers on Amazon.
Best-rated sweatpants for men
"These are off-the-hook awesome," raves one reviewer, who had "been looking for some slim-fitting, technical athletic pants a bit more stylish than your basic sweats." The Tiro pants, he notes, are "light, airy, and have a sleek look." Many others express how much they love the style of the pants. As one reviewer puts it: "The taper of the pants is unique, they are loose-fitting around the thigh, taper at the knee, and are slim from the knee down. They almost resemble jodhpurs." Dozens of reviewers think the style makes them perfect for workouts. "Feel great, fit great, and the pocket zips are amazing for anyone who runs or works out. Keeps my phone from falling out while I run, which frees me up from carrying it in my hand," comments one impressed buyer. But another mentions that they can be used for just about anything: "You definitely can't go wrong with these if you are wanting them for lounging around, running errands, working out, or really anything else." One mom even approves of her son wearing them to school: "My son is totally into cool sweatpants for school and pretty much every waking moment of his teenage life. These are comfortable, wash easily in the washer and dry easily in the dryer."
Best-rated (less expensive) sweatpants for men
Men appreciate the simplicity, durability, and comfortable fit of these sweats. One customer describes them as "a good, basic low-priced sweat pant," adding they have a "good fit, soft interior, and a waistband that holds but is not constricting." Other readers mention the comfortable elastic; one writes: "They're lightweight and warm, soft on the inside, and not restricting on the leg cuffs. They fit well, and are comfy." Some complain that they are a bit too lightweight, but on the whole reviewers seem to consider that a pro. One writes, "Yes, the fabric is much thinner than on your average sweats. But for me, that is excellent, as I run hot by nature." And despite the low price point, a bevy of reviews speaking to their durability make it clear they hold up well. "I've washed them a few times already," writes one. "They didn't fall apart and did not shrink."
And now for some micro-picks for every type of sweatpants for men you might be looking for.
Best elastic-bottom sweatpants for men
"These sweatpants are all that and a bag of chips," says one pleased shopper. "Super comfortable, and come with side pockets, and a drawstring." Many more rave about the aforementioned features (and others, like the fact that they have extremely deep pockets), but the elastic bottom was the hallmark characteristic. "I'd looked all over town for sweats with elastic on the bottom (don't care for cold air going up my legs). Finally resorted to the Internet. These are a good price and good quality," writes one. Another reviewer loves them so much that they are the only sweatpants "they will ever buy from now on: They fit right (no plumber's crack like Champions), they last, they're well made, have deep enough pockets, and are affordable. The elastic at the bottom means that it's not a problem if they're a bit too long."
Best pocketed sweatpants for men
The pockets on these jogger-style sweatpants seemed to take them to a new level for customers. "I love the depth of the pockets and I really appreciate the [addition of] a back pocket," notes this reviewer, who is historically "pretty picky about sweatpants." Another customer bought these for her husband, who she notes is "difficult to fit." "Wow," she writes. "White, slim-fit jogging pants with elastic and drawstring at the waist, two side pockets, a back pocket, and are actually long enough for my husband who is tall and very slender? Do you know how hard that is to find? Totally impressed." A third reviewer loves the pockets ("They're even deeper than normal — my phone doesn't fall out when I sit down") but also just appreciates how comfortable they are. "These are honestly the comfiest sweatpants I've ever worn," the reviewer writes. "They're so soft I never want to take them off."
Best comfortable sweatpants for men
One-quarter of all five-star reviewers call these jogger-style sweatpants "comfortable," including one reviewer who notes, "The sweats are very comfortable, and the only thing stopping me wearing them is having to wash them." Another customer admits to never taking them off: "My wife actually hates these because I won't take them off. They're comfortable, super-cheap, and look much better than most sweatpants." A third wears these as an alternative to regular pants: "I wear scrubs at work I can't bear the thought of putting on regular pants unless I have to. Yes, it's shameful. But doesn't comfort count? I bought these on a whim, they are so cozy. And they look way better than pajama pants."
Best loose-fitting sweatpants for men
"I looked around quite a bit for just the right sweats. Problem? So many sweats are slim fit and have a tight elastic around the ankles," laments one reviewer. The reviewer continues: "I need my sweats to be loose, comfy, super soft, and with an open bottom. For that, these guys are fantastic." Many more reviewers celebrate these for their loose fit and open ankle, including one who describes them as having "a loose-comfortable fit, as well as deep pockets to carry around a cellphone, keys, or whatever." "I like that there's no elastic on the ankle," writes a third, who also feels that "it makes them seem a bit classier than my other sweatpants."
Best drawstring sweatpants for men
The drawstring in the waistband of these pants appealed to buyers looking for an adjustable fit. One woman bought these for her husband, saying these are "just what my husband wanted. Having a drawstring is important to him because without it, the pants come down when he puts something heavy in his pocket. With the drawstring, he can ensure that the waist stays put." Another is "confident these pants will last for quite a while" and notes, "Perfect fit, super-soft and warm, and still soft after three washes so far. Drawstring is holding up just fine." A third reviewer admits they "run a little large and they are rather long, but they fit well at the waist and the drawstring is there if needed to adjust the fit."