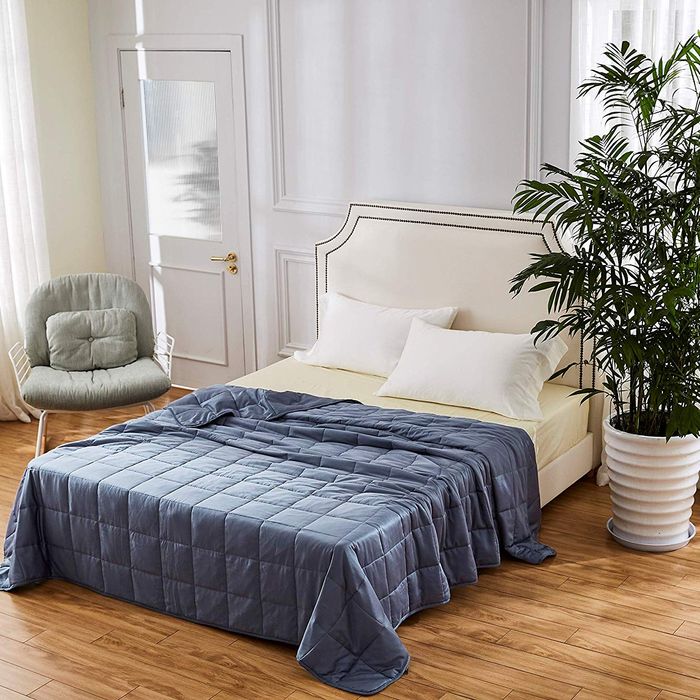 Photo: Courtesy of the retailer
While we've covered lots of bedding before — including expert-recommended weighted blankets for kids and adults, and the best duvet covers and sheets — here, we've rounded up the best weighted blankets — which have been proved to help with anxiety and prolong sleep times, allowing you to get a better night's sleep — as praised by the most enthusiastic reviewers on Amazon.
One note about the weight: The blanket should feel comfortable and snug, not suffocating. So it's recommended to choose a weighted blanket that's around 7 to 12 percent of your body weight. For example, a 120-pound woman could use any blanket between 8 and 14 pounds. However, in the interest of making comparison shopping a bit easier, we've listed the price for the 15-pound version of each blanket below (unless otherwise listed). Another tip: If you sleep hot or want the blanket for the summer, check out our cooling options. Otherwise, almost all of these options will be on the warm side.
Related Articles: Best Weighed Blanket to Gift
Best-rated weighted blanket
It's not unusual for five-star reviewers to report they've "been sleeping 8–9 hours a night, falling asleep faster, tossing and turning less, and feeling better in the morning," like this reviewer reports, thanks to the Quility blanket. As one reviewer writes, "I slept like a baby for the first time in years." Another says, "As soon as I got under this blanket, I could feel stress and anxiety leaving me." A reviewer with insomnia and fibromyalgia says, "Using this blanket every night has been really instrumental in my getting more restful and deeper sleep," and another writes that sleeping with it feels like "a full-body hug that makes you feel that all is right with the world."
As for comfort, one reviewers calls the cover "incredibly soft, and the textured side is a really nice touch." Plus, "the blanket makes little to no noise in the night," which can happen in a less well-constructed blanket if the weighted beads shift around. One reviewer describes the quality as "superb, the stitching is strong, and the weighted portion of the blanket stays evenly distributed." If you're not sure about the price tag, this reviewer thinks it's worth it because "some of the other blankets don't come with a cover, so [they] wind up being more expensive" if you choose to buy a cover as well.
Best-rated (less expensive) weighted blanket
While it doesn't come with a cover like our top-rated pick, this more affordable blanket is still effective at helping reviewers drift off to sleep. "I used to suffer from severe insomnia, lying awake nearly all night until 4 a.m. or later," writes one owner. "Since I've had this blanket I've not had a problem for even a single night. The pressure keeps my body still when I'm restless and soothes any sort of anxiety I feel when I'm trying to go to bed." Another writes, "I can't remember having a longer series of restful nights of sleep than I have had since my purchase." Others love how "it feels like you have an extra five blankets on the bed without being warmer in any way." Finally, a reviewer who "accidentally slept 12 hours the first night" raves "THIS IS A GAME CHANGER."
Best cooling weighted blanket
This weighted blanket was one of our top 25 best-selling products in 2018 because it finally gives those who sleep hot a comfortable weighted-blanket option for a deeper sleep. More than one reviewer called this blanket "heavenly," and a very enthusiastic customer says, "This blanket has elevated my sleep game. Never has a product so crucially changed my life." Compared to some blankets that can get hot at night, this reviewer likes that "I can use it year-round since it's so light and thin." Similarly, one says, "It breathes so nicely that I never get too hot under it, which I was concerned about," and another reviewer who admits to sleeping hot says the ZonLi blanket is "good at regulating temperatures and has [kept] me from overheating on hot summer nights."
Best all-cotton weighted blankets
Reviewers like that this weighted blanket is made from organic cotton that feels "light but strong," and is "very soft and comfortable." Despite its weight, cotton helps the blanket feel "cool to the touch," which sweaty sleepers appreciate. Others love that the glass beads are "only noticeable if you feel around searching for them," and that "the weight pockets were distributed evenly without any awkward lumps or empty spots." A reviewer who has "battled insomnia, restless legs, joint pain, and muscle pain," says, "I hardly have sleepless nights now."
Reviewers think the all-cotton material of Bare Home's weighted blanket adds to the levels of comfort. One even says it "feels like a hug" when wrapped around you. Another bought it for her daughter and appreciates that it's made from "high quality, nontoxic, comfortable cotton." Her daughter loved it so much that she bought herself the adult version. And nearly 100 more reviewers use the word comfortable to describe this weighted blanket. One customer owned another weighted blanket before, but it was "almost crunchy" sounding, when she moved under it in her sleep, which didn't help her sleep better. She thinks this one is much more comfortable. Plus, she says this cotton material "breathes better" but is "still warm at night."
Best patterned weighted blankets
Strategist junior writer Jenna Milliner-Waddell bought this blanket on Prime Day last year and thinks it not only helps her go to sleep faster, but also gives her a deeper sleep. And many reviewers agree with her review: They report sleeping so much better after trying out this YnM weighted blanket. But a standout feature of this version is how many fun patterns it comes it. Compared to all the solid blankets out there, reviewers like that the stripes on this one "make the blanket all the more personal," according to one customer, and that it "looks great as a stand-alone blanket without requiring a duvet cover," notes another. Another reviewer calls it "very classy-looking," and this blanket owner says, "The blue and white fabric matches my bed linens and looks great when folded up during the day." Besides looking stylish, reviewers say it's an "instant fix" from "restless legs, insomnia, [and] anxiety," and it gave at least one reviewer "the soundest and best sleep I have ever had in my life."
"Sleeping in this thing is like being hugged by a tamed Bengal tiger," says one reviewer of this geometric-patterned blanket with a "soft and cozy" fleecy cover. "Pulling it up creates what I imagine is a womb-like feeling that helps me relax and drift off," writes a review