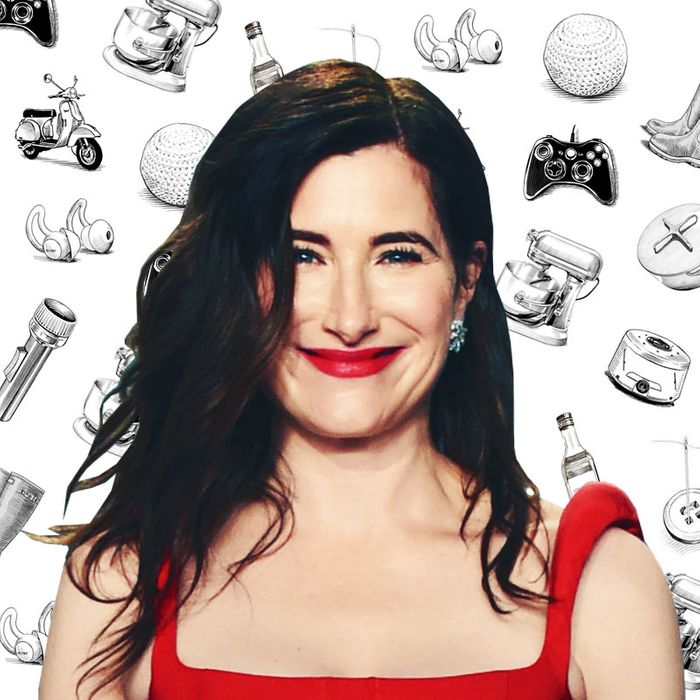 Photo: John Shearer/Getty Images; Illustration: Joe McKendry
If you're like us, you've probably wondered what famous people add to their carts. Not the JAR brooch and Louis XV chair but the hairspray and the electric toothbrush. We asked actress Kathryn Hahn — who recently partnered with homecare brand 9 Elements for the launch of a new product line — about the sleep mask, reading glasses, and weighted blanket she can't live without.
I'm a very light sleeper — once you have children, you're forever and always a light sleeper. This mask is awesome, like really awesome. I never knew there were specific pillows and masks for side sleepers. A regular eye mask just has an elastic band around your head, but this one is cushioned all the way around, so it's super-comfortable when I'm lying on my side. It feels like heaven or like I'm in one of those sensory-deprivation tanks. And if I put earplugs in, forget it — it's like I'm in outer space.
I have these within reach at all times. I have pairs by the toilet, in my bag, by my bed, in the kitchen — all over the house. I like not having to bring a pair from room to room. They look like your stereotypical old-man glasses. I need readers all the time now or I can't see — it happens to the best of us — and Glasses USA is easy to order from.
I started wearing earplugs in college. I can still hear through these, but I like that because I have a fan on when I sleep, too. I need the white noise to fall asleep, but because I'm such a light sleeper, I won't stay asleep unless I have earplugs. There's nothing special about the ones from Rite Aid; they just come in bulk and I can pop in and buy more any time. God, I sound like I'm 1,000 years old.
I didn't know I needed a weighted blanket until my husband gave me one for my birthday during the pandemic. I once did a show in New York and one of the makeup artists got the other makeup artists weighted blankets as wrap gifts. She schlepped them on the subway then walked a few blocks with them — I thought it was such an awkward, and heavy, gift to give. But once I got my own as a gift, I understood. The Bearaby one is especially nice because it's aesthetically pleasing. I was very happy my husband took that into consideration. It's breathable and good for all seasons. I don't get so hot with it, so I can use it in the summer. I take the greatest naps of my life with this thing.