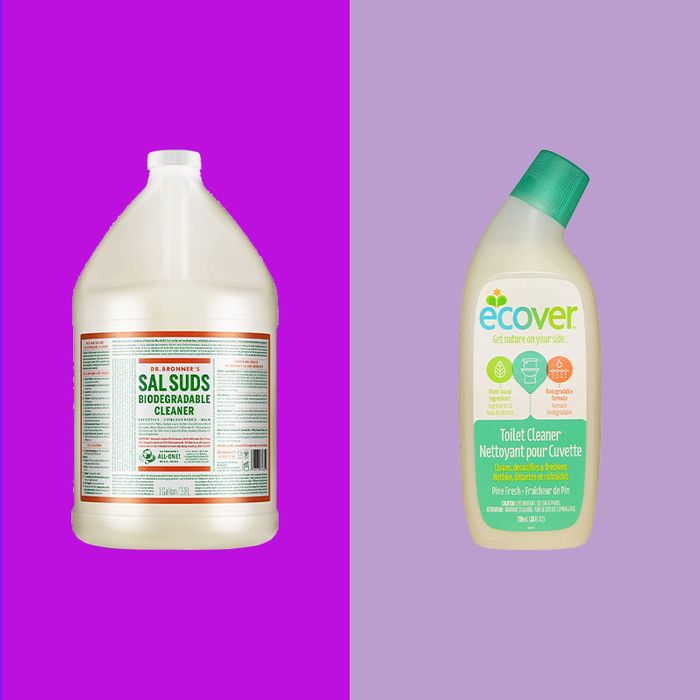 Photo-Illustration: The Strategist; Photos: Retailers
Lots of brands claim to be natural or green, but knowing the difference between products that are truly organic, nontoxic, and better for the environment and those that simply claim to be requires a level of knowledge that's actually difficult to acquire. Anna Reade, a staff scientist at the Natural Resources Defense Council, says this is in part because terms like natural, green, and nontoxic are "unfortunately not regulated and are not legal definitions, so they don't really mean anything." Indeed, there are still no federal regulations that force manufacturers to list everything found in their products on packaging (though California and New York have passed their own disclosure laws). This makes it "pretty difficult to be really savvy at reading ingredient labels," Reade explains.
In order to simplify the process, we consulted with green cleaning experts, from bloggers to #CleanTok stars to eco-conscious cleaning services. We also turned to Environmental Protection Agency guidelines as well as toxicity databases created by independent entities like the Environmental Working Group, which gives products letter grades based on how toxic they are. Below, find recommendations for natural all-purpose cleaners as well as some more specific hero products that you can use in particular areas of your home or workplace.
Best overall | Best concentrated | Best multipurpose | Best dish soap | Best baby-bottle cleaner | Best floor cleaner | Best toilet cleaner | Best odor and stain remover | Best degreaser | Best vinegar based
Ingredients: When shopping for natural cleaning products, it's a good rule of thumb to look for shorter, simpler lists of ingredients in order to decrease your overall exposure to potentially harmful chemicals. Even better: Look for ingredients that you actually recognize, such as baking soda, quartz and limestone, and distilled white vinegar, all of which our experts told us are known to be effective all-purpose abrasives that will help remove grease and stains in a variety of contexts. When it comes to lessening environmental impact, it helps to look for biodegradable formulas free of dyes and synthetic fragrances.
Safety rating: Here's where things get tricky. Even if its formula appears to be natural or plant derived, a cleaning product may still be harmful to either your health, the environment's, or both. For example, some fragrances can cause skin irritation and allergies as well as polluting waterways. A popular "natural" surface cleaner, Mrs. Meyer's Clean Day Basil Scent Multi-Surface Everyday Cleaner, receives a D rating from the EWG because it contains ingredients like sweet-basil oil (linked to cancer, skin irritation, and reproductive and organ damage) and a fragrance linked to respiratory damage and aquatic toxicity. We prioritized natural cleaners that appear in the EPA's "Safer Choice" database or received a B rating or higher from the EWG. (The EWG gives an A rating to products of "lowest concern" to personal and environmental health and a B rating to products of "low concern.") While no single database is going to be comprehensive, Reade says that consulting a combination of them and doing some research of your own can go a long way: "If you're taking any steps, then you're lowering your overall exposure to chemicals, and that's good." Even if you can't find a certain cleaning product in its database, it's possible to search for specific ingredients to find out how safe they are.
Cleaning power: There's no use in purchasing a natural cleaner with incredible environmental credentials if it's not going to, well, work. We looked for all-purpose natural cleaners that can be used across a variety of surfaces and that come recommended by people who use them all the time or that we tested out for ourselves. In assembling a final list, we took note of the context in which each of our recommendations would work best.
Sustainable packaging and refill options: Going green, as many of our experts note, doesn't only mean using natural, nontoxic products but also limiting wasteful packaging. While single-use plastic still abounds even in the natural-products space, we looked for all-purpose surface cleaners that can be used around the home, concentrated formulas that will go a long distance, and large refill sizes.
Best overall natural cleaner
5 ingredients | EWG A rating | Multipurpose | Recycled packaging
Bon Ami, known as an effective yet gentle "scratch-free" household scrub, was recommended by two experts — Saudia Davis of "Best of New York" GreenHouse Eco-Cleaning and Cindy DiPrima, co-founder and former chief creative of CAP Beauty — who use it as a scrubbing powder for everything from countertops and bathtubs to floor tiles and kitchen sinks. "I use Bon Ami, which has been around forever and has a very simple ingredient deck," DiPrima says. That brief list of biodegradable, hypoallergenic ingredients includes limestone, feldspar mineral powder, soda ash, baking soda, and a surfactant called alkylbenzene sulfonic acid. You can use this powder cleanser all over your house: It fights both kitchen grease and weird bathroom gunk, will polish up your cookware, and is safe to use on stainless steel, copper, brass, granite, and porcelain, plus ceramic tiles. For the sustainably minded, all of Bon Ami's packaging is made from 65 percent postconsumer recycled materials. The EWG gives the cleanser an A rating.
Best concentrated natural cleaner