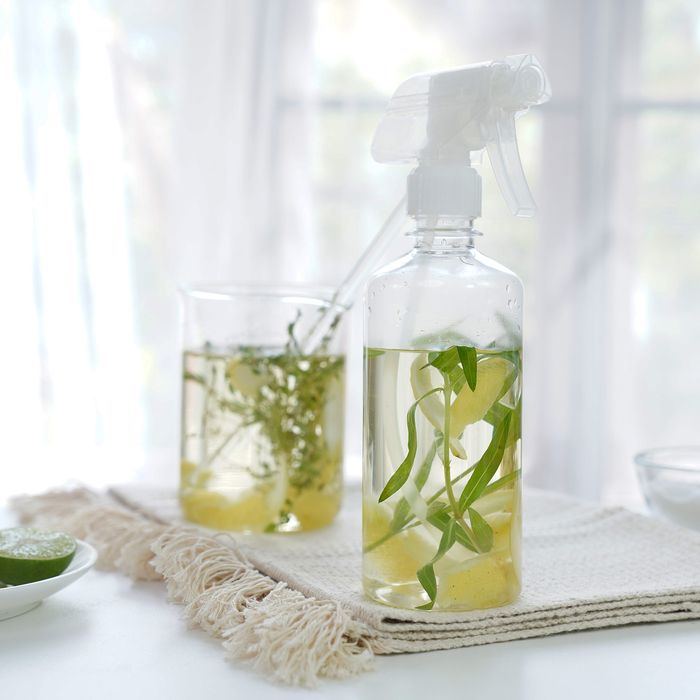 Photo: Wera Rodsawang/Getty Images
Lots of brands claim to be "natural" or "green," but knowing the difference between products that are truly organic, nontoxic, and better for the environment and those that simply claim to be requires a level of savvy that's actually difficult to acquire. Anna Reade, a staff scientist at the Natural Resources Defense Council (or NRDC), says this is in part because terms like natural, green, and nontoxic are "unfortunately not regulated and are not legal definitions, so they don't really mean anything." Indeed, there are still no federal regulations that force manufacturers to list everything found in their products on packaging (though California and New York have passed their own disclosure laws). This makes it "pretty difficult to be really savvy at reading ingredient labels," Reade explains, "but thankfully there are some good resources that can help people in terms of labels or lists." She says a good place to start is the EPA Safer Choice program, which has a database you can search to see if a product meets EPA guidelines, and other nongovernmental entities — including the Environmental Working Group (EWG), which gives products letter grades based on how toxic they are, and Made Safe, which also certifies products based on their ingredients — can help. While no single database is going to be comprehensive, Reade says that consulting a combination of them and doing some research of your own can go a long way: "If you're taking any steps, then you're lowering your overall exposure to chemicals, and that's good."
Perhaps the easiest way to ensure that you know what's in your cleaning products is to make them yourself. Ask any green-living expert or organic devotee, and they'll tell you that the best natural cleaning products are regular white vinegar and baking soda, with a little lemon or orange thrown in. (Reade does this herself, calling it "very cheap and pretty effective.") For most of us, however, that's not an option. If you don't want to mix and bottle your own cleaning products or would like something with a more pleasant smell, our experts — who include authors, bloggers, TV hosts, and folks from eco-conscious cleaning services — told us about other natural cleaners you can easily find on stores' shelves. To help you shop, we've organized the products by what they're best for; many are all-purpose natural cleaners you can use around the whole house, but we also heard about a handful of specific products for the kitchen, bathroom, and floors. The lack of regulation on natural cleaning products means that the experts — and the EPA and other entities we referenced earlier — all judge them differently, with some standing behind certain ones that others feel less strongly about. Wherever possible, we've noted what the EPA or any other entity Reade cited has to say about a product that the experts recommend.
Best all-purpose natural cleaning products for the whole house
Bon Ami, known as an effective yet gentle household scrub, was recommended by two experts — Saudia Davis of Best of New York GreenHouse Eco-Cleaning and Cindy DiPrima of CAP Beauty — who use it as a scrubbing powder for everything from countertops and bathtubs to floor tiles and kitchen sinks. "I use Bon Ami, which has been around forever, and has a very simple ingredient deck," DiPrima says. Bon Ami's ingredients include limestone, feldspar, soda ash, baking soda, and a surfactant called alkylbenzene sulfonic acid. The EWG gives it an A rating.
Photo: 2017
Branch Basics was also recommended by two of our experts — Gay Browne, the author of Living With a Green Heart, and Kimberly Button, the creator of GetGreenBeWell.com and author of the Ultimate Home Detox Guide. "This concentrated, multipurpose, all-in-one cleaner is only made of plant- and mineral-based ingredients," says Browne, who adds that "it also cuts out packaging waste" because its concentrated formula is designed to be diluted with water, meaning you'll go through a bottle a lot slower. The cleaner can be used for laundry, bathrooms (as a streak-free glass cleaner), and even for hands and body. Branch Basics products are Made Safe–certified, and the EWG gives this specific cleaner a B rating.
As anyone who's ever read a Dr. Bronner's label knows, its line of liquid Castile soaps are truly all-purpose. Of all the brand's products, Micaela Preston of mindfulmomma.com recommends Sal Suds Biodegradable Cleaner. It's powerful enough to clean your floors, dishes, furniture, and even your car, but gentle enough not to irritate your skin. Dilute as needed and marvel at how far you can stretch a bottle. The EWG gives it an A rating.
In the same universe as Bon Ami is Meliora's line of gentle cleaning scrubs. This one has the refreshing scent of peppermint and tea tree. "I like this product because it adds that extra kick to your cleaning power and can be used on several surfaces, including stainless steel, stove tops, and ceramic tiles," says Browne. "It's tough, yet gentle and the peppermint–tea tree scent is a pleasant alternative to simple baking soda." Meliora is a Made Safe–certified brand; its products, though not this specific scrub, are also listed on the EWG website.
Seventh Generation's all-purpose cleaner is what Phantila Phataraprasit, a co-founder of sustainable-furniture company Sabai as well as its COO, reaches for when she isn't using a homemade spray of vinegar and old citrus peels. The cleaner is made of plant-based ingredients that are biodegradable. It appears in the EPA Safer Choice database and the EWG gives it a C rating.
Preston also recommends this plant-based cleaner that she says works just as well as the chemical-filled ones. She's a big fan of Better Life's all-purpose spray, but the company also makes a stainless-steel polish, a product that not many other natural cleaning brands carry. The EWG gives the all-purpose cleaner a C rating.
Green-living expert Danny Seo, the editor of sustainability-focused lifestyle magazine Naturally, Danny Seo, recommends the eponymous Mrs. Meyers surface spray for its cleaning power and its addictive scent. "It doesn't just smell amazing, it gets surfaces throughout the whole house really clean," he says. "Plus it's made with plant-derived ingredients and essential oils, so it's gentle and won't irritate skin." The EWG gives it a D rating.
Orange peel plays a major role in a lot of natural cleaning products because it's the source of a naturally occurring solvent and great at cutting grease. "We use only one natural cleaning product," says Daniil Dimitrov, a cleaning expert from Fantastic Services in London, whose preferred product Citra Clean is made from natural citrus solvent. "It will clean any surface that you can spray, mop, or wipe with a damp cloth, and it also works in pressure washers and carpet cleaners. You get the idea: If it is dirty, this cleans it." Citra Solv's cleaner has almost all the same ingredients as Dimitrov's go-to Citra Clean but comes in a consumer-size spray bottle instead of an industrial-size jug, making it a lot easier to use and store at home. The EWG gives it a D rating.
Carl and Tara Darnley, the founders of baby-registry service Darlyng and Co., which also sells a line of baby products, say they trust the formulas of any number of cleaners from the Black-owned brand Pur around themselves and their kids. "Everything from their laundry detergent to their multi-surface cleaners are must-have essentials," say the Darnleys, who add that they particularly rely on this multi-surface cleaner for scrubbing kitchen counters and surfaces "around the office headquarters, as the children are often there as well." Made with plant-based cleaning agents, its "smell is divine," they add. While this particular multi-surface cleaner isn't listed on the EWG database, Pur's (now discontinued) multi-surface scrub cleaner received an A rating.
Best natural cleaning products for the kitchen
Davis makes a lot of her own DIY household cleaners. But when she does buy something from a brand it's Ecover's dish soap. Jen Brady, chief green mama at Green Baby Deals, also suggests Ecover dish soap, noting that the EWG gives it an A rating and telling us that it's gentle on hands but tough on dishes. "My kids are getting into the dishwashing stage and I feel confident letting them use this dish soap," she says.
For greasier areas like stovetops, Val Oliveira, the CEO of Chicago-based cleaning company Val's Services, recommends Krud Kutter. The water-based, nontoxic product appears in the EPA Safer Choice database and, according to her, is safe for children, pets, and the environment. "It makes our job easier every day, allowing us to cut through the inevitable accumulation of dirt, grime, and grease quickly," Oliveira says.
Best natural cleaning product for the bathroom
For tidying toilet bowls, Preston recommends this pine-scented cleaner from the same brand that makes two of our experts' favorite natural dish soaps. Not only does it remove tough stains, odors, and any calcification from your toilet, but the product is also packaged in a recyclable bottle made of plant-based materials. The EWG gives it a B rating.
Best natural cleaning products for floors and carpets
"Truly, the best way to clean wood floors is with simple white vinegar," DiPrima says. This affordable one from White House contains just white distilled vinegar, water, and natural lemon extract, making it a good option for folks who don't like the smell of vinegar alone but don't feel like making a mixture of vinegar and essential oils themselves.
Going green, as our experts have noted, doesn't only mean using natural, nontoxic products, but also limiting wasteful packaging. This hardwood-floor cleaner, which comes recommended by Abe Navas, a general manager of Dallas-based natural-home-cleaning service Emily's Maids, ticks both boxes. It appears in the EPA Safer Choice database and, as Navas explains, is reusable. "After you buy the bottle you can buy the refill blister packs at any time," he says, adding that the stuff is "organic, simple, and easy to use."