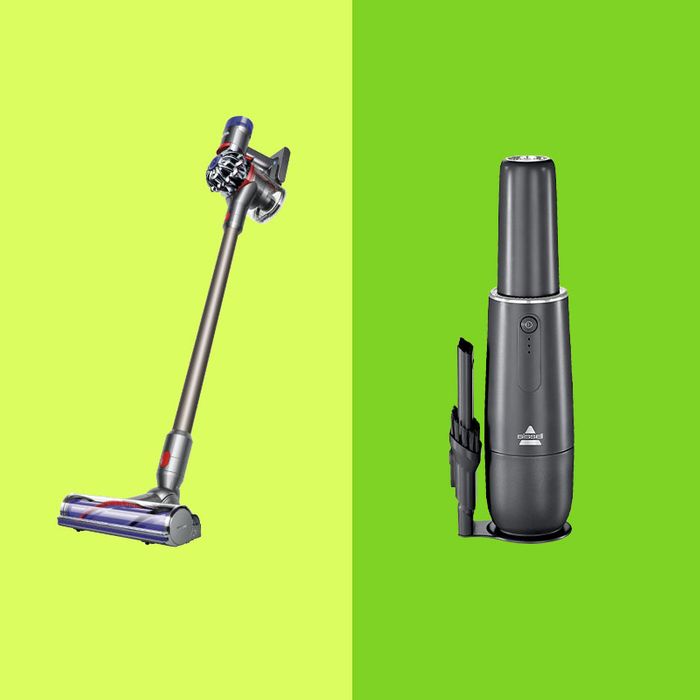 Photo-Illustration: Courtesy Retailer
Good vacuum cleaners should tackle all the surfaces in your house — from wood floors to shag carpets — but their size can make them cumbersome. Handheld vacuums may not be as powerful as your regular Shark or Hoover, yet they're easier to angle into awkward spaces and light enough to grab for a quick job (as when a toddler tips cereal onto the kitchen floor). These can't replace a full-size vacuum when it comes to cleaning your home (unless you want to empty them every five minutes), so it's important to view one as a bonus.
When looking for the best handheld vacuum cleaners, I considered expert advice from over 30 industry professionals, sifted through countless Amazon reviews to separate the duds from the actually good models, and heard from Strategist editors. Read on for our picks or jump straight to your ideal handheld-vacuum type with the links below.
Best overall | Best less expensive | Best compact | Best for pet hair | Best (less expensive) for pet hair
What we're looking for
Suction power: Here's some of the technical stuff. The suction power of both handheld and standard vacuum cleaners is measured in AW, or air watts. Jon Gibbons, a cleaning consultant for Smart Vacuums, says this lets you know how powerful one is. He recommends looking for a model with a minimum of 100AW. The number isn't always listed, however. When it wasn't (noted as "N/A" below), we made sure to ask our experts to detail the suction strength of their picks.
Run time: We'll be considering a vacuum's battery power and run time when looking for the best in class, balancing the manufacturer's claims with reader reviews for the most accurate estimate.
Extras: Most vacuums feature multiple cleaning modes (with names like Max and Turbo) and detachable components designed for different types of floors. Here, we've made sure to mention the ones that make a model more efficient or easier to use.
Best overall handheld vacuum cleaner
115AW | 40-minute run time | 5 detachable heads
We recently named the Dyson V8 the best cordless vacuum, so it's perhaps no surprise that we consider it the best handheld vacuum, too. Compared with the upright Dysons, the V range is light enough to hold with one hand, but the detachable telescoping attachment makes it easy to get under cabinets and scooch the nozzle across skirting boards without having to bend down. It comes recommended by experts including professional organizer Sarah Dunn and Ann Lightfoot, co-founder of Done & Done Home, who said it easily hoovered up the baby powder her 5-year-old son enthusiastically scattered across the kitchen floor. Our U.K. sister site spoke highly of the less expensive V7, recommended by Swedish pop star Zara Larsson and Spice Girl Melanie C, but a side-by-side comparison convinced us the V8 is the best option. It's better in the two areas we think are important for a handheld: suction power and battery life. The V8's suction is 115AW, compared with the V7's 100AW, and the battery is 30 percent longer, running for 40 minutes instead of the V7's 30.
The V8 comes with five attachments, including a motorized brush bar to unearth dirt from carpets and rugs and a nylon-bristle soft brush head to dust surfaces. It's one of the best-rated models on Dyson's website, too — 91 percent of customers say they would recommend this to others, and it has an average rating of 4.6 out of five stars.
Best (less expensive) handheld vacuum cleaner
35AW | No run time listed 
While the Dyson was overwhelmingly the most popular handheld vacuum, it's not cheap. We heard about Black + Decker's handheld vacuums from several Strategist staffers and two cleaning professionals: Abe Navas, general manager of Emily's Maids, and Max Appel, founder of Powerizer. It came so highly recommended that we included it here even though we couldn't find a run time for it online.
Former Strategist writers Hilary Reid and Nikita Richardson vouched for the 16-volt version, a must-have for Richardson to tackle her cat's hair. Both Navas and Strategist writer Lauren Ro use the 20-volt model at home. Since it's a handheld, it has a lower air-watt number, yet it lives up to being small but mighty; Navas is drawn to its power and durability. Like other models listed here, it uses cyclone technology to spin dirt and debris away from the filter for long-lasting, strong suction, and the swivel head burrows into hard-to-reach spots.
Best compact handheld vacuum cleaner
No suction power listed | 12-minute run time
All the handheld vacuum cleaners are light enough to pick up with one hand, but you wouldn't necessarily describe them as "slick." This Bissell vacuum is notable for its compact, sleek shape — over 7,000 five-star reviewers appreciate the design. But it's not a matter of style over substance: Reviewers say it "packs a punch" and has "great suction power." Although it may not have the same capacity as a larger vacuum, this unit has the perfect amount of power to "pick up every particle," according to another reviewer, who prefers it to a standard vacuum because it charges in less than three hours and doesn't "pull up the whole pad or get corners caught in the open end."
Best handheld vacuum cleaner for pet hair