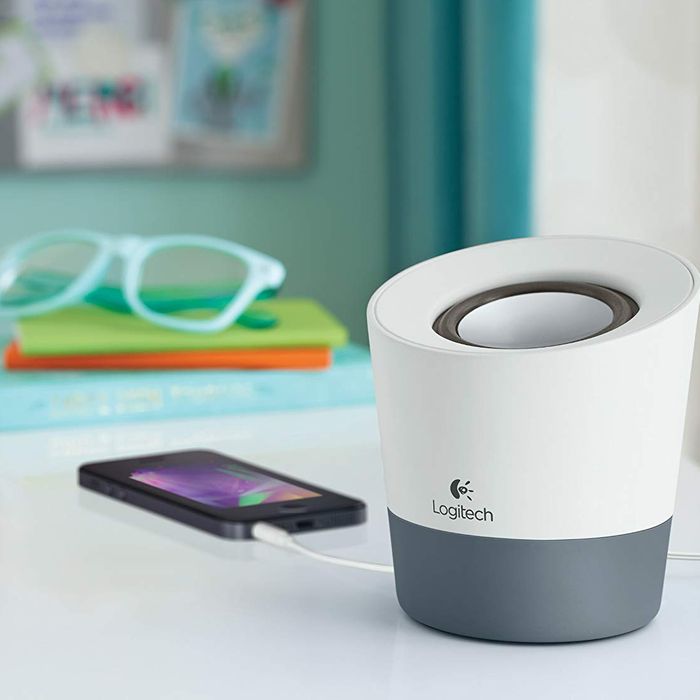 We've written about lots of things you can use with your computer — including the best computer monitors, wireless mouses, and Wi-Fi routers — here, we've rounded up the best computer speakers, as praised by the most enthusiastic reviewers on Amazon.
Since everyone is sheltering in place — and working, gaming, and streaming — at home during the pandemic, the demand for electronics, including computer speakers, has increased. Stock has been constantly fluctuating at Amazon, but we'll keep updating this post as more best-rated speakers come back in stock.
Related Article: Best Desks | Best Portable Speakers
Best-rated (and least expensive) computer speakers
Reviewers say these Logitech computer speakers are compact yet sturdy and simple to use. "These speakers are a little over six inches tall, and hefty enough to resist tipping over or sliding off the edge of the desk; just right for if you have a small workspace," writes one, who also appreciates the knob control and the fact that these plug into the headphone jack of a computer, not the USB. Another reviewer, who liked these so much they bought three sets, vouches for their durability: "I have bought several products with the Logitech brand over the years and have always been very pleased with their products. This is no different, they are made to last with heavy plastic that will not break easily, the cords are thick and can take some abuse." Plenty of other shoppers praised the high quality of the speakers, too. "I am really impressed with the sound quality and the volume these little speakers put out," writes one. Another says, "I'm amazed that the sound quality is so much better than I expected at this price."
Best laptop speakers
Shoppers looking for a smaller speaker for their laptops, rather than desktop setup, loved this even smaller option from Logitech. "I needed something to use with my laptop for presentations to small groups in a conference room and this fit the bill," one reviewer writes. "I am impressed with the sound quality and loudness for the small size (easy to transport)." Another says, "It is the perfect size because it's not too big … The sound is clear and just the right volume." The small size also makes it a favorite option for travelers. "We are using this speaker for a TV in our travel trailer," one customer explains, adding, "Sound is much better than the tin cans they use for sound in a 24-inch LED TV." And reviewers also noted that the price on this little speaker was just right. "There's not much to say other than these are great for the price and being that it's a single speaker, doesn't take up much space on my desk," writes one reviewer, adding, "It's the size of a coffee cup. I expected decent sound but considering their price and size, they're astounding."
Best compact computer speakers
Despite their small size, these speakers checked all of the boxes of sound quality, easy-to-store size, and simple installation for reviewers. "I have used these for over six months now and I must say I am really really impressed," writes one. "The sound quality is great I have had zero issues whatsoever with this product. These are great desktop speakers. Full range, beautiful sound easy to install and use." Another writes, "Well made, great sound, very compact … The sound of these is the best I've ever heard from any compact speakers. Plenty of volume available. Highly recommend." And one shopper found that the small size made them especially easy to take on-the-go: "I loved that they are compact and have a rich sound. You can easily throw them in your tote bag along with your phone," they write.
Best (less expensive) compact computer speakers
"I simply do not have enough room in my Man Cave for a full-blown computer speaker system (satellite speakers, subwoofer, etc.) but the ones built into my laptop just weren't sufficient," writes one reviewer, explaining his rationale for purchasing these computer speakers. He continues, "Such great sound (including bass) from such compact speakers. The improvement in sound quality from my laptop speakers is incredible and the speakers themselves are beautifully designed. These aren't just great speakers for the price — they are great PC speakers, period." And the price appealed to lots of other shoppers, too. "I have been really surprised by the quality and sound of these speakers. It is really more than worth the price," writes one. Another says, "I was looking for speakers for my desktop that would have a quality of sound without breaking the bank and for the price, these really do a wonderful job."
Best bookshelf computer speakers
Over 70 percent of reviewers gave these speakers five stars for their construction and sound, and many of them were looking for an option under $100. "I had never heard of Edifier before, until I started looking for some decent speakers for my work station. Took a chance on this less expensive pair, and I have to say, I AM SOLD!" says one reviewer. "Seriously, the quality of the sound coming out of these speakers would make me think I was listening to speakers two or three classes above what they appear to be. The bass booms, mids are perfectly clear, and the highs have a slight softness to them, making for an incredibly pleasant listening experience," he adds. Another customer who was looking for affordable bookshelf speakers for gaming and movie streaming describes these as "well worth the price," saying, "I honestly did not expect this sort of quality from speakers in this price range. They are LOUD, and they do not distort at high volumes." Dozens of other reviewers describe this system as loud, including a "pleased" high school science teacher: "I was looking for a high quality sound that would be heard all the way to the back of the classroom with no problem. The sound is clear and the quality can be heard right away. Worth every cent!"
Best bluetooth bookshelf computer speakers
This more expensive set of bookshelf speakers from Edifier is also more powerful (66-watt output, compared to a 24-watt output), has a slightly higher frequency range, and is Bluetooth-enabled — a capability that hundreds of five-star reviewers praise. "In my opinion, the sonic excellence of these speakers cannot be underestimated," begins one self-proclaimed "audio visual and home theater aficionado" who has spent thousands of dollars on audio gear. "I put on a few different tracks streamed via Bluetooth to the speakers. Then, I put on "More than a Feeling" from Boston. That is where the sonic journey began. Eyes shut and relaxed, I felt as if I was actually transported to a Boston rock concert. The bass was solid without distortion, mids fairly tight and incredible highs," he says adding "the fact they cost me only $150 is hard to fathom. I will be sending both of my kids off to college in a few years, each with their own Edifier R1700BT!" Plus, hundreds of customers use the word "easy" to describe the bluetooth connection process, including one who says, "I am an old guy, fearful of technology, but these speakers were easy to hook up (even for me) and while I just wanted to use their Bluetooth capability, they are brilliant."
Best computer speakers for multiple devices
Shoppers looking for a pair of speakers that work well with their computers that can also be used with other home entertainment devices loved this pair from trusted brand Logitech. As one reviewer explains, " I have used these speakers with my computers, my tablet, and the other day I was jamming on the sound of good jazz by the late great Dexter Gordon, I tried these speakers out on my Smart TV with some help from YouTube–I tell you, this was quite impressive." Another writes, "Really like these speakers. The range and response is good for movies, music, and video games in my small home office." Shoppers also thought these were a good purchase for the price. "Exceptional sound quality for $20 speakers," writes one. Another says, "Having gone through a few budget computer speakers in the $20-$30 range now, I would definitely recommend these."
Best USB-powered computer speakers
These speakers are powered by the computer's USB port, rather than a separate plug, and impressed even those reviewers who thought a USB-powered device would offer subpar sound. "While I would not use them for party music, they are an excellent accompaniment to my desktop computer," says one reviewer. Another customer, who listened to extremely loud music in the '70s and '80s, says that the power in each speaker surpasses that of his more expensive Logitechs: "Although these speakers aren't like being in a club, they're pretty darn good. Good clarity and sound quality. I'd buy them again." The USB plug was also a draw for shoppers looking for fewer wires on their workspace. "My desk was already low on space, so I wanted something small but still decent quality," explains one. "These little guys hit all the right points! They're super small and fit perfectly by my computer, plugged in easily, the sound quality is very nice too even at max volume. Plus they glow blue!"
Best multimedia computer speakers
Several reviewers said that they used these computer speakers with their TVs and were happy with the purchase. "I got these for a TV that had poor speaker quality. These are great! Don't let the price make you think you're buying junk. Sure they're not Bose, but the sound is full. Definitely worth the money," says one reviewer. Another writes, "I got these for my father who has a hard time hearing while watching TV. Enjoyed it very much. good bang for the buck." And those who used them with a computer still found this pair of speakers to be reliable and high quality. "It is hard to find a pair of AC powered speakers to work with other sound devices than computers," writes one reviewer. "These are an excellent pair of speakers. The sound quality is quite good. I am really pleased with my purchase."
Best computer speakers with subwoofer
Musicians and audiophiles alike were impressed by this system's sound and reasonable price, especially the bass. "The subwoofer is an honest to goodness, real deal subwoofer," says one self-proclaimed "audio guy" who adds "Back in the day something like this would be extremely expensive, and here $100. Super deal, a real sub that's articulate and deep." Another reviewer, who describes this speaker as "so much more than expected," says, "As a video editor who obsesses over audio quality, dynamic range, and bass that pulls you in, I can't imagine beating this system anywhere near this price." This system is also THX-certified — meaning it meets a set of audio reproduction industry standards — and many reviewers mention its high-quality sound. "There is no doubt that these speakers are THX Certified because it felt pretty close to being in a movie theater when it came to movies that made adequate use of the subwoofer," says one self-proclaimed audiophile who spent years in recording studios. "I was simply blown away at the sound quality that these speakers put out even when they were not properly setup in terms of placement. Once the speakers were properly setup, I was even more amazed," he adds.
Best computer speaker for gaming
Yes, most serious gamers wear headsets, but lots of reviewers said these speakers are great for moderate-level gamers who want enhanced sound. "These are perfect for anyone trying to get that 'clear' sound or anyone who wants to add a bit more bass to music or games," writes one. Another thinks that compared to other speakers, these are just as good but "can save you money." So far, he thinks "they are awesome for [his] gaming computer" and improved his gaming experience. A third reviewer uses them mostly for video editing but does occasionally game with them and thinks the enhanced sound adds a fun element to his games. He writes, "For the price, I am blown away by the quality of the sound, especially since I am coming from a garbage pair of Sharper Image computer speakers." And one more just appreciates that they "look very nice and they are very straightforward when it comes to hooking up the included cords." For him, some speakers are far too complicated to hook up, so if you're not looking for the best speakers out there, he thinks these are simple to use and good quality for the price.
Best computer speakers soundbar
"Absolutely beautiful design!" says one reviewer of this minimalist soundbar, who even included pictures of their desk setup with this speaker. "Provides great sound to my computer and has a pretty great hearing experience to it! You can plug in external headphones and mic too!" Another says, "It has a nice sleek timeless design that doesn't look flamboyant or look like a speaker that's been made in the 80s," adding, "the aux cord and charging system is nice and the three equalizer modes are great for changing up sound output based on what kind of room or environment you are. With the price, it generates a clear sound with a crisp bass that doesn't explode with noise." At under $50, nearly 300 five-star reviewers mentioned this speaker's affordable price. One such customer did "extensive research" on speakers from $50 to $200 and says, "Hands down this is the best speaker for the price; the packaging is of a high end product, this speaker is well built, perfect size, nice mids and bass good enough without causing distortion to the music." Another customer says, "For less than $100, it's a bargain with decent bass and highs, plenty of volume, variable eq, the ability to charge your phone and lots of battery. I'm sure happy, and I've been enjoying it for over a year now."
The Strategist is designed to surface the most useful, expert recommendations for things to buy across the vast e-commerce landscape. Some of our latest conquests include the best women's jeans, rolling luggage, pillows for side sleepers, ultraflattering pants, and bath towels. We update links when possible, but note that deals can expire and all prices are subject to change.
Every editorial product is independently selected. If you buy something through our links, New York may earn an affiliate commission.