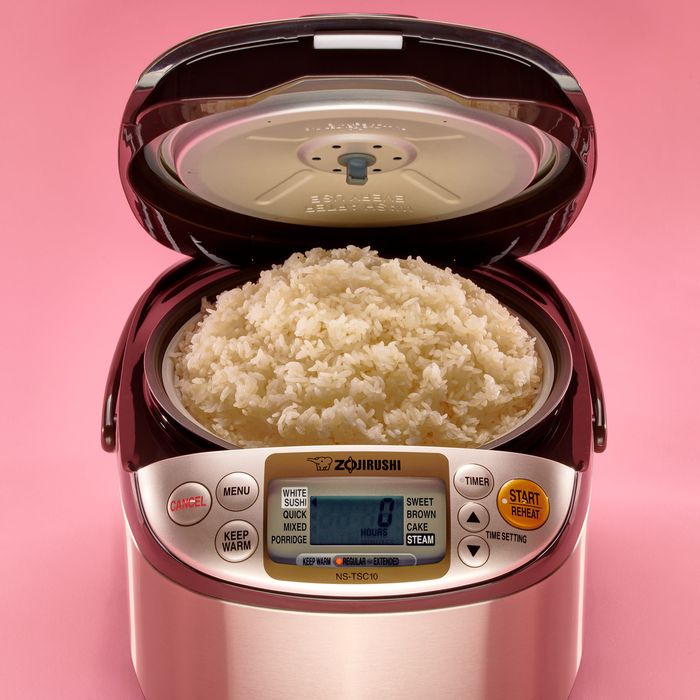 Making rice is deceptively easy: Measure, rinse, add water, simmer, steam, and less than a half an hour later, you're done. And yet so often — no matter if you're an amateur in the kitchen or consider yourself pretty accomplished — the final result is a letdown. Sometimes the grains turn to mush; sometimes they're hard in the middle; and all too often they're stuck to the bottom of the pot (in my house, the ultimate "let it soak overnight" culprit — never a fun thing to wake up to).
Enter rice cookers, which, for many, save the day. They're basically a targeted type of electric cooker, similar to a pressure cooker or slow cooker, only they excel at making plump, perfectly cooked rice. They can either be incredibly simple, with just two settings to "cook" and "keep warm," or they can be quite advanced, with presets for all different types of rice (brown, long grain, sushi, and more) as well as preparations like congee, porridge, and even pressure-cooking (which is, yes, one way in which all those electric cooking tools can overlap).
I spoke with a bunch of experts about their favorite models, which ranged from cheap and straightforward contraptions to more high-tech machines. But the bottom line is, if you eat rice even a couple times a week, a rice cooker may be well worth a spot on your countertop.
Best overall | Best less expensive | Best simple | Best small | Best Persian | Best high-end | Best with multi-cook
What we're looking for
Capacity: Many of these rice cookers come in multiple sizes. I've listed all of them so you can easily see what your options are. Of course, how big a capacity you go for will depend on how much rice you consume per meal as well as if you want to have leftovers. But in general, a three-cup rice cooker is good for one or two people, a five- or six-cup rice cooker is good for about four people, and anything bigger is best if you eat a lot of rice or host people frequently for dinner. Also important to remember: The bigger the capacity, the more space the cooker will take up.
Settings: As I mentioned before, some rice cookers come with just a couple settings, and others come with many. Here, I've listed each of the specific functions the given rice cooker can perform.
Best overall rice cooker
5.5 or 10 cups | White/sushi, mixed, porridge, sweet, brown, cake, steam, and quick cooking
In my reporting, Zojirushi came up more than any other brand. It has a fancier model with even more settings that multiple experts mentioned (you can read about that one further down the list), but this one — especially given that it's less than half the price of the other — makes for an all-around great buy.
Food writer and recipe developer Kiera Wright-Ruiz had to leave hers behind when she recently moved to Hawaii; she told me it's the thing she misses the most. "I'm sure people have said this before, but it really is the Lamborghini of rice cookers," she says. The standout reason is what Zojirushi calls "fuzzy technology," or a built-in microcomputer that can sense how your rice is cooking and adjust the time and temperature so that "even if you add too little or too much water, it will self-correct," says Wright-Ruiz. "You get a consistent texture with a margin of error." Another particularly appealing feature is the ability to preset when you want your rice to cook: For example, if you're braising something that takes three hours, you can time it so that the rice is done simultaneously.
Finally, though perhaps not the most imperative to the rice itself, Zojirushi's machines play music when you start them (an adaptation of "Twinkle Twinkle Little Star") and when they're done cooking — and it's clearly delightful enough that everyone who recommended the brand (again, more on the rest of those folks, below) made mention of the jingles.
Best less expensive rice cooker
4 cups | White, brown, keep warm, steam, delay timer, flash rice (a time-saving option)
For a particularly low-key model that gets the job done, Justin Lee, the owner-chef of New York City's Fat Choy, turns to his Aroma rice cooker. "For home use, I think a cheap and simple one is really all you need," he says. (In fact, Aroma makes an even cheaper and simpler one with only two buttons, if that sounds intriguing to you.) But this one, still decidedly affordable and with a handful more settings, is what Lee has. "It's just easier than using a pot — or at least you don't have to watch it as much. It gets the job done totally fine," he notes. "And sure, there's something about the way the Zojirushi is constructed that makes it superior. But at the end of the day, we're not making sushi rice. This is just us cooking rice at home so we can feed ourselves and our family." For that, he maintains it's perfect.
He's not the only one who thinks so: The Aroma has a four-and-a-half-star rating on Amazon, with more than 50,000 reviews. "Even a caveman can make perfect rice" with this machine, writes one customer. Another who was specifically looking for an alternative to the Zojirushi (and was still "willing to pay big bucks") couldn't believe it when her sister told her about this under-$50 unit: "I thought she was kidding. So glad she wasn't. Now my husband and I are already enjoying our perfectly cooked brown rice."
Best simple rice cooker
5 or 10 cups | Quick cook/steam, white, brown, porridge/soup, keep warm
The Panasonic is another simple model, the one that food photographer Neal Santos has also used for a decade — both personally and at his Philly-based Filipino pop-up, Lalo (which unfortunately closed due to the pandemic). "I'm not a high-tech kind of person, and this only has a few settings. That's what I grew up with in a Filipino household," he says. "It can be on all the time and stay warm. It has a little basket that can steam veggies over the rice. Sometimes I'll use it for other dishes as well. The Philippines has a lot of rice desserts — like suman, which is sticky rice wrapped in banana leaf. I put the suman in there and let it stay warm. That's how we used it at the restaurant. We were in a food hall, so everything was small, and this was an efficient way to do things."
Reviewers of the Panasonic agree. "The 'keep warm' function is so convenient," writes one, "and I never end up with burnt rice that's impossible to clean off the pot. In fact, I usually only have to give the pot a quick rinse when I'm done and it's good to go." Another says it's even better than the Zojirushi when it comes to that particular setting. "It keeps white or brown rice warm and ready to eat for 24 hours, without the rice drying out and becoming too hard and brittle," they write. "The 10-cup Zojirushi we have will dry out the rice overnight."
Best small rice cooker
3 cups | White, mixed, brown, rinse-free, quick, sprouted, curry, porridge, timer, keep warm
This compact rice cooker comes endorsed by cookbook author and recipe developer Lukas Volger. While it does retail on the higher end, especially for such a little machine, "I think the fact that ten years after I got it, it is still working great is a testament to it being a good value," he says. "The features are limited, which means it's simple to use." As for the look? It's super small (less than a foot in height, depth, and width), with rounded corners, a hidden compartment for the cord, and a very minimal color palette. "It's both cute and kind of futuristic-looking and modern and sleek, all at the same time. For anyone who loves Muji, it's very true to the company's form. For the longest time, I thought, Why would I need a rice cooker in my tiny kitchen? But then I got this thing, and you can have perfect rice ready all the time," says Volger.
Best Persian rice cooker
3, 4, 5, 7, 10, or 15 cups | Customizable timer, keep warm
The Pars Persian rice cooker is built to do something different from all the others on this list: make tahdig, the ubiquitous, crispy layer of rice at the bottom (and top, when you turn it over) of many preparations of Persian rice dishes. "I'm an avid home cook, but rice was always tough for me, and that's part of why for a while I avoided cooking a lot of Persian food," says writer Arya Roshanian, who chronicled his foray into using the Pars for Vox last year. Funny enough, his mom and grandmother both used one, and it was during the pandemic that he finally decided it was time to get one himself. In fact, he has two now — the smaller four-cup he started out with and a larger seven-cup he uses to make tahdig for a crowd. "It's user-friendly," he says, "something that my 85-year-old grandma who only speaks Farsi and isn't that good at technology can figure out. The first time I used it, I was thinking I would need to try a few times in order to get it right, but it came out pretty perfectly — and then each subsequent time too." Roshanian also likes that the insert is lightweight and "nonstick so it's super-easy to flip out and clean."
Best high-end rice cooker
5.5 or 10 cups | White (regular, softer, or harder), umami, mixed, sushi/sweet, jasmine, porridge, congee, brown, GABA brown (germinated brown rice), steel-cut oatmeal, quick cooking, automatic keep warm, extended keep warm, reheat
This is the previously mentioned higher-end Zojirushi model that so many experts enthusiastically recommended. It is, notably, the most expensive on the list, but it's also clearly a favorite, a worth-it investment if you eat enough rice. Of course, it has that same standout technology as the more affordable model. The main difference is the myriad of settings — and in particular, one that everyone whom I talked to honed in on. "This model I bought specifically because it has a congee mode," says food writer and editor Alyse Whitney. "The one I had previously for many years only had Japanese porridge, which is thinner. So yes, I bought this for a button, but it literally makes perfect congee." Recipe developer and cookbook author Betty Liu also makes a lot of congee in hers, calling it "convenient, fast, and incredibly reliable." And finally, TikTok recipe creator Vivian Aronson uses that feature too, particularly for breakfast. "I can set it at night and have congee ready in the morning," she says.
Best rice cooker with multi-cook