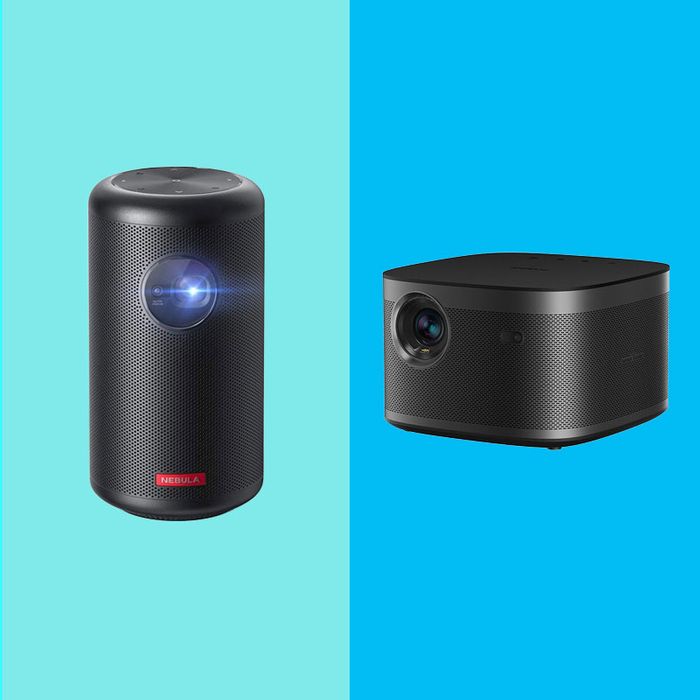 Photo-Illustration: The Strategist; Photos: Retailers
Setting up a proper home-theater space can take time and a boatload of money. A projector can be heavy and expensive, plus there's the issue of where the heck you're supposed to put the thing. This is where portable projectors come in handy. Also known as pico or pocket projectors, they are small, more affordable, and easy enough to move from room to room or bring to outdoor events like a rooftop hang or a BBQ. Once they're connected to a streaming device, laptop, smartphone, or game console via Bluetooth or cables, they can play movies, YouTube videos, or any other type of multimedia. Portable projectors are all about convenience and portability, so they won't be as bright or as sharp as a high-end projector, but for an impromptu movie night indoors or out, they can't be beat. Here are some of the best portable projectors you can buy online.
Best overall | Best less expensive | Best upgrade | Best 4K | Best extra bright
What we're looking for
Projection type: The two most popular types of projectors are DLP (digital light processing) and LCD (liquid crystal display). Both are lamp based and use a bulb to light the projector. According to Alix Diaconis, contributing video producer at the Verge, "DLPs tend to be smaller and more portable, and they offer more contrast and blacker blacks. LCDs tend to have a sharper, crisper image and appear brighter than DLPs even at a lower lumen (brightness) count." There are also laser projectors, which are brighter with more accurate colors, but they tend to cost around $2,000 to start. Because this guide focuses on portability, all of the recommended projectors below are DLP projectors.
Picture quality: The resolution of your projector will determine its picture quality. The highest resolution available in a portable projector is 4K, but if you want something more affordable, a 1080p or 720p high-definition projector should suffice in a dark living room, basement, or backyard.
Brightness: Brightness is measured in lumens; the higher the lumen count, the brighter your projector will be and the more spaces it will work in. A good way to think about lumens is relative to the ambient light around you while using your portable projector. The more ambient light, the more washed out the image will look. So having higher lumens can help to mitigate that effect if you are using a projector in a lighter space. Choosing a projector with lower lumens means you will have to use it in a darker space. That's the case with most portable projectors, which tend to have a lumen count below 1,500, with the highest-priced (and largest) portable options topping out around 2,400 lumens (which is still below higher-end stationary projectors that might start at 2,500 lumens). This is to be expected because portable projectors are small and have tiny bulbs compared with larger and more expensive models.
Connections: It's crucial to think about how you'll connect a portable projector to whatever devices you want to use it with. If you want to connect a laptop or a streaming device such as a Roku or Apple TV, you'll need an HDMI port and an HDMI cable. Many portable projectors also come with built-in Wi-Fi and/or Bluetooth functionality, which is great if you want to connect your computer or phone wirelessly. This allows you to use any built in streaming apps such as YouTube, Netflix, or Hulu.
Power source and sound: Power source is a huge factor in portability. Ashley Carman, a senior reporter at the Verge who has reviewed several portable projectors, advises looking for a portable projector that has "a battery with enough capacity to watch a two-hour movie." Many of the projectors I've seen on the market have internal rechargeable batteries that last between 2.5 hours and four hours, and you can use the projector while it's charging. Most portable projectors come with built-in speakers as well as audio outputs that give you the choice to connect external speakers, and Bluetooth-enabled projectors can typically work with wireless speakers.
Best overall portable projector
DLP | 720p | HDMI, USB-A | Wi-Fi and Bluetooth | 200 lumens | Built-in speaker | Rechargeable (4-hour battery life)
The claim to fame of the Anker Nebula Capsule Max is its brilliantly designed soda-can shape. It's a far cry from the clunky projectors teachers used to wheel out in class to present slides back when I was in middle school. It can project a 720p HD image, it has HDMI and USB ports, and it has Bluetooth and Wi-Fi connectivity. In my experience, just having the projector connect to my Wi-Fi was a simple and straightforward process, which meant I was watching YouTube clips in a matter of minutes. You can also broadcast what's on your phone using Airplay or screen mirroring for your Android device. And if you don't have a speaker handy, you can use the built-in speaker, which Carman describes as "quality sound," noting that it "allows users to switch the projector into Bluetooth speaker mode if they just want to use it for music." Carman reviewed an earlier version of the Capsule for the Verge, but this newer model has many of the same features and specifications. As you would expect with portable projectors, the image can be a bit dim in brighter spaces. As Dieter Bohn, a former executive editor at the Verge, mentioned in his review of the more expensive Capsule II, "it doesn't get bright enough to work anywhere but in dark spaces." This isn't a drawback as much as a characteristic of portable projectors more generally — the trade-off for portability is that they can't produce as much light as more advanced home-theater options. The Capsule Max is a portable projector that's doing a great impression of your standard smart TV in a package that's roughly the size of a LaCroix, and that's what makes it so fun to use.
Best (less expensive) portable projector
DLP | 1080p | 2 HDMI, USB-A | Bluetooth | 236 lumens | Built-in speaker | Power outlet required
Amazon reviewers have praised this budget-friendly projector, especially for its usage in smaller spaces with shorter projection distances, with one noting that it's "super bright" and "for the price, pretty crisp!" Another says the sharpness is beyond their expectations while noting the importance of keeping those expectations in check: "For the price, this thing is 5 stars," they write. "If you go into this purchase thinking you will be able to see clearly at noon with all the windows open, you'll be disappointed. My wife and I bought it just wanting to use it for weekend movie nights and it works perfectly for that." It has a 1080p resolution, a built-in speaker (though many reviewers suggesting using external speakers for the best experience), and Bluetooth connectivity.
Best upgrade portable projector
DLP | 720p | HDMI, USB-A | Bluetooth only | 550 lumens | Built-in speaker | Rechargeable (2.5-hour battery life)
The LG PH510P is the one the brightest projectors available at this price point and size. It's much larger than the Anker Nebula Capsule Max — imagine a government binder stuffed with top-secret files versus a can of soda. But if you want something that can work in brighter light and a wider variety of spaces, this is one of the better options. In Carman's review of an earlier version of this projector, she praised the many port options including HDMI, USB-A, and a 3.5-mm. audio jack. The latest version has built-in Bluetooth, so you can use it with a wireless portable speaker, and it also has a built-in speaker. The projector's defining feature is its brightness of 550 lumens, a clear standout among portable projectors. It still works best in a darkened room, but it's more than double the brightness of the Nebula as long as you're okay with larger size.
Best 4K portable projector
DLP | 4K | 2 HDMI, 2 USB-A | Bluetooth and Wi-Fi | 2,200 lumens | Built-in speaker | Power outlet required
The Horizon Pro is larger than the two portable projectors above, but it supports 4K image quality and it has a wonderful built-in speaker. It is also smart enough to automatically try to position and fit the projection onto a part of your wall or screen that doesn't have any objects in the way. "Couple that with a bright LED light source" and "built-in Wi-Fi … and you've got a 300-inch display that can go anywhere there's a power outlet and a flat surface," according to Verge deputy editor Thomas Ricker's review of the Horizon Pro. "Hell, it'll even double as a Bluetooth speaker in a pinch." Although it is technically portable, it doesn't have an internal battery, so you will need a power outlet nearby. It also has two HDMI ports, two USB ports, and both Bluetooth and Wi-Fi connectivity. With a listed brightness of 2,200 lumens, it's especially bright for a portable DLP projector — more than ten times brighter than the Nebula Capsule Max, for example. Ricker says the 2,200 lumens provide enough contrast to make 4K HDR content pop. "It reminds me just how much I've missed viewing films on a richly colorful giant screen ever since my local cinema shut down last year," he added.
Best extra-bright portable projector
DLP | 1080p | HDMI, 2 USB-A | Bluetooth and Wi-Fi | 2,400 lumens | Built-in speaker | Power outlet required
The Nebula Cosmos Laser 1080p is Anker's latest tabletop projector. Similar in size to the Horizon Pro, this is the 1080p resolution projector, but there is also a 4K option. The Nebula Cosmos boasts a superior brightness of 2,400 lumens. Although it stretches the definition of portable because it doesn't have an internal battery, it otherwise has all of the bells and whistles you might expect from its high price point, from downloadable apps to Bluetooth and Wi-Fi capabilities to solid internal speakers. When reviewing Anker's previous iteration of the Nebula Cosmos, Verge news editor Nick Statt declared that it would make "a surprisingly capable TV replacement" thanks to its portability, design, and ease of use, which make it "a stunningly simple and powerful product for what it's designed to do." It also comes with a remote. If you want a bright (mostly) portable projector at a slightly lower price point than the Horizon, the Nebula Cosmos is a good option.
Our experts
• Dieter Bohn, former executive editor at the Verge
• Ashley Carman, senior reporter at the Verge
• Alix Diaconis, contributing video producer at the Verge
• Thomas Ricker, deputy editor at the Verge
• Nick Statt, news editor at the Verge
The Strategist is designed to surface the most useful, expert recommendations for things to buy across the vast e-commerce landscape. Some of our latest conquests include the best women's jeans, rolling luggage, pillows for side sleepers, ultra-flattering pants, and bath towels. We update links when possible, but note that deals can expire and all prices are subject to change.
Every editorial product is independently selected. If you buy something through our links, New York may earn an affiliate commission.