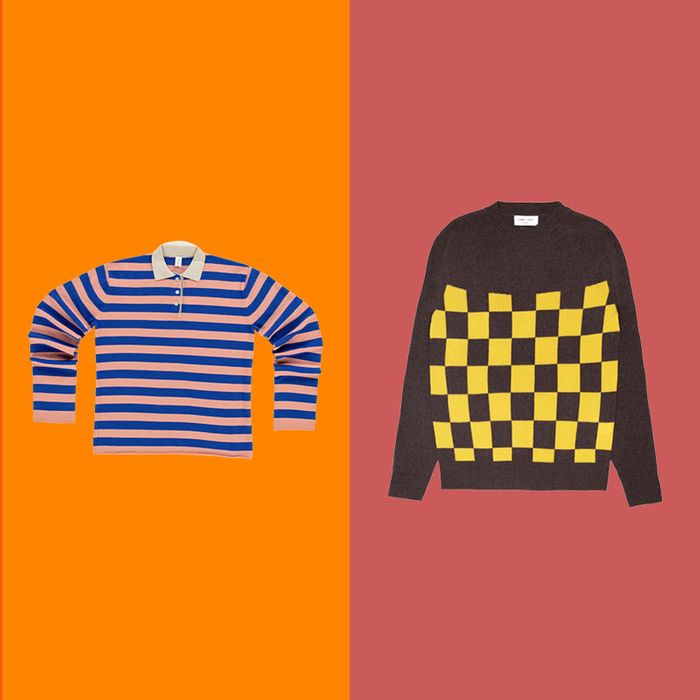 Photo-Illustration: Retailer
A cashmere sweater is a versatile, durable, seasonless investment that can last decades (as long as you keep the moths away). But choosing the right one can be overwhelming because you're paying a premium price for an inherently luxurious staple. Cashmere comes at a heftier price because cashmere yarn comes from the fluffy undercoat of cashmere goats, which makes for a softer and warmer fiber than sheep's wool. (Fascinatingly, cashmere goats are a type and not a breed; according to the Cashmere Goat Association, almost all goats can grow cashmere, but only selectively bred flocks produce it "in significant amounts.") To help you find the right option for you, we asked experts and sourced our archives for picks in every budget.
Best overall | Best crewneck | Best less-expensive crewneck | Best V-neck | Best turtleneck | Best less-expensive turtleneck | Best striped | Best cardigan | Best plus-size cardigan | Best polo | Best less-expensive polo | Best splurge-worthy fun sweater | Best less-expensive fun sweater
What we're looking for
Size range: In our search for the best, we're looking sweaters with an inclusive range of sizing options.
Style and details: "Your safest bet is to buy something that could have longevity at that price point, as opposed to something that's trend-driven that you might get rid of in a couple of seasons," says stylist Lilli Millhiser. While that's a good general shopping rule, it's especially true when it comes to cashmere since it can get pricey. While most of our picks are classic cuts and neutral colors, we also included options with bolder designs and patterns. Because, as Mina Alyeshmerni of online boutique Maimoun told us, "comfort should also feel sexy."
Price: As we've mentioned, cashmere typically costs more than other natural fibers. Despite that, we've included a range of affordable options that don't sacrifice quality. We denoted the recommendations below as either $ (under $150), $$ ($150–$250), or $$$ (over $250).
Best overall cashmere sweater
Sizes XXS to XXL | Crewneck | $
Out of all our recommendations, the brand Naadam came up the most. Many of our experts describe its sweaters as both "affordable" and "high-quality" — which might seem like an oxymoron. But Kate Mullin, director of brand marketing and global communications at Anine Bing, says it's true. "The quality, the color variety, and, best of all, the prices make them one of my favorite places to buy cashmere sweaters," she says. She prefers its most affordable option, which is $75, made with 100 percent cashmere, comes in 13 core colors and 11 limited-edition colors, and goes up to a size XXL.
Best cashmere crewneck sweater
Sizes XS to XXL | Crewneck | $$
Strategist editor Maxine Builder purchased this crewneck in black last January when it was on sale for just $54. (She notes that its price often drops, if you're willing to wait.) It's become a "wonderful staple" that's versatile enough to style in different ways. "I can wear it without a T-shirt underneath and it doesn't look sloppy, but it's not so fitted that I can't layer," Builder says. She admits it has pilled a bit since owning it, but "it's nothing my little Conair defuzzer can't fix," she notes. According to Builder, it's true to size, fits comfortably, and is on the lighter side while still providing warmth. "I actually wear it a lot in Maine, where nights can get pretty chilly, even in the summertime," she says.