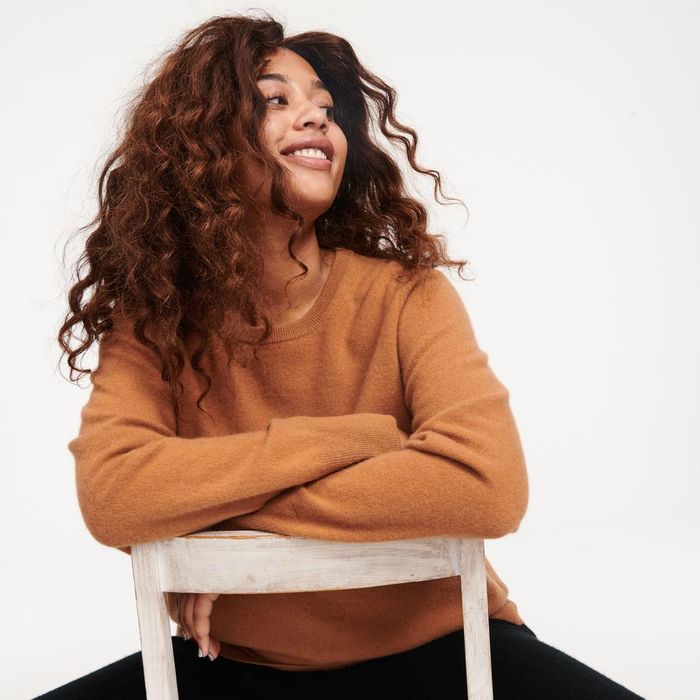 Sweater weather has arrived — and as we winterize our social lives, we need to winterize our wardrobes, too. That's where cashmere sweaters come in. The yarn is softer and warmer than sheep's wool, and if you choose wisely, a cashmere sweater is a versatile, seasonless investment that you can wear for years (just keep the moths away). To help you find the right option for you, we asked 12 experts, including fashion designers, style influencers, and creative directors, for their favorites — from turtlenecks to crewnecks to cropped tops (yes, really) — in every budget.
Best under $100 cashmere sweaters
Out of all our recommendations, the brand Naadam came up the most. Many of our experts describe their sweaters as both "affordable" and "high quality" — which might seem like an oxymoron for cashmere. But Kate Mullin, US public relations manager for La Mer, confirms it's true. "The quality, the color variety, and, best of all, the prices make them one of my favorite places to buy cashmere sweaters," she says. She prefers their most-affordable option, which is $75, made with 100 percent cashmere, comes in 14 colors, and goes up to a size XXL. Mullin adds that she "marvels at the softness of their sweaters," and also notes that they barely pill, too — "Dry-clean savings!"
"First off, I love all their cashmere sweaters," says Mullin of Naked Cashmere, but she's particularly "obsessed" with this turtleneck. "The quality and fit are amazing and it just feels so luxurious from the sleeves to the neck." The sweater is 100 percent cashmere, and while it only comes in two colors — sandy and toast — they're neutral enough to go with pretty much anything.
For a classic staple, Titilola Sogunro, fashion blogger at Titi's Passion, recommends heading to J.Crew for their cashmere crewneck. "It's a best seller for good reason," she says. She's particularly drawn to their wide color and size range — they have 22 colors and go up to 3X. And because I, the writer of this story, worked as a J.Crew retail associate for several years in college, I can assure you that it's truly a worthy deal. (I own two that are over four years old.) You can also add a monogram for an extra ten bucks to make it a personalized gift.
Uniqlo came highly recommended by our experts, with Karen Phelps, creative director of AGOLDE and Goldsign calling their sweaters a "great value." She appreciates the simplicity and sophistication of the brand. "Christophe Lemaire, previously creative director of Christophe Lemaire and Hermes, is their art director which means attention to detail and finish is prevalent throughout," she says. She tends to "gravitate towards relaxed menswear," as well as "classic shapes with crew necklines," so she actually recommends their men's version. But Mandy Madden Kelley, creative director and founder of Pagerie, thinks their women's version gives you the same "classic look" Phelps appreciates in their men's option. Regardless of which you pick, Phelps says Uniqlo's offerings are "a perfect staple that can be dressed up or down."
Kelley looks for brands that offer a wide range of interesting colors for her cashmere sweaters because, she says, "As much as I love the classic cashmere-sweater colors of white, black, and grey, I do have a concern of looking like everyone else." While this Madewell pick doesn't have as many choices as, say, the J.Crew sweater on our list, the delicate lilac, heathered brown, and bright red stand out among some of the other choices out there. Kelley particularly likes the earth-tone options: "There is something so relaxing, casual, yet stylish about wearing a warm, non-formal color in a cool season." And as Lauren Chan, founder of Henning, asks, "What's not to love about this easy-wearing cashmere pullover from Madewell?"
We've written about Italic's sheets before, but apparently their cashmere is just as good. Sonia Beyda Mosseri, founder and designer of NYC-based brand Still Here, loves "everything they make" because "the quality is so high-end and the prices are super affordable." However, you do have to subscribe to their membership in order to buy their products. It's $100 per year for access to all their luxury products. And although it sounds like a big commitment, for Mosseri, it seems to be worth it for the cashmere alone. "This is my go-to turtleneck in the winter time to throw on with jeans and a blazer. And it wears really well too," she says.
Best under-$200 cashmere sweaters
"After seeing some of my favorite straight-size influencers in cardigans, I went on the hunt for a plus-size version," says Chan. And this Land's End cardigan checked all the boxes for her. She calls it "classic" and "simple," but the best part for her is that it "pairs super well with either light-wash jeans or grey sweats — win, win," she adds. Even better, it comes in 16 colors.
"Sometimes you just want to be cozy, and this oversized knit from Free People screams comfortable," says Hailey Susser, fashion influencer and host of "I Mean…" podcast. She's into the "baggy fit" because it gives you more options for styling — "it can work with leggings or tucked into pants for a more elevated look," she adds. It comes in ten colors and even though it has a relatively low price tag, it's 100 percent cashmere.
Much like Mullin, Sogunro also loves sustainable company Naadam for cashmere, especially after she learned about their backstory — they source their cashmere directly from herders in Mongolia's Gobi Desert, so it's one of the most sustainable cashmere options out there . "This oversize V-neck sweater is perfect whether you're on the go or spending time at home," she adds. Plus, it goes up to size 3X.
While the Naadam V-neck probably has more versatility, Aniyah Morinia, fashion blogger and social-media editor for Lemon Perfect, prefers their casual hoodie. After all, she says, it's "hoodie season" right now. "Naadam's cashmere hoodie checks all of the boxes, easily making it a fall/winter essential," she says, adding that it's "soft" and "comfortable." It also has a wide size range, going up to 3x, and even more color options than the V-neck sweaters.
And if cardigans are more your style than hoodies, Susser recommends the brand's ribbed cropped take. In general, she also loves the brand — "Every piece they put out is super wearable, stylish, and unbelievably soft," she says — but this cardigan is a favorite for Susser, because it's on-trend, and just as high quality and size inclusive as the rest of their stuff.
While this is much less classic than the other sweaters mentioned so far, Sogunro appreciates how of-the-moment it is. "Puff sleeves are a big trend this year," she says. This 100 percent cashmere sweater comes in four colors, including a baby pink if you already have a stack of grey and black sweaters in your closet.
"This cashmere polo screams 'elevated errand run,'" says Morinia. She likes that, unlike traditional polos, it doesn't have any buttons, which only "adds to the effortless look." And as Morinia notes, "It can be worn with just about any bottoms, so it's safe to say it passes my versatility test." If you're not into polos, Everlane also makes a cashmere henley, turtleneck, and crewneck.
We recommended J.Crew's crew-neck cashmere sweater — a simple, yet affordable option — but if you want something a little more unique, Mosseri likes the brand's collared cashmere sweater, too. It's similar to the one we recommended from Everlane, but has a slouchier fit with a cropped style and buttons around the color. It also goes up to 3x, unlike Everlane's.