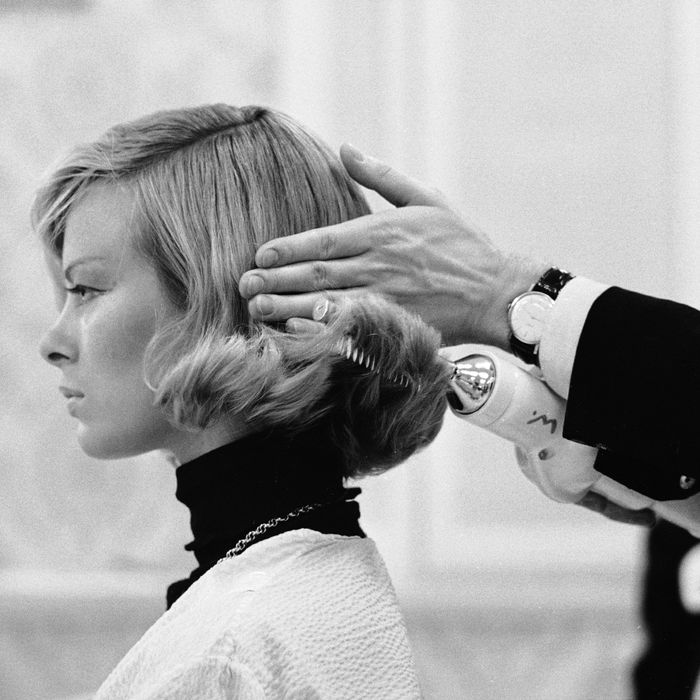 Photo: Yale Joel/The LIFE Picture Collection via Getty Images
The recent virality of the blow-dryer brush might make it seem like a new invention, but the hair gadget has actually been around for ages. Henry De La Paz, stylist and global ambassador to Warren Tricomi Salons, remembers seeing a Revlon version under his mom's sink in the 1980s, and Maria Elizabeth, the founder of Salon deZEN in Alexandria, Virginia, recalls their popularity in the '90s, though "it was a more complicated tool than the ones of today," she says. They were also a little more gimmicky; Drew Schaefering, master stylist and senior educator at Rob Peetoom Salon in Williamsburg, recalls them being an "'As Seen on TV'–type thing."
Today's iterations are less clunky and cumbersome, combining the process of using a blow-dryer and a round brush into one easy-to-use tool. "Any individual who has tried to give themselves a blowout with a traditional round brush and dryer knows how challenging it can be," says Schaefering. "Blow-dryer brushes take away the shoulder fatigue and allow more mobility and ease." And just as a blowout with a round brush creates a voluminous style, these blow-dryer brushes act as an all-in-one styling tool. To determine if it's the right buy for you, Jessica O'Keeffe, a stylist at Hawthorne Studio, recommends considering your hair goals: "Is it to create a more natural style, to stretch out the root, or to cut out the need to flatiron? If you answered yes to these, then a blow-dryer brush will be great for your tool kit."
Blow-dryer brushes exist in different sizes, shapes, and strengths to suit all sorts of hair lengths and textures, but generally our experts prefer blow-dryer brushes with multiple heat settings, two types of bristles in the brush, and a tourmaline barrel or ionic technology to help fight frizz. Ahead, six experts on their seven favorite blow-dryer brushes.
Best overall blow-dryer brush
Half of the stylists we spoke to recommended Drybar's Double Shot Blow-Dryer Brush. It's not surprising that our experts think a brand known for its blowout salons has perfected the blow-dryer brush. "It takes the crown," says Elizabeth, meaning it both figuratively and literally ("It creates lift starting at the crown," she explains). The brush's ionic technology "helps seal the cuticle for less frizz and more shine," while "vents on the brush are strategically placed for maximum airflow and a faster blowout." She especially likes the combination of tufted and nylon bristles, which "allows for the coveted tension and control that you need for that exceptional blowout look."
Just like with traditional hair dryers, Elizabeth says it's important to look for one with multiple heat settings so you can adjust it according to your hair type. This one has three: cool, medium, and high. O'Keeffe also likes the temperature control, which "is a big favor for hair that doesn't need the oomph of high heat." Elizabeth thinks this one would work on a variety of hair types and particularly well for those with longer hair. Stylist Takisha Sturdivant-Drew, whose celebrity clients include Kerry Washington and Renee Elise Goldsberry, agrees. She says it's important to "find a fast-drying and robust blow-dryer brush," and this one fits the bill. (Though if you have shorter, thinner hair, consider Drybar's smaller model: The Single-Shot.)
Best blow-dryer brush with multiple attachments
While a majority of our experts praise Drybar's brush, many noted that its single barrel is a big downside, limiting the hair lengths the brush works for and styles it can create. For someone looking for versatility, Dyson Airwarp Styler is "an all-around Swiss army knife for blowing out hair," says Schaefering. It employs the same technology as the Dyson Supersonic Hair Dryer (which we've written about before), using air styling for fast drying without the use of high heat.
Another reason to splurge for the Dyson: It comes with a whole slew of attachments. "The smoothing brush allows you to gently yet effectively smooth out any wiry curl or wave in your hair for a soft, natural finish," Schaefering says, while "the round brushes are great for giving that round brush blowout effect that maintains volume using the cool shot button." He says this tool isn't ideal for coarse or coily textures, but he likes the results on fine-to-medium hair of pretty much any length. Another fan, O'Keeffe, admires the versatility and high-powered airflow, but she points out that, at almost four times the price of Drybar's version, it's quite an investment. Still, Schaefering says, the cost is justified. "One of the main points of difference between a high-end machine like the Dyson Airwrap and a less expensive brand is the quality of heat and the control of the temperature," he says. "They both produce heat and get the job done in terms of drying the hair. However, machines like the Dyson measure the air's heat hundreds of times per second to make sure you aren't getting more than your hair can handle," which ultimately means less heat damage.
Best blow-dryer brush for thick hair
We've written about the older version of the Revlon One-Step, which features a paddle-brush design instead of a round brush. It's been widely praised by Amazon reviewers with natural hair, and a writer for Strategist U.K. was thrilled that it dried her natural hair efficiently and quickly while requiring the use of only one hand. "With my other hand free to help section as I went, my hair was left fantastically blown-out, without a hint of dampness to be found," she wrote. The old model racked up more than 5,000 reviews after going viral, but this newer version is even more popular, with more than 170,000 reviews on Amazon. It also comes recommended by the professionals we spoke to.
O'Keeffe thinks that blow-dryer brushes are particularly helpful for people with coarse and curly hair "who typically have to use two hot tools to style/smooth their hair," she explains. "A blow-dryer brush can be a great two-in-one, cutting down the amount of heat that is applied to the hair, saving hair from heat damage caused by excessive styling." A tool like the Revlon One-Step "will dry your hair while giving tension at the root to help smooth out a coarse or very curly texture, all in the blowout phase," she says, noting that it's the dual-bristle brush that provides that tension. Sturdivant-Drew, who is also a fan, agrees that a blow-dryer brush is great for "achieving a smooth, no-frizz, polished look — especially for those with thick and curly hair types."
Best blow-dryer brush for short hair
This little round blow-dryer brush has a 1.25-inch barrel, making it ideal for shorter hair, says O'Keeffe. And while it's small, it's also mighty. She says it "allows you to add volume while smoothing out your curls." Like the above, it has two types of bristles to smooth out the root, and it has two heat settings and a tourmaline barrel to help with frizz.
Best blow-dryer brush for dry styling
While all of the dryers on this list can be used for wet-to-dry styling, this one included, De La Paz prefers using the Tease Blowout Brush on dry hair. "It's perfect for that person who wakes up with dry hair and wants a more polished or voluminous look," he says. He loves the combination of nylon and tufted bristles, which "get deep under roots to lift hair for maximum volume." It also has a tourmaline-coated barrel, which Elizabeth says is what you should look for "if you want a blow-dryer brush that heats up quickly and omits frizz-fighting negative ions." Schaefering says it's good for sealing the hair cuticle and adding shine as well. Even with the tourmaline base, De La Paz recommends using it with a hair primer for a still sleeker look.
Best blow-dryer brush for all textures