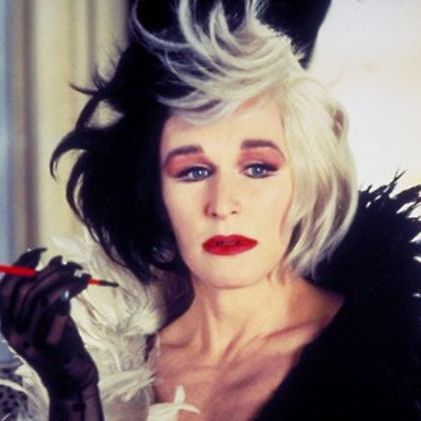 Photo: Courtesy Walt Disney Pictures
Whether it's Halloween or a quirky friend's theme party, the right hair color can totally make or break a costume. Can you imagine a Daenerys Targaryen without those platinum waves? A Cruella de Vil sans her two-tone 'do? A non-ginger Ron Weasley? A quality temporary dye — one that won't dry out or stain your hair — might make the difference between finally winning that best costume prize and having to answer "Who are you supposed to be?" the whole night.
To help you find the right product for your hair and desired look, we asked three hairstylists, a makeup artist, and a beauty marketing pro for their favorite temporary sprays, creams, and chalks. Their picks, below, will help you nail any style — from a pitch-black bob for an Incredibles Edna to pastel-blues spikes for a Rick of Rick and Morty.
Best overall temporary hair color gel
According to stylist Michael Angelo, owner of Wonderland Beauty Parlor, Manic Panic is the "OG" of temporary hair color. He's been a fan for decades. "I used to trek into the city to get Manic Panic because I heard it's what Cyndi Lauper dyed her hair with," he says. Because their products are vegetable-based, they're a bit conditioning and won't damage your hair. Their Dye Hard gel is also a favorite of Karen Brandt, director of marketing and brand communication at Ricky's NYC. "You can layer the gel on thick for structured styles, or comb through it for a softer look that's more like hair chalk," she says. "And since it's a styling product, it shampoos right out."
Best overall temporary hair color spray
With shades ranging from metallic silver to pastel lavender, there's probably a L'Oréal Colorista spray for whatever you're dressing up as. Fred Connors, of Fred.nyc salon, says, "Most temporary or semi-permanent color has a residual effect on the hair, making it difficult to remove when you no longer want it." He likes that this L'Oréal spray is designed specifically for one day of wear.
Best temporary color for light hair
While some dyes stain light hair — not ideal if you're going hot pink on Saturday night but need to be back to blonde by Monday morning — Angelo recommends Poser Paste. Formulated like a chalk inside of a cream, it gives serious coverage without damaging hair. I've never seen anything as impressive that's truly temporary," Angelo says. He points out that it was used to turn singer Troye Sivan's platinum-blond hair red for his Paper magazine cover. Fun fact: The all-vegan brand is co-owned by Paramore lead singer Hayley Williams.
Best temporary color for dark hair
Unless you're willing to bleach your hair first — which probably isn't an option for a onetime look — it's hard to find a temporary color that'll show up on darker hair. In these cases, makeup artist Stella Sensel believes it's worth looking into a professional product. "The cheap Halloween stuff doesn't cover well," she says. "The good stuff is made by Kryolan; it has great coverage and is vibrant even on dark hair." It's a top choice among serious cosplayers and career clowns — and even the staff of costume emporium Abracadabra NYC, according to Cristina Guerra of the store's social-media team. Along with the dozens of color options — including UV hues that glow in black light — Guerra says they like the brand because "a little goes a long way."
Best temporary hair color for natural looks
If you're going for a subtle change, Angelo says Roux's color rinse "would totally do the job for anything in the natural range." A longtime favorite for those looking to cover up or blend in gray hairs, it works to hide highlights or turn hair a shade darker if you're already close to your desired look. And it washes out with your next shampoo.
Best temporary hair glitter
For glitzy looks, San Francisco–based stylist Diana Gallegos recommends this easy-to-use spray. "It's festive and will work on both dark- or light-colored hair," she says. "Just lightly pulse through your hair until you've achieved the look you want." Plus, it washes out easily, so you won't have flecks of glitter in your hair all week.
Best temporary hair color for accents