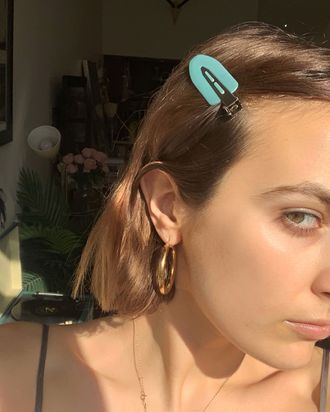 The problem with buying hair tools is this: Generally, the ones that won't damage your locks (like the Dyson Supersonic Curler) tend to be crazily, absurdly expensive. In the hair world, in other words, dupes are hard to come by — using a cheap straightener you picked up at your local drugstore can put your hair at risk of burning. As it turns out, this also applies to hair accessories. The beauty podcast Fat Mascara recently discussed how generic elastic hair ties, like the Goody ones you get at CVS, are pretty aggressive on the scalp and inevitably pull your hair out and can lead to hair loss and breakage. They recommended using bungee hair elastics instead, which are a bit more expensive but much less abrasive.
Since my hair is so damaged from my double process, I'm constantly on the lookout for a middle ground: reasonably-priced styling tools and accessories that won't cause any more harm to my fragile locks. Over the years (and over several different hair colors and styles), I've accumulated a list of some pretty reasonably priced hair helpers, and I'm here to share them with you now.
Instead of throwing my hair up in a bun every time I wash my face (which would ultimately lead to hair loss and breakage), I've long relied on these trusty little clips. What I love most about them is that they don't crease or bend my hair, which means they're non-damaging and I don't have to touch up my hair after I use them. It stays looking just as it did before I put them in. These are a real staple of mine, and I buy them in bulk.
Avoiding putting your hair up altogether, of course, is unrealistic. So when I do need to throw my hair up in a bun or ponytail, I love using these satin scrunchies from Amazon. Much like the non-crease clips, they don't leave dents in your hair and are overall much gentler than regular elastics.
Since bleaching my hair, I really try my best to avoid hot tools. But when I have an event and I want to look nice and polished, I exclusively use this curling iron from Hai. Not only is the one-inch barrel size perfect for achieving my soft, beachy curls, this silk-wrapped iron also uses "Damage Control Technology," a material that helps you avoid breakage and bending. I know this iron isn't cheap, but it's not horrible compared with a lot of other hair-friendly irons I've seen on the market — like, for instance, the abovementioned Dyson.