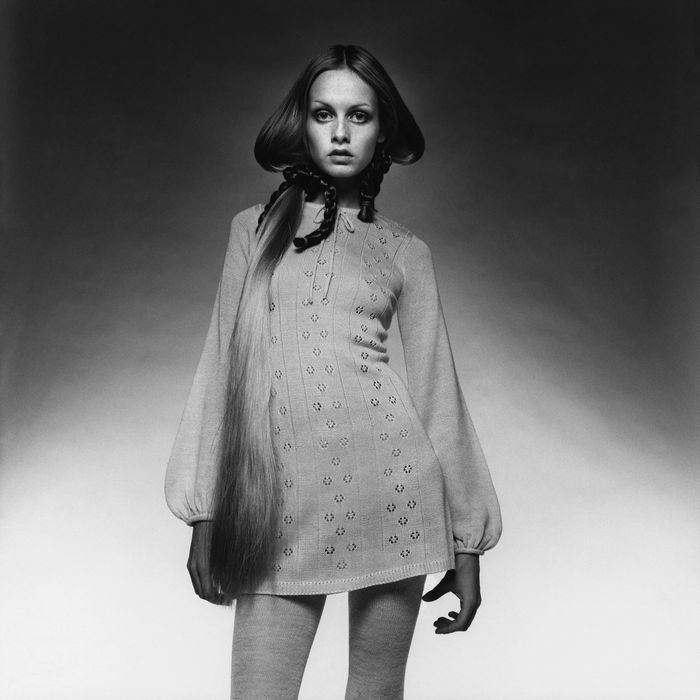 Photo: Justin de Villeneuve/Conde Nast via Getty Images
Even if you're not trying to pass off your inches as your own, the most important step in seamlessly blending clip-in hair extensions is making sure they match your existing hair. "There are a lot of bad pieces out there," warns Laura Castorino, a hairstylist on the Today show. (Speaking of which: If you've caught the fictionalized version of Today in The Morning Show, you might've noticed the scene in which Jennifer Aniston's character unclips her hair when she gets off air.) And while Castorino adds that customization is ideal — that is, bringing your extensions to a stylist to be colored and cut to match your existing look — your primary focus should be on getting a good set of hair to start with.
For all the experts we spoke with, a good set of hair is a human set of hair. (Synthetic extensions are an option, of course, and tend to be more cost-effective, but are generally far less realistic-looking, and not recommended by the people who work with this stuff for a living.) And within the human realm, there are certain subcategories that signify quality — including Remy hair (which means the hair cuticle is aligned in the same direction) and double-drawn hair (meaning only full-length pieces of hair will show up in your pack). There are different weft types, too, which refers to the fabric onto which the hair is sewn, but the silicone varieties tended to be the standouts.
But there's a lot more to learn in the below picks, taken from the eight stylists we consulted; their favorite clip-in extensions range from the reasonably priced to the splurgy, from curly to fine. In general, this is not a cheap process — it involves the price of the hair itself, which can range from $60 to more than $1,000, plus the price of the customization by a stylist. But a solid set of extensions can last you for years if properly maintained.
Best overall clip-in hair extensions
Based on the number of times it came up among our experts, The Hair Shop is clearly a top-trusted brand among stylists. "They have such a variety," says stylist Joseph Maine. (In addition to clip-ins, they carry other types of more permanent extensions, like tape-ins and micro tip extensions.) But as for their clip-ins, which run on the pricier end of the spectrum, what seems to stand out most about them is their superior wefts. Maine, who has worked with Aidy Bryant, Katie Holmes, and Gemma Chan, specifically calls out The Hair Shop's Naked clip-ins, which have a silicone weft. "It's essentially like a piece of rubber that all the hair is stuck together on; it's superstrong, but most importantly it lays completely flat," Maine explains. A rule of thumb for finding the right extension, he says, is making sure they can be used for not only voluminous looks but also sleek ones (straight and Cher-like, say), so when selecting a weft, the most seamless pick is always preferable. This style of weft is also a favorite of celebrity stylist Danielle Priano, who calls it "so seamless, the hair looks as if it is growing straight out of the weft." Another vote for The Hair Shop comes from Selena Gomez stylist Marissa Marino — she thinks their Pro 7 clip-in is great for someone with medium-thick texture.
Best single-donor clip-in hair extensions
Cassadi Curier, an extension specialist at Pembly Joon salon, loves Philocaly hair for a few reasons, chief among them being the fact that the hair is single-donor. "That means that all the hair comes from one person, which is revolutionary," she says. Since the strands all come from a single head of hair, "the cuticle is all aligned in the same direction," which makes it look ultrarealistic. "The reason why the cuticle pattern is so important is because, if you have hair that's going in two different directions, you'll get knotting and matting," Currier says.
Currier adds that the hair type is important to take into consideration, as well (the types can range from Russian to Indian to Brazilian). Philocaly uses Russian hair, which Currier recommends for people with thin hair. And it's a brand you can wear in good conscience, according to Currier, as the hair is ethically sourced, "meaning that they don't just go up to people and chop their hair and steal it, because that's a real thing that happens with hair extensions." These quality markers do come at a price, though: This is one of the most expensive set of clip-ins on our list.
Best silicone-weft clip-in hair extensions
These extensions are built to be more seamless than your standard set of hair extensions, giving them a more natural look when placed. Currier explains that the "clip-ins are typically sewn onto lace; these are placed on a silicone band that lays incredibly flat on your head." Currier also appreciates Bellami's wide color range. "The reason why I started wearing them was because I was working with silver hair, and no hair-extension company had silver extensions," she explains, "But at the time, Bellami did a collab with a silver-haired YouTube influencer, so they did." And no matter which weft or color you choose, she says the hair you're getting from Bellami (which is 100 percent human) is quality. "Their clip-ons always last a year or more," she notes.
Veronica Johnson of Anahella Bridal also thinks Bellami gets it right, saying, "they have mastered the grams [how hair-extension companies measure volume], the length, and the feel is very natural." By "mastering the grams," Johnson means that you can buy exactly how much hair you need from Bellami, unlike with a beauty-supply store where you might get "straggle pieces." It is also slightly cheaper than some of the other high-end companies — a full $200-plus less than the Hair Shop.
Best skin-weft clip-in extensions
An even more modern upgrade to the silicone-weft extensions are what's called skin-weft extensions, and the difference between the two is "how noticeable they are when the hair moves," says Priano. Instead of the hair being attached to a top strip of silicone, the hair looks like it is growing directly from the weft — and in this case the 'weft' is not a piece of fabric at all but rather a tape adhesive to which the hair sticks. There are special lightweight clips involved here — "33 percent lighter than traditional clips," according to the company — that contribute to the seamless, this-hair-is-all-yours appearance. For example, Priano adds: "Let's say the wind is blowing. When you have the old [style of weft] in, sometimes you can see the top of the weft, unless you colored it in with a pencil or a hair-root cover spray, but [with the skin-weft version] it actually looks like it's skin instead of the fabric." (Priano also likes Luxy extensions for this type of seamless application, saying "the quality is similar," but adding that Glam Seamless has "more of a variety in length and colors.")
Best waist-length extensions
They are the "only consumer brand offering 30-inch clip-in extensions," according to Maine. (Full disclosure: He has a collaboration with the brand.) Henry de la Paz, another RPZL fan, was first introduced to the brand while working as the global ambassador to Warren Tricomi salons, and found that their silicone wefts are so seamless "it's almost like a Band-Aid." (Compared to a traditional weft, which Paz describes as more of a bulky anchor, these are thinner and lighter so they don't pull on your hair as much, which is particularly important when it comes to longer, heavier extensions.) So, if you want hair down to your waist, this might be your best bet. Oh, and they're available on Postmates, too. Maine adds: "If I'm doing a bridal trial, or if I'm on set, or my client forgets their hair extensions, or I don't have the right color, we can get them basically on demand."
Best curly clip-in hair extensions
For black women with curly to coily hair (or 3C to 4A type curls) De La Paz recommends this "beautiful curly-hair texture." He says it can be used for various styles including a twist out and bantu knots. And because it is 100 percent Remy human hair, it still has great versatility, and can be washed, cut, styled, and dyed to match your own hair. These extensions also happen to be sold on Amazon and meet our People's Choice best-rated standards. Nearly a third of reviewers give these clip-ins top marks for how well they blend in with their own hair. One even says "Absolutely no one can tell I have them in." Many do recommend washing them before wearing. "I would suggest co-washing and running through with a denman [brush]," writes one reviewer. "That takes out the overly manufactured look of the curls and they look really, really natural."
Best clip-in hair extensions for thick hair
Juanita Townsend, an Emmy award-winning hairstylist for Good Morning America, loves True Indian Hair for those with thicker hair. (The brand gets their hair "from donors in East Indian Temples and Brazil," according to their website.) She's particularly drawn to them for their range of hair textures: "From straight to wavy to curly to kinky," she says. And while hair extensions of this quality could easily cost you thousands, Townsend notes that these won't: "Even though it's human hair, it's still affordable."
Best clip-in hair extensions for thin hair
Ricky Kening, who founded the iconic NYC beauty supply store Ricky's and is now working on a project with another one of his favorite hair brands, Amoy, says he would turn customers with thinning hair looking for natural volume to House of European hair. European locks tend to be thinner than Indian or Brazilian, making it a better match for the more fine-haired among us. Indian and Brazilian hair is also naturally dark, and therefore requires lots of processing to get to blonde, which is why House of European Hair is also a good option for users with lighter hair (less processing is involved in their blonde color range).
Best clip-in hair extensions for blondes
But an even better choice for blondes, according to Currier, is this Australian brand, which is well-priced, has super-fast shipping, and, most importantly, has a fantastic, very natural-looking color range for blondes. According to their website, about half of the clip-in offerings come in some shade of blonde. Beyond the free shipping, 60-day returns, and the fact that the most expensive bundle caps out at $120, Currier says the quality is competitive. The hair is 100 percent human, Remy hair and it's also double drawn, which means, according to Currier, "the manufacturers hand-remove every short hair, anything that isn't the exact length as the rest."
Best beauty supply store clip-in hair extensions
While many of our experts prefer to stay out of the traditional beauty supply stores when buying hair, sometimes that's the only option. "For someone like me, where I travel all over the world to do hair, sometimes I have to go into a beauty shop and get hair there," De La Paz says. And when he does, as a "quick on-the-go for a client," his brand of choice is Euronext. Their hair is Remy, which is a priority for De La Paz, and is highly rated on the Sally Beauty site. Currier says that she, too, has used Euronext extensions from Sally's "for years," and finds the quality good, if not necessarily meant to last: "I would have to repurchase just about every six months, but for the price, it's great, and come in lots of different colors."
Best clip-in hair extension alternative
If you think no amount of teasing would get a clip-in extension to stay put in your hair (if, for instance, your hair is exceptionally thin), De la Paz recommends an extension with no clip at all: a halo extension. Instead of a weft, the hair is attached to a durable, elastic string, which De La Paz says is "almost like a headband." It goes "above your ear, behind like the crown of your head and then you just cover that string with your hair" — and voilà, "you have length and fullness." While other brands produce halo styles, his particular favorite are these designer extensions, which he admits "are expensive, but the quality is really good." It's human hair just like the rest of the options on this list, but these extensions have advanced color-matching technology that might actually save you money (they're so precise that you might not need to get them customized). The ombre colorways "are developed with a 'Sunrise' and 'Sunset' side," according to the website. "The Sunrise side is layered with a lighter shade and the Sunset side has a darker shade," to accommodate the way your natural hair changes color with the seasons. This purchase also comes with a number of accessories, including a hanger and bag for your extensions, a Balmain hair tail comb, one meter of extra fill-in strand, and two security clips.
The Strategist is designed to surface the most useful, expert recommendations for things to buy across the vast e-commerce landscape. Some of our latest conquests include the best acne treatments, rolling luggage, pillows for side sleepers, natural anxiety remedies, and bath towels. We update links when possible, but note that deals can expire and all prices are subject to change.