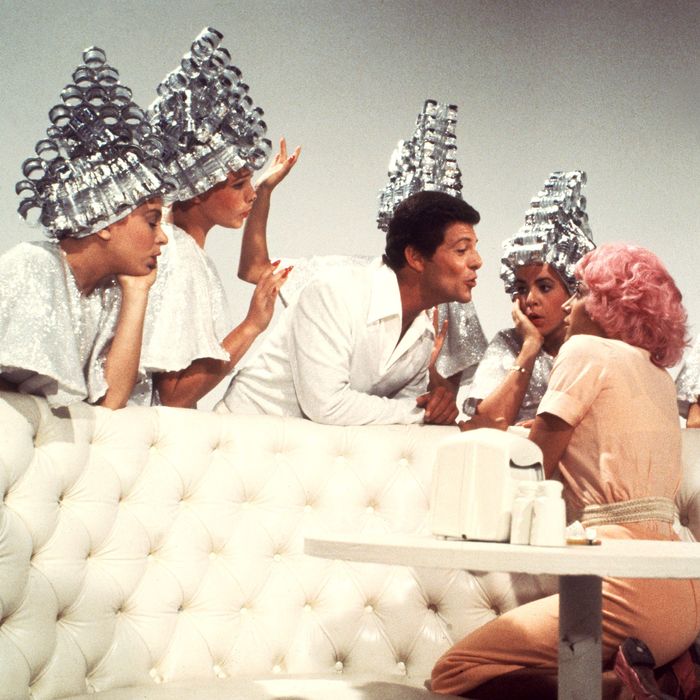 Photo: Paramount/Rso/Kobal/Shutterstock
Some things that were easy to ignore at the start of quarantine might suddenly seem unbearable: the sound of your roommate chewing, uncomfortable WFH desk setups, and your roots, to name a few. While we can't fix everything, there are plenty of at-home solutions to your hair. But before you buy a box of dye, "reach out to your colorist for any advice before, during, and after your home experiments," stresses Amanda Power, founder and creative color lead of Power Hair. Colorists are the most familiar with your hair's history, and many salons are even offering to custom mix their client's color and ship it straight to their door. All of the colorists we spoke to shared the same word of warning, summed up by Power: "I encourage any and everything — except bleach!" Christine Thompson, master colorist and co-founder of Spoke & Weal, agrees: "I have seen so many mishaps. Unless you have some experience with bleach, you should leave this to the professionals." To find out which products they do recommend, we asked Power, Thompson, and four other colorists (plus a few brave beauty experts who have tried at-home hair color) about the products they trust. Read on for the root touch-up kits, semi-permanent hair dyes, and tools that will turn your bathroom into a makeshift salon.
Best tools to dye hair at home
According to Thompson, "most at-home color kits provide all the tools you will need, like gloves, a bowl or bottle, and a brush." In the event they don't, Chelsey Pickthorn, founder of Pickthorn salon (who is offering at-home consultations), suggests the above products for a complete DIY setup. Having a bowl, brush, and whisk on hand to mix and apply the dye streamlines the process, while a shower cap and gloves keep the color from getting on your skin. Pickthorn also suggests keeping an old T-shirt or towel on hand that you don't mind staining.
Best product to touch up roots


If your primary concern is covering up your roots, several of our experts said they loved dpHUE Root Touch-Up Kit. "I recommend the dpHUE touch-up kit over any store brand color," says Thompson. As far as application goes, Thompson says you want to be as precise as possible. A small color brush is included in the color kit, or you could use a small paintbrush or makeup brush, she adds. She suggests painting the color onto the entire hairline, starting in areas with the most gray to ensure that it processes the longest. "DpHUE's website also has good information and instructional videos," Thompson notes, if you need any additional tips.
Best semi-permanent hair color