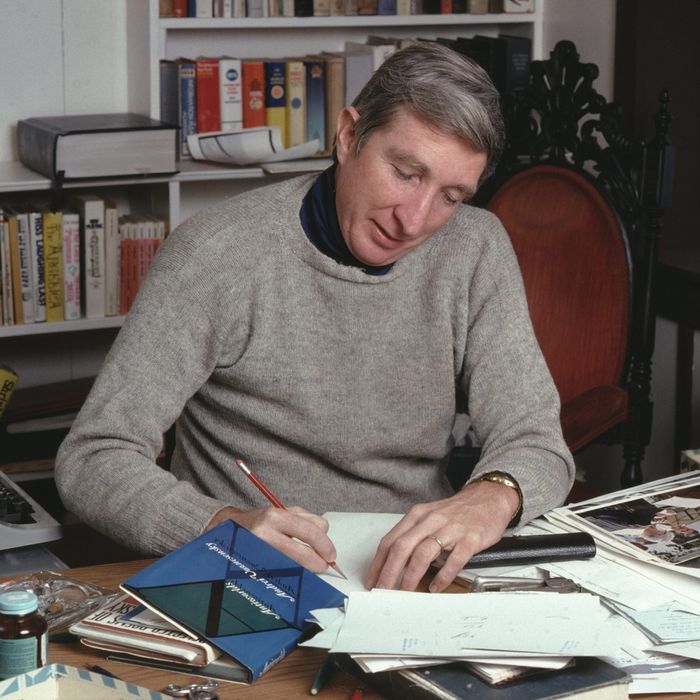 Photo: Jack Mitchell/Getty Images
The average American adult spends 6.5 hours a day sitting — and that's when we're not socially isolating and tasked with staying inside as much as humanly possible. These days, many of us who are now working from home are not only sitting more, we're also no longer sitting correctly without office luxuries like ergonomically designed chairs and adjustable laptop stands. "When people are working at home, the productivity and the amount of time they're sitting at the desk, are a little different than when they're at the office," says Vivian Lee, founder of posture-wear brand Kinflyte. "The ability to understand and work on posture is even more important when you're at home working." Making matters even worse, "now with social distancing, you miss the appointments with your physical therapist, or the opportunity to go out and get a massage. We are on our own."
Fortunately, there are a whole host of ways to improve posture while working from home (without leaving home). "For improving or maintaining good posture, especially now with the work at home environment, there are three main components: one, the workstation that you're using; two, wearables; and three, things for at-home strengthening," says Dr. Joseph Herrera, Mount Sinai's director of sports medicine and chairman and professor of the Department of Rehabilitation and Human Performance at Mount Sinai's Icahn School of Medicine.
Here's what Herrera and a handful of other experts we spoke to recommend, from high-tech posture gadgets to orthopedic pillows.
"Laptops, iPads, or tablets are not the best when it comes to maintaining posture, because you're forced to sit in a flexed position," Herrera explains, which is "everything opposite from good posture." We've covered ergonomic chairs and laptop stands pretty extensively, but if you're not looking to upgrade your office furniture at the moment, there are lots of odds and ends that'll upgrade your overall experience.
Herrera advised his faculty and staff to get a Bluetooth-connected keyboard and mouse, so the screen and keyboard heights can be separated, for optimal positioning for vision (head and neck) and typing (shoulders and back). He also suggests using a headset or earbuds instead of holding a phone up to your ear for calls.
Those with Apple computers should opt for the company's Magic Keyboard, which, according to fans, is high-quality, lightweight, and boasts an impressively long battery life. For the full experience, throw in an Apple Magic Mouse, too.
For static chairs that aren't officially ergonomic, "use a cushion or towel between your back and the chair," says Liu, noting that it's "very, very helpful" for lumbar curvature and support. If a towel isn't cutting it for you, consider upgrading to this chiropractor-approved cushion designed specifically for lower back support. Herrera also suggests an inflatable version that lets you more precisely adjust to your spine's natural curve.
Or for something a little more luxurious, consider this one that Strategist staffer Mia Leimkuhler swears by. She likes that it's extra supportive and improves her posture, and she describes it as being "held up — nay, massaged — by a thousand interlaced fingers: firm with just a bit of squish."
Or, try this nifty Strategist hack: a mesh contraption that turns any chair into an Aeron-esque experience (or as close to it as you'll find without dropping four figures).
A seat cushion can help, too, "because you can bounce and neutralize your hips," Liu says, similar to a ball chair.
Joyce Englander Levy, a yoga instructor and director of mindful movement for wellness brand The Well, recommends wedging a Yamuna Ball between your lower back and your chair "to help support and maintain the natural curves of the spine," she says.
If your chair and desk can't be adjusted to allow your feet to rest flat on the floor, try elevating them slightly instead of letting them dangle. Herrera says foot cushions can provide some relief when sitting, "by elevating your feet to a different position, at an angle of 30 to 45 degrees that helps you stretch your calves" by putting them into a dorsiflex position. Rohini Menezes, a consultant who frequently works from home when she's not on the road, says, "I've been using yoga blocks as a makeshift foot rest since my office started working remotely, and noticed I sit up straighter and have better posture when I have my feet slightly elevated." She recently upgraded to this under-desk footrest that a few of her co-workers swear by; it's generously sized, can be separated into two rests, and has nonslip rubbery treads to stay in place without scratching floors.
Posture clothing is a niche but growing category that bridges medical and physically therapeutic design with fashion — and while it usually looks like the former, newer brands like IntelliSkin, IFGfit, and Kinflyte are a touch more style-forward. "Wearables serve the purpose of a reminder," Herrera explains. "Clothing itself serves as a tactile reminder, meaning that you'll start to feel pressure on your shoulders, or stretching of your back as you start to slouch."
Posture bras
For women, "a good place to start is a bra," says Herrera, noting that "bust size can affect your posture, and a larger bust may force you into poor posture." Just keep expectations realistic, Herrera says. As with any wearables, they're not going to fix the problem on their own: "A posture bra can help pull your arms and shoulders back a bit more, and help align you more favorably," he says. "But it all serves as a reminder; it doesn't replace the exercise you need to put in to build the muscles that help maintain strength and endurance to maintain posture." One Strategist writer found posture-wear brand IntelliSkin's bra to be discreet and tasteful, noting that "with its open neckline and cap sleeves, the bra (which also comes in white) looks kind of like a ballerina's top." In fact, she liked it so much, a handful of her friends have since purchased the same bra.
Posture-wear brand IFGfit uses strategically placed tension through varying stretch panels instead of compression for "dynamic retraining of the muscles that puts you in a proper position, and uses proprioception to retrain the neck, shoulders, back to let the muscles do the work to realign your body," founder Dr. Stephen Liu, who spent 25 years in sports medicine before launching the activewear line, explained to me.
IFGfit's Lisa bra has a moderately high neckline, is comfortable enough to wear all day (and, as this writer can attest, even sleep in). It also continues to alleviate posture pain for hours after you've taken it off. The brand also makes a slightly lower-cut, scoop-necked Arya bra, as well as the rather saucy, plunging, mesh-paneled Christine V-neck style.
Photo: Ja Hwa Lee
Similarly, Kinflyte's bras have cushioned compression panels and wide shoulder straps to "gently push the shoulders back, open the chest, encapsulate the bust, and support the back," Lee says. The tech veteran worked with a performance wear designer from the North Face to prototype Kinflyte's designs at an ex-Nike exec's Portland, Oregon, innovation lab. It's worth noting that Kinflyte offers a significantly more inclusive sizing than other posture-wear brands.
Posture shirts
If you're interested in trying posture wear, our experts say a shirt is a great place to start. "The tactile response or sensation that you get when you fall out of a good posture when wearing those shirts is very similar to soft braces," Herrera says. One Strategist writer who tested out this IntelliSkin tee said that "wearing it felt is like a really tight hug."
Liu explains that posture shirts work to "keep the muscles in training mode all the time while you wear it, because it has some springing effect, keeping the shoulders back." The payoff is mental, too: "With reduced pain and aches, you're going to sit longer, and have the ability to work longer hours and stay more focused," Liu says.
Posture leggings and shorts
If you have chronic hip or lower back issues, our experts recommend trying posture-wear bottoms — or even a head-to-toe posture-wear outfit. IFGfit leggings are quite structured and feel more compressive than the snuggest compression legging you own, while Alignmed's capri version has a buttery finish that feels and looks similar to Beyond Yoga's ultrasupple ones, with a noticeable yet subtle support of the lower back.
Bike shorts are a more versatile option, because you can conceal them under many outfits (bonus: they double as a foil for dreaded thigh chafe). Liu says he sells a lot of IFGfit's posture shorts to executives who wear them under their work clothes, noting that they're also popular among pro athletes who require hip mobility. "Athletes have a lot of strain and injury at the hip level, and whatever they're doing on the lower body translates to the upper body," Liu explains, adding that the U.S. Soccer Team's physician, a top hip-surgery specialist, uses the shorts to retrain players' and patients' hips pre- and post-surgery.