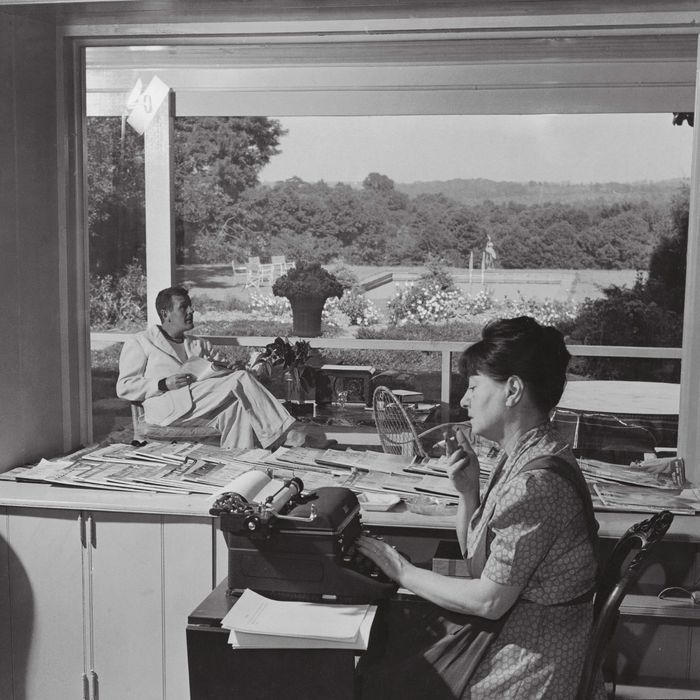 Photo: Emelie Danielson/Conde Nast via Getty Images
The coronavirus pandemic has changed just about every part of people's day-to-day lives. More than ever, we're socializing at a distance, shopping online, and working from home. And though there are lots of people who have been working from home for years, there are plenty of us who aren't so accustomed to taking meetings or completing a presentation at a kitchen table (especially if you share that space with family or roommates). So to get us through these strange times, and maybe help you feel a little more productive in your living space, we've rounded up all the best products for getting work done from home. That includes comfortable work clothes (that aren't pajamas), noise-canceling headphones, office chairs, laptop stands, and a bunch of other recommendations from professionals who work from home every day.
In addition to a suitable desk and chair — plus an array of accessories for breaks and coffee — several professionals said that this TraoTronics lamp is key for staying focused, and that the multiple brightness levels help differentiate between work time and relaxation time. Read more here.
For Strategist intern Kayla Levy, working from home during the coronavirus pandemic means constantly sharing space with four other roommates, all of whom are able to stay caffeinated for a full day of work thanks to this 12-cup coffee maker. They also depend on a white-noise machine to keep noise down during Zoom meetings, an extension cord so everyone can plug-in in the living room turned office, and a bunch of other stuff to stay accountable as housemates. Read more here.
Over 4,500 five-star reviewers praise this AmazonBasics office chair for its durability and comfort, including one customer who sits in it every day for six to eight hours and has "zero complaints." We found 19 other reviewer-adored chairs for your home office if you'd prefer something without arms, made from mesh, or for standing desks. Read more here.
For the last three years, Strategist newsletter editor Mia Leimkuhler has worked from her Philadelphia home (instead of our NYC office) several days a week. Thanks to this Purple Royal gel cushion — which she says feels like being massaged "by a thousand interlaced fingers: firm with just a bit of squish" — Leimkuhler is literally able to work anywhere, from a bar stool to the floor, no office chair needed. Read more here.
Against the advice of her physical therapist and some crystal healers, writer Liz Carey works from bed, bent over her laptop — or at least she did, until she found this adjustable laptop table from Avantree. Carey can now places her elbows, laptop, and a margarita on the makeshift desk all while avoiding spills and preventing shoulder and neck pain. Plus, it doubles as tray for feeding her son Fruit Loops when he's sick in bed. Read more here.
According to Great Jones co-founder (and former Grub Street editor) Sierra Tishgart, the Roost is a laptop stand which doubles as an "ultimate status symbol at The Wing." She writes that the adjustable, portable stand "puts you at eye level with your laptop, relieving the strain on your neck and making you less of a hunchback," and affords owners with an unofficial place in the "ergonomic cool-girl club." Read more here.
Former tech columnist David Pogue advises that "as with mattresses and ice cream, it's worth going premium for Wi-Fi." That's why he recommends this multi-router, mesh-network Eero system: "They create a single blanket of strong Wi-Fi coverage everywhere you go," eliminating any dead spots so you can work from home in any room. Plus, the system looks sleek and comes with an app that "can shut off the kids' Wi-Fi access at mealtime and sleepy time." Read more here.
This ASUS 21.5-Inch Monitor comes with an HDMI cable, so those working from home can "absolutely plug and play," as one reviewer puts it, from their laptop to the high-quality screen. Other reviewers vouch for computer monitors that are curved, ultrawide, and great for watching movies — and all of them are available on Amazon. Read more here.
After testing dozens of noise-canceling headphones on cross-country flights during his career as a tech writer, David Pogue firmly believes that this pair from Sony are "the best noise-canceling headphones ever made" — and he has six reasons why they're better than others on the market. Read more here.
While people are refraining from touching their faces in the midst of the coronavirus pandemic, we are all still touching our phones and laptops, which is why tech cleanliness is of paramount importance. Before you wipe down a tech surface with alcohol, Clorox wipes, or disinfectant spray, Anna Harasim, founder of Anna's Cleaning Service, suggests blasting away debris between the keys or case with this compressed-air duster. Read more here.
Strategist editors are known to be particular about their stuff, and last year they tested 100 expert-recommended notebooks — according to a detailed list of criteria — to find the best one. Among spiral-bound, linen-covered, and dotted picks, writer Liza Corsillo found that this Public Supply Soft Cover Notebook, with its thick and sustainably sourced paper pages, reigns supreme. Read more here.
Two years ago, our obsessive editors tested 100 felt tip, ballpoint, rollerball, gel, and fountain pens (again according to a strict set of criteria and methodology), and this time found that the best overall pick is the Squire pen from Baron Fig, which former deputy editor Jason Chen gave a score of 5 out of 5 for its smoothness: "It practically dances across the page, and the ink comes through with command and a real presence," he writes. Read more here.
When working from home, taking breaks is essential, and this Datexx Miracle TimeCube Timer helps Strategist managing editor Maxine Builder stay focused for 25-minute "Twitter-free chunks," with five-minute breaks in between. "The strategy helps me get out almost two hours of uninterrupted work without feeling burned out," she says, calling the timer a productivity "mind game." Read more here.
Chris Black's first rule of working from home is to get dressed, and since everyone is working from home these days, we wanted to know what our resident cool guy is actually wearing. The verdict: a Uniqlo button-down and these Stussy shorts for a "simple, comfortable, breathable" look that fits into his normal "Ivy Sport look." Read more here.
After a few days of working from home in her uniform of boxers, a sleep shirt, and no bra, Strategist writer Dominique Pariso decided to heed the advice to get dressed and put on this pair of cozy Uniqlo Twill Jersey Pants, which she swears feel like "sweatpants masquerading as work pants" but still give her boardroom-ready energy. Read more here.