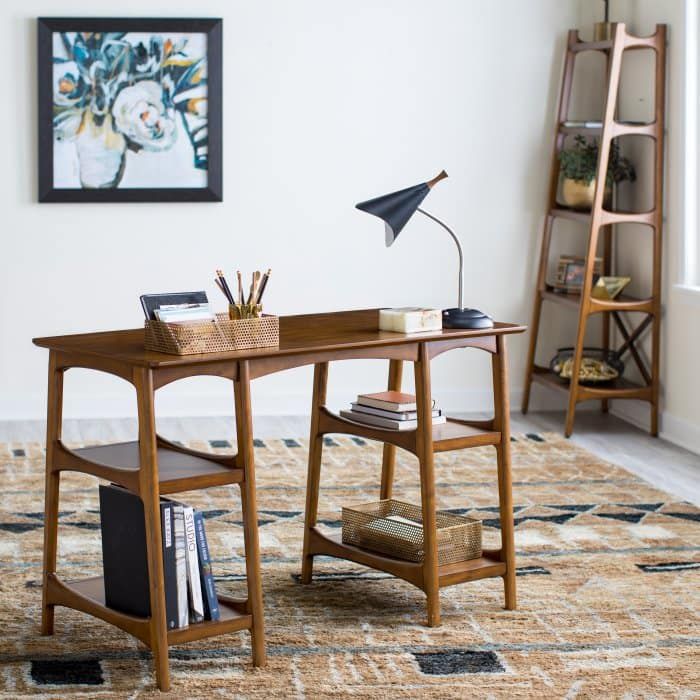 Here at the Strategist, we know that finding the "best" product really depends on exactly who you ask — which is why we've devoted a new series to squeezing in as many informed, trustworthy opinions as possible. And we've come up with dozens of ways to do this, among them: surfacing reader reviews from across the internet, taking quick polls (among our most insane friends and fellow shopping-obsessed Strategist editors), and partaking in some advanced internet snooping.
With that, we're rounding up the best desks, according to the people. Our recommendations range from a bamboo laptop desk beloved by the Strategist's resident home-design writer to a direct-to-consumer standing desk with over 2,000 glowing reviews, and almost all are under $500.
Snooping: Interior designer Justina Blakeney's desh-slash-bar
When Blakely remodeled her Los Angeles home, she installed a mid-century modern secretary desk with two drop-down shelves that create "the perfect small-space desk and bar." Though there's no exact replica for Blakely's vintage piece, AllModern's multipurpose white floating desk has two drop-down shelves and a modern look.
Ask a Cool Person: Reporter and podcast host Sylvia Obell's writing desk
Obell told us the design of this desk suits her minimalist style, and the white marble desktop serves as a canvas for her to add "pops of color from desk accents like a stack of books, a cute tray shaped as red lips." She likes that because the drawers are open-facing, they "force me to keep them tidy." Obell also tells us it was "easy to assemble, which I appreciate as a single woman. All I had to do was screw on the legs."
[Editor's Note: This desk is in stock on Amazon, but it will take 1-2 months to ship to you.]
Snooping: Philip Roth's lectern
The novelist had two light-wood lecterns, which he used as standing desks—one in his Upper West Side work studio, the other in his home in Connecticut. He stood while he wrote instead of sitting because he had a bad back and was said to have walked half a mile for every page he wrote. While Roth's were custom-made, these from Classroom Essentials Online will create a similar-looking setup.
Ask a Cool Person: Painter Marcus Brutus's Ikea low "desk"
The artist tells us that in place of a desk, he prefers to use this coffee table from Ikea to work on "smaller drawings." Brutus says he leans over it from his couch and that it "isn't so low that it strains my back."
Snooping: Bob Boilen's "Tiny Desk Concert" desk
Desks aren't generally featured in concerts, except Bob Boilen's, which is used in NPR's "Tiny Desk Concert" videos. His L-shaped eight-by-six-foot desk sits in the network's D.C. office and comes from Herman Miller's Canvas Office line. Since those are only available in bulk, get this L-shaped six-by-six-foot desk from Bush Business Furniture, which comes with a wide top and looks quite similar.
Expert-Approved: Best desk for kids according to child psychologists
Dr. Donna Housman says having a flip-top desk will help ensure children store their belongings properly, as it gives them "a special place that belongs just to them." We particularly like this handsome-yet-unobtrusive wooden option.
Expert-Approved: Best desk for teachers according to a teacher
For New York City–based special-education music teacher Connay Bratton, having a desk with wheels enables her to "easily transition the classroom into a better setup for my students," who do a lot of "hands-on project-based learning in groups."
[Editor's Note: This exact model is sold out, but Symple Stuff makes a couple wheeled desks, like this mobile computer desk with a keyboard tray and this desk with a hutch.]
Snooping: Alex Katz's studio desk
A 2018 New Yorker profile of the 93-year-old artist includes a picture of one of the offices in his West Broadway studio. Underneath piles of photographs of his family is his desk, made out of two industrial gray metal filing cabinets (covered in Post-it notes) and a slab of glass. Similar cabinets are available at Staples; the glass can be procured at Home Depot.
Ask a Cool Person: Molly Young's pink
Formica desk
The DMs to New York Magazine's literary critic are filled with people asking Young where she got her charming little pink desk. "I instruct them to set an eBay alert for 'pink Formica table,' " which is how Young found it, she says. This dining table on Pamono is quite similar to hers.
Snooping: Best small desk used by a Pulitzer Prize–winning journalist
Just as most people reached the one-month mark of working from home during the coronavirus pandemic, Ashley Parker, a Pulitzer Prize–winning White House reporter for the Washington Post, took to Twitter looking for an in-stock desk. "I am losing my mind and don't know how much longer I can work from my 'left side of the bed' home office," she wrote. At just over 28-inches wide, complete with two drawers, her "gold standard" of small desks — the Dean Console by Safavieh — is sold out online, except at a couple of smaller sites. However, this desk from Mercury Row, which is available at several major retailers, is a pretty close dupe, down to the 28.3-inch width, double set of drawers, and comparable price tag.
Expert-Approved: Best standing desk according to chiropractors
If you prefer function over form when it comes to standing desks, both chiropractor Jan Lefkowitz and integrative pain expert Joe Tatta vouch for the Varidesk, because it can switch between standing and sitting height. Tatta explains that "substituting prolonged standing for prolonged sitting results in a greater feeling of discomfort," so he likes that this three-plane desk "accommodates a variety of body types and postures."
Strategist Pick: Best Donald Judd–esque desk
When we realized that a small group of stylish people were building their own Donald Judd–inspired furniture, we also learned that there's some Judd-esque pieces for sale at Urban Outfitters (of all places) — like this mid-century foldout desk, that does double as a storage space. The modular, minimal, wooden look is certainly Judd-ish, with some modern touches like a cord hole in the back and some hidden storage compartments. The desk is on pr-order right now until November 11, but if you can't wait that long for a Judd-esque workspace, consider this pale wood table.
Ask a Cool Person: Chris Black's favorite desk
When he's not working from bed, our resident taste-based expert Chris Black uses a simple, untreated wood desk that his friend built for him. However, if he were to buy something, Black recommends this (also extremely Judd-ish) desk from Steelcase, calling it "clean, simple, and well priced. You can fit storage underneath which is a bonus," he adds. Like anyone with a penchant for the modular and minimal, Black suggests the winter on maple or white-toned option.
Curbed Editors' Choice: Best space-saving desk
According to writers and editors at Curbed, another desk solution for small spaces is this wall-mounted Elfa pick, which includes three shelves. "Transform a small nook from wasted space to functional desk with this set that uses only one piece of track mounted to the wall," explain the writers. Plus, on the Container Store's website, the desk gets dozens of five-star reviews (with none under four stars), including one Manhattan-based customer who calls the purchase their "best decision ever," adding that they can now study in their studio apartment instead of going to a cafe with enough space.
People's Choice: Best-rated desk according to Amazon reviews
Real-estate developers and mechanical engineers praise the minimalist look and sturdy construction of this Zinus Soho desk, which is the best-rated home-office desk and writing desk on Amazon. The rectangular desk is two feet deep and ranges from 47 to 63 inches long, providing what