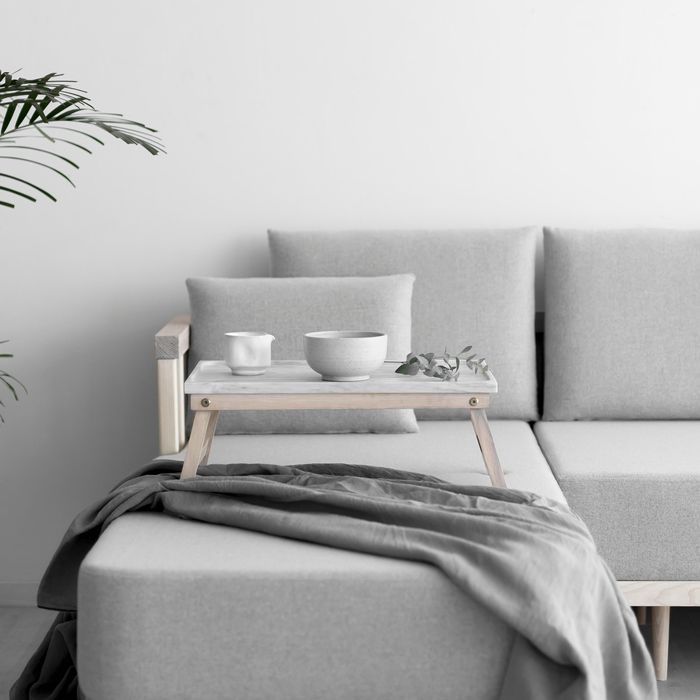 A great desk can improve your productivity and your posture — but it can also take up more space than you can spare. Fortunately, you don't need a sprawling apartment or a proper home office to eke out a dedicated workspace. Small solutions abound, from lap desks to retro TV trays, so if you've spent the last few months hunched over your laptop while lying in bed and working from home, an upgrade would do you well. (After all, many of us won't be returning to our offices anytime soon — or, perhaps, ever.)
With that in mind, we asked 13 work-from-home professionals, interior designers, and small space experts to share their favorite small desks and tiny work surfaces at every price point.
Best
under-$50
small
desks
Jennifer Keishen Armstrong, author and podcaster, has worked from home for nine years and has come to rely on a pair of "fantastic" Ikea C-side tables, which she and her partner each use on their preferred end of the sofa. She likes that they "allow you to sit up properly and have a hard surface for your computer." If she's feeling lazy, she'll pull her computer into her lap and use the table "for other stuff, like a drink or pens and paper or books I'm using for research." This even smaller IKEA option slides onto the couch itself.
Susan Dominus, staff writer for The New York Times Magazine, likes this cheap, compact Ikea piece so much, she owns not one but two (and raved about it on Twitter last month). "It seemed like a good desk for a 10-year-old boy, which is the original person for whom I purchased this desk," she says. "At some point, I decided I really wanted to work in my nice sunny bedroom, and there's this little corner where only a small desk would fit, so I stole my son's desk" before buying a second Micke. She says the white finish "feels clean, bright, efficient, and friendly." It's also surprisingly spacious; despite feeling quite cozy, "the desk seems strangely big, wide, and deep for its size, and the drawer is surprisingly capacious, just big enough for everything you'd need," Dominus says. (It would also make a great grooming nook, she notes: "If I were a different kind of person, I'd be using it as a vanity, with a big mirror and perfume bottles on it.")
Sarah Brown, Vogue contributing editor (and the magazine's former beauty director), likes lap desks that can move from the couch to the bed to the floor. She got her first one years ago for around $20 at Staples, concerned about "radiating the lower half of your body for hours when putting a laptop directly on your lap — it's a dangerous, bad idea." She's gone through a couple over the years, and this memory foam cushioned lap desk is the latest. Beyond looking "pretty decent," she likes that it has a slot for holding one's phone or iPad. "Even if you've got a plush office setup at home, I recommend getting a lap desk, because there are going to be those times you feel like working in bed or on the couch," Brown says.
Architectural designer and blogger Sade Akinsanya says she purchased a version of this tray table from a Laura Ashley store a few years ago, and it "has been well used ever since." She reaches for it often: "When I want to work from bed, when I want to eat and watch Netflix, when I want to photograph something."
You don't have to be a pro to build your own dream desk — and you don't have to spend a fortune, either. Medina Grillo, author of Home Sweet Rented Home, suggests a surface like this IKEA tabletop paired with whatever sort of base you like. Grillo cut a tabletop at an angle to fit into a small nook underneath her living room staircase, which now serves as her family's "homework station." Instead of table legs, Grillo uses drawers "to make it look like a built-in desk."
Andi Barzt, author of The Herd, uses the same Ikea tabletop, which she has propped atop two metal trestles. "Because I live in such a small apartment — a 380-square-foot studio — it's important that all my furniture doesn't take up a lot of visual space," she explains. "My desk keeps the studio feeling more open than a big, blocky desk against the wall would." And even though the workstation is small, the wood slab feels spacious. "I can spread out without it taking up my whole apartment."
Best
under-$100
small
desks
Meredith Talusan, author of memoir Fairest, has used wooden laptop desks for over a decade ("since at least the mid-2000s") and currently has this model, which she loves so much she traveled with it to Guatemala and the Philippines. "I like that it tilts and has that piece of wood that stops your laptop from falling down, and even has a little drawer to keep your stuff," Talusan says.
Joe Peracchio, screenwriting professor at USC, says, "I use this thing constantly: in bed, on the couch, by the pool in a chaise lounge, everywhere." He notes that the legs extend high enough that he can even set it up on his dresser and work while standing. Peracchio likes its generous size and impressive portability: "It's big enough to also hold a pad of paper next to a laptop, so you can jot things down, and it collapses easily and folds down really compactly so you can tuck it under an arm and carry it," he says. "Plus, it has this cool feature I just love: these little ledges that hold the laptop in place and pop on and off super easily, so no matter what angle you're at, it's not uncomfortable for your wrists."
Photo: retailer
Brown likes this bright pink model that's "cute and feels very K-pop" and has longer-than-usual legs. "It's like a next-generation TV table with these funny legs that you can bend to whatever shape you want, and it actually looks really good. It's cute!" she says. But it's also portable enough to hide as desired, she adds. "It's great to have something that folds up so you can stash it in a closet or throw under your bed when you don't want to look at it anymore." A useful bonus feature: a built-in fan for ventilating a hot laptop battery.
Photo: retailer
Like Armstrong, writer and critic Kyle Chayka, author of The Longing For Less: Living With Minimalism, suggests having multiple surfaces around you wherever you work – and not just for a laptop. Chayka uses this wooden legless tray, available in striking striped, dotted, or marbled patterns, when working on the couch. "It's awesome and very handy for putting water glasses, mugs, or snack bowls on," he says. "The colorful design breaks up the monotony a little bit and the wood is easy to clean."
If your daily grind involves work that's less digital (staring at a laptop) and more analog (handwriting), consider a portable writing desk, which Talusan recently ordered. "Over time, I've steadily switched to only working with pen and paper or occasionally an iPad when I'm not working at a desk, so I just got this portable writing desk from Etsy."
Best
under-$200
small
desks
If you're short on square footage, make the most of wall space. "A wall-mounted desk is a smart solution in a small room because it has no legs to infringe on your space," says Laura Fenton, author of The Little Book of Living Small, adding that these options are also often much smaller than traditional desks. She used a wall-mounted desk as part of a storage system beneath a loft bed in her first apartment. Other spendier wall-mounted storage systems that Fenton says can similarly be built out for working are The Container Store's Elfa system, like this cute office nook set, and Vitsoe Universal Shelving System's desk shelf (or, for something a bit bigger, an integrated table).
Fenton assembled and shot this Murphy-style desk for Parents magazine years ago, and says that while she can't speak to how it would have held up in the long-run, it "was nicer quality than I would have thought for the price." One caveat: You'll likely need a pro to properly mount this on the wall, "especially if you have old plaster walls, as many pre-war buildings do," Fenton notes.
Best
under-$500
small
desks
If you can't spare the wall space for a traditional desk but have a free corner to fill, Fenton suggests a triangular desk, which makes "an often underutilized part of any room instantly super-functional." She uses a vintage version similar to this unfinished wood option. If you're looking for a finished, painted alternative, this very similar one comes in three muted pastel shades and is just $120; we also like this white doorless version that's on sale for $130.
Chayka co-founded a Brooklyn co-working space for journalists, and when scouring for furniture to outfit the office, he bought a dark hardwood desk with hairpin legs from Etsy. When the space shuttered, he moved the desk home to work from. "I'm glad I invested in a desk that looks like Serious Adult Furniture," yet doesn't come across as "too corporate or formal," he says. While