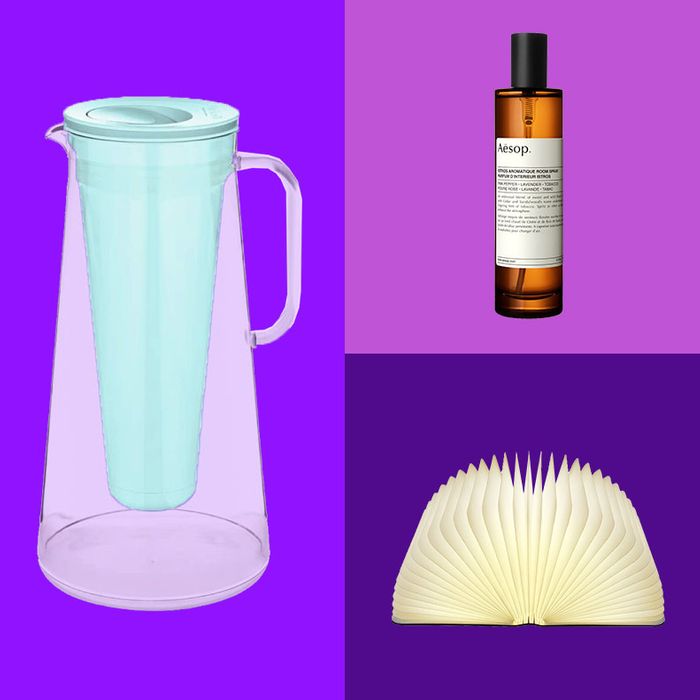 Photo: Courtesy of the retailers
So your friend has a new apartment or, after years of sharing a bedroom wall with their kitchen, just got the keys to their first proper house. (Or their second proper house, if the pandemic inspired them to dump their savings into a country home with more outdoor space.) Wherever they've landed, choosing the right housewarming gift can be tricky, not least because the range of things to buy is so wide. Do you go with something that matches their aesthetic, or something you use yourself and love? Is it a functional gift, or one that sets a mood? Should you choose something for the bedroom, the kitchen, the bathroom, or the living room? With host and hostess gifts, the parameters of what you should give are pretty clear (something they can use when hosting future guests). But when it comes to housewarming gifts, there really are no rules.
To help you find housewarming gifts that will make your recipients think of you long after you give them, we asked 18 homeowners and renters — including some with day jobs as interior designers, musicians, and chefs — about the best housewarming gifts they've ever received, as well as housewarming gifts they've given that have gone over well. Their 52 ideas below include options for practically every budget and home size, any of which will guarantee that you're thought of long after you leave the (virtual) housewarming party. Those who have some sense of what they're looking for can click on on any of the links below to jump to those specific products.
Kitchenware | Décor | Candles and scents | Food and drink | Other recommended gifts
Kitchenware
Gifts for the kitchen — the heart of many a home — were the most popular among our panelists. According to chef Jeremy Blutstein, the best housewarming present you can give is cast-iron cookware — specifically, from Lodge, which makes the cast-iron pan that Strategist writer Liza Corsillo said is the best single thing she bought last decade. "It will last a lifetime," Blutstein told us, citing the cookware's superior heat-retention ability, durability, and the fact that pieces improve with every use because they retain hints of flavors from previous meals. Blustein adds that Amazon offers a "crazy deal" on Lodge pans, pointing us to this five-piece set that includes a griddle for pancakes, a Dutch oven for roasts and bread-baking, and a skillet you can use to make fish, steak, and vegetables, for $150.
If you just want to go with one Lodge piece, this is the pan Corsillo swears by. "I use it every day, would buy it over and over again, and enthusiastically recommend it to everyone I know," she wrote.
Perhaps you want to give one pan, but are looking to splurge. This pan, recommended by New York-based stylist Mecca James-Williams, is "one pan that can do everything," making it worth its higher price tag, according to her. Additionally, because it functions as eight different pieces of cookware — the pan comes with a spatula and steaming basket, is both as deep as a saucepan and as wide as a skillet, and can be used to sauté and fry — it's a great way to reduce clutter in a new kitchen.
A few folks we talked to recommend giving salt-and-pepper shakers. "One of my best friends sent these to my apartment shortly after I moved in," home decorator Carrie Carrollo told us of this set of enamel shakers in a checkerboard pattern from New York–based ceramics maker MacKenzie-Childs. "I was in the thick of decorating, looking for accents to bring the space together, and surprisingly, these changed the entire look and feel for the best."
Canyon Coffee founders Ally Walsh and Casey Wojtalewicz say one of the best housewarming gifts they got after moving into their current Echo Park home is this brass pepper mill. Made in Greece, the mill grinds the pepper, which means your recipient can fill them with whole black peppercorns for that "freshly cracked" taste. Beyond its functionality, Walsh also loves how it looks on a dinner table.
Kelly Zutrau, the lead singer and songwriter for the band Wet, told us that a pitcher with a water filter would be a thoughtful housewarming gift, citing the hell that was dealing with her new apartment's old pipes and "slightly brown" water. After trying a water cooler ("expensive and wasteful"), a Brita filter ("foggy and mossy-looking eventually") and bottled water ("the most expensive and wasteful"), she did some research and found this Lifestraw pitcher. "Its two different filters make the water taste very clean," she told us, adding that "its sleek chamber fits perfectly on the top shelf of my fridge." The pitchers come in both plastic ($45) and glass ($55).
Elizabeth Jaime, a floral designer and the owner of Miami's Calma flower store, says these fancy plastic chopping boards from Strategist-approved brand Hay make for another functional — but also stylish — housewarming gift. "They're not your typical wood board" she told us, noting that "they come in the most beautiful colors." When she's not using hers as a cutting board, Jaime told us that it doubles as a neat tray for a cheese plate or other spread.
Art historian and curator Peter Benson Miller, who lives in Rome, says this cocktail board is one of the best housewarming presents he's received. "Made of olive branches from the Salento, a beautiful region at the tip of Italy's heel, the grain of these boards" makes a lovely backdrop for cheese and meat spreads, he says, adding that they're "treated with food-safe local beeswax and vegetable oil."
After the stress of moving into a new place, Jaime told us that the last thing many new homeowners (or renters) want to do is cook. That's why she recommends giving this rice cooker, which she's loved since her days working for Bon Appétit. "The Zojirushi is the only appliance that is allowed in my kitchen, besides a Vitamix," she says, adding that the cooker requires a minimal amount of effort to make a great meal. "I just pop a few cups of rice into the maker, and within 45 minutes, I have the best rice ever." For more rice cookers at various price points, check out our list of the best-rated ones on Amazon.
For something more striking than stainless steel, Alex Tieghi-Walker, the founder of Bay Area interior design store Tiwa Select, loves to give horn cutlery (teaspoons and butter knives made out of old cow horns.) "They're cheap, so beautiful, and you can find them all over," he tells us. Tieghi-Walker especially recommends giving them to homes with babies, as the horn material is a more natural alternative to plastic.