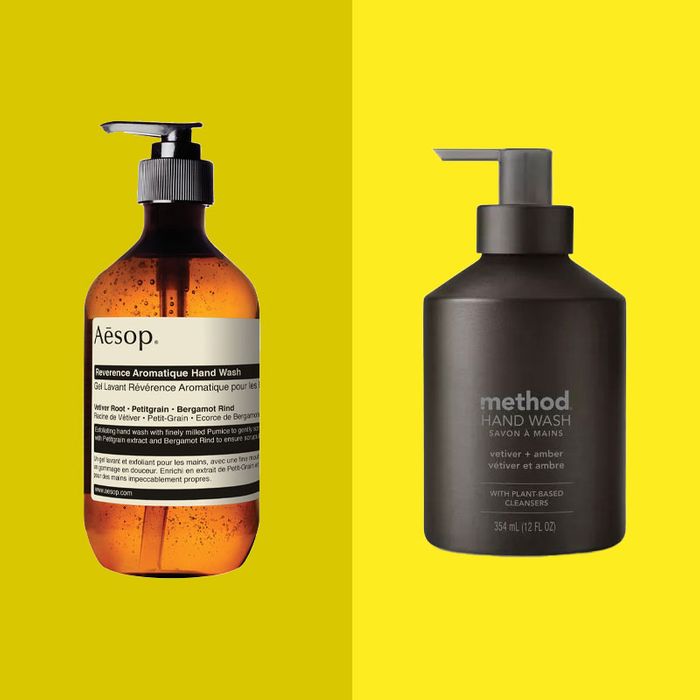 Photo-Illustration: Valerie Winckler / Getty
Most people wash their hands between five and ten times per day, which can mean using a tablespoon (or more!) of hand soap every day. It's no wonder that they have opinions about the best ones — myself included. I'm an esthetician who's often touching other people's faces, so frequent handwashing is a huge part of my routine. Most important, I need a soap that effectively cleans my hands, but I appreciate a well-formulated product that's enjoyable to use and doesn't leave my skin feeling dry or stripped.
Unlike the array of skin-care items available for your face, hand soap might be the only product your hands encounter daily, so the one you pick matters. And there are a lot to choose from with nearly endless options that have sophisticated scents, hand-friendly ingredients to moisturize and soothe, and good-looking packaging that instantly upgrades your bathroom sink. From everyday favorites to more statusy options, I polled a wide array of stylish folks and tested dozens of soaps myself to find the best hand soap for every occasion, location, and budget.
Best budget hand soaps
Referred to as "the Le Labo dupe" by those in the know, Method's Gel Hand Wash in Vetiver + Amber smells identical to the famed Santal 33, according to its fans. Communications strategist and self-proclaimed scent snob Liz Kelley describes it as "perfectly woodsy without being sweet like so many scents are." The aluminum, black bottle makes it much chicer than your average Target soap. In addition to the sophisticated scent profile, it boasts a sensitive-skin-friendly plant-based formula (and recently launched a foaming version).
If you like the look but aren't a sandalwood fan, Method's aluminum line comes in a handful of other scents — including Violet + Lavender and Sage + Wild Mint. And though the packaging on Method's huge range of other scents isn't quite as statusy, many of them come highly recommended as well, from Pink Grapefruit to the brand's best-selling Sea Minerals, in both gel and foaming formulas. I've loved using Method's seasonal holiday scents, in particular Frosted Fir, to help me pretend the smell is coming from my fake tree.
Strategist senior editor Winnie Yang is a fan of this foaming soap that she first picked up years ago at a Japanese supermarket and liked so much that it has held a permanent spot by her sink ever since. "I like buying household products at foreign supermarkets and drugstores — mainly for the visual interest," she says. Shabondama stood out with the high-contrast graphic design of its label and bottle shape. In addition to its unique aesthetic, the soap is fragrance-free, lathers well, and rinses clean, according to Yang, plus she likes that you can buy refill pouches.
Mrs. Meyer's vast range of garden-inspired scents, non-drying formula, affordability, and refill options have made the brand an all-around favorite. It was mentioned multiple times by people we spoke to, and scores of online reviewers have praised its all-natural ingredients and ability to clean effectively while leaving hands soft. Lemon Verbena is one of the brand's best-selling varieties, and it was the most popular among those we polled — particularly for canceling out food smells. If you're not into the lemon scent, Strategist senior editors Jen Trolio and Kayleen Schaefer named Radish as their favorite for its crisp, peppery scent. If you can't find Radish or want to stick to a scent that is available in refills, I suggest Basil as an excellent earthy, salad-inspired alternative.
New York Times Cooking newsletter editor (and former Strategist staffer) Mia Leimkuhler stumbled on Attitude's vegan, cruelty-free, and hypoallergenic hand soap early in the pandemic during a move from New York to Montreal. The Mrs. Meyer's-esque Canadian brand was stocked at the Airbnb that she and her husband rented for a mandatory two-week quarantine in Quebec and quickly earned the mantle of "the best hand soap I've ever used." Leimkuhler describes her preferred Orange Leaves scent as "just orangey enough" and says the soap eliminated her need to use lotion after every handwashing: It "soothes and softens hands all on its own," she says, "not to mention lathers nicely and leaves no residue behind." It comes in a foaming version, and refills are available in two different sizes to eliminate extra packaging.
Strategist writer Jeremy Rellosa first used this mechanic soap at a climbing gym, taking note of its "subtle" and "not strong or nauseating" orange scent and little bits of pumice that "helped scrape away chalk debris and dirt." He bought this giant pump bottle of the stuff after waxing a pair of boots and realizing that the dish soap and Dial he had at home weren't enough to clean the wax off his hands. Now he uses it a couple times a week after "working with soil for plants or working on or cleaning my bike," noting that it doesn't contain any alcohol, "so it won't sting any cuts you have," and doesn't dry out his hands. "It almost excites me to do projects that get my hands dirty, because it means I'll have an excuse to use this soap," Rellosa says.
Best midrange hand soaps
If you want to be transported to a Tuscan summer every time you wash your hands, Hannah Traore, founder and director of Hannah Traore Gallery on the Lower East Side, highly suggests this glycerin-and-olive-oil-based soap. "I've tried multiple scent,s and they are all magnificent, but my loyalties lie with Zagara (Orange Blossom)." Those loyalties are so deep that the scent is also her perfume, and she carries the roll-on in her purse at all times. You can save $3 if you forego the adorably chic packaging that looks like a little takeout container.
Blueland is an eco-friendly favorite for its refill tablets, which you simply mix with water to top off the brand's reusable 9 oz. glass Forever Bottle. As one fan told us, the minimalist bottle blends in with the kitchen counter compared to a visually busy label. The Starter Set comes with one Forever Bottle and three refill tablets in best-selling scents Iris Agave, Perrine Lemon, and Lavender Eucalyptus. The tablets are made with plant-based and planet-friendly ingredients and come in compostable packaging. If you're not interested in the whole set, you can purchase the bottle and refill tablets separately or get 12 different scents in the surprisingly giftable Scents of the Season Tin.
Launched in April 2020, right at the start of the pandemic, this foaming soap immediately went viral for how it dispenses suds into your palm in the shape of a yuzu flower. Each refillable bottle holds enough soap for 250 handwashings, and in addition to the cute factor, the formula contains nourishing, reparative ingredients like soothing rice water and yuzu extract, which is rich in vitamin C. MyKirei prides itself on its ergonomic, user-friendly pump design that makes it easy for anyone to use one-handed regardless of age or ability — you push down with your palm, and the soap comes out the top. This ease of use combined with the unique design makes it great for kids. As one Amazon reviewer noted, "The flower is so cool and definitely makes my kids wash their hands more."
Specifically formulated for use in the kitchen, Fruits & Passion's Cucina collection is made from biodegradable cold-pressed olive oil and other olive-derived ingredients. It was recommended by multiple people we spoke to, and Sea Salt and Amalfi Lemon was the standout scent. Esthetician and Ställe Studios founder Elizabeth Grace Hand says the soap "leaves my hands extremely soft and smelling like the Mediterranean Sea." The three-person team behind Instagram shopping account @thebuyguide enthusiastically recommends it to their 169,000 followers after discovering it during the height of the pandemic and realizing it didn't dry out their hands like other soaps do.
Named after a cluster of islands near Stockholm that are known for their lush greenery, the & Other Stories Fjäderholmarna hand soap won over the Cut's Kathleen Hou during the peak handwashing era of 2020. The brand brought in Byredo creator Ben Gorham to consult on its bath-and-body scents. Hou singled out the verbena-based Fjäderholmarna for its "lemony green" aroma that "doesn't make me think of Mr. Clean but does make me think of leaning into a lemon tree to pick one straight off a branch." She describes the lather as "fluffy" and praises the soap for never leaving her hands dry or cracked.
Best luxury hand soaps
Strategist-approved fragrance brand D.S. & Durga (which makes an excellent, non-cheesy rose perfume) has expanded on its best-selling, cult-favorite Big Sur After Rain candle with a hand soap that is officially my new favorite format of the scent. A perfect example of the brand's immersive scents and stories, Big Sur After Rain is inspired by the post-rain smell of eucalyptus groves along California's Highway 1. The moisturizing and refreshing formula contains vitamins C and E, glycerin, green-tea leaf, and hyaluronic acid. While working on this story, I kept six different hand soaps on my bathroom counter, and this was the one I reached for most often. The ever-so-slightly-thick consistency left my hands noticeably more nourished compared to other gel hand soaps, and I couldn't get enough of the scent. If you want a luxury, quality fragrance and don't mind a plastic pump, this one is it.
Founded by Morgan McLachlan, one of the world's first female distillers, Amass started out selling spirits before expanding into personal care. Strategist writer Dominique Pariso is a fan of everything the brand makes. "Morgan understands how to distill botanicals in this really lovely way," she says. The Four Thieves scent is inspired by a blend of botanicals once believed to prevent the spread of plague in medieval Europe. It's named after a band of thieves who used the tincture to protect themselves from disease as they robbed the dead. With notes of cinnamon, allspice, and clove, it "feels really warm and homey," says Pariso, who notes that the addition of eucalyptus "lends a really clean finish." The soap, which can be used as a bath gel, features a blend of hydrating ingredients like aloe vera, coconut and sunflower oils, and shea butter.
Bastide is a lifestyle and beauty brand from Shirin von Wulffen, who co-founded it with her husband, renowned hairstylist Frédéric Fekkai. Former Strategist associate editor Louis Cheslaw first heard about this skin-softening olive-oil soap while working at Condé Nast Traveler and reporting on a guide to Provence, France, where all of the brand's products are made. He bought a bottle to test and upgraded from Mrs. Meyer's once he realized how much more lather he could get from a single pump. Whenever he has spotted it since, at the homes of in-the-know acquaintances, it has always been the Ambre Soir scent.
Photo: retailer
Aesop's place in the landscape of hand-soaps has been on our mind since 2018, and while some folks have moved on in search of a new class of status suds, the brand still has its loyalists. According to New York–based writer and influencer Jenny Cipoletti, this is "the hand soaps of all hand soaps." Formulated with botanical extracts and very finely milled pumice stone, "it's probably the chicest thing you can have waiting for guests in your powder room." Jess Krux, a chef and nutritionist, names Aesop soap as her all-time favorite, comparing it to "a magical exfoliating massage every time you rub your hands together." There are three things Krux looks for in a soap — texture, moisture, and scent — and the Reverence variety checks all three boxes, making her hands feel great and smelling like "a midday jaunt into the lush wild citrus fields in Northern California after a warm rain shower."
Molly Hart, founder of sustainable-lipstick brand Highr Collective, says this "sensorial" hand soap from Cowshed "smells like Soho House." The brand shares a founder, Nick Jones, with the members-only social clubs, and he launched it in the late '90s for use at his first spa. It's moisturizing enough to soothe Hart's "overly anti-bac'd hands." With notes of grapefruit, bitter orange, and lavender, the fragrance was developed using ingredients from the Victorian garden on the spa's grounds in Somerset, England. Cowshed sells a matching hand cream, though according to Hart, your hands won't even need it.
"I'm obsessed with the steam-room nostalgia of Flamingo Estate's hand soap," says writer and former magazine editor Phillip Picardi. Scented with clary sage, eucalyptus, and rosemary, the gel cleanser is "gentle enough for multiple washes throughout the day, but the mix of oils means that pleasant scent will linger in the air and on your skin in a delightful way," Picardi says. Plus the aluminum packaging and pump were designed without springs or pins, making them fully recyclable and reusable.
New York deputy editor Alexis Swerdloff was given this soap by someone who'd noticed it at the L.A. home of his "most fashionable friend." She says it "looks beautiful and smells expensive" — which it is — with a mild muskiness that isn't overbearing. And the feel is just right: "not too heavy but not so thin as to feel insubstantial."
It's nearly impossible to use this soap without commenting on the striking glass bottle, the amber hue of the soap with flower petals floating throughout, or the intoxicating scent. Its primary ingredient, calendula, is known for its wound-healing, antiseptic, and soothing properties, making it an excellent salve for overworked hands. The addition of clove and palo santo make it smell like you just lit incense every time you use it — a particularly appealing benefit in bathrooms — and you can reactivate the scent post-washing by rubbing your hands together. I love giving this soap as a host or housewarming gift.
One of the original status hand soaps, Byredo's luxury hand wash maintains a cult following despite its nearly unrivaled price tag. Schaefer describes the appeal of the brand as "the ideal of what fragrance should be" with scents that are "distinctive but not weird." The soaps are offered in signature Byredo scents — like Suede, which purportedly smells like the brand's leather handbag, and Tulipmania, inspired by the great Dutch tulip-bulb frenzy of the mid-1600s. Each is housed in a translucent velvet-matte pump bottle that can elevate any sink. (Although it's worth noting that the extended staying power of the scents may not be for everyone, as some folks could find it off-putting — particularly while eating.)
Although they aren't exactly an under-the-radar option, Diptyque's luxury hand rinses are widely beloved for a reason. Exfoliating hand soaps in particular are an excellent way to gently polish the delicate skin on your hands without stripping it dry. Diptyque's is made with finely milled ground olive stones and is the best I've ever tried. The woodsy garden scent almost makes you feel like you've just returned from a hard day's work chopping wood. Its non-exfoliating counterpart — the soothing and reparative Softening Hand Rinse, which includes lavender and rosemary and is formulated without the ground olive stones — is a perfect sink-side accompaniment. Both are housed in luxurious, weighty, and refillable glass bottles that make excellent décor. Together, these two soaps take you on a tour of the flora of the French countryside.
Some more hand soaps we've written about
The Strategist is designed to surface the most useful, expert recommendations for things to buy across the vast e-commerce landscape. Some of our latest conquests include the best acne treatments, rolling luggage, pillows for side sleepers, natural anxiety remedies, and bath towels. We update links when possible, but note that deals can expire and all prices are subject to change.