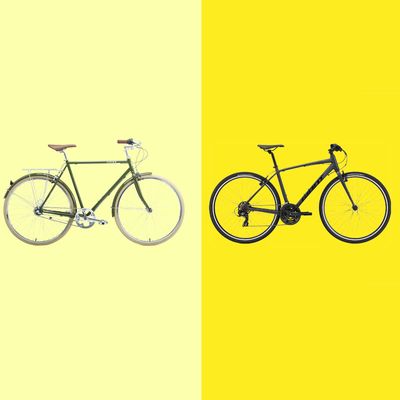 Photo-Illustration: The Strategist; Photos: Retailers
Bike commuting is healthier and more environmentally friendly than driving and faster than walking, and, over time, it will save you a lot on MetroCards (if not stop you entirely from buying them). But getting started can be intimidating. If you're interested in riding to work, you may wonder how you'll carry your stuff, how you'll lock up your bike, what to do if it rains, and, most importantly, what type of bike you should buy.
To demystify the process, we spoke with bike-store owners, retailers, and bike-commuting advocates. They explained what features to look for in commuter-specific bikes and how much you should be ready to spend. While a top-of-the-line, aerodynamic racing bike can set you back a few grand, the experts we spoke to agreed that you can find a dependable commuting bike in the $500 to $750 range (if they're not e-bikes, that is). But be wary of anything much cheaper. "I advise strongly against big-box store bikes, which generally do not have components that are meant to hold up for more than a handful of rides," explains Bailey Newbrey, owner of Sincere Cycles in Santa Fe, New Mexico. "They're made with a lot of plastic parts that won't last very long."
With increased interest in biking spurred by the pandemic and continued global supply-chain issues, a lot of the bikes below might be low in stock. "COVID hit, and people were looking for something that they could do outside, and bikes kind of became the first thing. People latched on pretty quickly, and the bike industry was not in any way prepared. And so there were plenty of shortages. And when one company gets behind, the entire industry feels the shock waves," Newbrey explains. Those shortages are still common two and a half years later. "It's still pretty bad. I'm getting bikes in that I ordered eight to ten months ago. But I have heard from folks in the industry that they're trying to get things more normalized, so folks should actually be able to have some decent options in the near future."
Best overall | Best steel-frame | Best less-expensive steel-frame | Best with disc brakes | Best upright | Best less-expensive upright | Best folding | Best less-expensive folding | Best electric
Frame material: The commuter bikes in this article are made with either aluminum or steel. (This list does not include bikes with titanium frames, which are generally lighter than steel ones, but stronger and heavier than aluminum. Other bike frames are made with carbon fiber, which you'll mainly find in road and race bikes.) Aluminum is the most common frame material, as it's lightweight but sturdy. But if you want something that gives a more comfortable ride, look to steel. "With commuter bikes, a lot of people like a steel frame, because it lends a less-harsh ride," Newbrey says. "It has a little bit more flex, a little bit more give to it. So it's gonna be a little bit softer on the potholes than an aluminum bike would be." Carbon fiber is ultralight but will be expensive. "Fancy carbon fiber bikes are generally a little bit less practical for commuting in that they are a little bit more delicate and generally don't allow you to put on racks to be able to cart your goods with you as easily. Generally I think metal frames are more preferable, with steel most often winning out."
Gears: The bike's gearing, or how many speeds it offers, can be important depending on where you live and where you're going to be commuting. "If you're someplace, say San Francisco, where there's a lot more longer steep hills on your commute, then you'll want a bike with some good low gears so you can get up those hills, especially if you're gonna be carrying a laptop or a change of clothes or that kind of extra weight on your bike. Having low enough gearing for that is pretty important," Newbrey explains. "In a lot of flatter areas, it's not really as much of a consideration. I spent most of my life in Chicago, which is pancake-flat, and it was very common for people to commute on single-speed bikes there, because you don't really need a lot of gearing for hills as there really aren't any, and single-speed bikes are a lot lower maintenance, so that can be a practical option."
Brake type: The two main types of brakes we're looking at are caliper-style brakes and disc brakes. Caliper brakes act as a clamp on the rim of the wheel, whereas disc brakes can be found closer to the hub of the wheel and use a metal rotor and pads. Caliper brakes are the most common, and disc brakes are generally more expensive — which is often reflected in the overall price of the bike. Ease of maintenance is also a factor when deciding on brake type. "Since everything is external on a caliper-style brake, it's a little bit easier to see the adjustments that you make. So for a lot of folks who are less confident in their mechanic skills, that goes a long way for them, especially if you want to do a certain level of the maintenance yourself," Newbrey says. Disc brakes are less straightforward, but have become easier to maintain in recent years, so they're becoming a more practical option on bikes. They can be really nice in rainier areas, Newbrey tells me, as they don't lose performance in wet weather. Caliper brakes, on the other hand, can require more effort to slow yourself (and the wheels of the bike) down, especially when it's wet — but that's not a deal-breaker. "People have been using rim breaks in wet areas forever, and it works plenty fine."
Best overall commuter bike
Aluminum frame | 7-speed | Caliper brakes
The experts we spoke with recommend hybrids, like the Escape, as the best commuting bikes for most people because they offer some of the speed of a road bike, along with the sturdiness and comfort of a simpler upright "cruiser" bike (more on those below). Alex Gonzalez, a sales specialist in action sports at REI Soho, describes hybrids as "a mix between a road bike and a mountain bike." The tires are somewhere in between the narrow, smooth tires of a road bike and the wide, nubby tires of a mountain bike, and the frame is going to let you sit upright in a more "relaxed" position than if you were leaning down on a road bike. Hybrid bikes also have the benefit of being suitable for longer weekend adventures in addition to daily commutes, according to Susi Wunsch, the founder of bicycling-lifestyle website Velojoy. She says that "a hybrid will be more versatile, especially if you're riding for both commuting to work and fitness on weekends. It'll also be a little bit lighter and faster." Instead of the wide handles you'd find on an upright bike, hybrids generally have a flat handlebar that allows for a more active riding position, and the ability to accommodate add-ons like fenders and racks (if they don't already come with these attached).
This hybrid bike from Giant's Escape line got three recommendations from our experts. A solid commuter bike that won't break the bank, NYC Velo bike-shop founder Andrew Crooks says it's a "really good value" choice. Notably, it's got a lighter-weight aluminum frame like those you'd find on more expensive racing bikes, and also comes with 21 speeds (3 x 7 gearing), so you'll have a lot of options for customizing the ride and adapting to the terrain. Cycling coach Robert Evans told us that Giant's Escape bikes are "built for commuting," pointing to their "durable commuter tires" as evidence. Adam Sokol, a sales representative at Ride Brooklyn, likes that it has flat handlebars as opposed to the curved ones on bikes designed for road racing, which he says "are generally what most people are comfortable with." Sokol adds that the bike's wide tires make it a good choice for roads that aren't always perfectly smooth.
Best steel-frame commuter bike
Steel frame | 8-speed | Caliper brakes
Echoing some of his fellow experts, Crooks told us that most hard-core city bikers actually prefer steel. "Steel bikes are basically universal among the employees at NYC Velo," he says, noting that the material is more "flexible" than aluminum, making it naturally shock absorbent and, as we discussed before, extremely durable. For shorter distances and light-to-average use, the comparatively lower maintenance and lighter weight of aluminum will be better, but if you want something truly built to last, you might be better off with steel. Crooks says that while this model is expensive, the price is justified by the especially "high-quality steel and components." It's also "super utilitarian," he says, adding that it "has a bunch of mounts for any bag or rack."
Best less-expensive steel-frame commuter bike
Steel frame | 7-speed | Caliper brakes
The Coda, a sport hybrid, comes recommended by Rich Conroy, the director of education at Bike New York, who says it's a commuting bike that's durable enough for city streets. The steel frame won't be as lightweight as that of an aluminum-frame bike, but he says that for the price, you'll get a solid bike strong enough to withstand the wear and tear of daily commuting.
Best commuter bike with disc brakes
Aluminum frame | 8-speed | Hydraulic disc brakes
For a slightly higher price, you can get an aluminum-frame hybrid bike with hydraulic disc brakes, which work to stop the wheel with a pressurized fluid. "It's the same fluid that your car uses to brake," explains Jonnie Ling of the Community Cycling Center in Portland, Oregon. Ling told us that while either form of disc brake is going to be better than a rim brake, hydraulic discs are "more powerful and responsive" and don't require as much pressure to activate. Hydraulic-disc brakes are also fully sealed, which is one reason why John Keoshgerian of Zen Bike calls them a "crucial New York City must-have" for dealing with bad weather and uneven roads. He likes that the Crosstrail incorporates this feature while still being a relatively affordable bike. While Keoshgerian didn't mention this to us, we noticed that the Crosstrail also has shock absorbers on its front wheel to help cushion any bumps or holes on the road (or trail) — a feature the experts say is a rarity on hybrid bikes.
Best upright commuter bike
Steel frame | 3-speed | Caliper brakes
Generally called "upright" bikes or "cruiser" bikes, this style prioritizes comfort, so many of the bike commuters we spoke to say people prefer them for shorter trips. As Crooks explains, with these bikes "you're sitting in a position that is comfortable. You're fairly upright and not straining your back or your neck to look at traffic signals, cars, or other road users." The Linus Roadster is a stylish upright bike that Bicycle Habitat's Charles McCorkell likes for riders who want what he calls the "retro urban style" — or bikes resembling the European models of the '60s and '70s that have been updated and modernized so they aren't as heavy. The Roadster Sport also comes fully decked out with a rack for carrying your stuff.
Best less-expensive upright commuter bike
Steel frame | 3-speed | Caliper brakes
Conroy agrees that a multiple-gear cruiser would be better for regular commuting. But if seven speeds seems like too many, the Franklin 3 is a less expensive three-speed bike with an internally geared hub that he recommends. According to Conroy, it "looks like a single-speed, but all the gears are inside the hub. The chain doesn't move when you switch gears, so it's easy to operate and maintain, and it looks nice." This bike also has a low-top tube, making it easier to step on and off of.
Best folding commuter bike
Steel frame | 6-speed | Caliper brakes
City commuters love the convenience of space-saving folding bikes, but a smooth and easy-to-use folding mechanism can be an investment. When it comes to folding commuting bikes, Brompton makes the hands-down favorite among our experts, four of whom recommend its top-of-the line model. It was also the top pick of Streetsblog editor Gersh Kuntzman, who tested out a variety of folding bikes for us. While the Brompton is pricey, Kuntzman found that it was truly the best around. As he puts it, "Every part of this bicycle has been engineered for maximum compactness." Conroy agrees: "If money is no object, go with a Brompton. They're really well-made folding bikes that fold up to nothing." Crooks, also a Brompton fan, says the bike's "utility allows a much easier way to do a multi-modal commute: You can take a folding bike on the train during rush hour without bothering your commuting peers and then unfold the bike in a matter of seconds and complete your commute." And McCorkell says that watching it seamlessly fold up is "a visual experience."
Made in England, Brompton bikes are extremely well-constructed, according to Crooks, who says that "all the things that typically fail on other folding bikes, like hinges, are bombproof on the Brompton." He adds that, unlike other folding bikes that "typically still need an additional bag or strap" to carry around, "Bromptons fully fold into themselves and are designed with miniature wheels so you can glide them along even while folded up." One more convenient feature is the fact that the bike can support itself when folded. "You fold it halfway and it becomes its own kickstand," says Gonzalez.
Best less-expensive folding commuter bike
Aluminum frame | 8-speed | Caliper brakes
The least expensive folding bike for commuting recommended by our experts is the Giant Expressway. Crooks says that "by nature of the frame design — the top tube is very low — most people can ride them, so it's good for people who have trouble fitting on other bikes." It also made our list of the best folding bikes, with Kuntzman writing that "it performed the most like a real bike" of all the models tested, and that it has a "strong, proprietary Aluxx aluminum frame that provides extra support when riding up a steep incline."
Best electric commuter bike
Aluminum frame | 10-speed | Hydraulic-disc brakes
While electric bikes are more expensive than nonmotorized ones, they do offer a few advantages for commuters. They move a lot faster with less effort (up to 28 miles per hour depending on the type of e-bike), and the motor makes it easier to pedal uphill, even if you pick up a load of groceries on your way home. This ten-speed option from Gazelle has a front-suspension fork for a smoother ride on bumpy surfaces and a rear rack for toting bags. Chris Nolte, the owner of Propel Bikes, tells us, "If you're looking for a fast and sporty commuter, look no further."
• Rich Conroy, director of education at Bike New York
• Andrew Crooks, founder of NYC Velo
• Robert Evans, cycling coach
• Alex Gonzalez, sales specialist in action sports at REI Soho
• Karen Iorio Adelson, former Strategist senior writer
• John Keoshgerian, owner of Zen Bike
• Gersh Kuntzman, Streetsblog editor
• Jonnie Ling, Community Cycling Center deputy director
• Charles McCorkell, a founder and owner of Bicycle Habitat
• Bailey Newbrey, owner of Sincere Cycles in Santa Fe, New Mexico
• Chris Nolte, owner of Propel Bikes
• David Notis, former Strategist writer
• Jeremy Rellosa, Strategist writer
• Adam Sokol, sales representative at Ride Brooklyn
• Susi Wunsch, founder of bicycling-lifestyle website Velojoy
The Strategist is designed to surface the most useful, expert recommendations for things to buy across the vast e-commerce landscape. Some of our latest conquests include the best women's jeans, rolling luggage, pillows for side sleepers, ultra-flattering pants, and bath towels. We update links when possible, but note that deals can expire and all prices are subject to change.
Every editorial product is independently selected. If you buy something through our links, New York may earn an affiliate commission.