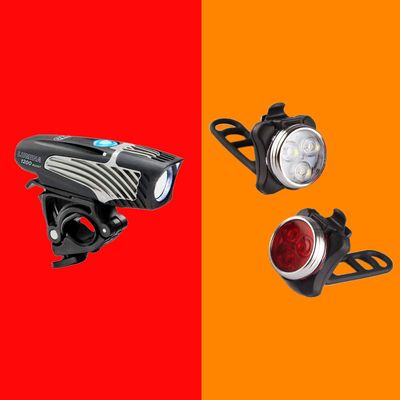 Photo-Illustration: The Strategist
Bike lights are deceptively simple, so no matter what you choose, chances are you'll end up with a light that works just fine. But getting the ideal light requires finicky details, research, and probably some trial and error.
While bike lights are fairly standard in design, not everyone requires the same sort of light. "Commuters and city riders need to be seen to stay safe, but are often riding on well-lit streets," says Hugo Davidson, the CEO and head designer at Knog. "Road cyclists need to 'be seen' when riding in urban areas but also need to see a long way due to the speed they travel and are often training in a range of traffic conditions." Davidson also notes that, for gravel and trail cyclists, it's less about being seen by others and more about seeing where you're going on a dark trail. And mountain bikers? They need maximum visibility to avoid and clear obstacles and narrow trails at high speeds.
In addition to my experience as a bike commuter and in technical mountain biking, I've been testing cycling gear for nearly a decade now, so I know what I like. But I also talked to industry experts, shop mechanics, bike builders, and avid cyclists in fat biking, mountain biking, road biking, commuting, and gravel biking for their go-to bike light, many of which made the list here. We focused on headlights, but some of them come in a set with (or with the option of adding) a rear light, which are lower output and have flash modes for visibility from behind.
Best overall | Best (less expensive) | Best value front-and-rear set | Best for a wide range of biking styles | Best for road and trail visibility | Best for visibility on unpredictable terrain | Best battery life versus output | Best hub-connector option 
Brightness and lumen options: Like headlamps, bike lights are measured in lumens. While a standard headlamp for dark runs is around 350 lumens, you're going faster on a bike, and the act of cycling requires more visibility. The minimum I look for (max output) is 500 lumens, which is more than enough for road and gravel riding. For trails, however, you'll want something around 800 to 1000 lumens for tricky nighttime terrain at higher speeds.
It's also important to note that bike lights advertise their highest-powered setting, but you usually won't be riding at the highest output. Bike lights come with a range of power settings (and corresponding battery drain) depending on terrain and visibility needs. Additionally, for riding in traffic, a blink, flash, or pulse mode will last many hours longer than your maximum lumens, keeping you more visible to traffic in daylight.
Battery life: Each setting will drain the battery at different rates. Look for a light that has a battery life of three to six hours for the midrange settings and eight to ten hours for the lowest setting. On extended rides — such as multiday gravel tours or endurance events — battery life is key. You might have hours of predawn riding along with hours after dark, so knowing your brightness setting and tracking your battery life will help keep you lit up.
Charging: Most lights are rechargeable via a USB and can be charged on a battery pack for extended trips or at home or in the car. For battery-powered lights, we love rechargeable batteries to keep single-use batteries out of the waste stream. We've also included one super-rad light that is entirely powered by your spinning bike wheels.
Best overall bike light
1,200, 800, 400, 150 lumens | 55 minutes on high, 7 hours on low | USB rechargeable
This was Alaska fat-bike rider and racer John White's front bike light for years, and it's our pick for the best overall thanks to its combination of reasonable price, durability, brightness options, availability, and battery life. White ended up switching to the NiteRider Lumina Dual 1800 (which we list below) for more visibility on fast downhills, but for battery life and all-around usefulness, this one is tough to beat. This light will work for road bikers, gravel bikers, in traffic, and trail users. It holds up in the cold, and at 172 grams, it can be worn on a helmet without feeling clunky.
Best (less expensive) bike light
80, 40 lumens | 3.5 hours on high, 10 hours on low | USB rechargeable 
This incredibly affordable bike-light set might have a low sticker price, but the longevity of the bulbs and the convenient mounting make it a great option for casual commutes or even cyclists taking off on a longer trip who need to be seen on the road. At just 80 lumens for the headlight, it's not bright enough for riders who need to see the road or trail after dark, but for riding in traffic — where you need to remind vehicles of your presence — it's a great option with three flashing modes in addition to the static mode. It's simple to use with one top button to turn on and off and easy silicone mounting straps for the front and rear that don't use hardware. Strategist managing editor Kelsie Schrader has owned the Ascher set for two years. "I figured maybe I'd upgrade after a few months, but I haven't had a need to," she says. "I do a lot of 4:30 a.m. or 5 a.m. rides all over" New York City, and she says she feels "safe as long as I've got these on my bike."
Best value front-and-rear set
600 lumens (medium and low specs not listed) | 1 hour on high, 10 hours on low | USB rechargeable 
For under $100, you get this all-in-one package of a 600-lumen headlight and a 50-lumen taillight, ideal for riding in traffic along with moderate road and gravel. Like myself, cyclist Laryssa Rote is training for the Great Divide Mountain Bike Route, and she likes these lights for the bulb longevity and the rechargeable style as it's "easier and more ecofriendly to carry a power pack than a bunch of batteries." These lights have ports along the side for the "be seen" aspect of bike lights as well as a flashing option that will last days without needing a charge. These are among the lighter options out there as well with the front light weighing just 96 grams and the rear light weighing 28 grams.
Best for a wide range of cycling styles
1,300, 800, 400 lumens | 1.5 hours on high, 6 hours on low | USB rechargeable
Decade-long bike commuter Andreas Ritter and Ironman World Championship competitor Aubrey Darden listed this powerhouse light as their go-to model. Ritter has been car free for over a decade and swears by this light for riding in traffic at dawn and dusk. "The strong daylight blinking patterns really make people look," says Ritter. This mode is listed as visible to cars up to two kilometers away.
Darden has worked as a bike mechanic and is currently an avid gravel rider and mountain biker, which means she switches up her ride based on the cycling style of the day. "This set is easily rechargeable with a wall charger and is easy to get mounted to your bike," she says. Once the mounts are on, she loves how easy the light itself is to get on and off the bike. This unit lasts for 90 minutes on its highest power. It has five brightness and mode options for visibility in traffic, and it's bright enough for after-dark mountain biking or gravel grinding. The Ion Pro also comes in a set with the Bontrager Flare rear light and is one of the items experts recommended to us for biking in inclement weather.
Best for road and trail visibility
1,200, 800, 500 lumens (approximate) | 2 hours on high, 5 hours on low | Rechargeable
Outbound has a background in automotive lights, which helped inform the design of the Detour's beam pattern. Instead of lighting a more narrow path ahead of the bike, this light begins illuminating right at the bike tire and extends along the eyeline in a full road (or trail) sweep. The company says it won't be too bright for oncoming car or trail users, but I've never stopped to ask anyone, so I cannot personally attest to that. One of my favorite parts of this light is the large, easy-to-use button on the top that I can find and toggle no matter how off balance I feel. It's also easy to mount and detach with a quick release, sort of like a GoPro, and the battery-light indicator makes checking the status a breeze. This has an adaptive mode, sort of like a vehicle's automatic-brights adjustor, and lasts just under three hours when in use.
Best for visibility on unpredictable terrain
1,800, 1500, 700, 350 lumens | 45 minutes (high) | 6 hours (low) | rechargeable 
This was a top pick for both Karl Wiedemann, a shop mechanic and bike industry insider, and White, a lifelong Alaskan snow biker who spends a lot of time biking at night. "This is what I use on those early-morning gravel and road rides before the sun comes up," says Wiederman, "and it's easy to remove and install from bike to bike." This light charges via a USB port, which Wiederman uses to charge in his car on the way to the trail.
"This is essentially a headlight, which is amazing for winter fat biking." White says. "The battery lasts down to negative-15 Fahrenheit, which is my cutoff … not the light's cutoff." This light can be fully charged in three hours, and with seven settings — including a 100-lumen walk mode and several pulse modes — it has a range of options with a large variance in battery lifespan. This is an incredibly wide high-brightness beam, so keep that in mind when you're sharing a road or trail with other riders or trail users going in the opposite direction.
Best battery life versus output
1,500, 750, 325 lumens | 1.5 hours on high, 5.5 hours on low | Rechargeable 
This burly little light is waterproof up to one meter and has a run time of 90 minutes on high, better than both NiteRider options. It has three brightness options — which honestly is as much as I ever use — and one pulse option that will last you nine hours. This was the top pick of Ed Rajala, who has been road biking for the past 20 years. He swears by this light's usefulness for seeing and being seen since most of his dawn and dusk riding is contending with traffic. We also like the "race mode," which is a one-touch button to switch between high and medium output.
Best hub-connector option
1,000 lumens | Battery life N/A | Hub powered 
A Dynamo hub is a bike-size electric generator built into the front hub of your bike wheel, which allows riders to charge lights while riding. It's not super-common, but it's a great solution for riders who want guaranteed lights without batteries or charging necessities. The SON Edelux II (paired with a SON Dynamo Hub) is the top choice for Sklar Bikes owner and founder Adam Sklar. "The light is superbright with a nice broad beam," Sklar says, "and having the generator hub means I never have to worry about charging my light or grabbing it before I head out the door." This style of light is powered by your wheels turning, and the unit is built in such a way that, no matter what your RPMs, the light beam isn't going to weaken or waver. This beam puts out a strong 1,000 lumens angled with rider's needs and positioning in mind, and the durability of the entire set (lights, hub, and connectors) means that, though you're shelling out good money for this, you'll only have to buy it once.
Some more bike lights we've written about
• Aubrey Darden, bike mechanic, Ironman athlete
• Hugo Davidson, CEO and lead designer of Knog Lights
• Ed Rajala, road biker
• Andreas Ritter, full-time bike commuter
• Laryssa Rote, cyclist
• Adam Sklar, owner and founder of Sklar Bikes
• John White, winter snow biker
• Karl Wiedemann, bike mechanic, bike gear rep
The Strategist is designed to surface the most useful, expert recommendations for things to buy across the vast e-commerce landscape. Some of our latest conquests include the best acne treatments, rolling luggage, pillows for side sleepers, natural anxiety remedies, and bath towels. We update links when possible, but note that deals can expire and all prices are subject to change.