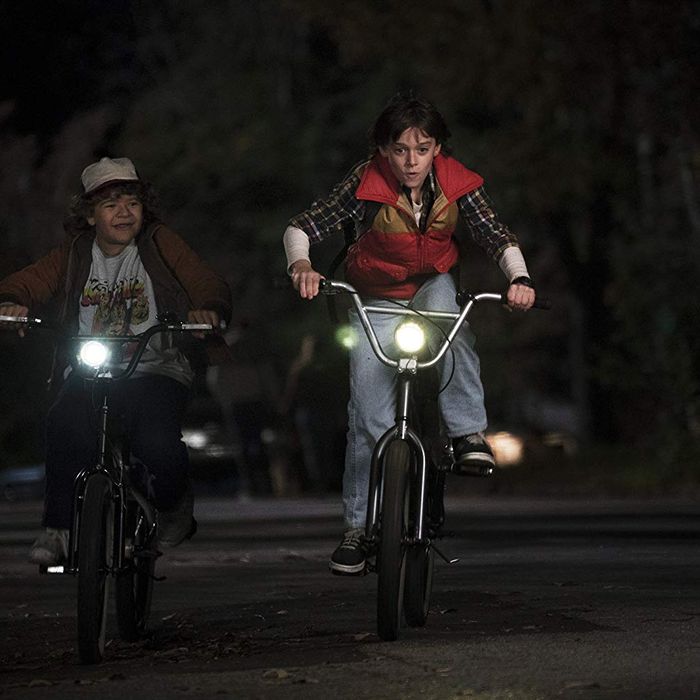 Photo: Courtesy of Netflix
Here at the Strategist, we like to think of ourselves as crazy (in the good way) about the stuff we buy, but as much as we'd like to, we can't try everything. Which is why we have People's Choice, in which we find the best-reviewed products and single out the most convincing ones. (You can learn more about our rating system and how we pick each item here.)
And while we've written about lots of bikes — including the best cruiser bikes, the best commuter bikes for beginners, and expert-recommended bike helmets— here, we've rounded up the best bike lights, as praised by the most enthusiastic reviewers on Amazon. 
Best-rated bike light
More than 3,400 reviewers give this bike light five stars, and many note how powerful the light is. "This bike light is an industrial-strength bright light all for only 3 AAA batteries," one enthusiastic reviewer writes, adding, "The focus lens head can be easily adjusted by pushing forward or pulling back, which helps with seeing the road. The mount is durable and easy-to-use. I've taken it through the rain and it doesn't seem to phase this little light or cause any internal rusting around the batteries." Another says, "This is my fourth try at a bike light and is by far the brightest light I've had yet," while another even admits they went "riding with my bike partner recently and he basically turned his light off because it wasn't adding any light to the situation because these were so bright." Reviewers also praise the different settings on this bike light, including one who says, "I use the dimmer setting, so I don't blind vehicles passing." Another notes, "It also has two different, one blinking light and one continuous light." Not only is the light a great feature, reviewers are also impressed by the sturdy mount with one even writing, "After a 25-mile ride over some fairly rough pavement, the mount was still holding firm."
Best-rated (less expensive) bike light
"Don't go on the roads at all without one of these babies on the back of my bike," warns one reviewer, adding, "They are easy to mount if you have a seat bag, just slip the clip over the loop on the back of the bag." Another user with a seat bag notes, "This is the first that I saw that has a clip that you can easily and securely hang it from the seat pack itself." They continue, "It does not get in the way of being able to get into the pack if necessary, and it has three modes of light display, each one using a different amount of battery life." Like this user mentions, dozens of others also appreciate three light settings on this rear bike light. "Very bright, excellent option to on, blinking, or cascading," one writes. However, according to one reviewer, the value is the best part: "You get two of these lights in each pack, so they're dirt cheap." More importantly, they attest to its functionality. "No one's hit me yet."
And now for some micro-picks for every bike light you might be looking for.
Best rechargeable bike light
"Just rode my bike from Florida to California with these and they worked very well," says one user who put this light's rechargeable battery to the ultimate test. They add, "They never ran out of battery. I probably charged them once a week, and used them both once a day." One "paranoid cyclist that fears getting struck by a car" says, "I like the brightness and the fact that I can set my bike near a shelf where a charger sits and just plug them in and go." They continue, "The lights last a long time before needing another charge. Plus they include an indicator that they are charged so you reduce risk wearing the battery down faster." And yet even more reviewers rave about the longevity of these lights. "They make our bikes more visible from a distance both day and night," one writes, while another says, "These are bright lights which make it easy for vehicle to see you on the road during the day or night and not just as a means to light up the road when it's dark."
Best aluminum bike light
"These deserve more than five stars in my book," writes one reviewer of this bike light, adding, "The USB charging and the aluminum housing is what sealed the deal for me." And many others appreciate the aluminum housing, like one who says the aluminum is "solid. Looks like it could last the test of time. Light quality is great too." Another user who was looking for a bike light to protect them from drivers says they've found "the one" with this light. "These are the lights I always wanted that I see on other bikes, for making sure cars see me," they write, adding, "Even I can see them in the shadows a quarter mile away." While one user adds, "As others have stated, these lights are best used as 'Please don't pull out in front of me or hit me from behind' safety-marker lights as opposed to 'I need to see where I'm going at night' lights."
Best easy-to-mount bike light
"The best thing about this set in my opinion, is the mount system," writes one reviewer, and hundreds of others agree. "Both lights have nice rubber belts that just wrap around your bike's frame and clip onto it. This makes it really easy to attach and detach the front light's mount and the back light itself. It also ensures compatibility with many different bike types, because the belt just wraps around your bike's frame as tight as you want." Another reviewer, who says it "Only takes a few seconds to put on," says, "The actual light slides off the rail easily which is better than the other light I had that required you to unscrew a mount and it was a pain and ended up breaking." In addition to being easy to install and remove, users appreciate how bright the light is. "I definitely don't have to worry about not being seen with how bright it is," one user says, while another writes, "400 lumens will make it visible day and night."
Best compact bike light
"It is small, lightweight, and easy to install," one user writes of these LED bike lights, echoing dozens of users who use words like "compact" to describe them. One user who rides in the early morning before the sun comes up clips these on their helmet explaining, "It weighs so little it is perfect for my helmet and it has a low profile so it is less likely to snag on trees." Another who describes this light set as "small and compact" adds that it is "very bright," and many users agree. "The light output for the front and tail lights is impressive for such a small size," one reviewer admits. "I also like it that you can adjust the intensity from low (which is actually pretty bright), to medium, to high." Many attest that the rear light in this set works just as well as the front one. "Both are rechargeable, so we don't have to continually buy batteries," one writes, adding that both also "have multiple modes, including flashing, which is essential to be seen on a bike."
Best wide-cast bike light
"One of the reasons I've been avoiding biking at night is because the neighborhood I live in is shady as hell and there are very few lights," one reviewer explains. After buying this light however, it's a nonissue. "I used it two nights ago and the moment the headlight came on the signs and reflectors three blocks down were being illuminated by the Blitzu. Whilst biking I kept looking behind me because I thought a car was coming because of how visible the road was in front of me. This might be brighter than my damn car's headlights." Many also praise it for how wide of a beam of light it casts. "The center is very bright and the edges are mildly bright which is important to my night commuting," one reviewer explains. Bikers also appreciate the rear light that comes in this set. One customer who commutes to work "both ways in the dark, and weather" says, "I was more concerned about being seen, than actually seeing … Now I can do both."