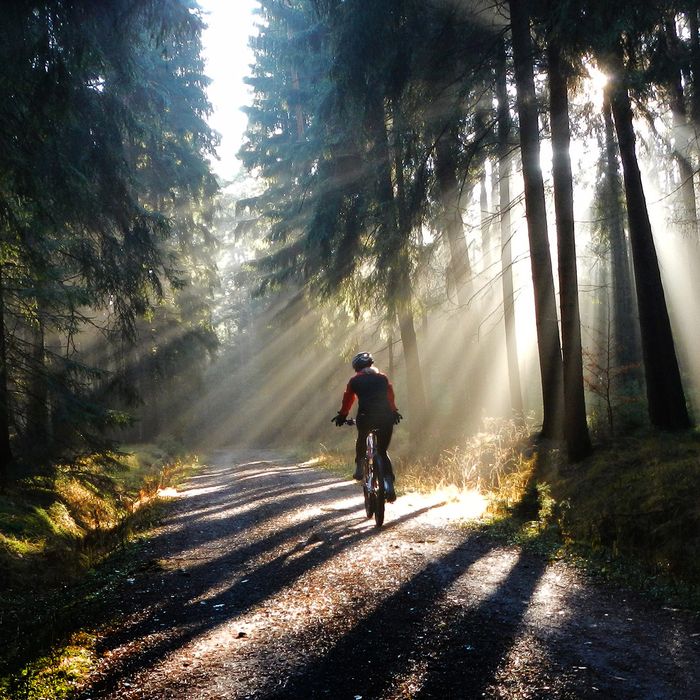 Photo: Arno Burgi/picture alliance via Getty Image
Even if you have experience with bike commuting or cycling around town for fun, mountain biking presents a whole new set of challenges. Whether you're riding on smooth, paved trails or rocky, mountainous terrain, you'll want gear specifically designed for mountain biking, like a bike designed to keep you stable on bumpy routes and a handheld pump in case you have a flat tire miles from the nearest bike shop.
To find out more about everything you need to get started, we asked four experienced riders to recommend their favorite gear. Below, you'll find the best bikes for tackling steep downhills, the sturdy shoes for gripping your pedals, and some (actually attractive) mountain-bike-specific shorts.
Best mountain bikes
The type of bike you should buy depends on the terrain you'll be riding. If you're a beginner and not planning on hitting the steepest, most treacherous trails right out of the gate, the Santa Cruz Highball is a safe best. Christopher Trombley, program director at NYC Mountain Bike Association, explains that for smoother trails with less aggressive downhills, you can look for a "hardtail" bike, which features only a front suspension. While it won't absorb as much shock as a bike with front and rear suspension, this type of bike is generally of lighter weight and more affordable, so it's a good option for beginners. For gentler terrain, you can buy a bike with a steeper head angle (the angle between the front fork and the ground), which allows you to sit more upright, as on a road bike. Lots of cyclists we spoke with recommended Santa Cruz bikes, and the company's Highball model is a very respectable hardtail style. To learn more about your area's terrain, consult with a local bike shop or mountain-biking club (like your local chapter of the International Mountain Bicycling Association). You can also check out the Trailforks app to find local places to ride.
If you're on a budget, REI's in-house line, Co-op Cycles, has several affordable hardtails, like this under-$600 entry-level mountain bike.
For more rugged terrain, you'll want a bike with a less steep head angle, to give you stability on downhills, and both front and rear suspension, to absorb more shock. Rachelle Hynes, who chronicles her mountain biking adventures on her blog, Zesty Life, rides a Santa Cruz Bronson, which she calls "the perfect bike if you love technical downhill but also like to earn your turns by climbing up." Compared with a more upright style, this type of bike gives riders more confidence on tough terrain, Hynes says. With six inches of "travel" (the maximum distance the suspension system can compress), the Bronson will give you plenty of cushioning on bumpy trails.
Recommended by Colin of The Bike Dads blog, the Giant Trance is made of lightweight aluminum and features both front and rear suspension. Like the Bronson, the Trance falls into the trail-bike category, which, as Colin explains, includes bikes "that can access the most amount of terrain a beginner would want to ride."
If you're tackling even more aggressive bumps and downhills, you may want to consider an "enduro" bike, which has an even less steep head angle than a trail bike to position your weight further back. Trombley says Commencal bikes are popular among riders in his group because they "make really high-end aluminum frames but at a very affordable price point."
Best mountain-biking helmets
Experts may agree that any helmet is better than no helmet, but if you're getting into mountain biking, you'll probably want something more protective than your road-bike helmet. "Most [mountain-biking helmets] offer extended rear head coverage because a mountain biker is more likely to fall backward than a road rider," says Bostjan Brzin, founder of Bike Hike Tours. Trombley adds that a good mountain-biking helmet "comes down over your temples a little bit more to give you more protection around those critical areas of your head that could come in contact with the ground if you fall off your mountain bike." He personally wears the Bell Super helmet, which includes multi-directional impact-protection system (MIPS) technology. According to Colin, MIPS works to "limit rotational forces and thus concussive forces in the event of a crash."
Like Trombley, Hynes wears Bell helmets, and she's especially fond of the Super DH model. "It's a normal-style helmet that has a detachable chin bar you can strap to your bag when climbing up and have the confidence of a full-face helmet on the way down," she says. "It's light, comfortable, and safe. I have had three already and wouldn't get anything else."
For more helmet options, Colin recommends checking out the Virginia Tech helmet-ratings site for safety ratings based on independent testing. It says to choose a helmet with a four- or five-star rating, like this five-star model from Giro, another favorite brand among our experts.
Best mountain-biking shoes and pedals
While some riders feel clip-in shoes that attach to your pedals allow for a smoother pedal stroke, nearly all the mountain-bike riders we spoke with said they prefer flat shoes that are more flexible and easier to walk in. Trombley says it's important, especially for beginners, to consider how comfortable their shoes are off the bike since their riding trips are likely to include more walking. He likes the flat shoes from Five Ten, which are optimized for traction. "They're known for their climbing shoes, which have very sticky rubber soles, and they've adapted that 'stealth rubber' technology, as they call it, over to flat-pedal mountain-biking shoes," he says. "Having that really sticky sole allows the pedal traction pins to dig into the shoe much better than a standard running shoe or an off-the-shelf shoe." Brzin is a fan of Five Ten's shoes as well, and Hynes says the Freerider style is "comfortable and lighter weight, with exceptional performance."
Brzin and Trombley both also recommend Vans shoes because of their sturdy rubber soles. Trombley calls this pair from Vans' MTE line "a sturdy all-weather shoe that really stands up to abuse." With water-resistant uppers and a warm lining, they're perfect for wet and cold days on the trail.
Since mountain bikes often don't come with pedals, you can buy ones that are optimal for your shoes and riding style. Trombley explains that pedals designed for flat shoes have long pins that dig into the soles for better traction. As he says, "If you lose that contact point with the bike, then you can lose control and crash." Colin says to "look for grippy, metal-pinned pedals like the ones from OneUp."