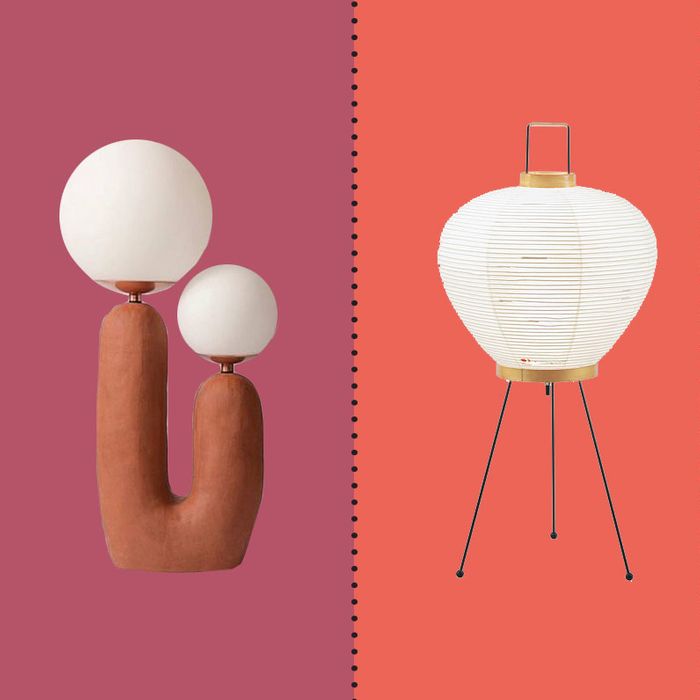 Photo: Courtesy of the Retailers
If you're in need of a simple way to cozy up a favorite corner of your home, then consider a table lamp, which can do wonders for providing your space with a warm glow. It doesn't hurt that a lamp can also pull double duty as a decorative element. We're on a bit of a lamp kick here as of late, after a reader wrote to us asking for "all types of lamp advice." We covered a plethora of floor lamps first, and now turn again to interior designers for their advice on picking out table lamps. Below, 35 lamps that are both functional and decorative, trendy and classic, and go on a table (or desk). We've also thrown a few more affordable options into the mix, and don't miss one writer's guide to the best lamps to buy on Amazon.
The best shaded table lamps
Keren Richter of interior design firm the White Arrow likes this pink, shaded cutie with a ceramic base, white linen shade, and walnut neck from Caravan Pacific. It comes in an array of colors and would bring a laid-back vibe to any room.
For a contemporary take on a mid-century silhouette, Richter also recommends this tall vase by Brooklyn-based Pletz that features an "ebonized maple base with cherry neck and finial."
You can get a similar effect with this wood-barreled lamp with an elegantly tapered body from Anthropologie.
New Orleans lighting designer Julie Neill loves this ceramic lamp with gilded base by Alexa Hampton for its "gracefully folded ceramic body, which is echoed on the wonderfully fluted base that make the lamp both modern and timeless" and great for a wide range of interiors.
For a cheaper alternative, try this pair of double-gourd ceramic lamps in a similar vibrant hue and metallic base. A colorful option for the maximalist.
Neill is also partial to this twisted piece with a metallic finish by Aerin Lauder. "It is a favorite of mine because it's a gorgeous piece of sculpture which also happens to be a lamp. It brings a cool artistic polish to any space," she says.
Not quite as dramatic, but still languid, is this twisted lamp from Pier 1.
White Arrow's Richter also loves the tactile quality of these handmade lamps by Victoria Morris.
Also tapered, also ceramic, also with vertical ridges.
Even though this is veneer, it's convincing nonetheless, and sports a tantalizing shape.
Toronto and New York-based designer Philip Mitchell recommends this bulbous vase inspired by 17th-century Imari Japanese porcelain that has been hand-painted with Chinese motifs.
For something a little more accessible, try this urn-shaped ceramic vase that features a French chinoiserie-inspired motif.
The best "chubby" table lamps
Ghislaine Viñas is particularly drawn to the "peculiar and organic quality" of Eny Lee Parker's Oo Lamp, which is decidedly of this year's chubby design trend. "It feels like an individual crafted it and I love that it feels unique and blobby and wonderful. If I had a couple of empty night stands in my house, I would put these on them in a heartbeat," she says.
With an abstract, thick-legged base, this lamp from Anthropologie has a similar effect, but for a more palatable price. "It has a great shape and the texture would play nicely off of a glass or wood-topped side table," says Viñas. "It would be great for a traditional space needing a little modernity, and similarly the soft lines would complement any modern interior."
Here's another chubby option by Moving Mountains and Giselle Hicks. "I love the earthy textures and colors and the geometric shapes," says Homepolish designer Tina Rich.