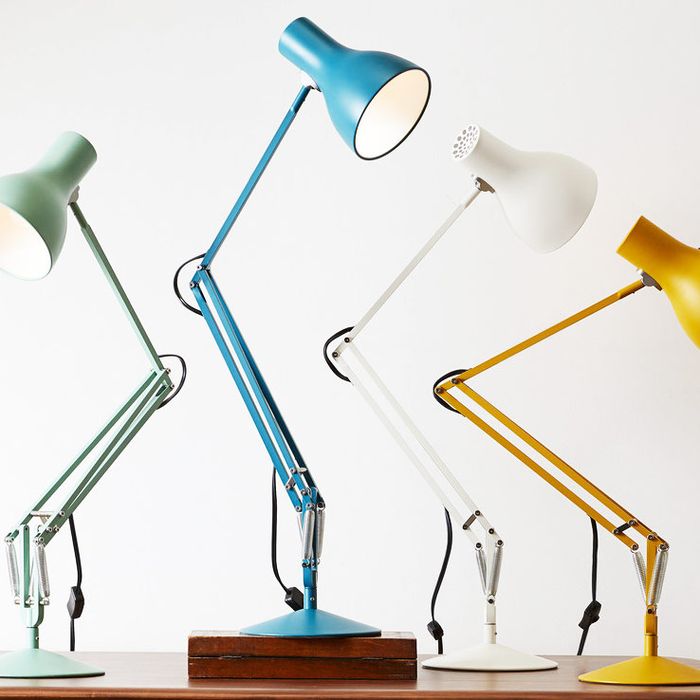 Whether you're at the office or working from home, adding a desk lamp to your work space can do wonders. Not only will it provide a bit more lighting than the blue-light glow emitted by your computer screen (or the fluorescent light above), a desk lamp can add an element of (functional) design, making even the most cobbled-together desks look a bit more put together. To find the best, most stylish desk lamps — from tried-and-true classic task lamps to contemporary light sculptures — we consulted a group of interesting people with good eyes for these kinds of things, including architects, interior designers, and other folks who value form as much as function. Read on for their picks, which come at a range of prices and include a desk lamp for just about everyone.
Best
under-$100
desk
lamps
If you're looking for something simple that gets the job done, many of the people we spoke with directed us to objectively affordable lamps that don't look cheap — like this iron one, which Shannon Retseck, the founder of textile and home-goods line Cuttalossa, told us about. The lamp has an angled arm and a swiveling, flared shade, giving it a "no-fuss design," according to Retseck.
Even less expensive is this desk lamp from Ikea, which architect Páll Hjaltason, the owner and founder of Plús Arkitektar, recommends for its practicality and affordability. "I bought a lot of them for my growing studio, so they're everywhere," he says. Made of nickel-plated steel coated in acrylic, the lamp's head has an LED light, and its adjustable arm allows you to direct the glow as you please. Hjaltason likes that the design is "generic" and that the lamp sits on the desk as opposed to being fastened to it, something other lamps on this list (like the one below) require. The low price, he adds, means "I can always buy more of them" should he need a replacement.
While not a proper desk lamp, this just as versatile (and even cheaper) clamp lamp is what architect Peter Dumbadze uses at his own desk. "I've used these lamps for years, as I can buy them at my local hardware store, Mazzone Hardware in Carroll Gardens." What he likes about a clamp lamp is its "utilitarian style," which he says works not only with his industrial shelving but also his desk (an Eames Aluminum Group conference table). "I position the lamps such that I can bounce light off of the walls and ceiling, helping to provide even lighting," he says. At under $20, it's affordable enough that you can buy more than one and place them anywhere you might need an extra light source.
Photo-Illustration: Retailer
This mini-lamp that Chris Black recommends is just as easy to place wherever you may need it: Its base attaches to any smooth surface (like a desk or even a wall mirror) by way of an integrated suction cup. Designed by Achille and Pier Giacomo Castiglioni and first introduced back in 1962, it's "timeless, practical, and chic," according to Black.
Mark Warren, a co-founder and designer for ceramics company Haand, recommends this LED work light from Wisamic, calling it "powerful and cheap." It requires a bit more elbow grease to install — you have to mount it to a surface with the provided hardware and connect the plug yourself (it comes with wires for connection) — but once built, the lamp should last you forever, according to Warren, who notes that it's "waterproof and explosionproof."
Best
under-$200
desk
lamps
For something more traditional with a touch of flair, consider this banker-style desk lamp that Retseck recommends. The green shade and brass arm recall the typical color scheme of banker's lamps, giving it a "nostalgic vibe," she says. But the cutout, circular base lends it a modern touch that keeps it from looking too classic.
This slim LED desk lamp has been a constant table-side companion for Noroof Architects partner Scott Oliver. "I bought a version of this halogen model 30-plus years ago — and lo and behold, it is still around," he says. While he originally bought it as a bedside lamp, "it became my go-to lamp as it left the bedside, and became my drawing lamp when I was in grad school doing design competitions." The lamp, which has a tilting head and a touch-dimmer switch to help control its light, comes in silver and white as well as black.
Decorator Carrie Carrollo loves this lamp from Hay. "Because my work spaces have always been multifunctional, I prefer lamps that don't look like an obvious desk lamp," she told us. Its simple design features a slender arm made from powder-coated die-cast aluminum and steel. The head rotates 360 degrees and can be set to emit both ambient and direct light. According to Carrollo, the "sleek lamp provides enough light without compromising good design aesthetics."
Photo: retailer
Another atypical-looking desk lamp is this sculptural 3-D–printed lamp from Wooj, an industrial- and furniture-design studio based in Brooklyn. It comes recommended by Phantila Phataraprasit, a co-founder of Sabai, a direct-to-consumer sofa company. "The design has a great ethereal vibe that really lights up a space, giving it a dreamy, airy feel," she says. The lamp is made of heat-resistant, corn-based plastic and sits atop a three-legged base that comes in colors such as black, terra-cotta, and green.
Photo-Illustration: Retailer
Liza Curtiss and Corey Kingston, the co-founders of architecture-and-design studio Le Whit, call this Hay lamp "sophisticated and fun." They love that its conical, pleated shade comes in a wide range of colors like red, green, lavender, and yellow, and they tell us it "pulls the traditional pleated shade into a more playful future." Black likes this one, too, calling it "sophisticated" and adding that the shade makes it look "like something straight out of a dimly lit cocktail bar in Firenze."
"The lamp is tiny, but that's actually it's biggest strength," Carrollo says of this dimmable mushroom lamp that's just under nine inches tall. "Living in small New York City apartments, my work spaces have always needed to be multifunctional — a bistro table I could work and eat from or a desk that could double as a vanity and storage." This lamp would appeal to anyone who works similarly, she says. "It leaves enough room for me to actually use the surface I'm working on while still lighting up the area." Designed by Jaime Hayon for &Tradition, the lamp is cordless — making it easy to move to whatever surface may become your work space — and charges via USB, providing ten hours of light on an eight-hour charge. Black is also a fan of the Setago, calling it "charming" and noting that "it produces a lovely, soft, even light."
In the genre of task lamps, Luxos are perhaps the most well known (and classic), with the L1 model being the apparent inspiration for the Pixar logo. (Jane Greenwood, a principal at Kostow Greenwood Architects, calls it "the classic workhorse lamp found in many architectural offices for more than 50 years.") Curbed architecture critic Alexandra Lange is also a fan of the brand's lamps, particularly this style from its LS series. "This is the desk lamp my architect husband actually has multiples of," she says, calling it "the black T-shirt of architect desk lamps." It has adjustable arms with external springs that allow for more flexibility, along with an adjustable shade.
Architectural designer Madelynn Ringo is one of three folks who recommended a desk lamp from the lighting company Gantri, which works on its pieces with various designers. This one, the least expensive on our list, was created by industrial designer Mona Sharma. The head is not only adjustable but dimmable, and the lamp has a "great rounded shape that puts stylish focus on the task at hand," says Ringo. The Buddy Light — and all of Gantri's lamps — are 3-D printed using proprietary plant polymers, which the brand claims are the "world's first plant-derived polylactic-acid blends" created specifically for lighting products.