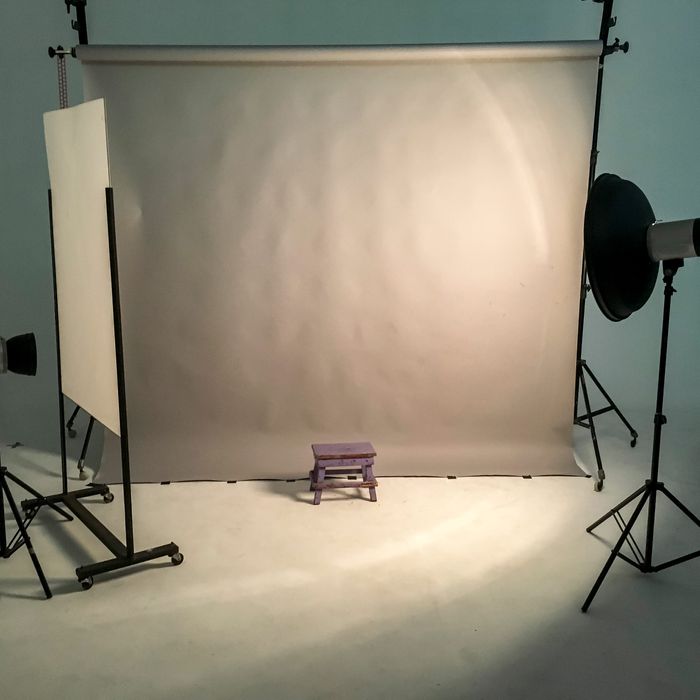 Even though offices are opening up again, many people will continue to work from home for the foreseeable future. So it's safe to say that video calls aren't going anywhere. To look your best on Zoom, you'll want to seek out natural light, which, according to the filmmakers, videographers, and television producers we spoke to, is always going to be the best way to illuminate yourself on a video call. As filmmaker David Tan explains, "The general guiding principle is that, for the most flattering light, you want your light source to be bigger and softer." Cinematographer Will Dorrien-Smith agrees, noting the best place to sit is facing a window, "so that your whole face is lit, with a simple background with depth behind you." (Never sit with a window behind you, though, because you don't want to be backlit.)
"Lighting is everything," as NBC News producer Hannah Van Winkle reminds us — so what can you do if you never had much natural light in your home office to begin with? Below, Van Winkle, Dorrien-Smith, Tan, and two other experts share the best ways to light a home office — or whatever makeshift spot you've cobbled together — when natural light may be lacking.
Get LED bulbs for your desk lamp
If you can't sit close to a window, or there isn't enough sunlight streaming through it, your best bet is to re-create this scenario, which you can do a couple of ways. The first is to try installing LED bulbs in your desk lamp. "If you use LED bulbs, you can point the desk lamp towards the wall in front of you," says Tan. "The light from the lamp will bounce off the wall, creating a larger source" than if the lamp were pointed directly at your face. Tan says this setup will make the light a bit softer, too, and spread it out evenly across your face for a more flattering look. Van Winkle agrees: "It's about getting an even light directly on the face — not from an up angle and not from a down angle."
When it comes to choosing LED bulbs (and other lighting on this list), both Tan and Dorrien-Smith recommend looking at the products' CRI, or color-rendering index, which Dorrien-Smith says is basically a measure of color accuracy. As Tan explains, "You want your light to have a CRI as high as possible, because the higher it is, the closer it is to natural light." A CRI that's as close to 100 is best, as natural light has a CRI rating of 100. These (highly-rated) daylight LED bulbs from Philips, which are comparable to 60-watt light bulbs, have a high enough CRI to do the trick; according to the brand, every Philips LED light has a CRI of at least 80.
If you don't already have a lamp for your desk, consider this one from TaoTronics that comes with a built-in LED light. Strategist tech writer Jordan Bowman called it a "makeshift ring light" (another tool that the experts recommend below) that instantly illuminates his otherwise backlit face on Zoom calls from his home office. "My Zoom background resembled an actual room, and my colleagues could see that I was in fact attending the meeting," he wrote of how the lamp improved his space's lighting. It has seven brightness settings and five color modes that Bowman says can more or less "solve pretty much every lighting problem you might have." (While the product description doesn't list the CRI of the lamp's LED bulb, his experience with it suggests that, by fiddling with the brightness and the color modes, you can find a glow that mimics natural light.) Bowman adds that unlike some desk lamps, this one's head and base are adjustable, "making it highly customizable" and even easier to position at the most flattering angle.
Swap overhead light fixtures with paper lanterns
Maybe you don't have or have space for a desk lamp. If so, another inexpensive way to get a soft, diffuse light is to swap a paper lantern for whatever overhead light fixture is currently in your workspace, according to YouTuber Evan Gregory of the Gregory Brothers. "A paper lantern naturally softens the light and can make you look beautiful even at close distances," he says. If you don't have an overhead fixture to hang a lantern from, all you have to do to make one is put a regular light bulb in a hanging cord cable, place the lantern over the bulb, and then suspend it from the ceiling.
Try a ring light (with a high CRI)
A ring light, a tool most commonly associated with TikTok and beauty videos, can also be a great affordable option as long as it has a high CRI. Photographer and studio production coordinator Evan Daniels recommends this ring light, which his studio uses for editorial shoots. The light has a CRI rating of 96 and is dimmable, making it easy to adjust as the sun starts to set (or if you want to "dial in the intensity," says Daniels). The ring light is also bi-color, meaning you can adjust its color temperature from warm to cool, which allows you to "match it more easily with traditional indoor lamp lighting or with natural daylight," he adds, promising that "it's simple and straightforward to use."
If you're using a ring light, our experts warn that it can reflect in eyes and glasses, causing a glare. To fix that, Tan suggests angling the light a little bit off to the side or above you, or simply moving it farther away from your face. "That spreads the light out a bit more," he says.
This ring light is not only more affordable, but it's easier to set up, because it comes with its own tripod. Our colleagues over at the Strategist UK dug it up while combing Amazon for the best-reviewed ring lights. It has a CRI of 92, they note, adding that "many customers originally bought the light to illuminate their video calls — 17 reviewers loved how useful the product had been for Zoom."
Invest in a desk-sized LED panel light
Photo: retailer
If you want something more professional-grade, Dorrien-Smith recommends this LED panel light, which he uses (and sends to talent) for remote video shoots. "This is actually a really cool little light," he says. "If you're near a blank wall, you can just bounce the light off the wall, and then you actually get quite nice, quite flattering soft light." (He actually showed me how it works on our FaceTime call, and I have to say that it was quite impressive.) The light is made up of 290 LED beads and has a CRI of 96, as well as an adjustable brightness. Because it's an RGB LED (made of red, green, and blue lights), you can even adjust the hues of the light to get different colors. Dorrien-Smith adds that the light's attached arm makes it "super easy to place on a desk," and because it's square-shaped, he says the light "can actually just stand on its own." With this, "You're guaranteed a nice light wherever you are," he promises.
And one more tip for looking good on video
Camera or laptop placement can also go a long way to making you look good on video calls. Van Winkle recommends following this rule of thirds: "If you divide your screen into thirds going horizontally, you want to make sure that your head is in the top third," she says. "I know it sort of sounds normal to have your head be dead center, but that actually looks weird. You want your head to be more towards the top of the screen." This means you will need to put your computer or camera at eye level or about one or two inches above it. You can do that by sitting a laptop or camera on top of a few books, "so the camera is closer to your eye level and not pointing up at your unsightly chin," says Gregory. "You're going to look better that way and it's just going to look more professional," agrees Van Winkle.
The Strategist is designed to surface the most useful, expert recommendations for things to buy across the vast e-commerce landscape. Some of our latest conquests include the best acne treatments, rolling luggage, pillows for side sleepers, natural anxiety remedies, and bath towels. We update links when possible, but note that deals can expire and all prices are subject to change.